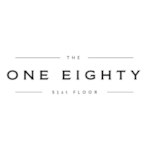 The One Eighty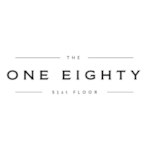 A rooftop restaurant & venue set atop the 51st Floor of Manulife Centre. The 3,000 sq. ft interior offers a palette of classic black and white mixed with warm woods and gold accents. A showpiece bar seats 14 and includes a built-in DJ station and chef showcase with 21 ft. high ceiling and barrel vaulted feature. The jewels of the venue are the two patios facing North Toronto and downtown Toronto with a great view of the CN Tower. Incredibly versatile space, has hosted wedding ceremonies, corporate cocktail parties, gala dinners and meetings & conferences.
Vendors Similar to The One Eighty
This vendor does not yet have any EventSource reviews. Be the first to leave one!
Enjoyed an evening here the other night for an anniversary dinner. Took the elevator up to the 51st floor and it brings you right to the restaurant. Views are amazing over the city. Luckily we went on a less busy night so it was relatively quiet and the service was attentive. Food was good. Not great but good. The prices are high. Dessert was great! Youre paying for the location/view. Overall its the experience more than the food.
Great ambiance and great view. Luckily the server allowed us to have a nice window seat. The service was nice as well. Food was decent, I feel it just needs a little more of a boost in terms of quality (taste) and quantity for the price, my dates gnocchi was a little short. The bread and desert was great though!
Jackie Hamilton-Smith
August 2019
Fantastic brunch and great value for money. This place in my opinion has always had a much better view of Toronto as it includes the CN Tower, but their brunch menu is a massive selling point now too. It's wonderful value for money and the quality of food, service and views is amazing! So glad we took out tourist friends here when we did and can't wait to return - highly recommend the waffles!
Fancy place - perfect for sipping a drink on the side patio on a summer's day, enjoying a fantastic view of Toronto. Funny, lovely waitress, great service. Never felt rushed, nor pressed to order more than drinks or dessert. The Lychee Royal ($13) was pretty good, and so was the Death by Chocolate ($17) dessert, though not good enough to merit the price. As others have said - view vs. cost.
Steven Branco
February 2019
Brunch buffets are hard to find nowadays, but One Eighty does it right. The perfect spread, they keep things fresh, and theyre so delicious. Servers are great. The space has an impeccable view. Perfect for a date, or brunch out with the in laws, or parents, and even a girls brunch the mimosas are life! Make sure to try the omelettes and also the Salmon.
The One Eighty has been mentioned inside these other vendor profiles:
Blog Posts featuring The One Eighty