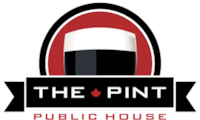 We host great events! Expanding 13,000 square feet with 2 floors, The Pint Public House offers a variety of unique spaces to meet all your corporate and social needs, such as birthday parties, bachelor/bachelorettes, and more. Whether your guest count is 20 or 750, The Pint Public House is the perfect place to mix business with pleasure. Our venue features state of the art AV, indoor & outdoor patio, DJ booth and dance floor.
We offer an extensive special events menu to suit all types of events from group platters, passed canapes, buffet and food stations.
Ask us about our additional features:
• DJ services for any type of music.
• Live music.
• Custom trivia with host.
• Full-service arcade & pool table in our upper deck.
• Magician & mentalist, stand up comedian, mixologist and other acts available.
• Team building experiences.
A big thank you to the Pint house for hosting us for two different events! Both times we have fantastic, attentive service and everyone had a wonderful time. The games room was so much fun and we really appreciated the opportunity to be seated so close to the fun! The solarium was also a wonderful space and the set up was perfect. Thank you for always going above and beyond and making us feel welcome!
The Pint hosted a 60-person event for our company this past June in the "Top Bar" space. From receiving the initial quote to event execution, the process could not have been more smooth. The event planning team and onsite staff were such a pleasure to work with and accommodated all of our requests. The Pint offered fantastic service, delicious food, a great selection of drinks, and awesome games (pinball, basketball, air hockey, pool, and more). The variety of games allowed for connection, friendly competition, and fun had by all. I am thrilled with how our event went and will definitely be considering this space for an event in the future. Thank you to everyone involved in making our event a success!
Ronald E. Majors
June 2022
Our group (British No. America Philatelic Society, BNAPS) was part of a large international stamp show called CAPEX that was last held in Canada over 26 years ago. Due to COVID-19, in the past 2+ most of BNAPS activities were either held virtual or via teleconferences. CAPEX was the first major international show where BNAPS members would be together in one area where most restrictions had been reduced. As President, I felt it would be a great idea to host our members from all over the world with a 2-hour reception that would give them a chance to see colleagues face-to-face rather than on a ZOOM screen. Looking around the Metro Toronto Convention Centre, our Committee looked at several locations. The Pint Public House won hands down with the right type of venue and atmosphere that we knew our members would enjoy. And as a bonus, they wouldn't have to travel outside of the immediate area. The drink and hors d'oeuvres selections were delicious looking and in line with our budget. With a group of 150 members and guests most of them showed up just after the convention closed for the day. The Pub staff was ready to serve them and the fun got underway within minutes. Everybody really enjoyed the atmosphere, seeing their colleagues and most stayed around till the closing. The Pub staff was superb in keeping me up-to-date on the service and nobody went away hungry or thirsty. We had a budget to live with and I was kept abreast where we stood as the closing time drew near. The feedback from members was phenomenal, all appreciated the reception and the delightful service staff. I am sure 26 years from now, the Pub will still be in the running for the BNAPS reception at the next CAPEX in 2048!
The Pint Public House has been mentioned inside these other vendor profiles:
Company Overview
Company Overview
Contact Information
Title:Sales & Events Manager
Venue Features
On-Site Ceremonies
Wheelchair Access
Audio/Visual
Wi-Fi
Outdoor Facilities
Catering Information
On-Site Catering
Off-Premise Catering
Kosher Food
Map
277 Front Street West, Toronto, ON M5V 2X4