The Sultan's Tent & Café Moroc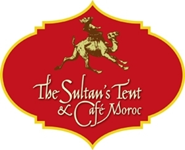 The Sultan's Tent & Café Maroc has been delivering memorable experiences to Toronto for over 30 years. We are located at 49 Front Street East in one of the oldest flat iron buildings in Toronto, steps away from the St. Lawrence Market, Berczy Park, and Meridian Hall.
​
The Sultan's Tent offers a lush French Moroccan experience with belly dancing nightly in lantern-lit tents among jewel-toned pillows. The Sultan's Tent's rich and elegant decor, partnered with its unique and flavourful menu, will undoubtedly leave you with an unforgettable, magical experience. The atmosphere creates a feeling of romance & celebration. Our jewel-tone fabrics, cushions & rugs create colourful, intimate spaces. The elegant colours, details, and textures of Morocco help create a warm and cozy atmosphere reminiscent of scenes from Casablanca.
​
Our Moroccan-French and International cuisine menu will awaken your senses. Ask your server for wine and cocktail pairings to complement your meal and complete your dining experience with us!
Merlyn Fernandes
March 2018
I had my Christmas event at Sultan's Tent and it was very well received. Angela was amazing from start to finish. She helped custom design the menu to my liking (including vegetarian dishes) and made sure I understood what we were getting. The staff there were really helpful and the dancers provided amazing entertainment. Most of my guests were amazed with the entertainment and were talking about the event into the next week! I am happy to go back and enjoy the food and atmosphere any time!
Luma Hashimi
January 2018
Beautiful and Elegant Resturant and Lounge we been here several times and enjoyed it every time Angela the Manager works so hard to keep her clients happy we highly recommend Sultan Tent for full range enjoyment
Great venue to host any size event. Angela and Lou are amazing hosts and will go above and beyond to make sure that your party is no less than perfect! The decor is gorgeous and the belly dancing a unique way to entertain your guests. Great food, service, and ambiance. Highly recommended!
Just Eat Canada
January 2018
Angela is the best! She made a fun, cozy, easy going and memorable night for our Just Eat Company Holiday Party. It was beginning of December '17 (busiest time of the year) and even though, she had time for us and made happen one of our best Corporate Parties! Great job to everyone involved on the set up, service and food. The night went on rails thanks to all set up. Food was excellent (very tasty), late night Buffet was extraordinary (great selection) and the service was pristine (super attentive at all times). Employees were very happy with the outcome of the event as the place was beautiful and the staff outstanding. I would highly recommend this venue and I would definitely go back with friends/family as there are many great options on their menu that we still need to taste! Thank you to everyone who made this night happen!
Excellent food, breath-taking venue and amazing entertainment. Working with Angela made all the stress of event planning go away. She's so flexible, accommodating and just a pure delight. Everyone at our company really enjoyed the Holiday Party and it's all thanks to Angela, her husband and the entire crew that made our event a very memorable night. If you want a very unique event space with deep cultural identity and an exotic ambience, then Berber is definitely the way to go!
The Sultan's Tent & Café Moroc has been mentioned inside these other vendor profiles:
Company Overview
Catering Information
On-Site Catering
Off-Premise Catering
Kosher Food
Capacity Information
Sultan's Tent: The Café: Cocktails
Sultan's Tent:The Tents: Sit Down Dinner
Sultan's Tent: The Tents: Cocktails
Sultan'sTent: The Café: Sit Down Dinner
Deals & Packages
Bubbles & Belly Dancing - Bachelorette
3-Course Dinner
Belly Dancing Belt Gift for the Bride to Be
30 Minutes Interaction Belly Dance Performance Every Night (Please see the show schedule at thesultanstent.com)
---
Map
49 Front St E, Toronto, ON M5E 1B3