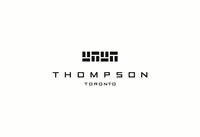 Thompson Toronto
Profile information for "Thompson Toronto" could not be found.
Vendors Similar to Thompson Toronto
This vendor does not yet have any EventSource reviews. Be the first to leave one!
Jason Broadfield
January 2019
I enjoyed the Thompson diner. Loved the grilled cheese burger! Nice spot for late night eats. My friend and I actually ate here on Xmas night. Nice ha I gotta a place open to eat for people that dont have anywhere to eat on Xmas night.
Delicious food and a fun atmosphere. However if you are going to go for breakfast on the weekend, expect a long wait. When we were seated it was quick service though! Will definitely be back!
Sarosh Malik
December 2018
Staple late night diner to go to other than your local Dennys. A step up service and food option menu than most diners. The fried chicken is great and the other options for food are nice too. Staff are kind, service is quick.
Basil Bharoka
December 2018
It was a good late night diner with moderate prices. The burgers were good but nothing special and the fries were not very good. However I really enjoyed the bbq beans. I would really like this place to improve upon their menu as it was pretty small and yet still confusing. Service was quite fast despite a lot of traffic in the restaurant.
Victoria Soda
December 2018
It was my first time at this diner... It was around 3AM and the place was pretty lively. I ordered the grilled cheese and fries and it was really delicious. The cheese was real, and there was a good amount of it within the bread. A great late night eat!
We've had the pleasure of planning several weddings and corporate events at the Thompson Hotel. IT has some very unique and interesting features. The rooftop patio is a wonderful place for a ceremony and pictures. The lobby bar is also a great photo-op. In terms of pricing for a hotel of their stature they are really quite reasonable.Katy Elliot and the catering team are easy to work with and accommodating.
This is a fabulous hotel to work in! The Rooftop Lounge is beautiful and newly renovated... the perfect place for a trendy party! The staff are so happy to accommodate any request! They make it really easy for the clients to come to the hotel for their special event. Looking forward to more parties at the Thompson!!!
Thompson Toronto has been mentioned inside these other vendor profiles:
The Tempered Room Catering
Fabulous Cakes and Confections