Gallery
This content requires HTML5/CSS3, WebGL, or Adobe Flash Player Version 9 or higher.
Reviews
Larysa KOVALENKO
August 2019
An excellent upscale restaurant with well-trained staff and delicious food in the heart of Toronto. A charming view of the sunset harbor. Ask for server Ola and manager Naz if you want your outing to be a night to remember. Many thanks from a happy customer and many more years in business to Toula place.
Denise (our superb server who has a lovely personality and is physically beautiful), her colleagues and the chef/ kitchen staff all provided an excellent dining experience. The view of Toronto was wonderful too. We enjoyed the night. Thank you, Toula for making my birthday happy.
mats christoffer snæring haugen
July 2019
Nice greeting and hosts, nice seating area with an atmosphere that you'd expect. Amazing views.. Linens etc. , this is a team service kind of place which is totally fine but the faults were as follows...dropping off complimentary bread and olive oil but staggered so we ate half the bread before realizing that delicious oil and vinegar was on the way. Small things like that as an example. Quick fix is just better communication with the tables. Big plus for nice selection of European wine. Good food but felt like serving style was not what you would expect for this kinda place. Felt like we paid more for the view than for service. They were good and very nice but better organization would have given this place a better review. Lots of potential with the staff.. They really were good and polite but better oversight might have made this a better experience. Definitely worth a visit for the wine and food.
Aryan Srivastava
July 2019
The food is bland and those portions are small. The best thing they had to offer for flavor enhancement was Tabasco sauce. I went during Summerlicious and if that is indicative of what the restaurant has to offer, then I'm good with skipping on it. The servers are polite and provide more than adequate service. The views are nice especially at nice. These things can't save the food experience, all presentation but no substance.
Stopped by while in Toronto. The view of the city at night was awesome. Service was great and I enjoyed my dinner. Love Italian wines and selection was very good compared to some other places in the area. Will definitely recommend and will be back. Was definitely worth the price.
Toulà Restaurant & Bar has been mentioned inside these other vendor profiles:
Company Overview
Company Overview
Deals & Packages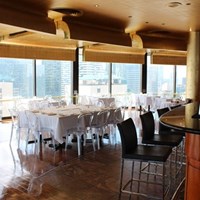 Events package 2019
Price $49 /person
---
---
What services are included with this Package:
Pre-fix menus for special occasion events! price varies
---
Here's the Fine Print:
This package is exclusive to EventSource.ca visitors. To redeem, you must mention you found this package on EventSource.ca.
Map
1 Harbour Square, 38th floor, Toronto, ON M5J 1A6