Weston Frontlines Centre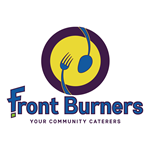 The Front Burners catering program is a social enterprise that offers professional, delicious and affordable catering for the community. Staff and youth of the Front burners Catering program prepare meals for the community .
Our catering program is an 8 weeks program for youth (18-29) who have barriers to employment. They get hands on experience in the kitchen and theoretical instruction from our chef. As part of the training program, they receive free food handling, smart serve and other training.
They help prepare meals for the after-school programs at Frontlines and to other programs at different agencies. They take part in preparing the food for our catering business and in some cases, they take part in serving at events across the GTA.
This vendor does not yet have any EventSource reviews. Be the first to leave one!
Fantastic place to send your kids for summer camp, staff and students are amazing with their time patience and energy with the children of our neighborhood
The volunteers are very helpful
Fantasia Meredith
January 2019
I have worked with Frontlines as a summer student and now I volunteer as a placement student there, from the Recreation and Leisure field. It is a very warm atmosphere where everyone is like one big family. With the different programs that they offer like after school program, culinary, and much more. Not to mention the food served is great! They have impacted the Weston community in many ways and Im happy to be apart of something so postive!
Vanessa Rowe
January 2017
As a student in the Community and Justice Field I can honestly say that Frontlines is a great agency. The staff there are very sincere in their work and strive to find innovative ways to keep the youth engaged and out of trouble. I've volunteered at Frontlines for over 200 hours and I am really touched by all the hard work that is put into this agency. Together the team is able to provide: after school programming, snacks, tutoring and religious practices all for FREE!
Nadia Armah
November 2016
This is a great place for kids and youths. Frontlines is a after school program from 3:30pm- 6pm where they provide educational programs to help kids grow and develop. It is an welcoming place that is always welcoming new people.
Weston Frontlines Centre has been mentioned inside these other vendor profiles:
Company Overview
Company Overview
Map
1844 Weston Rd, Toronto, ON M9N 1V8