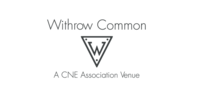 An initiative of the Canadian National Exhibition Association (CNEA), Withrow Common is an exciting community event space located at Toronto's Exhibition Place, across from the Princess Margaret Fountain.
The 2,675 square-foot gallery lives in the west side of the Queen Elizabeth Building complex, which was constructed in 1957. Designed by architects Page & Steele Inc., led by designer Peter Dickinson, the structure exemplifies the mid-century Modernist architecture movement in Toronto in the 1950s. This was a movement in which Dickinson played a prominent role (Ontario Association of Architecture). The building was originally envisioned as the CNE's Women's Building and was re-named the Queen Elizabeth Building in 1957. It has a long and rich history of hosting exhibits and educational events.
Most recently, the space served as the Executive Offices for the Exhibition Place Board of Governors. In 2016, the CNEA won a bid to redevelop these offices as a multipurpose gallery space to facilitate events and workshops for the neighbouring community and beyond. The renovation of the space was completed in 2017.
The CNEA's overall design concept for the renovation of the building was to honour its mid-century Modernist history, while embracing a clean, simple and contemporary look.
Withrow Common is a flexible space that allows you to choose caterers, décor and other details that suit your style and budget.
Withrow Common Gallery has been mentioned inside these other vendor profiles:
Company Overview
Venue Features
On-Site Ceremonies
Wheelchair Access
Audio/Visual
Wi-Fi
Unique View
Catering Information
On-Site Catering
Off-Premise Catering
Kosher Food
Map
200 Princes' Boulevard, Toronto, ON M6K 3C3