Let's be honest, weddings are a heck of a lot more fun than they were fifty years ago… or even thirty years ago! When the previous generations got married there were certain rules that had to be followed and wedding traditions that needed to be observed. Now-a-days, weddings have a lot more focus on the special day you get to spend with your loved ones and having a great party to kick off your forever. While some wedding traditions can be fun (bouquet toss, we are looking at you) there are some that are no longer relevant and that you don't need to adhere to.
---
1. The Ring Has to be a Diamond
Diamonds became associated with engagement rings thanks to a 1900s advertising campaign– now, many brides are opting for different stones like sapphires or rubies instead of the traditional white diamond. Not only does this save some cash, but it also allows the brides personality to shine through in her ring! Mix it up even more and opt for white or rose gold instead of the traditional gold as well!
2. Couples Can't See Each Other Before the Ceremony
It used to be considered bad luck for the bride and groom to see each other before the ceremony. While some people still believe this, many couples are choosing to say goodbye to this outdated rule and spend a few quiet moments together before the ceremony. Having a 'first look' can help ease pre-wedding nerves and makes for some really sweet photos of the two of you.
Photo Courtesy of Purple Tree Wedding Photography
3. The Bride Has To Wear White
In the West, the white dress has been a long-standing bridal symbol and while many brides continue to wear white, some are opting for dresses that really push the boundaries of 'bridal'– including, red or black and even blue wedding dresses. Really, you need to wear something that makes you feel fantastic and that shows off your personality. If you are not a white dress gal, spice it up with pink, gold or any other colour you want!
4. The Bridesmaids Must Match
In 'olden' days– bridesmaids dressed the same as the bride to ward off evil spirits that would do her harm. Over the years this morphed into the bridal party wearing matching dresses which traditionally have been ugly and expensive. Not to mention, with many different body types, some bridesmaids can be incredibly uncomfortable for the entire day.  Thankfully, this tradition has gone by the wayside and brides are leaning towards more mismatched bridesmaid dresses– either by using the same fabric and varying styles of dress, or having each bridesmaid wear a unique dress.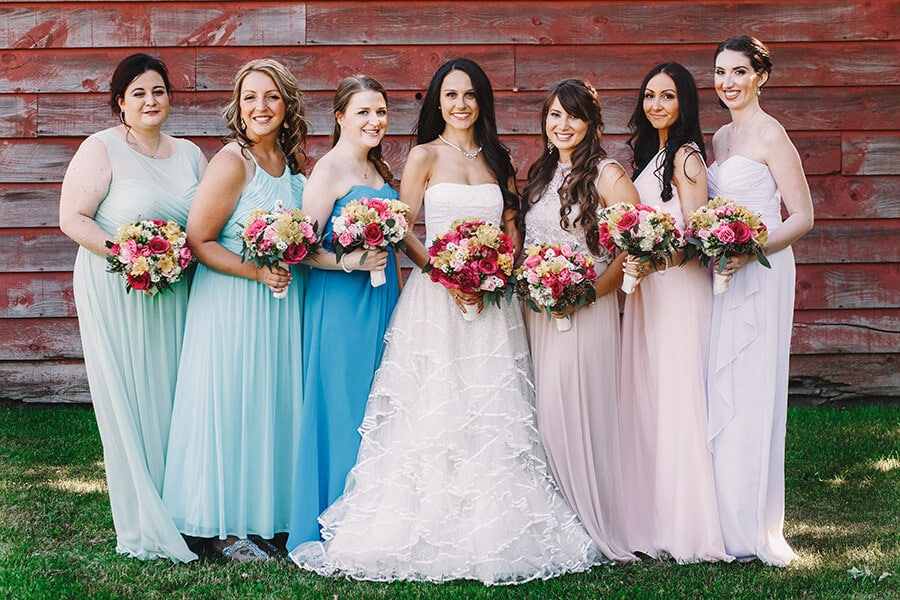 5. Wagner's Bridal Chorus
Everyone knows how the traditional bridal chorus goes, in fact just reading 'here comes the bride' will have it stuck in your head for a few hours (you're welcome). This tradition has become increasingly less popular over the years and brides are now opting to march down the aisle to their favourite song, something meaningful or something a little more upbeat. If you still want to have a classic note to your processional, have a string quartet play an instrumental version of your favourite song.
You May Also Be Interested In
As you can see, there are a lot of wedding traditions that have evolved over the years and that couples are now opting out of because they don't fit with their relationship. Your wedding should be about celebrating your relationship and who you are as a couple, so if there's a tradition that doesn't make you happy – change the rules and do it your way!