Your wedding day will fly by in a whirlwind of champagne and flowers, so you want to make sure you have some keepsakes from the day. A great way to compile memories as special messages from your guests is the guest book. Traditionally, guests would sign a boring book that would then live in the couple's closet until the end of time. Why not opt for something more exciting that you will actually look at again and again? Here are six alternative guest book ideas perfect for non-traditional weddings.
---
1. Game/Puzzle Pieces:
If you and your new spouse enjoy a good game night, consider having a custom game or puzzle made for your guests to sign. The easiest version of this is wooden blocks that your guests can write their well wishes on– and every time you play, you'll be reminded of how much you're loved!
2. Thumbprint Picture:
Having a print made that matches your wedding theme is a great way to compile your guests well wishes while also being space saving. Have guests add leaves to a tree with their thumbprints or simply sign a part of the print. Hang it in a special place in your home and you'll be reminded of your wedding each time you look at it.
You May Also Be Interested In
3. Seashells, Wine Corks or Similar:
Do you travel a lot? Do you both enjoy a glass of wine? If yes, consider collecting objects from these places and having your guests sign them. Maybe you bring seashells home from the beach where you got engaged or collect corks from your family and friends – keep them in a beautiful vase and display them in your home.
4. Polaroids:
Polaroids are a great way to compile great memories from your big day. Purchase or borrow a few Polaroid cameras that guests can take a snapshot, place in a photo album and sign right then and there. This will ensure that you get a photo of all your guests and let's be honest, everyone loves a good Polaroid snap!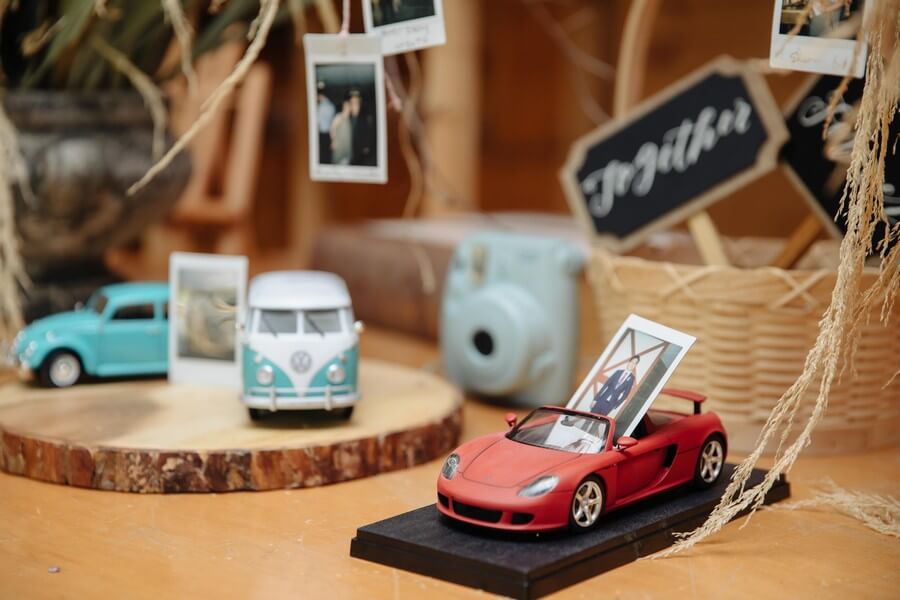 Photo Courtesy of AGI Studio
5. Wine Bottles:
Grab five bottles of your favourite wine and create some custom labels. Have your guests pick a bottle and write advice or well wishes on the bottle. You will then open each bottle on a specified anniversary. You'll get to relive your wedding day while also enjoying the love you're your family and friends.
6. Sentimental Objects:
Have your guests sign an object that means a lot to you as a couple – allowing you to cherish the memories for years to come. Maybe you have a quilt made of your favourite concert tees; or purchase a vinyl record of your first dance song.
---
When deciding on your guest book, it is always best to go for timeless over trendy. Pick something that speaks to you as couple and that you can cherish for years to come.