Combining gorgeous organic elements, along with darling DIY details, we couldn't help but instantly fall in love with Ali and Cory's beautiful big day! It's not often that we see a wedding that so perfectly represents the couple — case in point: Ali, a graphic designer, created all the printed pieces herself, including the invites, and Cory, a firefighter, wore his firefighting regalia for the ceremony. Brilliantly shot by A Brit & A Blonde, this couple's charming wedding at Cambium Farms is truly an affair to remember — you won't want to miss this one!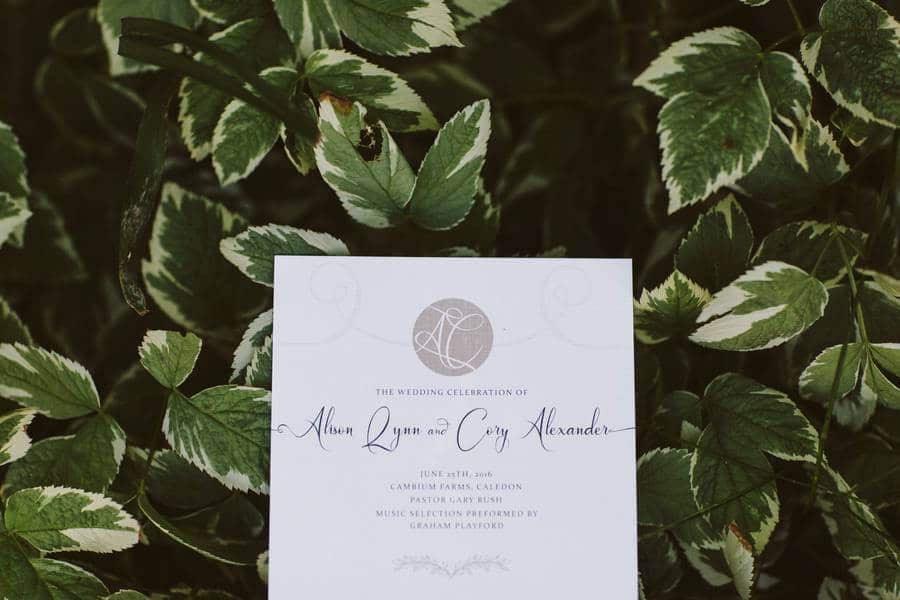 The simple-yet-elegant stationery is designed by the bride's company, Alison Gordon Studio
Vendors Featured in this Article
A beautiful sunny day, surrounded by lush greenery, friends and loved ones, Ali and Cory exchanged their vows and started their lives as husband and wife — we couldn't imagine anything more picture perfect!
The couple's stunning photo session is a blend of rustic and romance, and also bittersweet. The bride's father had passed away not long before the wedding, and they paid tribute to him by posing with his 1956 baby blue Chevy.
The newlyweds' barn reception is both chic and cozy. The natural-yet-modern decor by Chair-man Mills, including the tables and chairs, were perfectly paired with organically textured tablecloths, gold accents, beautiful florals from Blush and Bloom, and, of course, the romantic string lighting. Guests were served delicious fare from Cabral Catering and were treated to a gorgeous cake from Nadia and Co.