Nestled on 50 acres of picturesque rolling hills in Caledon, Cambium Farms is the ideal venue for any couple looking to tie the knot in a countryside wedding without straying too far from the city (located a mere 45 minutes north of Toronto!). Built in the early 1800s, this stunning century old Barn – complete with exposed beams, braces, and rafters – features a country style bar, lounge area and a DJ booth, all while boasting a seated capacity for 250! It's the perfect balance for those looking to host a grand celebration while retaining the intimate feel of a family function!
Recently, Cambium Farms graciously invited us to their annual open house to explore the beauty of their property and enjoy the hospitality offered by their preferred vendors. Arriving on location, we were immediately greeted with premiere valet service thanks to good folks over at Adagio Valet. Thankfully, the very talented Corina V. Photography was on location to capture all of the evening's festivities!
Vendors Featured in this Article
Entering the space, the distressed wooden beams lend the perfect contrast against the neutral hues of greens and whites used throughout. The folks at Bellwood Blooms adorned the tables with lush, natural blooms and foliage pairing perfectly with the white modern chairs and delicate green linens. Vintage furniture provided by Marvelle Events and the luxurious table settings provided by Chair-man Mills elevated the design further, proving that barn weddings can be both rustic and luxe at the same time – when done right, of course!
Built alongside the barn is the equally charming Carriage House. With its exposed wood and concrete walls and beautifully landscaped patio areas, the Carriage House – decorated with gorgeous vintage furniture provided by Vintage Rentals & Events – is perfect for small intimate functions or pre-dinner receptions. Speaking of pre-dinner, we came hungry knowing that there will be plenty of delicious food to sample – and boy, were we right!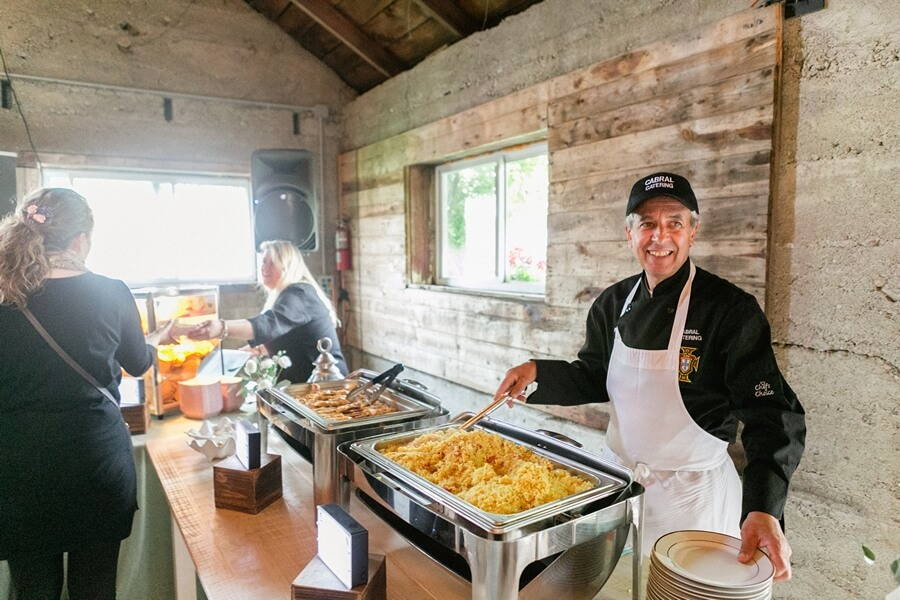 Cabral Catering served up wholesome home-style cooked Rice and Chicken Skewers. Further down, a loaded Nacho station.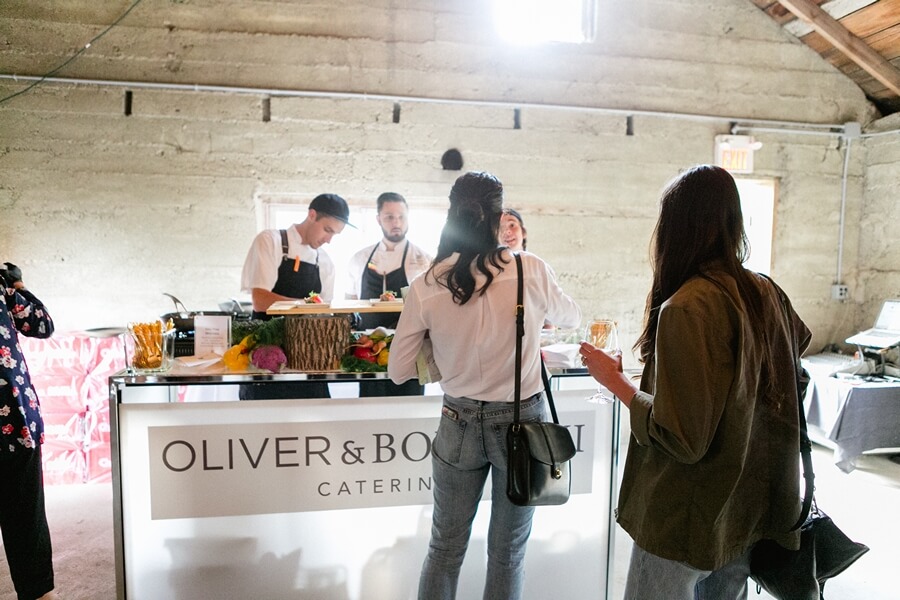 Oliver & Bonacini Catering served up made-to-order Seared Tuna on a bed of micro-greens – delish!
Heading back to the barn, we immediately gravitated toward the elaborate sweet table set up just inside the doors by Crumb & Berry. With an array of mini desserts, donuts, cupcakes, cookies, and tarts – everything tasted just as good as they looked!
Guests were able to enjoy the beautiful June weather while toe-tapping along to our friends at StereoFlavour Entertainment. Perusing the outdoors, guests were also able to stop by the one-of-a-kind vintage airstream photobooth provided by Snaptique.
Fun Flower Stand had a lovely floral cart set up just outside the barn, where brides-to-be were able to pick and choose their own flowers and even have customized flower crowns made right as they waited. Which boho-chic bride wouldn't love some flowers in their hair?
GoodLot Farmstead Brewing Co. serving up delicious beverages!
When an open house out in the country is as busy as this one, you know the venue is doing something right (not to mention all their 5-star reviews)! From the service to the entertainment to the food and beverages and decor – every aspect of this event was absolutely flawless! Thank you to Cambium Farms once again for organizing such a successful and fun-filled event and for inviting us to be a part of it!