Want to see what an industry party looks like when you combine the collective vision of over 20 of the city's most talented special event vendors? We know we sure did, so we invited over 400 industry pros to enjoy an exclusive evening of hospitality and appreciation all in preparation for yet another busy spring season ahead!
Given that this was our first-ever EventSource hosted industry event, we wanted to pull out all the stops and really wow guests, so we loaded it with tons of exceptional food and libations, amazing furniture and décor, plenty of entertainment, an ultra-attentive staff, valet service by Adagio Valet, and hosted it all in one of the city's most stunningly dramatic downtown locales!
Striking the perfect balance of architectural grandeur with the charm and warmth of its historical elements, we knew Ricarda's | The Atrium was the perfect space to host an event of this magnitude. We absolutely love how the venue's exposed brick walls contrast perfectly with the clean lines found among its many modern adaptations, and those 70′ ceilings and stunningly massive delta columns are just so awe-inspiring! A huge thanks to the team at August Media as well as Luis and his team at Images Life Media for capturing the entirety of the day.
Fiona and Lindsay's team at Stemz played a pivotal role when it came to orchestrating all the event design and florals. Given that the event would be flooded with tons of natural light on account of the venue's soaring floor-to-ceiling windows, the team elected a bright and cheerful spring theme, all while working closely with the team at Detailz Couture Event Rentals. The space just looked too pretty!
You May Also Be Interested In
All the stunning floor vinyl and signage was provided by Jill and her team at DFD Event Solutions.
With so many moving parts to coordinate, Rebecca Chan Weddings & Events was at the helm working closely with our Director Jonathan Fruitman to bring this collaborative affair to life!
With our 6 pm start time looming and hungry crowds waiting to rush in, we decided we'd snap a few shots of all the incredible food options, starting with the good folks at Food Dudes. In addition to their passed hors d'oeuvre of Seed Crusted Tuna, comprised of yellow fin, wakame, pickled chili, yuzu chili aioli, ponzu glaze, and taro chip, they included a warm and hearty Gnocchi Poutine with beef cheek ragu, caramelized onions, mozzarella, parmesan, pickled jalapeños and herb salad garnish.
Like dessert? How about a delicious Sticky Toffee Pudding with toasted pecans, earl grey chantilly and sea salt. Oh yes!
Fia and her team at Kiss the Cook Catering absolutely wow'd guests with their unique Kimchi Pancakes with grilled Gochujang Steak and Korean maple syrup – an exceptional flavour combination. For an Indian flare, the team also served up Chana Masala Waffles topped with samosa potatoes. For their passed hors d'oeuvre, a Vegetable Pakora & Onion Bhaji's with Trio of chutney – coriander, spicy red coconut, and sweet & sour onion.
Our friends at Toben Food by Design got the evening started with their Tuna Poke Taco with sesame, sweet onion, scallion, nori, avocado, served in a crispy house-made corn tortilla. For their plated item, guests enjoyed grilled B.C. Shrimp Scampi with chickoria, wild radish, pickled fennel, fava beans, summer peas, ramp-basil pesto genovese, with a squid ink vinaigrette. Toben's dessert included a mini Double Chocolate-Hazelnut Tart with chocolate sable, milk chocolate hazelnut ganache, dark chocolate mousse and a honeycomb accoutrement.
en Ville Event Design and Catering kicked things off with a delicious hand-made Asparagus & Ricotta Dumpling, with minted sweet pea silk. Absolutely delicious. For their short plate, a Salad of Farro with shiitake, edamame and shallot, topped with either braised pork belly, or king oyster mushroom as a delicious vegetarian alternative.
With so much food available for guests, a take-home Rhubarb Streusel Cake sure seemed like an ingenious idea – except I ate mine on the spot. It's the thought that counts, right?
Chef Brady and his team at Encore Catering served a light and refreshing Bloody Mary Gazpacho to whet guest appetites. From there, a delicious melt-in-your-mouth Beef Tenderloin with soubise gel, spinach and horseradish croquette. Dessert included a Tropical Paradise with ginger cookie, pineapple jelly, passion fruit curd, coconut ice cream.
The team at Presidential Gourmet prepared a most delicious and unique hors d'oeuvre of Basil Foam Meringue Nest. Served on a savory meringue, basil foam, grilled balsamic peach, crispy speck, and micro basil seedling all came together – such a fantastic flavour combination. For their mini plate, they served Duck Two Ways: smoked duck, duck confit, roasted cauliflower and truffle mousse, cherry gastrique, and pistachio praline. Talk about yum!
PG also treated everyone to another adorable take home: a Wild B.C. Blueberry Macaron with Maple-Cardamom Sponge Toffee Crunch, dipped in Milk Chocolate. Cute and pretty!
Ricarda's also got in on the food action with a massive Antipasti spread as well as Ceviche Bar with octopus, shrimp, halibut, salmon, tuna, Lime fennel salad. The team also floated assorted warm and delicious flatbread through the majority of the event.
We had the pleasure of working with BarChef Toronto at our most recent Toronto Catering Showcase and couldn't wait to see them in action at this event as well! As always, the talented staff and delectable customized cocktails were a huge hit among guests!
As the clock struck 6, it was time to cue the music and light the lights all courtesy of Sole Power. It's party time!
We truly wanted guests to feel as if they were in for a real treat – even before they entered the doors! Adagio Valet helped set the tone providing guests a taste of the good life – a much welcomed surprise for many who braved the May downpour. Once inside, Orsi and her team at Wellington Music set the tone with her live trio which combined perfectly with the aerial performance from Cirque Revolution Raw Catering also helped elevate the guest experience with their mobile oyster shucking team. Thanks also to Sword Security for helping ensure the safety of all our guests.
The swing provided by Dance Floor Decor proved a huge hit among guests with oh-so-many snaps lighting up Instagram feeds.
The portable photo booth from Event Circle was definitely a great way to engage guests! 
All the plate and dishware was provided by Gervais Party & Tent Rentals.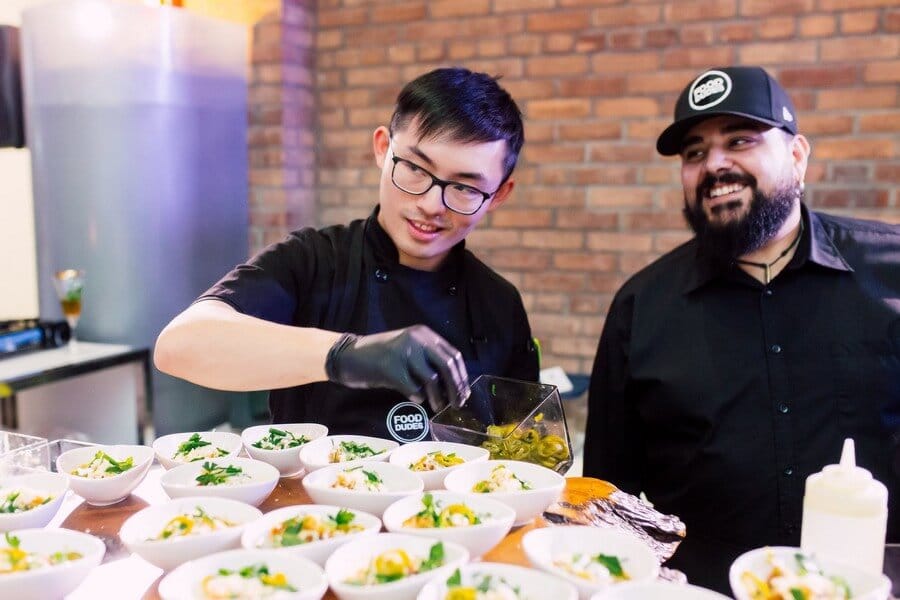 Our friends at Love Gelato certainly had their hands full serving up all sorts of deliciousness throughout the evening. 
It's not everyday that we all get to to come together as an industry and collectively kick-back and enjoy a incredible evening! We're thrilled to have the opportunity to bring members of the industry closer together, kicking off what will undoubtedly be an extremely busy spring season! We can't wait to see you all again!