As we head into the colder months, the last thing most of us want to do is leave the warmth of our house. If you are planning your wedding during a month that is typically a little chilly, you may be wondering how to make your wedding extra cozy so your guests are more likely the put on their dancing shoes and come celebrate with you.
---
Here are some tips on creating an ultra cozy wedding!
Have blankets at the ready
If it's actually cold on your wedding day, make sure your guests are physically cozy thanks to warm blankets or pashminas. Strategically placed heating lamps are always a good idea too.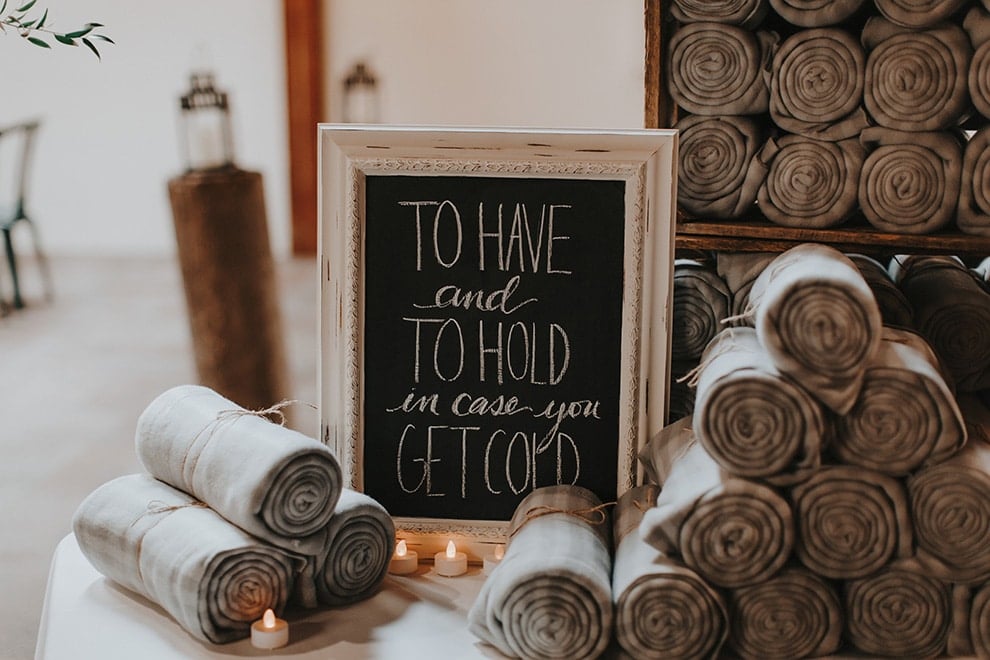 Have warm drinks on hand
There's nothing that says cozy quite like a mug full of your favourite warm beverage. Whether it's hot apple cider during your ceremony or a hot chocolate bar complete with some liquor options during the reception– adding something warm for your guests to sip will be sure to keep them happy and cozy.
Candles, candles and more candles
The easiest way to up the romantic ambiance in any setting is candles—even at a large party like your wedding. As long as your venue allows for open flame– add candles wherever you can, your reception centerpieces, ceremony aisle and altar are great places to start. If your venue isn't keen on the whole fire thing, there are plenty of electric options available!
Use smaller tables
Skip the long rectangular tables with high centerpieces and opt instead for round tables of 8-10. Smaller dinner tables are magic and your reception will instantly feel like an intimate dinner party instead of a formal event.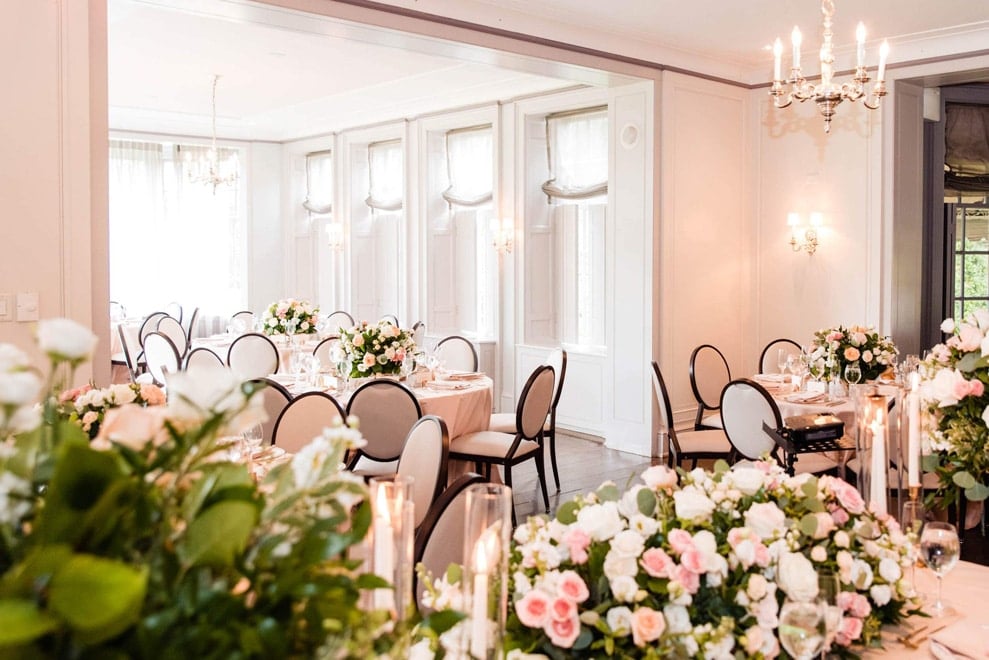 Photo Courtesy of The Right Moments Photography
Family style dinner
Keep your centerpieces low so that guests can see each other and serve family-style dishes to encourage a dinner party atmosphere and make food and conversation the focal point.
Serve comfort food
Simple, delicious food inspired by your favorite home-cooked meals will instantly make your guests feel like they are kids again. Work with your caterer to create a nostalgic, yet elevated menu that feels personal to you. Think tomato bisque and fancy grilled cheese; steak frites and of course, pie!
Create intimate lounge areas
Let's face it, there are some guests who will need to take a break from dancing– so it's a good idea to give them somewhere to sit. Rather than have your guests line the dance floor like an awkward grade school dance, set up pockets of comfortable furniture throughout the space so guests can sit, chat and have a drink. This is the best way to add a little cozy to your wedding and gives elderly or non-dancing guests something to do after dinner.
You May Also Be Interested In
Cozy up to a fire
There is potentially nothing better than cozying up to a fire. While it won't be possible at every wedding venue, adding a fire to your night after dinner is a great way to make guests feel cozy. And if you happen to have an acoustic guitar hanging around, we can almost guarantee someone will play it!