Ripley's Aquarium of Canada opened its doors to a slew of industry professionals for a lovely evening full of tasty food, live entertainment and guest appearances by some of the world's most remarkable sea life! This unique venue is ideal for hosting one of a kind events that are sure to wow your guests. I mean, it's not everyday you can pet sting rays or experience a shrimp nibbling at your fingertips!
With a massive standing capacity up to 1,200 and 17 aquatic exhibits on display, there was a ton to see around every corner! Luckily, we had the talented Henry Lin from 424u and Luis Moreira from Images Life Media on site to capture all the highlights!
Vendors Featured in this Article
To highlight the design versatility that can be created in this venue, Divine Furniture Rental and Event Rental Group used a variety of furniture to complement each room. Light up cocktail tables and stools, velvet lounges, pops of colour, Marquee letters courtesy of Event Graffiti, and even a more classic tablescape all contributed to the space and overall feel for the event. Terrain Flowers provided neutral floral pieces while DFD Event Solutions installed decals throughout the space. Each room was something new to discover!
Definitely worth mentioning is Ripley's dedication to sustainability when it comes to events: the venue does not allow plastic water bottles or straws in the aquarium and caterers are asked to use real china when possible and to only use recyclable or compost-able items if necessary.
Iceculture Inc. provided a bar made completely out of ice! With two drink offerings, this installation was a definite showstopper!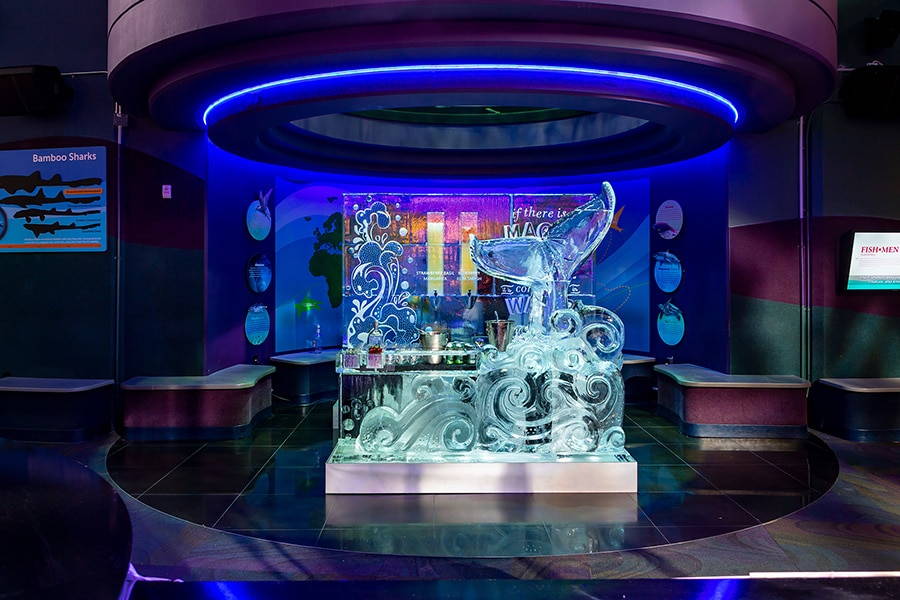 …and of course, no industry event would be complete without exceptional food! Kicking off the evening was Daniel et Daniel Catering & Events' delicious Watermelon Poke featuring ponzu, radish, spicy aioli, cilantro sprouts and a nori cracker. It was amazing! Other items on their menu included a Fish Bowl made up of beef tataki, tamari flan, nori, toasted sesame crunch, sea beans, togarashi oil and flowers. For dessert, a fabulous Pineapple Rum Cake.
Next stop on our food adventure was a visit to our friends at Presidential Gourmet. They served up a fabulous Broken Down Gazpacho with Herb-Grilled Flat Iron Steak: foccacia, marinated heirloom tomatoes, fresh herbs, and a chimichurri sauce – absolutely divine!
In keeping with a tropical theme, PG also served up this Huli Huli Chicken Taco served on a wonton taco with tropical relish – a perfect blend of flavour!
The team at Victor Dries Curated Events stayed busy with a Sweet Potato Ceviche featuring avocado cream, pickled Anaheim chili and a cucumer salsa. For our vegan friends, Jerk Doubles: jerk jack fruit, pineapple salsa, dairy free cheese, cilantro and jalapeno sauce, 'cooked to order' spicy flat bread – delish!
Toben Food by Design went with a triple threat of all 'round goodness: Wild Mushroom Risotto Cakes; a Fluke Crudo; and a perfectly cooked Harissa-Honey Fried Chicken. I just may have had two servings of that fried chick – it was so good!
Next stop: McEwan Catering to sample their lobster taco in a beet shell with jicama, lemon and pickled ginger. A great option for lobster lovers! They also included hearty dish of Braised Beef Ravioli with mint celeriac puree, egg plant, gremolata, natural reduction.
Drake Catering featured a Cod + Bresaola dish with coconut kefir cream, daikon, russets, seabuckthorn, daikon cress romesco dust. Carrot Pasta is probably my new favourite dish served by the team. It featured housemade ricotta, lemon-carrot, carrot puree, lemon balm and pasta crisps. A must for your vegetarian guests!
DJ Shamz kept the party going with a funky playlist from start to finish. He was definitely having fun looking down on the crowd from his mighty fish stage! All the A/V was courtesy the team at !
A big shout out and thank you to team at Ripley's and all the vendors involved for throwing such a fabulous industry party!