Whether you're planning an extravagant and opulent affair or taking a simple-yet-elegant approach, it's all about the decor when it comes to creating the perfect mood and ambiance for your wedding. With so many options out there, we reached out to some of Toronto's favourite decor companies to share which trends will be hot for weddings in 2016. Enjoy!
---
Bring The Outside-In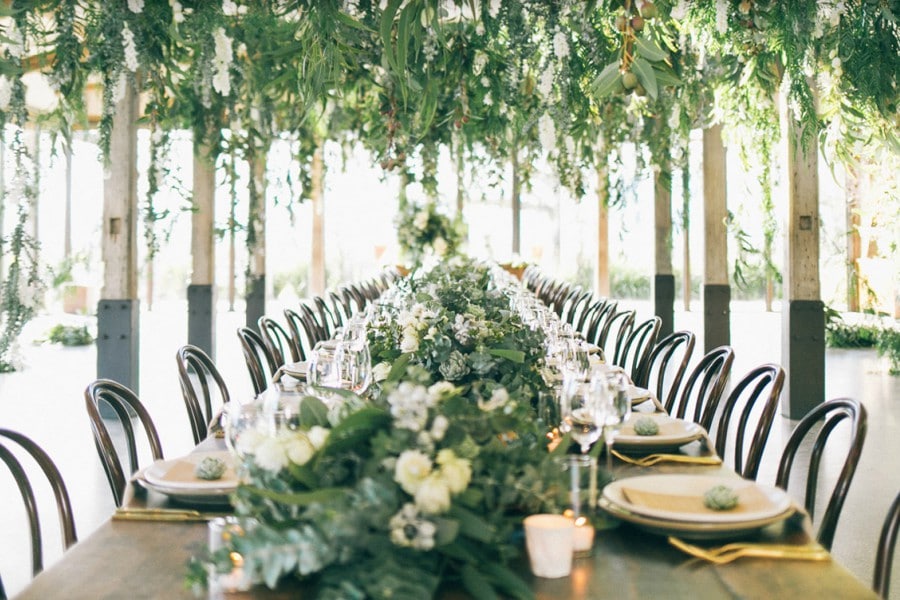 Photo Courtesy of Hikari Photography
"Couples love the idea of dining and dancing beneath the trees, surrounded by nature, but it's not always practical to be outside, and impossible during our long winter months. So the answer? bring the outdoors in! We have seen this trend come full circle over the years! There are countless ways to achieve this look by adding elements of nature into your wedding décor. From wild, unstructured floral arrangements and foliage-filled table runners, to out-of-this-world canopies of greenery and floral chandeliers; you can transform any indoor space to mimic an outdoor dining experience that will truly wow your guests. Take a minimal approach or go all-out with this – it's a décor trend that really has no limit!"
– Jennifer Kennedy-Maksymiw, Tufts and Toile
---
Bold Furniture Choices
Photo Courtesy of Amanda Koenig
"We are thrilled to see 2016 as the year that couples are trending towards bolder furniture choices. Mirror tables with louis chairs, lucite tables with ghost chairs, reclaimed wood harvest tables, and cross back vineyard chairs (to name a few combinations) are a beautiful shift away from the very popular chivari chair. The choice of furniture is also impacting and inherently dictating the reception room and seating layouts. Couples want to break away from the round tables and use a mix of rectangular or square tables. This shift opens up opportunities for us designers as we can create exciting layouts, integrate different styles of furniture, and create a visual crescendo of centerpieces based on the furniture layout. Whatever our couples' style may be – eclectic or modern, vintage or glam – we love this trend for 2016 as it's versatile with endless design possibilities!"
– Sara Baig, Sara Baig Designs
Vendors Featured in this Article
---
Themed Wedding Stages
"A themed bridal stage decoration is probably one of the most important features of a wedding venue. Often the center of attention, most receptions use the wedding stage as a focal point where all eyes must be drawn. A wedding stage setup must be spectacular, where the bride and groom can bask in royal splendor. Look out for themed wedding stages this season as they are the new and hottest trend for weddings in 2016!"
– Harinder Gill, G.P.S. Décors
---
Loose and Organic Florals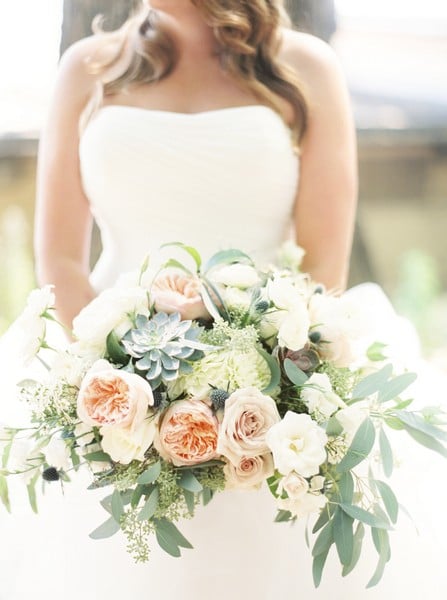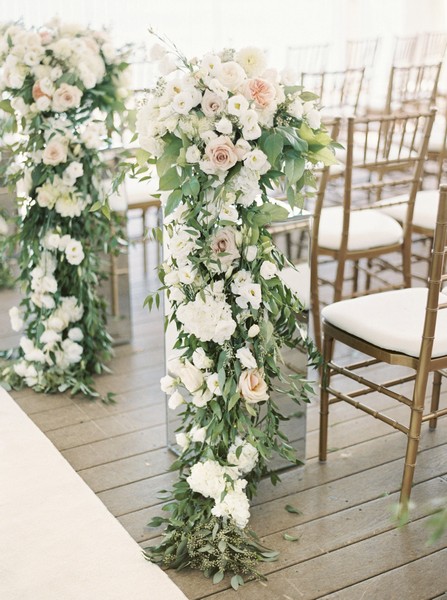 Photo Courtesy of Andrew Mark Photography
"Loose and organic florals are becoming an increasingly popular decor trend! Soft flowing foliage and florals add an element of classic romance. Our brides love the natural and botanical feel while still maintaining elegance. Unique accents such as succulents add an element of design, interest, and texture."
– Rachel Clingen, Rachel A. Clingen Wedding & Event Design
---
Ceiling Florals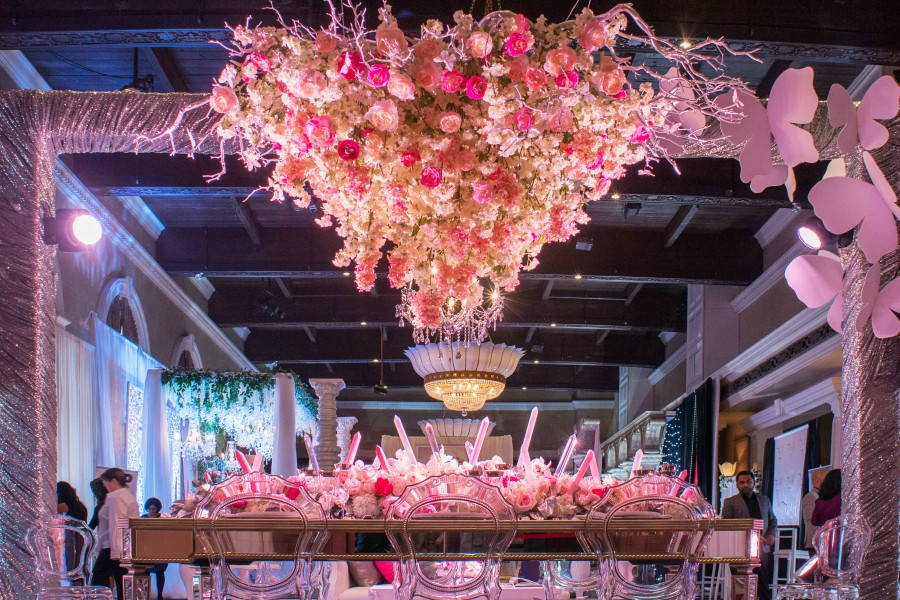 Photo Courtesy of L'Atelier Lumière
"Creating a romantic mood will never go out of style, but how you accomplish this aesthetic is always getting a fresh look. Ceiling florals are a beautiful, trendy way to fill your event space with colour and life. You can accomplish this by creating large statement pieces like we did for this head table design (pictured above), or by creating many smaller droplet arrangements. Each interpretation has stunning results, and you'll be seeing a lot of it from FOS in 2016."
– Miki Klevan, FOS Rental Group
Our friends at Decor & More second this motion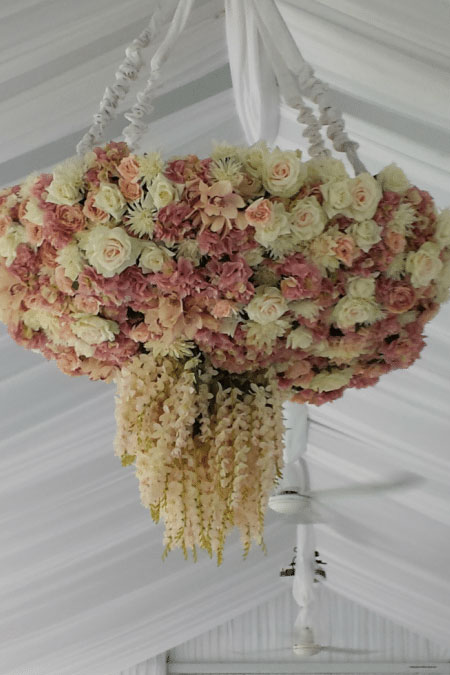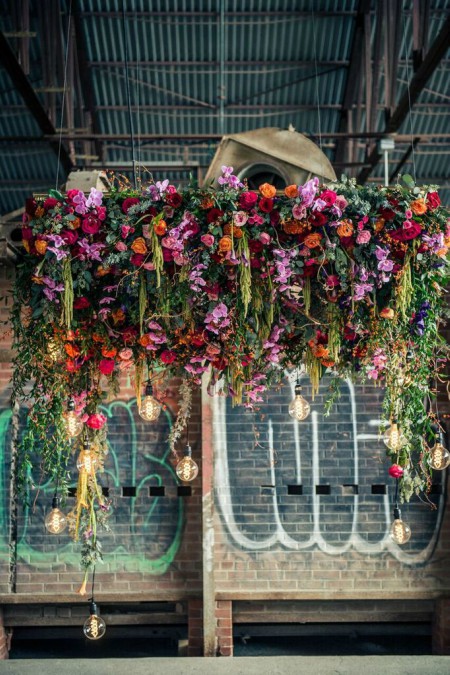 Photo Courtesy of Evergreen Brick Works
"Traditionally one of the big spends of any wedding is the tabletop design. We anticipate this trend being flipped in the coming years – with the focus turning to breathtaking ceiling installations. To reduce costs, an alternative is to focus on one showstopping ceiling feature with more simplistic supporting pieces on the tabletops. With this approach, you can still maintain a sense of drama and elegance without spending like a Rockefeller."
– Justin James, Decor & More
---
"European Style" Decor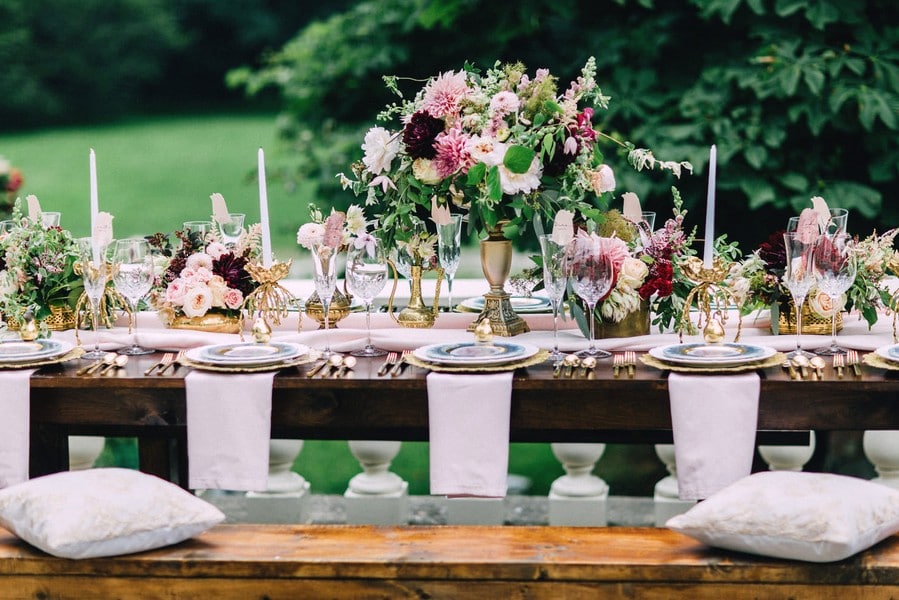 Photo Courtesy of Purple Tree Photography
"Right in the heart of Toronto, there are a vast array of venues that are perfect for hosting "European style" weddings. We worked on the above style shoot in collaboration with Affairy Events to create a look inspired by timeless, classic romance – reminiscent of the old continent. We are convinced that an outdoor wedding in "European style" will be a very popular trend in 2016. "
– Katya Agasiyants, Caprice Design & Decor
---
Romantic Lighting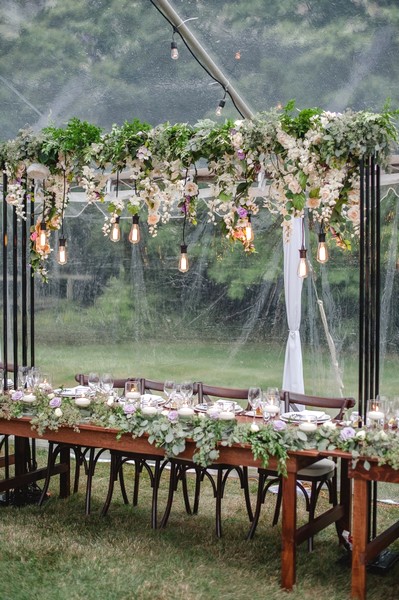 Photography Courtesy of Krista Fox Photography
"A cornerstone to romance and ambiance, beautiful lighting will be one of the main focal points to weddings this year. From Edison bulbs behind a head table, to one huge crystal chandelier over the dance floor (or multiple chandeliers over each long table), expect to see more decor trends centered on lighting. We will also see tabletop candelabra lighting continue to be popular in 2016."
– Daniela Miceli-Perri, Wild Theory Floral and Event Design
---
Gold Metallic Elements
"Gold is hot! We are being asked to incorporate it in containers, ribbons, cutlery, linens, and we have even been adding gold elements right into our floral designs! I love this trend because gold is a warm element that is extremely versatile and can be used in any style of wedding we are creating from vintage to sculptured pristine."
– Amber Richman, Cool, Green & Shady
---
Mixing "The Old" With "The New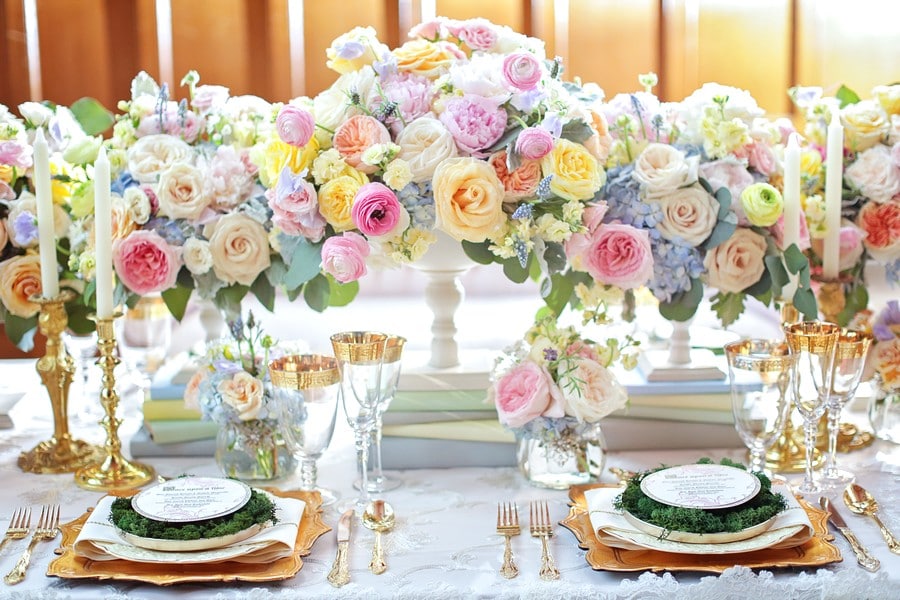 Photo Courtesy of Melanie Rebane Photography
"We are going to continue to see this trend through 2016 and 2017. Decor pieces will be mixing vintage elements, such as antique candlestick holders and vintage China, with more modern elements, such as clean Ivory Pedestal Vases, fresh and vibrant florals, and beautiful moss details. Combining traditional elements with modern suggestions will always provide for a very romantic tablescape."
– Rosanne Farano-Romanino, The Social Rose
---
Floral Walls and Floral Frames
"Custom made floral walls and floral frames are all the rage right now! Take a look at this head table backdrop that we designed for one of our amazing couples. These frames make a grandiose statement while putting the bride and groom front and centre. The reason these décor structures are so popular is because they make for great photo ops. Not just a stunning setting for your professional wedding photographer, but also for all of your guests, making every single shot Instagram-worthy and Facebook-perfect!"
– The Team at R5 Event Design
---
Marble Decor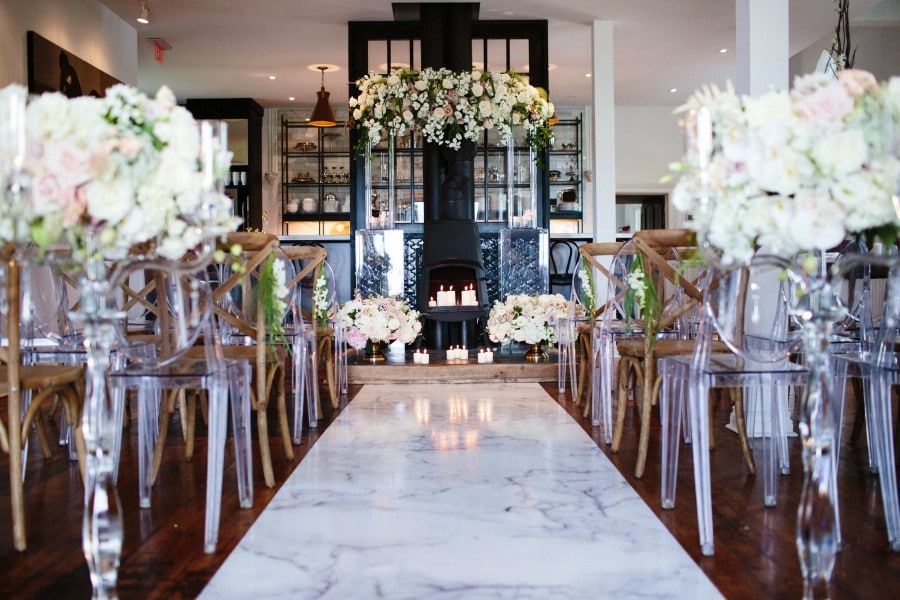 Photo Courtesy of Alicia Thurston Photography
"Marble continues to be a trending texture for weddings in 2016 as it can transform any aspect of wedding décor. Marble can give an elegant luxurious edge and is a great way to brighten up your ceremony space."
– Courtney Blades & Jodie Warnes, DFD Event Solutions
---
Luxurious Linens
"Many couples are realizing that adding a good quality linen can bring the "wow" factor to any table setting! Since tables are generally covered with other items, linens add just enough colour without overwhelming the room. They direct your guests' attention to the finer details and will maintain a glamorous look throughout the evening. Whether you choose strong colours to make a statement, or traditional colours to add luxury, couples can create any mood for their reception in the choosing of the colour and design of linens. "
– Femina Mapp, Decor With Grandeur
---
The 'Renaissance of Botanicals'
"My favourite decor trend for this year is the 'renaissance of botanicals'. Heirloom, vintage, geometric, and period botanicals have always evoked a bygone era, however, today's wedding professionals are incorporating botanicals in many unique formats including floral art/installations, custom linen, customized decor, and beautiful stationery (in-keeping with a contemporary or modern day interpretation of the trend). The resurgence of botanicals (like many trends) reflects the millennial couples' appreciation for tradition, combined with the desire for customization that is current and reflective of their personal style."
– Paras Mehta, Paras Events.
---
Wedding "Props"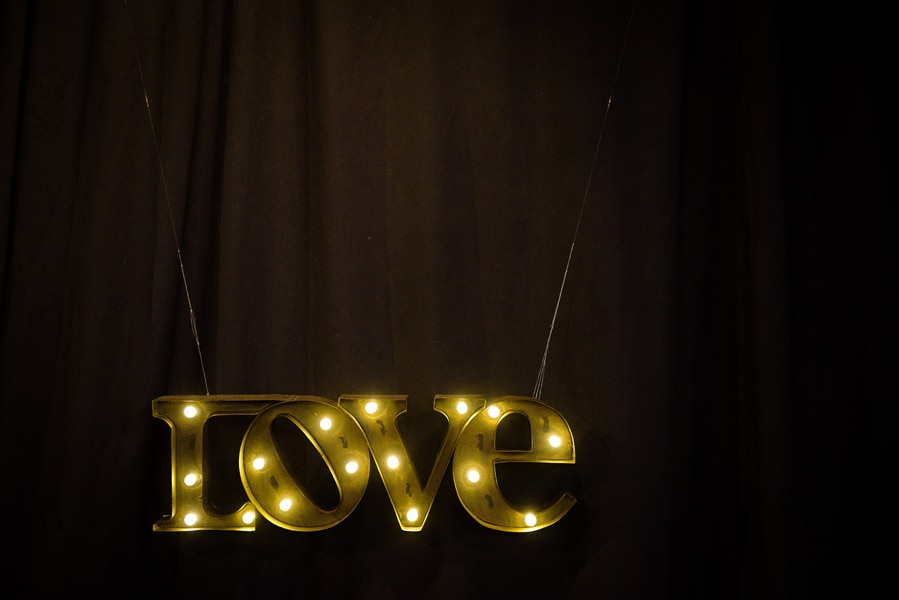 Photo Courtesy of HRM Photography
"One of the hottest wedding trends for 2016 is introducing props at your reception. Not only are they something different and help enhance your guests' experience, but they are a great way to really personalize your wedding and make it unique. From larger-than-life marquee letters to etched mirror seating charts, there are props for every theme!"
– Natalia Fernandez, Trade Sensation Events