As we prepare for another wedding season, however that may look, we've got just what you need to get into the wedding spirit. With so many iconic on-screen weddings out there, we thought it would be fun to round up a couple of our favourite TV weddings!
Spoiler alert: most of these weddings don't go exactly – or at all – as planned, creating some of the most special moments. Real couples – take note!
---
Jake and Amy
Brooklyn 99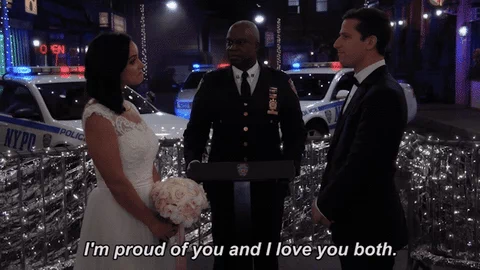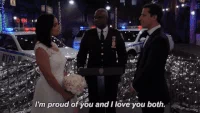 Ah Jake and Amy – one of my favourite TV couples of all time! These two tie the knot in the season 5 finale in what were supposed to be the "toitest nups" of all time. As expected, these two spent a good chunk of money on a traditional wedding. The morning of, someone calls in a bomb threat to the venue. Jake and Amy scramble to try and figure out if they know someone who might do this, and if the threat is even real.
Meanwhile, Terry and Rosa lose Amy's veil, the cake gets delivered but since it can't stay at the venue it gets taken to the precinct – where it gets ruined. The threat ends up being real and the bomb squad notes it will take hours to clear the place. The nine-nine works hard to save their big day and sets up a romantic ceremony outside their favourite bar Shaw's were they finally say "I do". It may not have been the big wedding they envisioned – and paid for – but it was definitely a romantic scene proving that all you need is love!
---
Mitch and Cam
Modern Family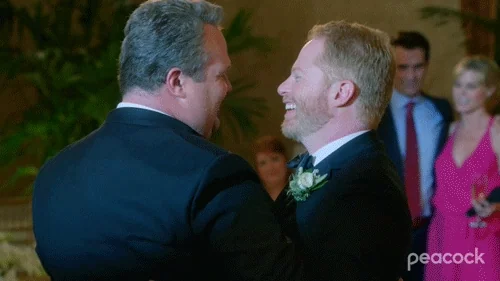 In a 2-episode season 5 finale of Modern Family, Mitch and Cam finally say "I do" after the season's long lead up to the big day. When it finally arrives, Mitch has a falling out with his dad, Jay (who expresses his true feelings about gay weddings), the ceremony gets pushed up 5 hours due to a forest fire – which inevitably interrupts their nuptials regardless, their officiant(friend) goes into labour, they scramble to find and get their guests to a new venue and end up trying to get married in a handful of places. When they finally end up back at their house with all their guests, everyone is crammed together and Mitch and Cam decide to call quits on the day since nothing is going right.
Jay comes to the rescue and offers up his country club – which is surprisingly able to whip up a romantic setting in a very short amount of time for the evening – and everything comes together more perfectly than they could have imagined. Jay and Mitch make a heartfelt amends, Phil takes over as officiant, and they are finally husbands!
---
Cece and Schmidt
New Girl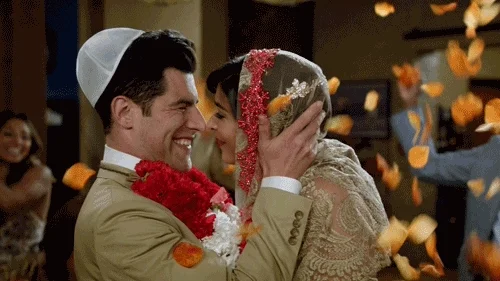 Confession time – I have a crush on Schmidt! But, that's neither here nor there since he is married to Cece ;). Their wedding day is definitely one of my favourite episodes of this show. Their beautiful day is flawlessly executed with just one minor issue – the groom was absent! On the morning of their wedding day, Schmidt hopes to take a short flight from LAX to PDX to convince Cece's mom to come to the wedding (backstory: she doesn't approve of the wedding because she wants Cece to marry someone within their culture). He hopes he'll be able to complete this mission without Cece finding out, but that all goes down the drain when his plane gets stuck on the tarmac for the rest of the day – it doesn't even take off! It turns out, Cece's mom did show up for the wedding after all and Schmidt didn't even need to go to Portland.
Nonetheless, Schmidt is stuck on a plane on his wedding day and isn't able to get off. After vowing to hold off until Schmidt gets to the wedding, Schmidt insists they go through with the wedding "party" (since everything is already setup and paid for), and they will legally wed at city hall when he gets back. The episode is actually quite funny as Schmidt attends his own wedding via FaceTime. Schmidt finally makes it back to the Loft in the middle of the night, where he finds his roommates and immediate family waiting for him so the couple could officially tie the knot. It was so sweet!
---
Jim and Pam
The Office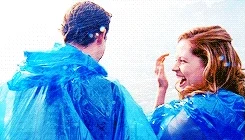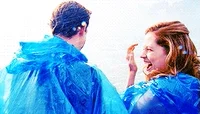 In a special episode of The Office, the whole Dunder Mifflin team travels to Niagara Falls for Jim and Pam's wedding, and as you may have guessed, the whole episode is a comedic disaster. The series of disasterous events happens at the rehearsal dinner, where Jim accidentally reveals that Pam is pregnant to her very traditional and conservative grandmother.
Just before the ceremony, Pam accidentally tears her veil. She meets up with Jim to tell him and express shame in her appearance because she is pregnant. In a romantic gesture, Jim cuts his tie in half and the two run away from the church to have a secret ceremony on Niagara's Maid of the Mist – all whilst people await their arrival at the church!
When Jim and Pam return the church as secret newlyweds, their second ceremony finally begins. Of course, it's interrupted by a viral dance routine from their co-workers, because it wouldn't be The Office without Michael Scott's shenanigans!
---
Phoebe and Mike
Friends
Arguably one of the best shows of all time, Friends is home to a handful of iconic TV weddings, but I have to say Phoebe and Mike's is my favourite. After spending the majority of the series bouncing from guy to guy, date to date, and not having any real on-screen relationships play out, Phoebe finally meets Mike who ends up being her one and only. The two get married in the shows last season in what was supposed to be a small, intimate wedding to begin with. But -you guessed it – everything ends up going wrong on the day-of when a huge snowstorm shuts down New York City. The officiant can't fly in, there are power outages and traffic jams, and it doesn't look like the day is going to happen.
As the snow subsides, Mike and Phoebe decide to have to simplest of ceremonies out in the street, with Joey officiating and Chandler walking Phoebe down the aisle. The most romantic situations occur when things don't go according to plan!
---
Jesse and Becky
Full House
Full House has been off air for years, but that doesn't mean it can't still give us all the feels! Uncle Jesse and Becky are serious couple goals. On the day of their wedding, in search of adventure, our beloved Uncle Jesse decides to go skydiving… and gets stuck in a tree! When he finally frees himself, he falls on a tomato truck and ends up in jail. Of course, being a no show at their wedding causes concern among the Tanner family.
Becky races to Jesse's rescue and the two finally say "I Do"! And who can forget that rendition of the Beach Boys' song "Forever" at the wedding? We just can't get enough of this love story!
---
Jane and Michael
Jane the Virgin
After a crazy love triangle that takes up a lot of the plot in Jane the Virgin, Jane and Michael finally tie the knot in the season 3 finale. Jane is almost late for the big day as she insists on changing a graduate thesis at the last minute, having to race to hand it in before heading to the church. Jane and her father end up having to take a city bus to the church, and they barely make it on time! She gets there to find Rafael waiting for her, where he plans to tell her how he feels about her. Thankfully he chickens out so as not to ruin a glowing Jane's big day! The ceremony couldn't have been more romantic, with Michael reciting his vows in Spanish – delighting Jane's Abeula. It ends up being to most perfect day – but we won't talk about how it ends (I'm still not over it).
---
What's your favourite TV wedding of all time?