You know it as soon as soon as the envelope arrives.  Its weight, its thickness, its texture… it's perfect!  We're talking wedding invitations here and the type you choose immediately conveys and sets the tone of your entire wedding day.
We all know the basics: "my wedding will be formal, so let's keep the design classic" or "my wedding will be fun, so let's go with something whimsical" but there's so much to consider.  Your stationery or invitation designer will work with you to create the perfect pieces for your event. But it doesn't just stop at invitations; carry the invitation theme forward and create all of the paper items you need to create a seamless look: place cards and programs to labels, coasters (yes, you'll see that below!), custom menus and seating charts…if you can dream it, they can design it!
For some true design inspiration, we reached out to Toronto's top stationery designers who were delighted delighted to share with you some of their favourite recent pieces.  Please let us know what you think in the comments section!
Last year I had the pleasure of designing beautiful invitations and stationery for a September farm wedding. The couple wanted to incorporate nature and natural colours since the reception was going to be outside. Birds were another theme they wanted to be a part of their stationery, so what better than a design with 2 love birds in a tree! We carried over the theme from the invitations to a ceremony program, menus, table numbers and thank you cards. I have seen quite a bit of interest in this design and decided to add it to my invitation collection!
Vendors Featured in this Article
---
This invitation suite is for a bride who is not afraid to be bold! With bright pops of colours, this suite is perfect for an outdoor wedding in spring or summer. With an unapologetic use of bold florals, this suite sets the precedence for a grand yet welcoming event. The Edwardian inspired die-cut shape is carried throughout the entire suite, from the main invite, to the inserts, through to the place cards and menus.
A very special piece we've created here are the custom handmade, water-coloured coasters, which are gold foil debossed for an added flair. The coasters were made in several colours to reflect the entire palette of the event. Another unique feature of this suite is the use of individualized cards and envelopes that served as a guestbook for each guest to leave their own personalized note for the couple.
---
Custom fold out Invitation Suite with perforated reply postcard, sunny yellow bellyband and envelope for this Spring Wedding. A modern, typography based design inspired by the couple's urban, downtown boutique hotel wedding.
---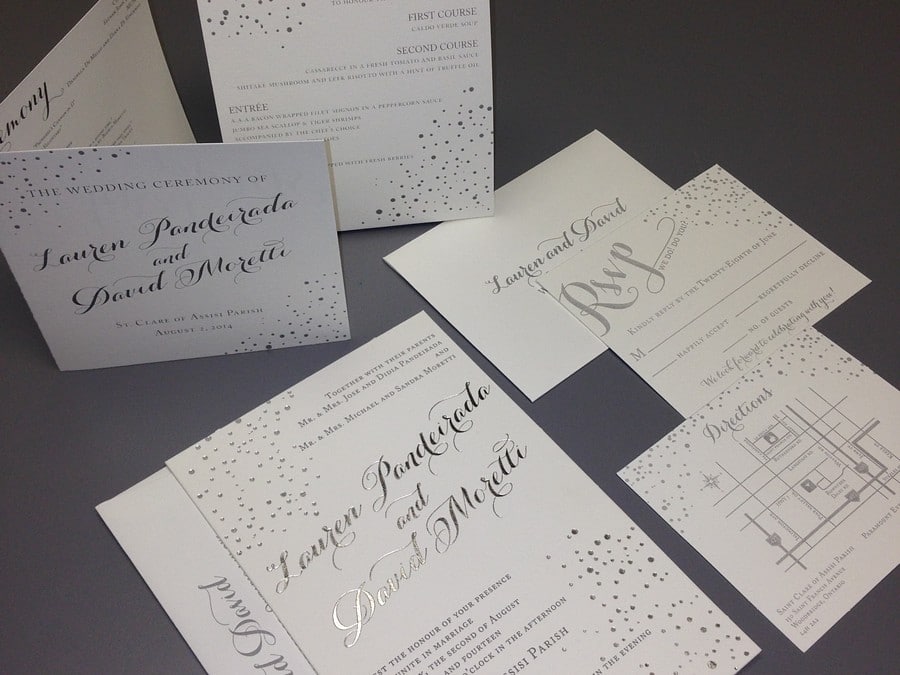 The "Lauren and David" suite i love as we mixed foil and letterpress together and made it a fun and contemporary style.  This particular invitation has been a popular style for our couples for 2014.  Letterpress and Foil printing are my favourite type of invitation to create.  A simple invitation can speak volumes with beautiful paper and old fashioned technique.
---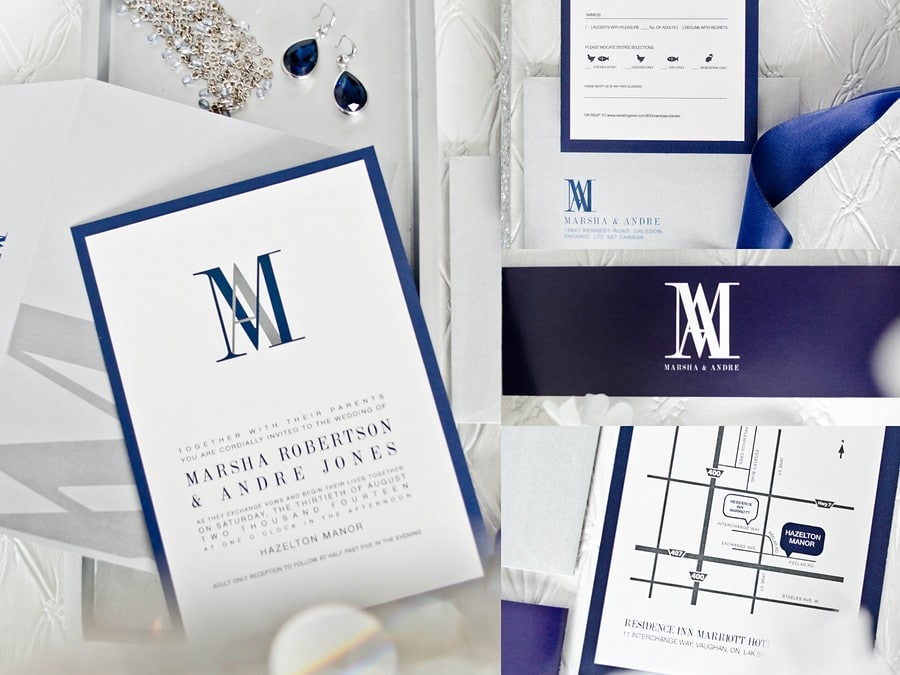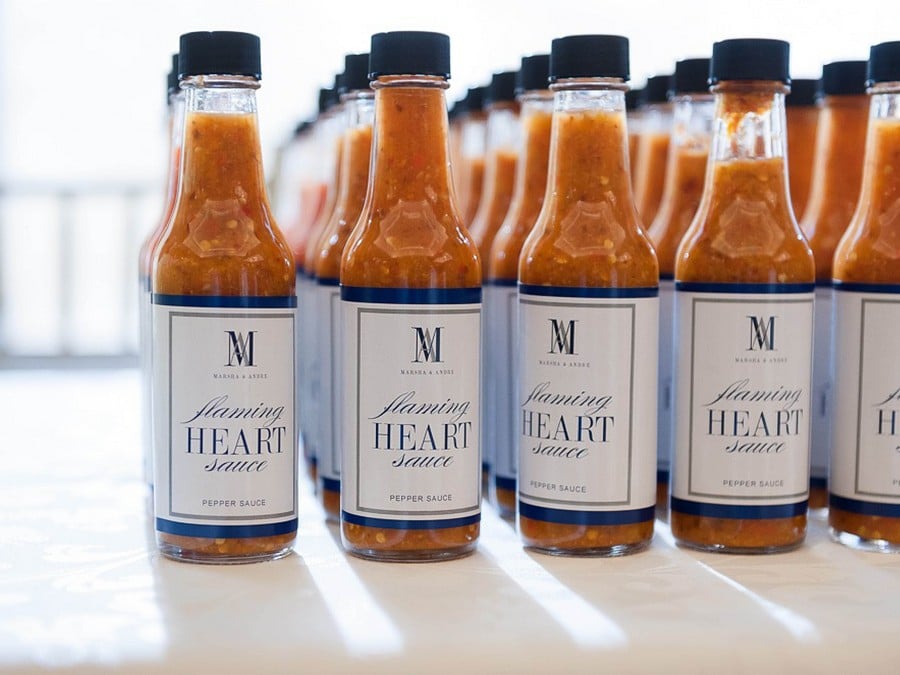 Photo Courtesy of Found In Love Photography
One of our most unforgettable exclusive wedding invitation designs is the Modern Chic Suite. We dedicated the couple's classic and sophisticated style into the stationery details, which made it more significant to them. From the unique customize interlocking monogram, hints of the elegant navy blue wedding essentials, and the family recipe pepper sauce & rum cake tailored favour labels showcase the finest in our modern classic wedding design.
---
Meagan Wappel Designs
This particular wedding was special to me because it was for one of my best friends. The colour palette and design was left entirely to me. The couple was so very easy going when it came to trusting my design. Knowing a couple hires you for your style and design and lets you roll with everything is so liberating for a designer. It really allows the creative juices to go wild! 
With the whimsical floral pattern, font and pink palette you really can't go wrong!  I also felt I managed to capture the bride and grooms vision and uniqueness in all the planning. Although I have my "my style" as a designer it's most important that I am able to bring out who the couple is whether that be from the beginning in the invitations all the way through the day of stationery and styling of the entire event. In the end it is their special day and I am so thankful to be able to be a part of it all!
---
We had the honour of working with a bride who called us her "dream vendor". It truly made our day and we knew from that moment this invitation would be special. It was all about details and what more could we ask for! The illustrator side in us came out and we hand-drew all the elements of this invitation.  The idea was to work off a watercolour style invitation but bring in the details from the ceremony, what the couple will be wearing on the day of and play off the outdoor venue they had booked. 
The illustration was for a Tamil bride and everything from the details in the dress to the jewels she had on mimicked what she would actually look like day of! This was one of my favourites only because we always try to incorporate our clients in the design and this invitation literally did that. It was a fresh take on a fashion illustration style that included details with significance that was important to the couple. Some details were so minor I'm sure only the couple noticed them there. That's what makes it original and a true couture art piece for the couple.  We don't only want to promise a beautiful invitation but a keepsake made especially for them that they can cherish forever.
---
Our Collette Collection design was inspired by Marie Antoinette's original engagement notice.  The design adds an eclectic, soft and romantic feel to any event.  Its hand-crafted touches include the lavender inked colour tones and hand torn edges, giving each piece a unique touch of artistry.  Our designs are completely customizable to colour coordinate and showcase the concept of any particular event.