Gallery
This content requires HTML5/CSS3, WebGL, or Adobe Flash Player Version 9 or higher.
Reviews
Went to the Briars for a long weekend wedding celebration. Staff were friendly and accommodating, rooms are clean and bright. Rooms have very nice toiletries, good quality coffee and tea. Buffet breakfast was fabulous, unfortunately, hot items not more then room temperature. They certainly go out of their way to give you a wonderful selection of food items. I would recommend this hotel/inn for a memorable getaway or important celebration.I was surprised to be charged $1.00 at checkout for using MasterCard to pay the bill.
These grounds were very lovely to walk. We got a room with a fireplace which was very cozy. The spa massage was great. It has a sauna which is the most important thing. I got a pamphlet of the history of the building which I highly recommend you ask for if you're into quirky Canadian history.
Alla Stanneveld
October 2019
When we walked in we were greeted. But we were not given any instructions on where to go. We went to have lunch the food was good. Over priced but good. Then we went to the pool. There was nothing in the change rooms no soap, no robes, no towels. We later found out that we could have gone to the spa to get our robes. The water in the pool was freezing! It also had a weird smell inside the pool area. The shower in the pool was covered with algae which was disgusting. The building is outdated inside and could use a facelift. We went down for our spa treatment and the spa area was really nice and cozy! Our masseuses Natalia and Maria were great! We really enjoyed our massage. Would we come back here again? Yes but only for the massage. The facilities themselves need some work. It also would have been nice for the front desk to let people know (when applicable) where to get robes/towels.
Michael Stepchuk
October 2019
This place is an institution and often used for wedding receptions. Great grounds to enjoy and a great spot for outside events. The kitchen is competent if not spectacular and did not disappoint. The room decor is somewhat dated but that fits into the over all charm of the place. Its a bit remote located in a rural area outside if Toronto is its a bit of a drive
Delaine Payton
September 2019
Wonderful place to get away. Lots to do-golf, swim, canoe, kayak, badminton, nature walks. Also lots of beautiful spaces for quiet times. Attentive staff and delicious meals. Worth a visit
Briars Resort & Spa has been mentioned inside these other vendor profiles:
Company Overview
Company Overview
Deals & Packages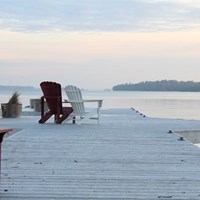 Meet Me at the lake - May meeting special
Price $199 /person
---
---
What services are included with this Package:
Overnight accommodation based on single occupancy
Three meals daily
Main meeting room with 2 coffee breaks daily
---
Here's the Fine Print:
Available on stays till end of May, new bookings only
Price subject to HST and resort Fee of 15%
1 team building or healthy meeting activity free - limited availability book soon!
This package is exclusive to EventSource.ca visitors. To redeem, you must mention you found this package on EventSource.ca.
Map
55 Hedge Road, Georgina, ON