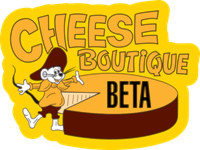 Cheese Boutique
This vendor does not yet have any EventSource reviews. Be the first to leave one!
Jeremy Zavitz
February 2016
Great selection tucked away off of South Kingsway. I never knew this place existed until very recently and I've been missing out. Cheese Boutique is a treasure trove of specialty items and whatever you're looking for they are bound to have. Huge selections of quality oils, snacks, hot sauces, mustards, the list goes on and on. Then you get into their different departments, all of which are top notch. Their butcher has good cuts of meat (haven't tried these yet but the quality and attention to detail look great), the cheese selection is pretty great with a ridiculous amount of cheese to choose from, the bakery has some excellent treats as well as breads, pretzels, etc...Can't say enough good things about this place, the quality is really great and you should definitely check it out.The staff has always been extremely helpful and on the few times that I have asked someone for help with finding something or for their opinion on what I should get they are always happy to give suggestions and go over and above with assisting me. You can also often find people giving out samples on a regular basis so it's a good opportunity to try some new products.The only con is that parking is usually pretty hectic outside with all of the people coming here and nearby businesses. If you don't see parking immediately in front of the store or along the side of the road, there is also parking owned by the Cheese Boutique at the building across the street (3 spaces). It isn't very obvious when you are looking but there is a sign indicating that you can park here as well, so often you will see an opening there when everything else is full.Enjoy.
Brad Langford
January 2016
One of a kind cheese shop. Lots of other gourmet goodies too (sauces, pasta, produce, baked goods, deli meats). But the highlight for me is the extensive cheese selection and knowledgeable staff. You'll find very unique cheeses here that are hard to find elsewhere. Where else can you walk into a cheese vault?
Greg Orszulak
January 2016
This is the place to go to pick up your cheese. They have an amazing selection of cheeses and meats from around the globe. Racks upon racks of artisan and in house dips/sauces/jams/olive oils too. I wouldn't do all my grocery shopping there, but when we're looking for some higher end ingredients for a fancy meal, we go to cheese boutique. On the weekend the owner walks around and hands out tea to the customers. The parking situation can be a bit tricky though, the spots in front of the store have a crazy incline, so watch your bumpers if you're driving a lower car.
Go in thinking to get a piece of cheese for an event or a meal and come out with a cornucopia of goodness. I can never leave spending less than $40.
Wojtek Parada
September 2015
Not as appealing as before. Looks a little bit messy. Herbs in the meat department are always without water and wilted. This Cheese Boutique is slowly changing into a regular grocery store.
Cheese Boutique has been mentioned inside these other vendor profiles:
Blog Posts featuring Cheese Boutique