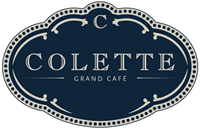 Colette Grand Café
Vendors Similar to Colette Grand Café
Came here for the Sunday brunch. The fruit was super ripe and sweet and my favourite was the dessert. However for the price I wished I got a bit more out of the brunch in terms of the savoury options. The ambience is great, and amazing views.
Margarita Ibbott
January 2017
I had a lovely business lunch here. The quiche was delicious and the salads were season very nicely. The highlight were the macaroon cookies that you can purchase for a lovely gift. I hope to return though it was off the beaten track. Delicious!
We loved this place. Will definitely go back. Good and service was great. The French onion soup is one of the best ones I've had. Beef tartar was excellent though just a bit on the salty side. The main course was fantastic. And the desert.... Wow. We loved the ambiance of this place. Very chic.
Regan Harder
November 2016
The atmosphere is inviting and warm .. generally why I wanted to dine here. However my experience was horrible. Our lattes were cold. We all received all of our dishes at different times. The waiter didn't check on our table once throughout the entire meal. When I received my plate my eggs were cold. Overall, poor services, food tasted ok but wasn't presented properly or on time. Especially a let down since it was my birthday
Alexa Torres
November 2016
On special occasions my family and I go here for the Sunday brunch buffet. They have a great selection of food to choose from- including lobster and smoked salmon, to friend chicken and waffles and great desserts. Overall quite tasty food. However, the fried chicken does not always look very appetizing and sometimes very greasy whereas the pancakes are sometimes very dry. The bread pudding is delicious as well as their salmon wellington. The look of the cafe is very parisienne and quite dainty with lots of light from the windows pouring in brightening up every room.On my birthday they surprised me with a lemon custard and fruits with a sparkler on top. Breakfasts here are always very pleasant!
Colette Grand Café has been mentioned inside these other vendor profiles: