When it comes to weddings, many restaurants offer a more laid back, cozy, intimate vibe to enjoy with close friends, warm ambiance, and delicious food. Toronto is blessed to have so many beautiful options to choose from, each with their own distinct style and amenities.
So, if a lavish 450-person, sit-down affair complete with concert staging, a laser light show and helicopter grand entrance isn't quite your thing, you're going to really like these 15 spectacular restaurants with a flair for hosting cozy, intimate weddings!
Vendors Featured in this Article
---
Cluny Bistro
35 Tank House Lane, Toronto, ON M5A 3C4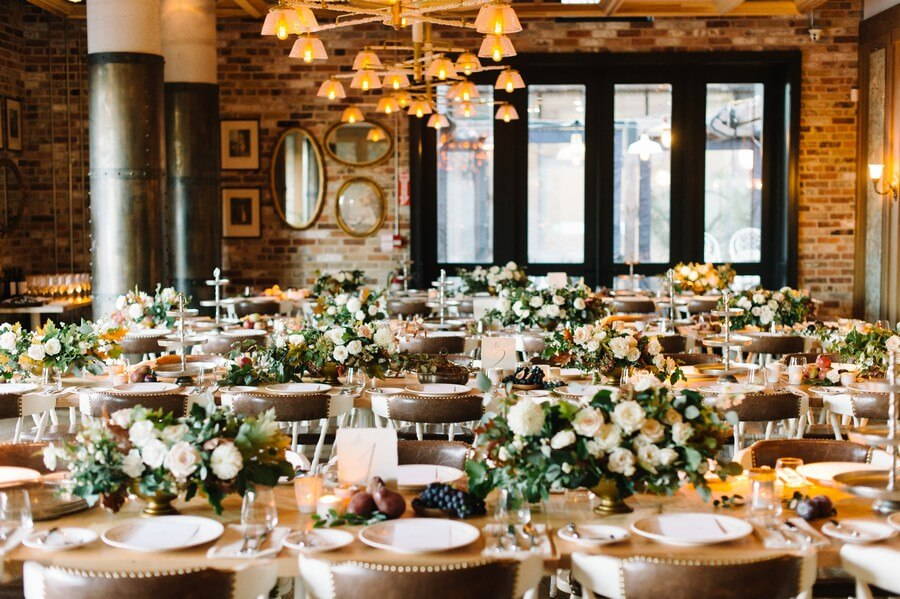 Photo Courtesy of Tara McMullen Photography
The Private Dining Room at Cluny Bistro offers effortless beauty and function space for intimate weddings. Your guests will enjoy a taste of modern French cuisine in a breathtaking Parisian inspired room complete with floor to ceiling windows. Right in the heart of Toronto's Historic Distillery District, the restaurant can accommodate groups up to 80. There is also an option to separate the room for more intimate gatherings of 32 or 48.
Price Range: $1,500 to $5,500
You May Also Be Interested In
CaFfinO
1185 King St W, Toronto, ON M6K 3C5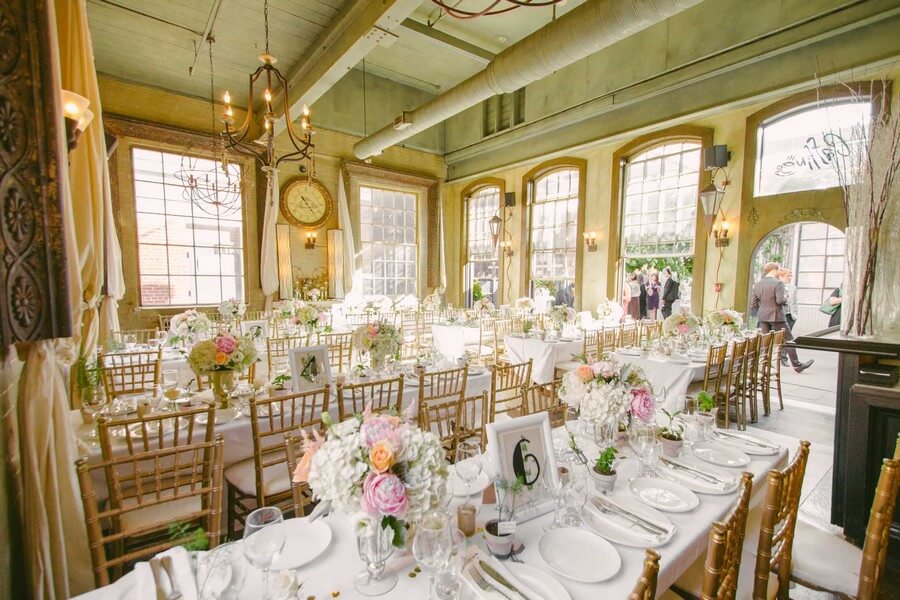 Photo Courtesy of Olive Photography
CaFfinO a hidden gem venue nestled within heritage buildings from the 1800's. This venue is so gorgeous, you would never believe it was historically a warehouse! With high, exposed ceilings, mosaic floors, and an enchanting outdoor courtyard, CaFfinO offers a stylish, unique bohemian vibe perfect for intimate weddings.
Price Range: Starting at $5,000
---
Mildred's Temple Kitchen
85 Hanna Ave #104, Toronto, ON M6K 3S3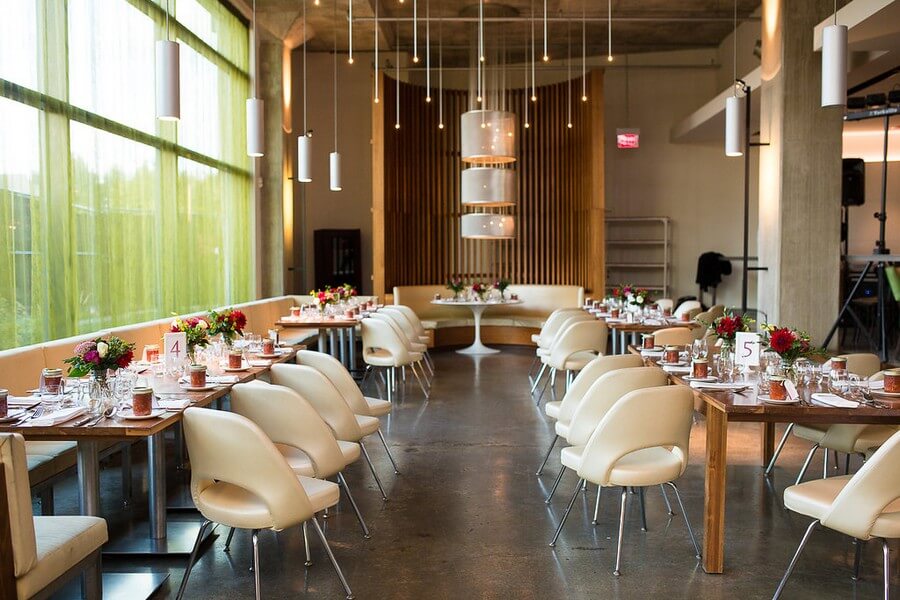 Photo Courtesy of Avenue Photo
With 20 years of experience under their belt, Mildred's Temple Kitchen is well-equipped to assist in coordinating the finer details of your intimate affair. The dining room can accommodate up to 100 guests for a full service sit-down dinner. The patio is also licensed for 45 guests. Another plus: the ceremony can be held onsite as it's uniquely urban venue offers a romantic setting for your vows!
Price Range: $6,000 to $18,000
---
Rosewater
19 Toronto St, Toronto, ON M5C 2R1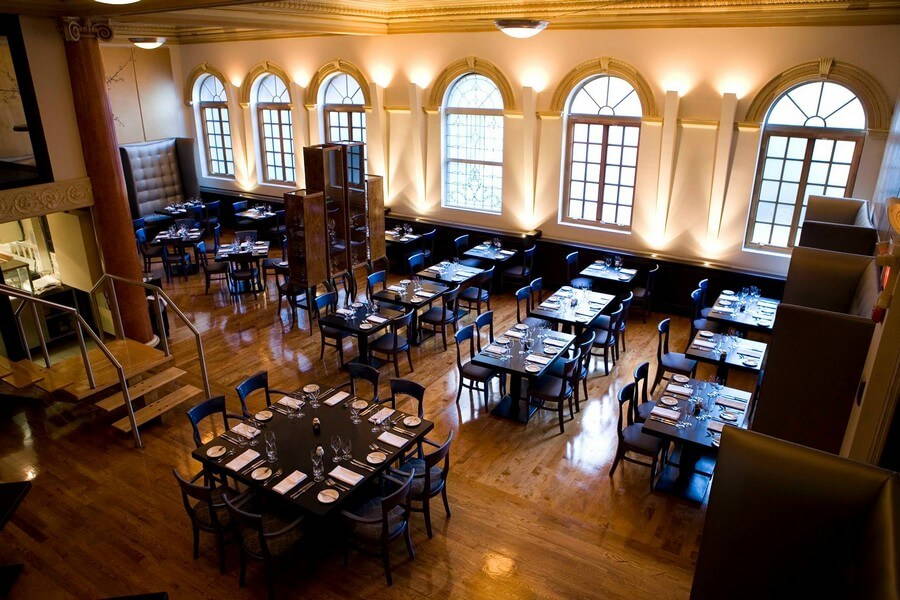 Photo Courtesy of rosewaterroom.com
The stunning Rosewater offers an open concept design featuring hand painted cornice molding, floor to ceiling windows, and a warm, inviting atmosphere – ideal for a cozy, romantic wedding celebration. On top of a picturesque backdrop, the venue also offers an in-house team to help you throughout the entire planning process!
Price Range: Not provided
---
Auberge du Pommier
4150 Yonge St, North York, ON M2P 2C6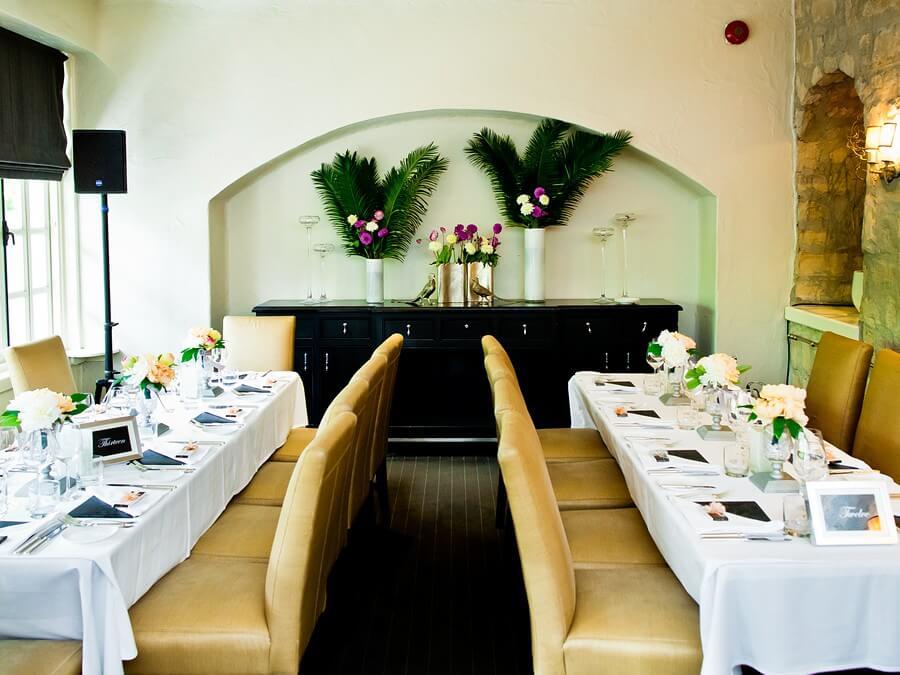 Photo Courtesy of Dmitri Markine Photography
Auberge du Pommier is one of the original venues in the ever-growing Oliver & Bonacini portfolio. Crafted from two 1860's wood cutters cottages, the restaurant has a charming coziness all its own. The venue is perfect for a romantic, intimate wedding any time of the year: in the colder months, wood burning fire places are available to add ambiance to the venue. When the snow melts, beautiful garden terraces are available for photos and for guests to enjoy the warmer weather.
Price Range: $500 to $2,000
---
Sassafraz
100 Cumberland St, Toronto, ON M5R 1A6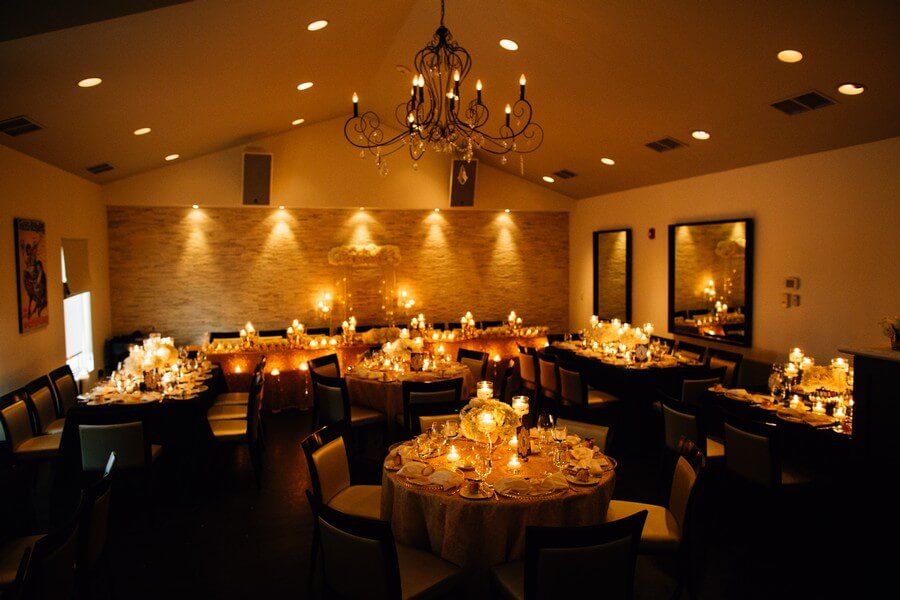 Photo Courtesy of Studio 95
Nestled in the heart of trendy Yorkville amongst Victorian row houses, is the "little yellow house", Sassafraz. The second floor provides a private event space that can be divided into two spaces for smaller events. Additionally, Sassafraz offers in-house wedding coordination there with you from first meeting until the day you say "I do". Some added flexibility is always nice: you won't even need to worry about requesting menu selections from guests ahead of time; guests can choose their favourite item that evening, and have it made to order!
Price Range: $8,000 to $22,000
---
Stratus Restaurant
(36th floor) 79 Wellington St. W, Toronto, ON M5K 1J5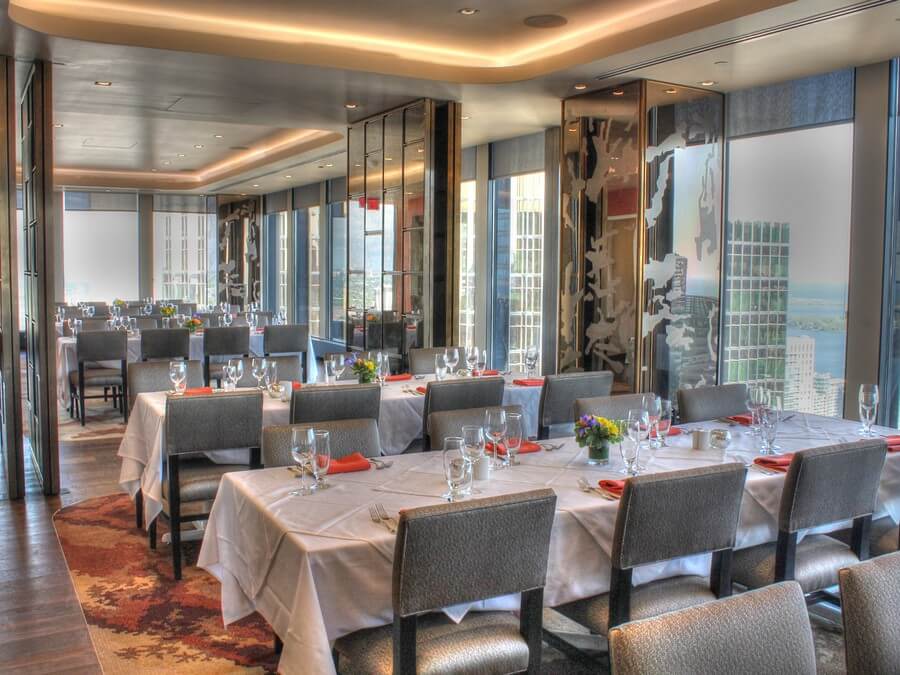 High above the city you'll find Stratus Restaurant, offering you and your guests breathtaking views of the city skyline and downtown hustle. Rentals also include access to the rooftop for photos! In-house event coordination is also provided.
Price Range: $800 to $13,000
---
George Restaurant
111c Queen St. East, Toronto, ON M5C 1S2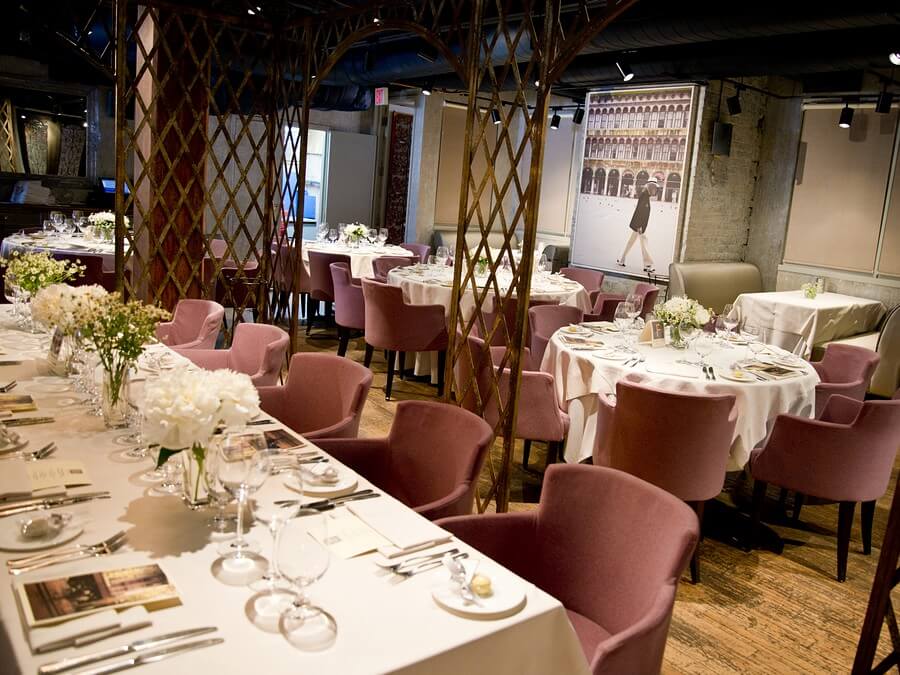 Toronto's George Restaurant is perfect for couples looking to host a small gathering with just their closest friends and family! A full buy-out of the restaurant will accommodate a maximum of 110. For the wine-lovers in your family, their in-house sommeliers can help you pair your wedding meal with the perfect wine; a helpful feature given the 400 bottles from which to choose! Added bonus: for out-of-town guests, George is conveniently located below The Ivy at Verity – a lovely boutique hotel.
Price Range: $1,000-$30,000
---
Brassaii
485 King St W, Toronto, ON M5V 1K4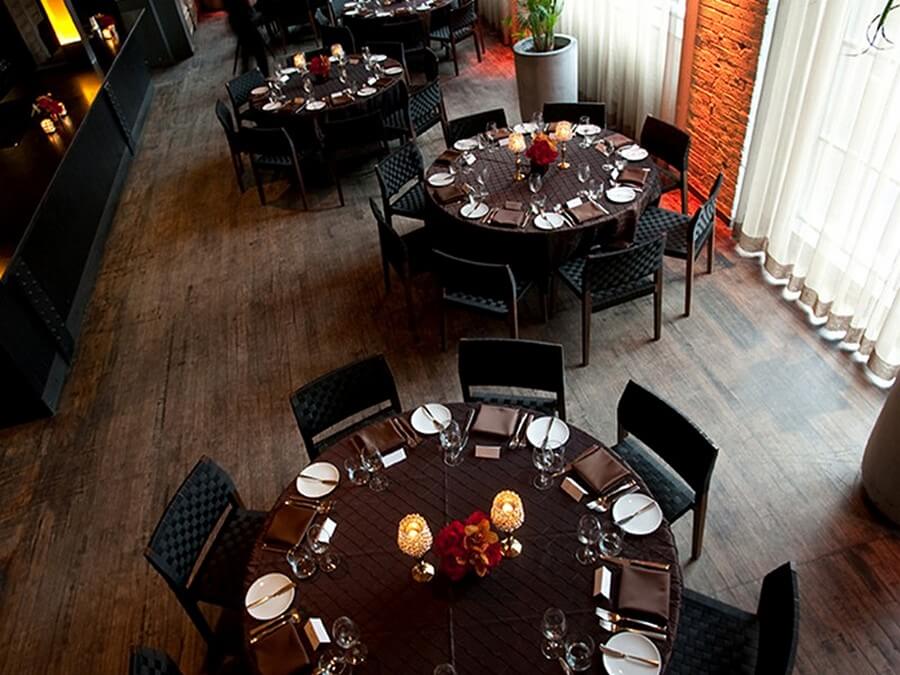 A brief walk down past the romantic cobblestone courtyard patio, brings us to Brassaii. Perfect for urbanites looking for a trendy downtown locale. With 5 intimate spaces to choose from, Brassaii can accommodate affairs as small as 26 all the way up to 160.
Price Range: Not Provided
---
Le Select Bistro
432 Wellington St., Toronto, ON M5V 1E3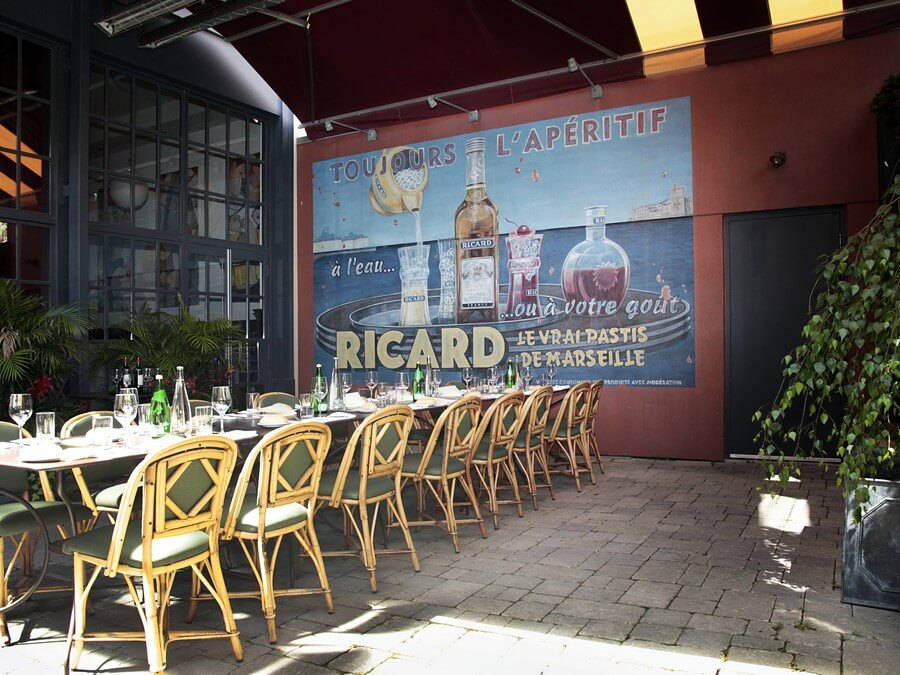 A Parisian-inspired intimate wedding sounds lovely, doesn't it? With two indoor private rooms, an outdoor patio space (for warmer months), and an extensive menu, Le Select Bistro just might fit the bill for your special day! The restaurant also offers a delicious wedding brunch menu. With early Sunday weddings becoming increasingly popular, you can tie the knot and still make it home in time for dinner.
Price Range: $6,000 to $10,000
---
The Fifth Events
225 Richmond St W #501, Toronto, ON M5V 1W2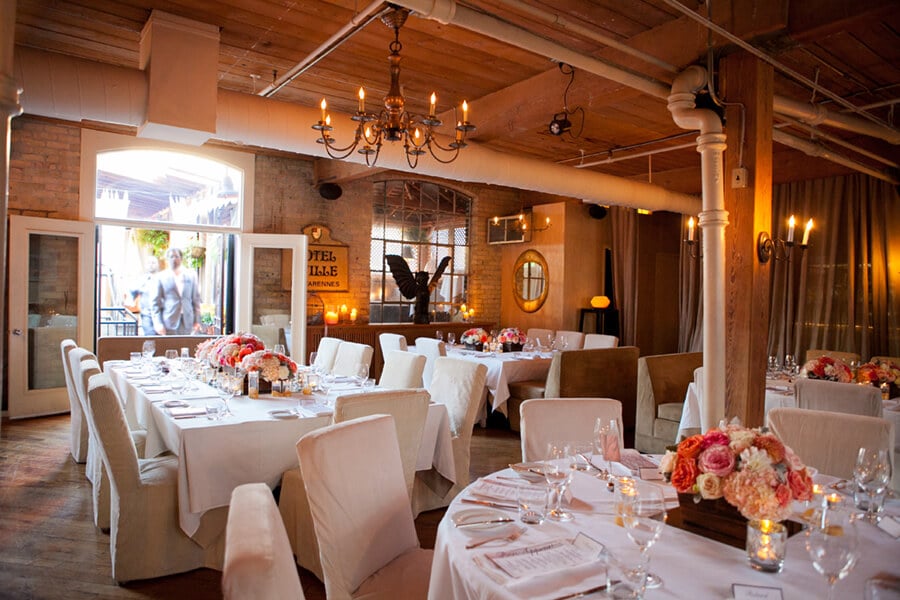 Cozy, historic, and tastefully eclectic, The Fifth Events' Grill & Terrace gives off a warm, casual vibe. Historically, part of a textile factory, the hardwood floors, large windows, and exposed brick walls lend the restaurant a trendy appeal. With an in-house wedding team at your disposal, the staff can also help with all the details and decor.
Price Range: Not provided
---
Colette Grand Café
550 Wellington Street W., Toronto, ON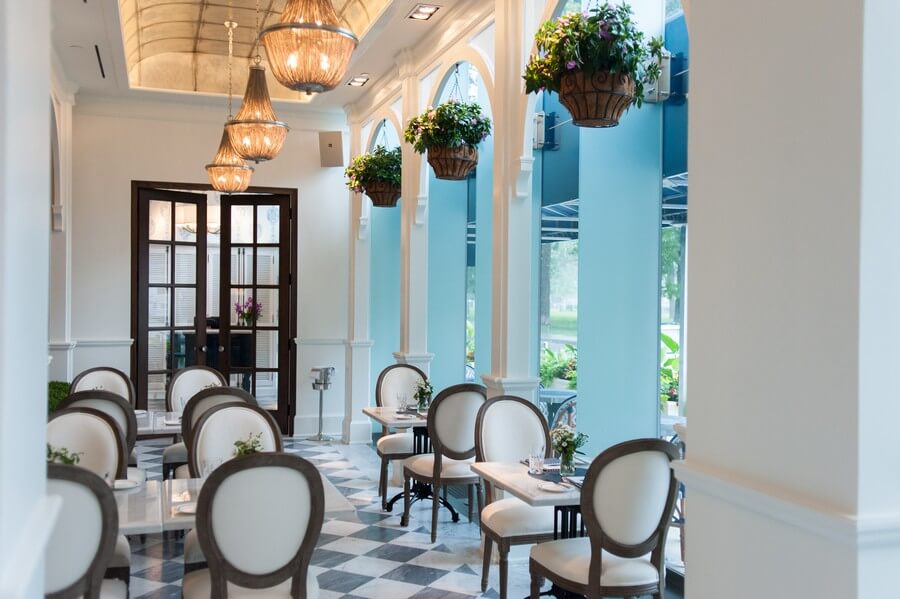 One look says it all: Colette Grand Café is inspired by the timeless eateries that line the streets of Paris. The cuisine, the decor, and the atmosphere all celebrate the essence of French style. Why not celebrate your love in a stunning restaurant inspired by the most romantic city in the world?
Price Range: Not provided
---
Bymark
66 Wellington Street West, Toronto, ON M5K 1M6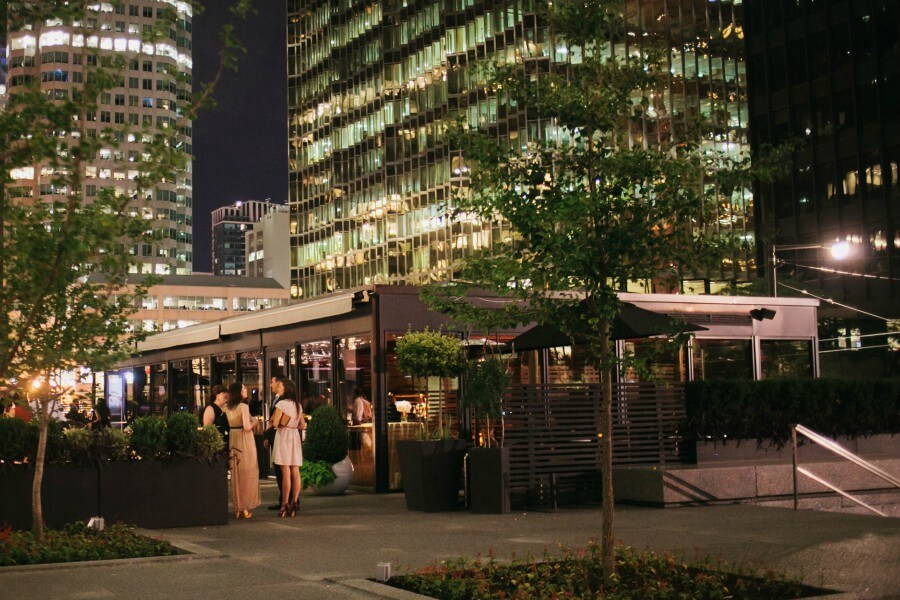 Photo Courtesy of Mango Studios
Right in the heart of Toronto's financial district, Bymark can accommodate groups from 48-100 and is ideal for couples in search of a more elegant, sophisticated wedding. The breathtaking
views of Toronto's skyline provides a stunning, picturesque backdrop perfect for capturing picture-perfect candids. An in-house coordination team is also available to help you plan the wedding from start to finish.
Price Range: $4,000 to $18,000
---