La Fiesta Catering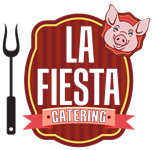 MODERN-CREATIVE MEETS AUTHENTIC HOME-STYLE ECUADORIAN STREET-FOOD
Special Catering And Food Truck Experience
La Fiesta Catering offers authentic home-style Ecuadorian dishes with a creative twist. From our pulled pork and chicken skewers to beef Empanadas and our famous on-site Paella making, we strive for the highest standards of quality. We are pleased to offer full service catering for your event. Or, spice it up with our special food truck experience.
Served Fresh With Passion
What fuels our passion? Meeting you! Seeing the delight in every one of our customers from the first bite to the last. We look forward to sharing our only rule in the kitchen - always cook with passion!
Our Love Story
Over 20 years ago, husband and wife duo, José and Malena Coronel, brought their shared love of South American cuisine together to create La Fiesta Catering. Both coming from a long line of Latin American chefs, they set out to provide the same impeccable service filled with the warmth, graciousness, and integrity of their heritage. Today, they maintain this promise while keeping the concept fresh, exciting and cutting edge.
This vendor does not yet have any EventSource reviews. Be the first to leave one!
Mustafa Alusi
November 2019
Good quality burrito for a decent price. The meat is spectacular but the portions are not the best. Overall, good place to try
Scott Everingham
June 2019
You've got to keep asking for a bit extra on the toppings because they're so cheap on them. I think there were 6 pieces of corn. A slight shred of cheese. 3 halves of jalapeno slices. Meat is old and tired - also cold when I bit in. Not worth it.
Jonathan Grandchamp
March 2019
Nice portion size. Had the spicy pork burrito bowl, food was pretty good.
Ryan and Nicholas Yeung
November 2018
Amazing burrito!!! You can't find the flavors in the burritos anywhere else except for here. This place is a one of a kind and a must eat in Toronto.
Mohit Sharma
November 2018
Awesome burrito and great service. I love their crispy chicken burrito! Really crispy. Totally recommend.
La Fiesta Catering has been mentioned inside these other vendor profiles:
Company Overview
Company Overview