Reviews
Fabulous afternoon tea! The macaroons are definitely one of a kind. FYI they don't take reservations for the weekend. There's about 10 tables or so in the seating area so if you have a larger party (4+) then try to come a little earlier to avoid line ups.
First time at this location and the displays were neat and clean. Customer service was decent and the macaroons were okay... in my personal opinion they were not that amazing as I hear some people say they were.
Gabor Varga
December 2019
Let the world of pure joy surround you at this place. Everything they offer here is incredible - including the super friendly staff! We ordered macarons, iced chocolate and tea; they were all fantastic! To add a twist, all of this happened on Black Friday when the place was packed, yet their attention to detail was superb!
Zaybae FoodQuality
December 2019
My mother and I ordered a capuchino, espresso, and three macaroons. The macaroons were coffee, caramel, and passion fruit. Everything was deliciously made. The coffee itself was roasted to perfection and gave a pleasant boost to our system. The macaroons were soft and chewy, their consistency so close to the Parisian cuisine we almost felt as though we were sitting in a cafe in France. The service was fast and wonderful. The waitress and waiter that served us were delightful and pleasant to my mother. We really enjoyed our time here. I recommend it if you want to take your mom somewhere nice and eloquent. The decor is really cute. Overall the place just had a really good vibe about it.
Mengting Sun
November 2019
Great place for buying gifts. Very pleasant shopping experience. I was treated very nicely every time I went there. Everybody was so friendly and professional. Excellent customer services!!!! I went to this boutique today for buying Christmas gifts, it was not busy at all so all the staffs were helping me. Everyone was so cute lol!!!! Thank you.
Ladurée has been mentioned inside these other vendor profiles:
Company Overview
Company Overview
Deals & Packages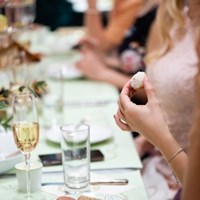 Special event
Price $1,500
---
---
What services are included with this Package:
Food
Alcohol & soft drinks
Gift boxes for your guest
---
Here's the Fine Print:
18% gratuity for more than 8 people
This package is exclusive to EventSource.ca visitors. To redeem, you must mention you found this package on EventSource.ca.
Map
3401 Dufferin St., Toronto, ON M6A 2T9