Reviews
To be honest with you, there are too many books here. There is just no way any human could read them all. I dont entirely understand the appeal, but there are so many happy people there, you just cant argue with it. Clearly they are doing a really good job.
betterlife717
December 2019
Very good library. Huge building. Good staff and overall good customers. Reliable computers and great selection of books. Must see.
Very dirty place, the tables and chairs are old, there are hardy no couches to just read, there was lots before, but now just wooden bench near windows? Make sure you remember your purell cause the keyboards are just NASTY!! Washrooms are extremely small for a big building and who knows if they ever clean them.
zhipeng lin
November 2019
awesome place to go very good atmosphere here nice staff super helpful. I went there to print because I dont have printer home. Very happy and satisfied to been there print also good place to study
Jessica Godin
September 2019
Beautiful library. Great for studying or reading. There are lots of interesting events and conventions that go on here. You can even rent out the convention room for weddings! (In fact I got married here! :D)There are some books on the first floor that are for check out but otherwise its mostly a reference library which means you cant check the books out. There is a used bookstore tucked away in the back of the main floor as well, behind the art exhibit. The gift shop Pages and Panels is also incredibly cute and has a lot of great stuff for gifts.This is my favourite library in the city and Ive been to a bunch.
Toronto Reference Library has been mentioned inside these other vendor profiles:
Company Overview
Company Overview
Deals & Packages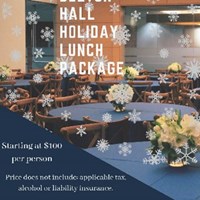 Holiday lunch package
Price $100 /person
---
---
What services are included with this Package:
Our holiday lunch package offers you and your team a chance to connect over the holiday season at an affordable price! Our package includes a holiday themed lunch buffet with coffee tea and soft beverage service, venue rental fee (tables, linen, dinning chairs included) event security and porter to maintain washrooms. Sound equipment for background music, podium with microphone and sound technician is also included
---
Here's the Fine Print:
This package is exclusive to EventSource.ca visitors. To redeem, you must mention you found this package on EventSource.ca.
Map
789 Yonge St, Toronto, ON