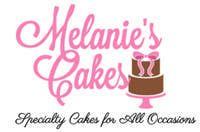 Melanie's Cakes
Vendors Similar to Melanie's Cakes
This vendor does not yet have any EventSource reviews. Be the first to leave one!
Leanne Reindel
October 2020
Thank you so very much for the awesome cake you delivered for our Wedding at Hockley Valley Resort. It was spot on with everything we had asked for and was soooo delicious!! Our guests are still commenting on it. We couldn't be happier with the product you delivered and you were so great to work with especially through all of the changes during this pandemic. We cannot say enough about how happy we are with your service, product and flexibility.
Stephen Oliver
September 2020
Melanie, thank you SO much for doing an incredible job on my sister's birthday cake! You managed to combine all the reference photos I sent you into one cohesive design, but not only did the cake look amazing, it also tasted great! Just the perfect amount of sweetness in the frosting. My sister was dazzled and everybody enjoyed it. Once again, fantastic work and thank you so much
Megan Wiltshire
June 2020
I highly recommend Melanie's Cakes! Not only is the baking amazing and delicious, Melanie is also so great and accommodating through the communication process too! I originally booked Melanie for our wedding cake next year, and have since ordered multiple different baked treats including cookies, cakes and cupcakes and have loved everything! I have recommended Melanie to my friends and family as well, and they always have amazing things to say after talking with Melanie and tasting the treats they order! I'm so excited for our guests to try our wedding cake next year (and secretly hope there is extra left for my fiance and I to eat the next day - her carrot cake is amazing!).
Victoria Carrick
January 2020
Melanie is always such a pleasure to work with. She is precise in her detail and never fails to create a perfect masterpiece for every family event we have. She puts her whole heart into her baking which is probably why it tastes so fantastic!My favourite is chocolate and cookies and cream icing!!
Erica Shupe-Dietrich
November 2019
Melanie is such a talented baker and decorator. I think that is a truly important distinction to make; not only do the things she makes look beautiful, they taste homemade. Her cakes are light and fluffy and her frosting is the perfect level of sweetness (it literally tastes like mom makes!) I am looking forward to using her services personally (not just professionally) in the near future!
Melanie's Cakes has been mentioned inside these other vendor profiles:
Blog Posts featuring Melanie's Cakes