Reviews
I got my son's birthday cake made from Fruitilicious cake this last Sunday! And it was beyond Amazing !!! Sandra and her team are amazinggggg !!!! She listened to all my concerns and went above and beyond to fulfill exactly what was needed!! What a professionalism !

The cake didnt only look beautiful but was extremely delicious too ! I ordered Mango passion fruit and Ferrero Rocher flavour!

Thank you Sandra !! Cant wait to order my son's next birthday cake !!
Mr & Mrs Diji
October 2018
Sandra, was amazing . A few things to know about Sandra, is that she is very hard working, creative, and detail oriented. She brought our vision to life and gave us something beyond our expectations. She was able to give us a variety of options and her cake flavours were the best we have ever tasted. This was all planned from Alberta and we had an amazing wedding in Aurora so thank-you once again Sandra! We highly recommend her services to anyone.
Fruitilicious Cakes, they are Amazing, this cake company blew our mind with the cake design, the taste was awesome, we will recommend Fruitilicious Cakes to friends and family. We had our money worth. Thank you guys for putting smiles my guest faces. The cake has been talk of the event. Many thanks
My family, friends and I have ordered from Frutilicious quite a few times and we have never been disappointed. It is very hard to come across a cake that tastes as delicious as it looks!!! I have had numerous people ask where we have our cakes made and I can proudly say its Frutilicious. They are always so flexible with creating the masterpiece of your choice, down to the colours the size, the flavor, the shape and everything else you are looking for in a cake! Not only have we had cakes made from Frutilicious but also doughnuts, cookies, cakepops, mini cakes...you name it we have had it and will continue to order!!! I would reccomend Frutilicious to anyone who is looking for a beautiful creation for any occasion and would like to make a decision with ease knowing that it will be everything you are looking for and more!!!
Noura & Noor
September 2018
Unfortunately we didn't have a good experience for our wedding shower with this company. Our cake design isn't what we expected to look like at all. We wanted a gold detail marble naked look to the cake, however it came out really dark. The company left their cake stand and other pieces over night at our event and didn't tell me till a week after that they needed their pieces back. From my knowledge, the company needs to pick up their pieces once the event is over if they own it. Now because of the pieces are nowhere to be found after a week a later they wanted it back, they are expecting me to pay the difference for it. A lot of people were complaining the quality of the cake as well as it didn't taste the same from the cake tasting as I previously tried.


Now our wedding is on October 12, in 3 weeks and we paid the full amount of the cake. They won't give us our money back and they haven't even started on the cake of course. I don't see how someone can keep $1500 if they haven't even started on it and we didn't have a good experience.


Customer service was not pleasing.
We love Fruitilicious Cakes! Their baked goods taste as great as they look!
Fruitilicious Cakes has been mentioned inside these other vendor profiles:
Samantha Clarke Photography
Ashley Victoria Productions
Company Overview
Company Overview
Name: Sandra D.

Title:Owner
Email:Send an Email
Deals & Packages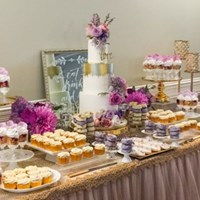 15% 0ff 100 servings dessert table
Price $1,755
---
---
Here's the Fine Print:
This package is exclusive to EventSource.ca visitors. To redeem, you must mention you found this package on EventSource.ca.
Map
1365 Mid-Way Blvd, Unit 13, Mississauga, ON L5T 2J5