Cutting the wedding cake is a classic tradition that happens at almost all wedding receptions. Over the years, cakes have evolved from functional desserts to artistic and decadent masterpieces! We reached out to some of Toronto's favourite Cake Designers and asked them to share their favourite wedding cake designs from this year with us. We only have one question – how can anyone possibly cut into these stunning pieces of art? Good thing they're as delicious as they are beautiful!
---
Simply Frosted Cupcakery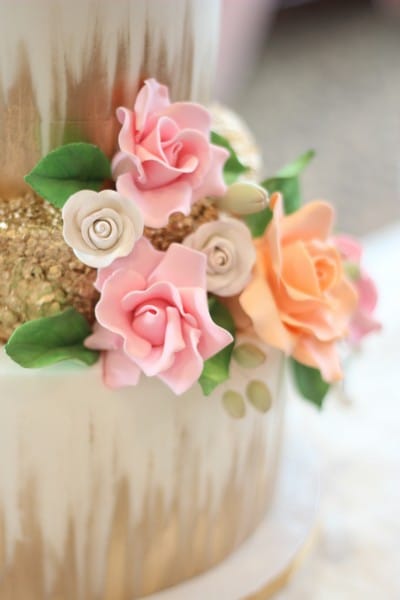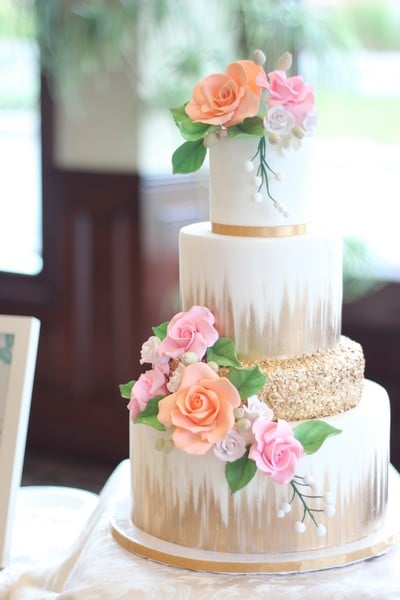 "This elegant fondant stacked cake showcases our handmade flowers, gold brushed techniques, and the gold sequins. We love this cake because it is colourful and elegant — a perfect display piece for any summer wedding! This beautiful design was developed and created by the owners of Simply Frosted, Enza and Vanessa Abate, and all the beautiful artwork was created and assembled by the talented fondant artist Demi Meneses!"
Enza and Team, Simply Frosted
Vendors Featured in this Article
---
Fabulous Cakes and Confections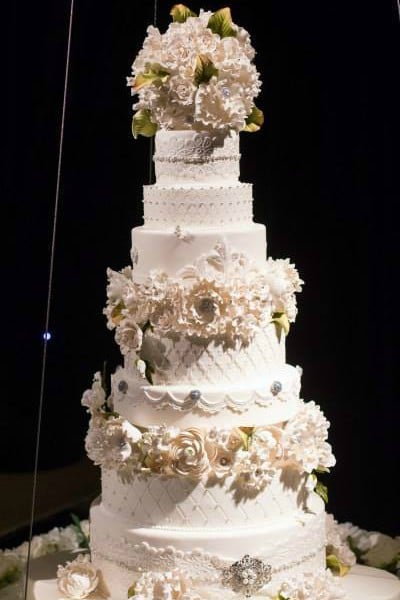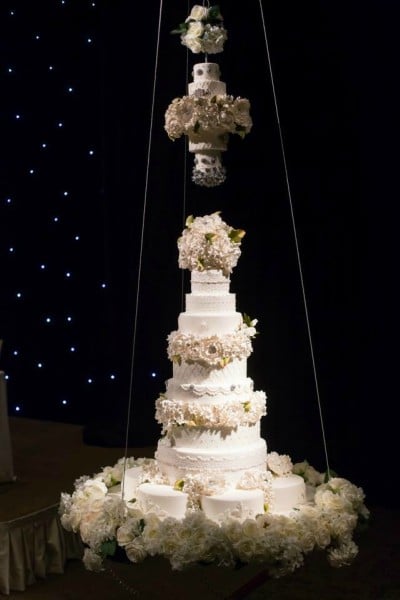 "Our favourite cake from this year's wedding season is one of the most elegant designs we've created to date. This stunning cake hovered over the dance floor with style. It was gorgeous!"
Fabrizio Lo Iacono, Fabulous Cakes and Confections
---
The Sweetest Thing Cakes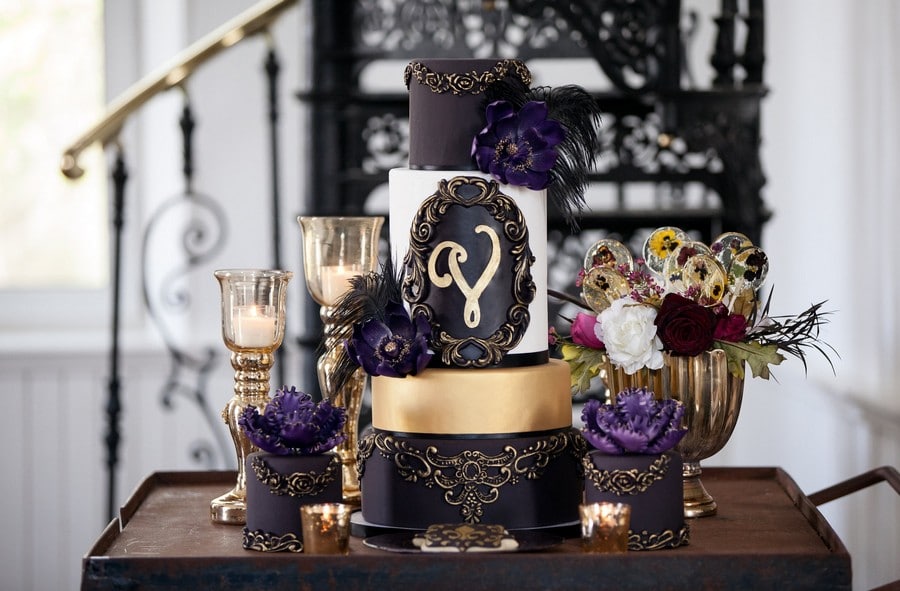 "This couple wanted a a rich, jewel toned, artsy cake and sweet table. I designed the cake to match the architecture of the Gallery where the wedding was held, which was very rich in character and had a very unique stair case. Definitely a favourite from this year's wedding season!"
Cristina Maciel, The Sweetest Thing Cakes
---
Nadia and Co.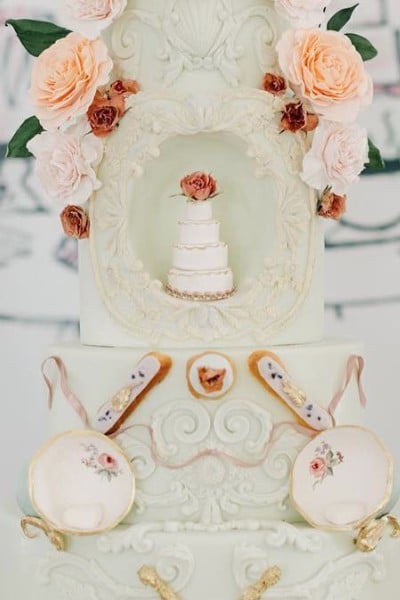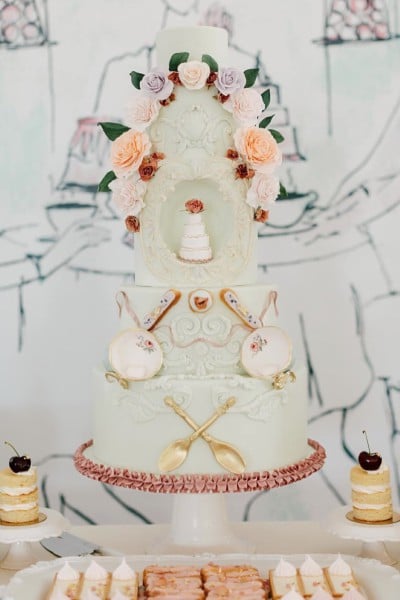 Photo Courtesy of Purple Tree Photography
"Dreaming of French patisseries and English gardens, I had the opportunity of creating a dream cake of all my bride's favourite things. Pastries that were not only visual eye candy but delicious. The cake was designed with Toronto based artist Anna Church in mind, her sculptography inspired the placement of relief moulding, sugar flowers, and teatime fare. Soft pastels and accents of gold lent well to this chic and whimsical design. The flavour inside just as dreamy as the outside — Lady Earl Grey infused cake paired with peach and honey cream!"
Nadia Colella, Nadia and Co
---
Cakes by Prairie Girl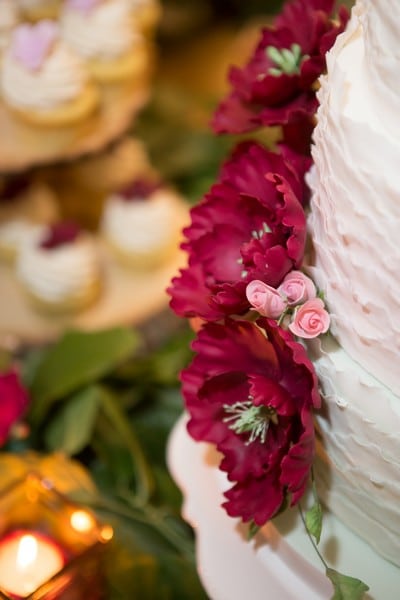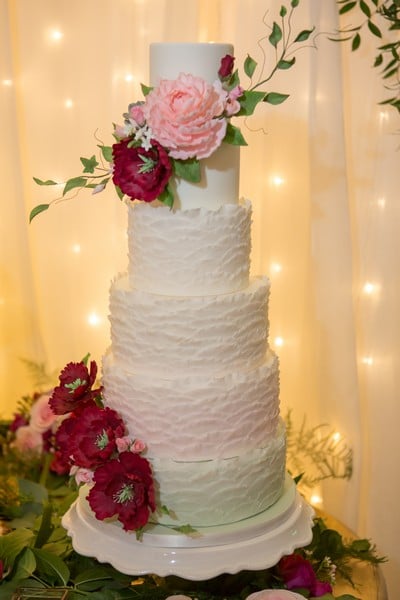 Photos Courtesy of Christina Varro
"This is one of our favourite designs from the 2015-16 wedding season. Called "Pastel Garden", the cake is absolutely breathtaking without being at all showy. We love its very delicate ombre shading in pastels, set off by hand crafted sugar flowers in deep, rich jewel tones. This cake really demonstrates the skill and techniques of our cake design team."
Ailish Usher, Prairie Girl Bakery
---
Patricia's Cake Creations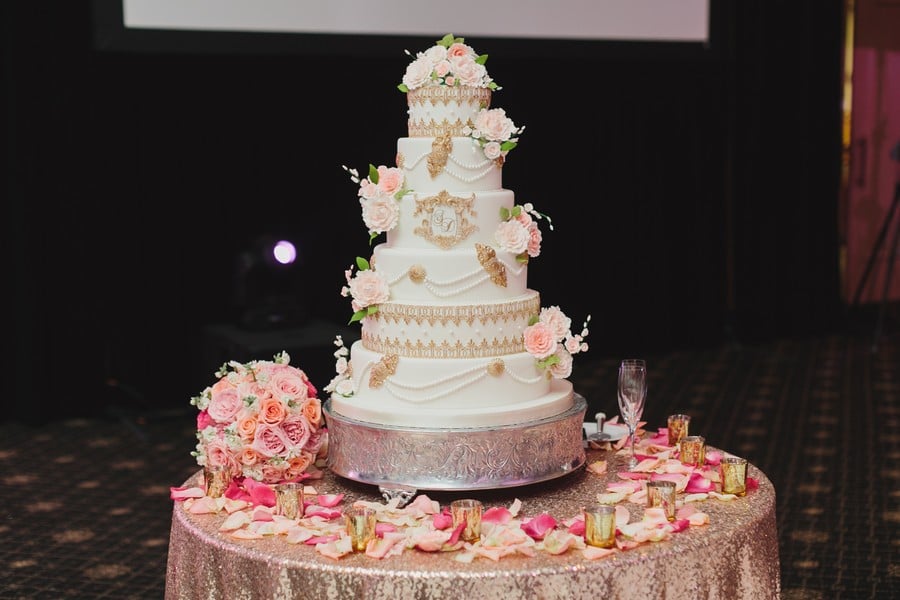 Photo Courtesy of Mango Studios
"This romantic, elegant cake spoke to the grandeur of this beautiful wedding incorporating the Bride's vision! Gold and blush pink was accented with green leaves. The custom shaped and hand-painted monogram took hours to create  — we replicated the monogram used on their invitations! The design is hand painted in edible 24k gold lace which added a regal element. A perfect cake for a sweet couple!"
Patricia Drewnowska, Patricia's Cake Creations
---
Cake Luxe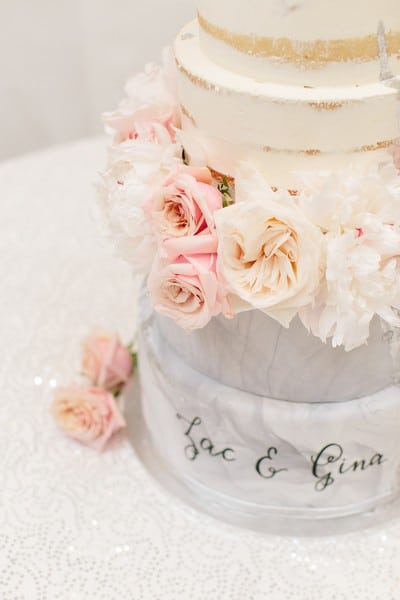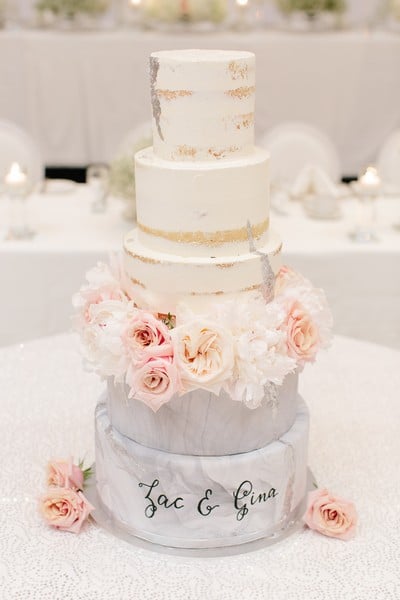 Photos Courtesy of Mango Studios
"We adored creating a cake for Zac & Gina's fairy-tale wedding. For a couple who loved the idea of a naked cake, but who's wedding was much too glam for such a simple cake, we combined the simplicity of a nearly naked cake with a glam marble design to create a cake as enchanting as their wedding day. We dressed this cake with stunning fresh florals, beautiful hand lettering, and silver leaf — this was one wedding that we that we won't soon forget."
Natalie Skrinjar, Cake Luxe
---
Sinfully Sweet Co.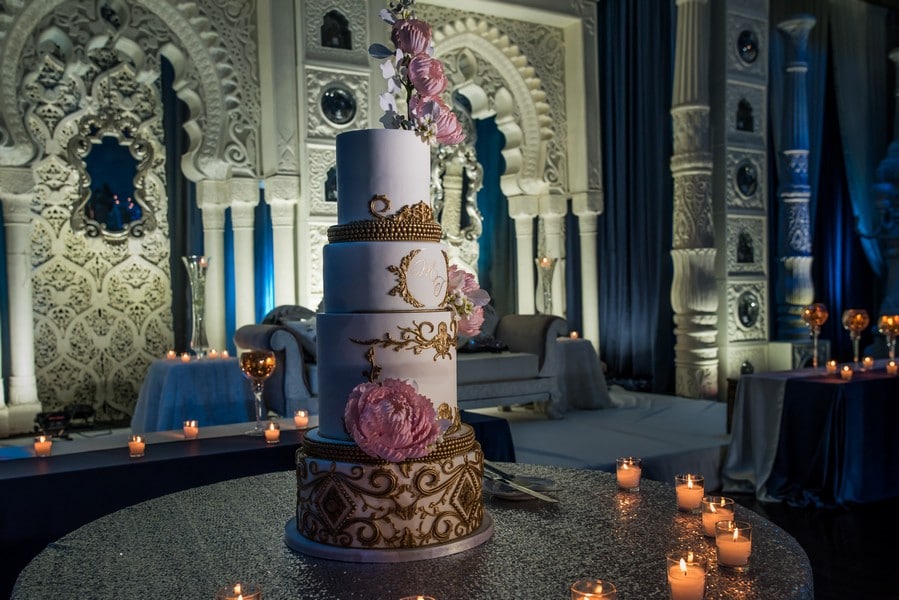 Photo Courtesy of Divinemethod Photography
"This wedding cake is one of my favourites from this wedding season. The couple had given me complete creative freedom to design something that was unique and elegant with a romantic flare. So I created a design that was intricate, yet well balanced with the rest of cake, all while keeping the allure of the delicate sugar flowers. The couple was over the moon with the design and taste!"
Sonia Sivakumar, Sinfully Sweet Co.
---
MollyCake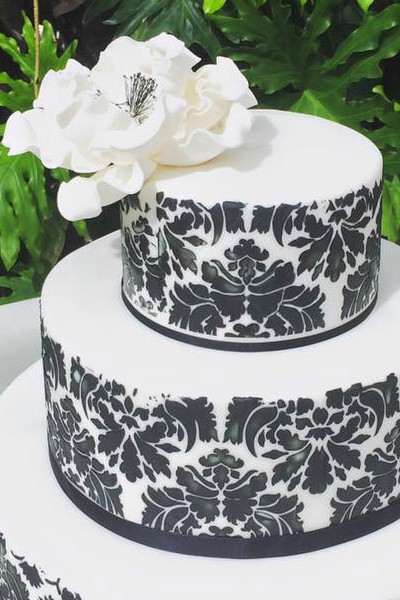 " We gave this classic three-tier wedding cake some edge with a black damask pattern. I think a sugar peony ties it all together. We loved creating this cake!"
Christine McLaughlin, MollyCake
---
SK Confectionery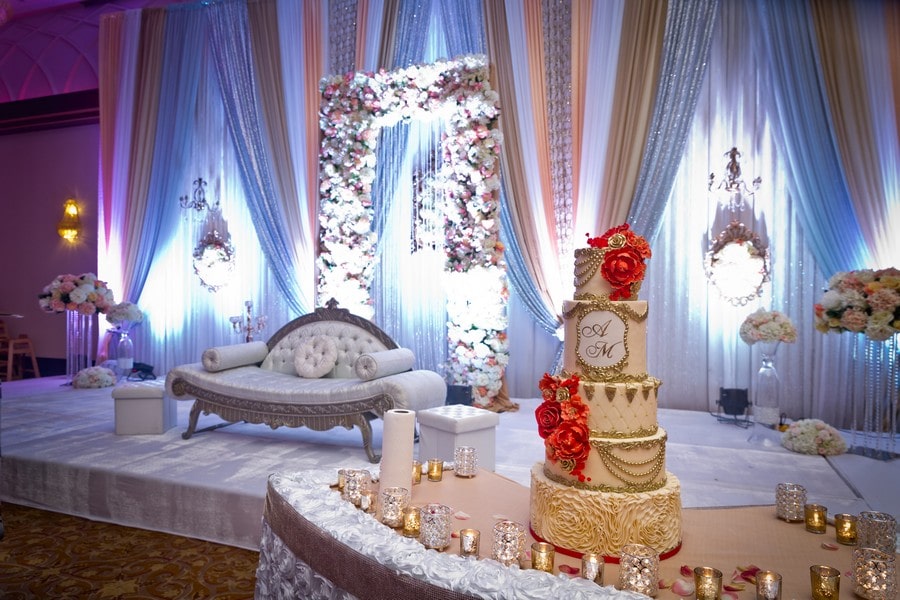 Photo Courtesy of Zahara Parisa Photography
"This beautiful cake incorporated some of my favourite detailing, from the intricate rosette ruffling, to the lush, handmade, sugar florals! I love incorporating gilded gold embellishments; paired with red and ivory, this is definitely a classic yet gorgeous colour combination!"
Sahajbir Kaur, SK Confectionery
---
Cakelaine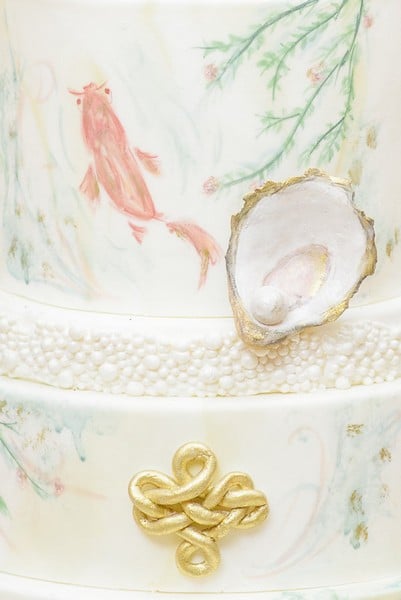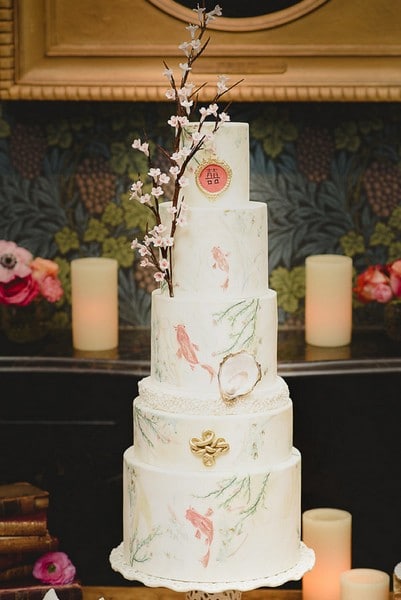 Photos Courtesy of Jessilynn Wong Photography
"This tall wedding cake was created as part of a styled shoot collaboration inspired by Chinese tea ceremonies in a Western culture. I wanted to focus mainly on delicate tiny sugar flowers and painting to coincide with the delicacy of a Chinese tea ceremony. I created lots of movement with the koi fish and water, along with contrasting still life oyster shells."
Caitlin Elaine, Cakelaine
---
the cocoa cakery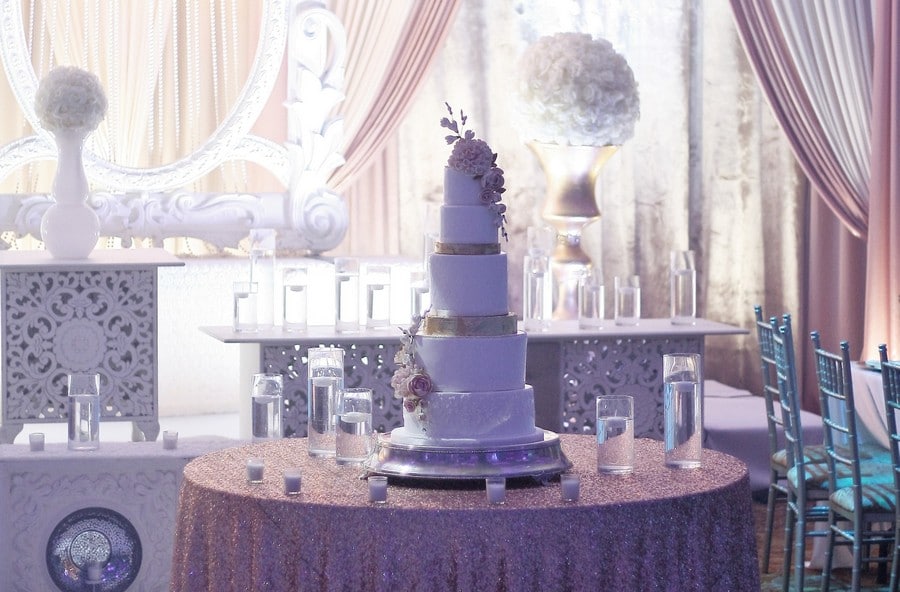 "Angela and her sisters were so excited to design and plan the wedding cake. Classic and elegant, this cake stood 7 tiers tall with blush and pink sugar flowers, gold leaf tiers, quilting, and hand piped designs to match their invitation. Inside was layers of red velvet cake, fresh strawberry cake, and vanilla bean, with vanilla bean swiss meringue buttercream. Definitely one of our favourites from 2016!"
Christina McKenzie, The Cocoa Cakery
---
Sweet Regards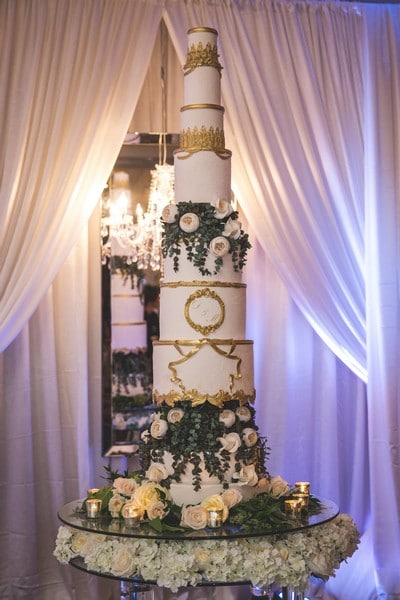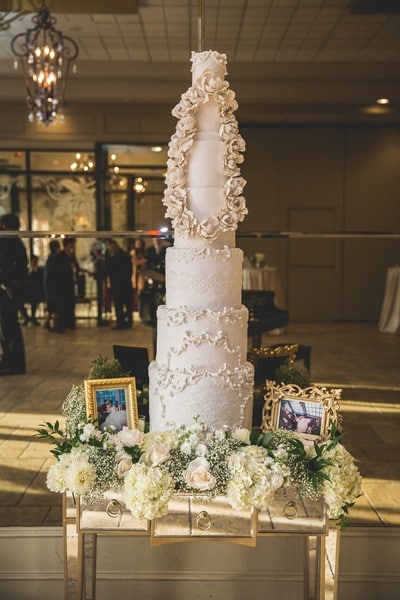 "I recently had the pleasure of designing cakes for my very own wedding. I knew I wanted to incorporate the essence of romance into my cakes. I used elements such as lace, greenery, and lush florals to add both softness and elegance to the cakes. My main cake stood well over 6ft tall and was composed of 9 layers of cake and 2 layers of handmade sugar florals and greenery. After designing hundreds of cakes for clients I was happy to finally have the opportunity to have my cake and eat it too!"
Daniela De Nuzzo, Sweet Regards
---
A Cake Story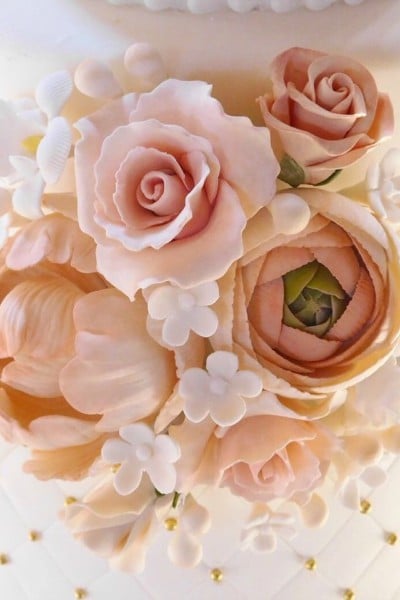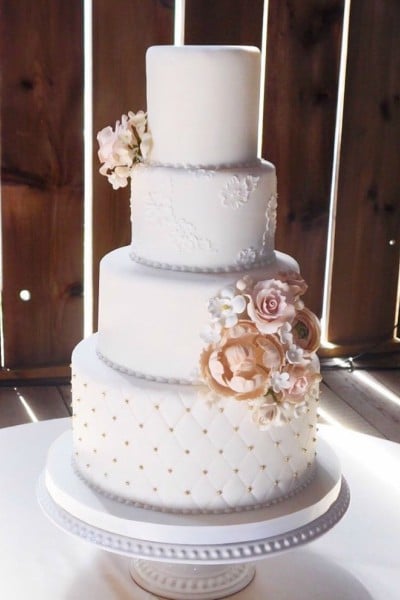 "This cake was from a wedding at Cambium Farms in Caledon. I really love this cake because it went well with the venue's rustic — but classy — vibe!"
Nicola, A Cake Story
---
Fruitilicious Creations & Cakes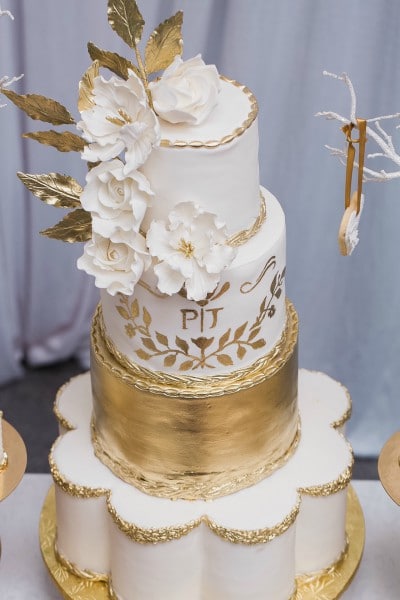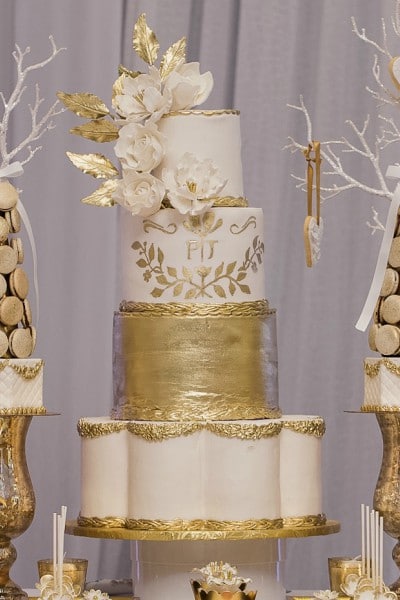 "This is definitely one of our favourite wedding cakes from 2016! We love how Porcia and Joseph incorporated their invitation logo into their wedding cake design in all white and gold."
Sandra Danso-Boadi, Fruitilicious Cakes
---
Find out what some of these cake designers whipped up in 2017!