Let them eat cake – because really, what's a wedding without a cake!? Over the years, traditional wedding cakes have evolved from simple dessert pieces to decadent works of art that are almost too pretty to eat — almost, we'd never say no to a piece of cake.
For those of you about to start planning a wedding and have no idea where to even start sourcing your wedding cake – fear not! There are many talented wedding cake vendors in the GTA that are ready, able and willing to make all of your wedding cake dreams come true! To help kick start your imagination — your wedding cake search — we reached out to a handful of Toronto's favourite cake designers to share some of their 2017 masterpieces with us.
Vendors Featured in this Article
---
The Sweetest Thing Cakes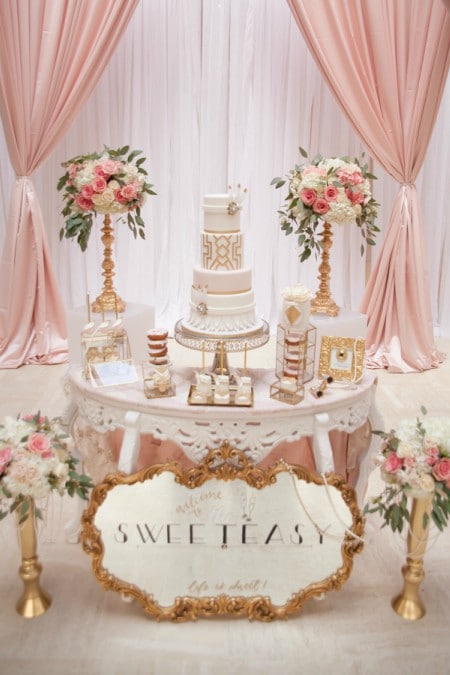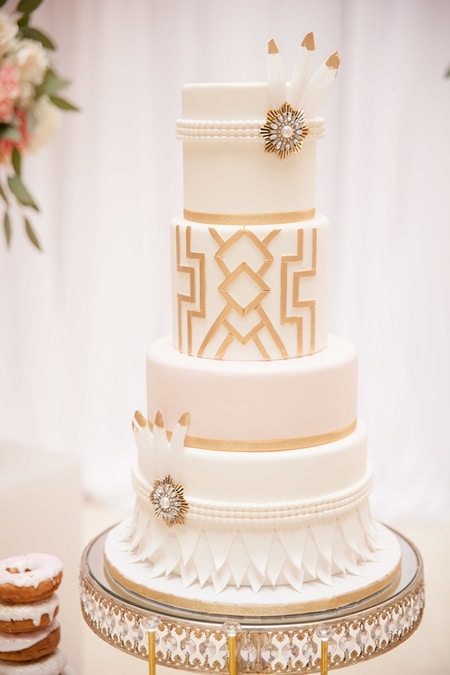 Photos Courtesy of Roxana Silva Photography
"What a pleasure it was designing this wedding cake/sweet table for a wonderful editorial styled shoot with some exceptional vendors, top in our industry. When I received the notice that we were channeling the Great Gatsby theme, I was thrilled. We decided to soften up the colours, and make it more romantic. What a marvelous experience it was designing this cake!"
– Cristina Maciel, The Sweetest Thing Cakes
---
Patricia's Cake Creations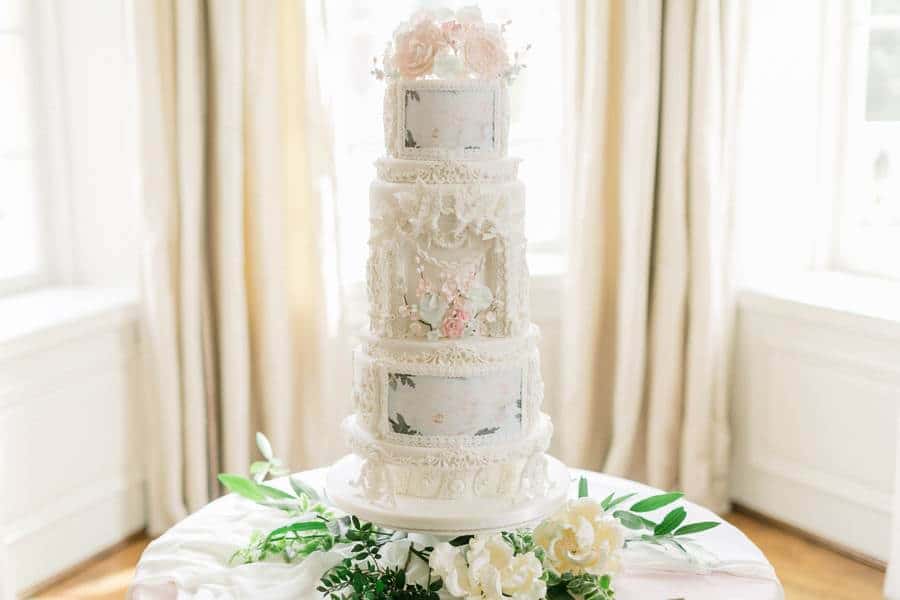 Photo Courtesy of Corina V. Photography
"I loved the intricate details of the cake and the two hand painted peony features that were based off Palettera Custom Correspondences' invitations. The carved out middle with floating sugar chains adds a touch of whimsy. This cake has an elegant Royal feel."
– Patricia Drenowska, Patricia's Cake Creations
---
Le Dolci
"Reminiscent of the art deco, glamorous train travel days, this three tiered cake is styled after hat boxes that were used to carry gorgeous millinery along the Orient Express' route. The cake is made with a luxurious chocolate and mocha cake base with a salted caramel buttercream filling. It's crafted by hand with each fine navy blue line hand rolled by our artisan cake makers. The cake really is a showpiece for any wedding!"
– Lisa, Le Dolci
---
Cake Luxe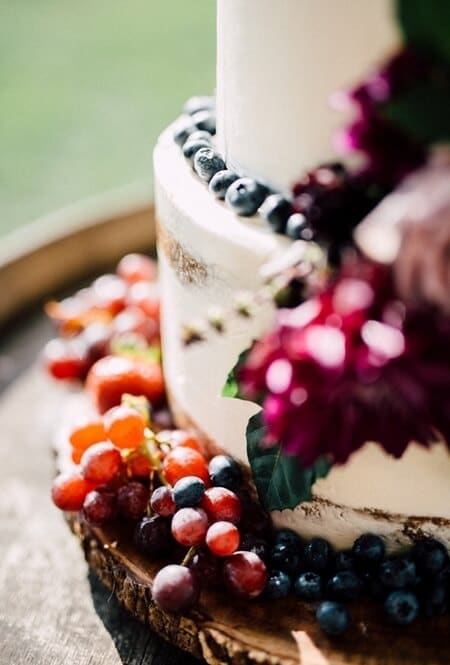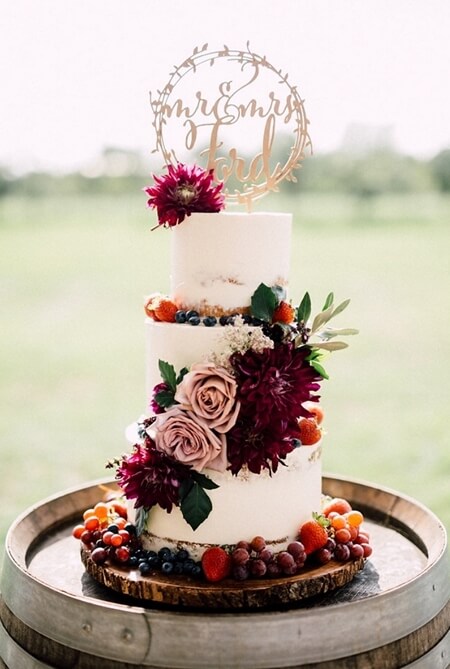 Photos Courtesy of Simply Lace Photography
"Every single detail of Mike & Adriana's wedding was magical from start to finish. From the venue, to the decor, the bridal party, the florals and the cake– not one whimsical detail was overlooked. We couldn't have been happier to create this stunning nearly naked cake for an amazing couple."
– Natalieanne Skrinjar, Cake Luxe
---
SK Confectionery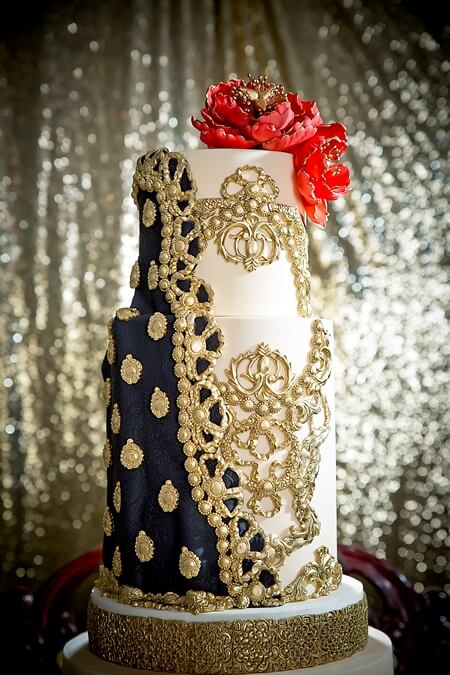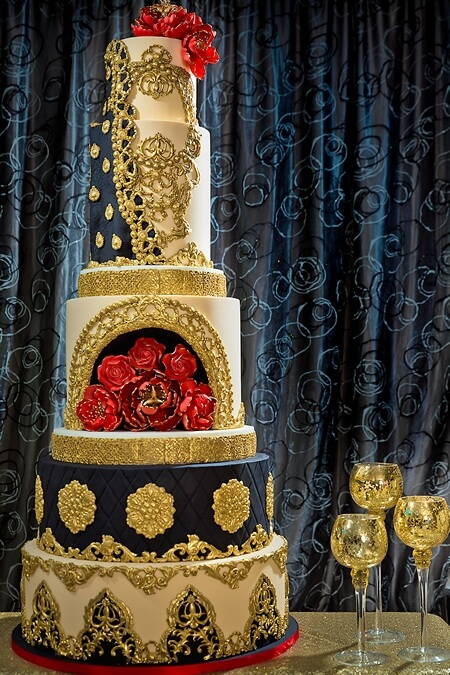 Photos Courtesy of Zahara Parisa Photography
"This majestic beauty was inspired by the gorgeous, intricate detailing on the bride's regal Indian outfit. Featuring embroidery work mimicked in sugar, custom patterns, handcrafted sugar flowers, and a bold color palette; each design element was carefully curated to create the perfect cake, bringing the bride's vision to life! The bold black colour, paired with gold and ruby red,  truly makes an impressive statement. It was the perfect cake design for the couple's grandeur royal wedding & will remain a favourite of mine always!"
– Sahajbir Kaur, SK Confectionery
---
Fabulous Cakes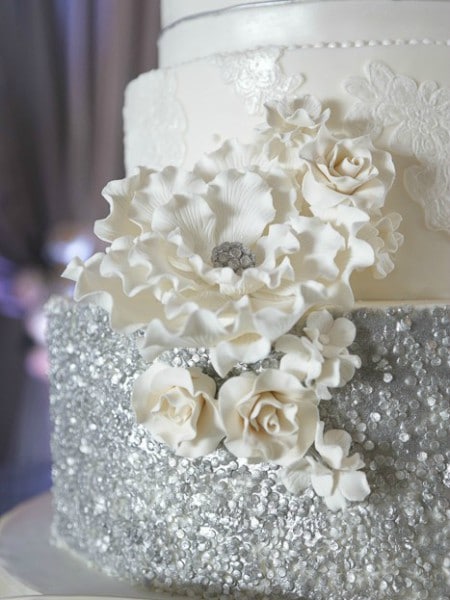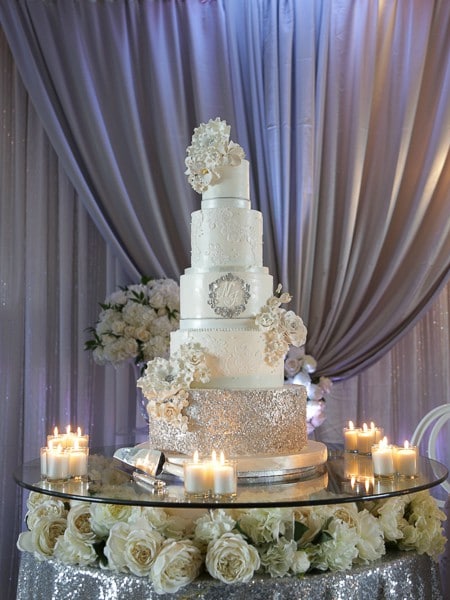 Photos Courtesy of Albano Martins Photography
"Custom lace, sequins and floral was created for this stunning five tier wedding cake. It was the highlight of Nicole and Frank's wedding. With silver edible details, this cake sparkled with brilliance. Our team pulled off a show piece that we are so very proud of. We loved the height and subtle (but extravagant) details of this wedding cake. Placed on a beautiful head table this wedding cake was a beauty."
– Fabrizio Lo Iacono, Fabulous Cakes and Confections
---
Fine Cakes by Zehra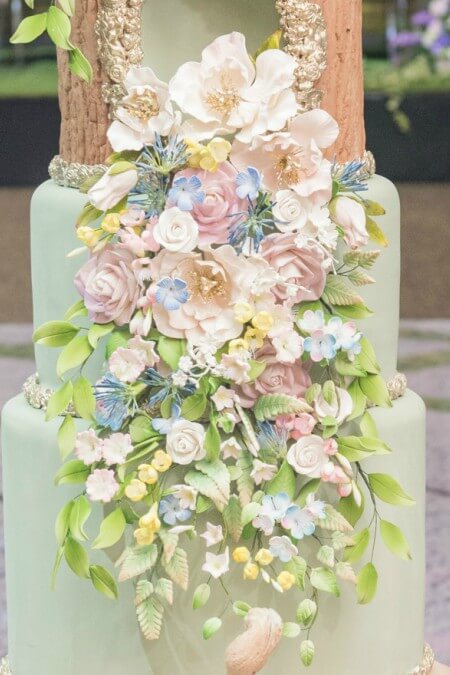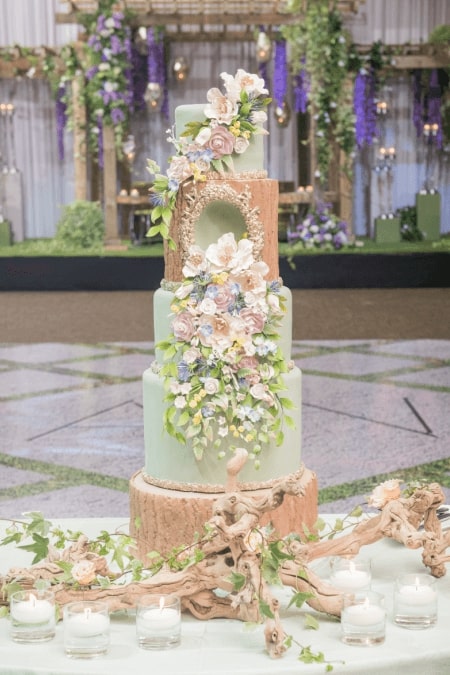 Photo Courtesy of L'Atelier Lumiere International Photography
"One of our favourite cakes from this wedding season was inspired by rustic woodlands and wood-grain textures. This five-tiered beauty is topped off with rich floral details, carvings and beautified with gold embellishments."
– Carly, Fine Cakes By Zehra
---
Nadia and Co.
Photo Courtesy of Tara McMullen Photography
"Chinoiserie is a subject matter I fail to become tired of. The exuberant decoration and asymmetry we see in porcelain pieces from as early as the 17th century, always seems to inspire. This design was hand painted and the sculpted finial was designed to mimic the lids of porcelain pieces."
– Nadia Colella, Nadia and Co
---
Cakelaine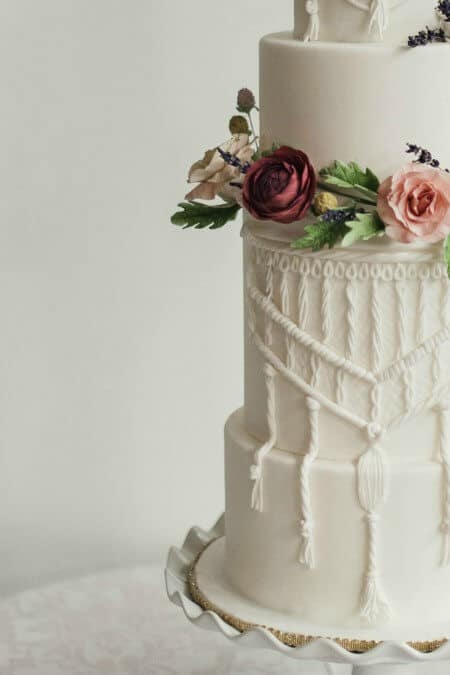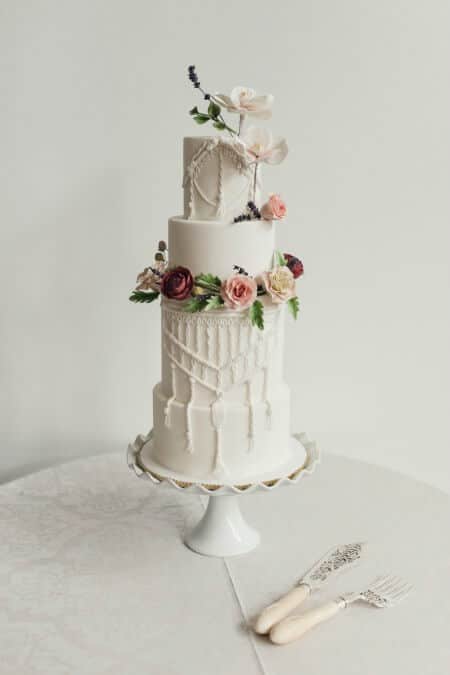 Photo Courtesy of Kimon Kaketsis Photography 
"We loved creating this bohemian cake for a true free spirited bride! Creative freedom played a big part in making this piece super special and one of a kind. Handmade sugar flowers and a fondant macrame pattern gives it a true boho vibe. I love making unique designs for my couples and this was by far my favourite of the 2017 season!"
– Caitlin Elaine, Cakelaine
---
Sweet Regards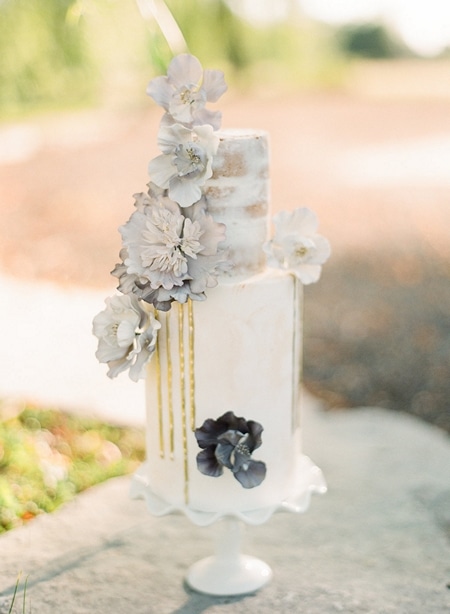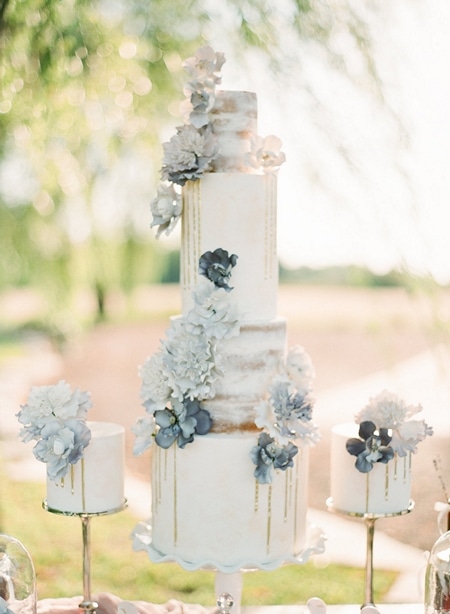 Photos Courtesy of Artiese Studios
"One of my favourite cakes from this past year is one we created for a vineyard wedding. The cake incorporates soft hues of lilac & lavender with subtle hints of 24K gold. The main cake stands 4 tiers high and is composed of semi naked and fondant tiers; Combining rustic chic with soft and elegant, perfect for an outdoor wedding."
– Daniela De Nuzzo, Sweet Regards
---
the cocoa cakery
"A three tier semi-naked cake with vintage cupped sugar roses and fresh foliage. This cake is so deceptively simple but has so much class and elegance. The very popular naked cake is a trend that looks like it's here to stay for at least another few seasons! I like to call it semi naked, since I cover it up a little more to create crisp edges. And just because you can see the cake doesn't mean you have to stay with boring (yet delicious) vanilla! Many brides are layering the flavours together to create a lovely palette of tastes for their guests all on one plate! Cake with coffee after a wedding feast – I'm not sure there's anything better!"
– Christina McKenzie, The Cocoa Cakery
---
Fruitilicious Creations & Cakes
"This bride gave us the opportunity to design their wedding cake – only providing us with their wedding colours! We're so excited with the with the outcome of their cake design. We love it!!"
-Sandra Boadi, Fruitilicious Cakes