Fine Cakes By Zehra
Vendors Similar to Fine Cakes By Zehra
Zehra was an absolute dream come true. I never thought that cake can be a piece of art. We cant thank her enough. Zehras cakes are not only stunning but unbelievably delicious because they are made with quality ingredients. Zehra made the process so easy with her experience and professionalism.Communication through email was easy and straightforward. Thank you for taking your time with me and making sure every expectation was met. I will be definitely recommending you and your artistry to everyone I know!
Zehra needs no embellishment - she is colourful, creative, detail-oriented and innovative which is thoroughly reflected in her creations. After seeing the masterpiece she made for my sister's wedding last year, we went back to her for our unconventional idea to do a donut tower. It looked beautiful and tasted even better. She made sure the presentation was harmonious with our decor and really ran with our vision. Can't wait to dig into our top tier coconut rose cake - so innovative!
Zehra was great from beginning to end, she knows how to read a client's personality and create artistic masterpieces from that. Our wedding cake looked fabulous! And guests couldn't get enough photos of it, not to mention the taste was exceptional, you wouldn't even know it was gluten free. She also did an amazing dessert spread which was devoured in under an hour. Her attention to details and creativity makes her top in this industry! HIGHLY RECOMMEND using this company for any event!
Some of the best tasting cakes I've ever had! The attention to detail on the cakes are remarkable. This place makes custom cakes for all types of occasions; weddings, birthdays, anniversaries. They are also very fairly priced for what you get. Highly recommend you going in and having a look at their gallery.
Choosing Zehra & her team for our wedding cake was by far the best decision I made during my entire wedding planning process. I truly mean this as it was the most stress-free and exciting appointment I went to out of all my vendors. She is absolutely amazing at what she does, you can sense her passion of wedding cakes and design as soon as you step into her studio. She is friendly, kind & patient and she is also amazing to work with. She made the entire process so simple and easy. She took my ideas and turned it into something above and beyond my expectations. Not only was our cake everything I dreamed of and more when it came to the design but it also tasted AMAZING. I would recommend Fine Cakes by Zehra to everyone. I can not wait for my next special occasion to book another cake with them.
Fine Cakes By Zehra has been mentioned inside these other vendor profiles:
Blog Posts featuring Fine Cakes By Zehra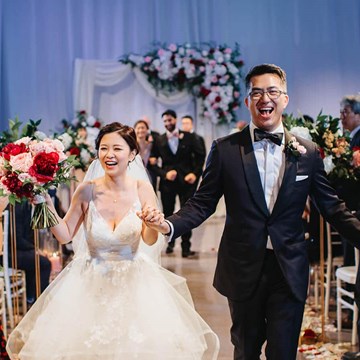 Read more