A gorgeous view, over 10,000 square feet of event space, 15ft ceilings, and a huge outdoor terrace, the brand-spanking new The Globe and Mail Centre certainly has the local special event scene abuzz! With an overall capacity of 400, this flexible and versatile space offers floor to ceiling windows with marvelous, panoramic views of the city.
Partnering with a hand-selected array of high caliber preferred vendors, the venue hosted its first-ever Industry Night this past week. With thanks to the talented and gracious Vanessa of Garrison McArthur Photograhy, I'm so pleased to share this spectacular evening with you!
Vendors Featured in this Article
The VIP experience begins even before entering the space with thanks to the fine folks at Northern Valet. Upon entry, my eyes were immediately drawn to the elegant and sleek furniture rentals by Luxe Rentals, as well as the stunning lights, projections, sounds and colours, conceptualized by the talented team at Artam Design Inc. Continuing into the main hall, luxurious black and gold seating areas provided by Divine Furniture Rental allowed guests to mix and mingle in comfort all while enjoying the delicious food provided by some of the city's top caterers. Floor to ceiling vinyl, neon graphics by our friends at DFD Event Solutions brought the all interiors to life.
My first stop for food for the evening was with Daniel et Daniel Catering & Events, who served up Tossed Chicken Wings in three different and unique flavours. My personal favourite was the Togarashi with Roasted Nori Powder – one bite and I was hooked! Although I could have definitely stuck around for more of this spicy dish, the night was young and I thankfully decided to pace myself circling back again later for an oh-so-sophisticated D&D version of milk and cookies, consisting of Froot Loop Macarons served with Almond Milk – yummy!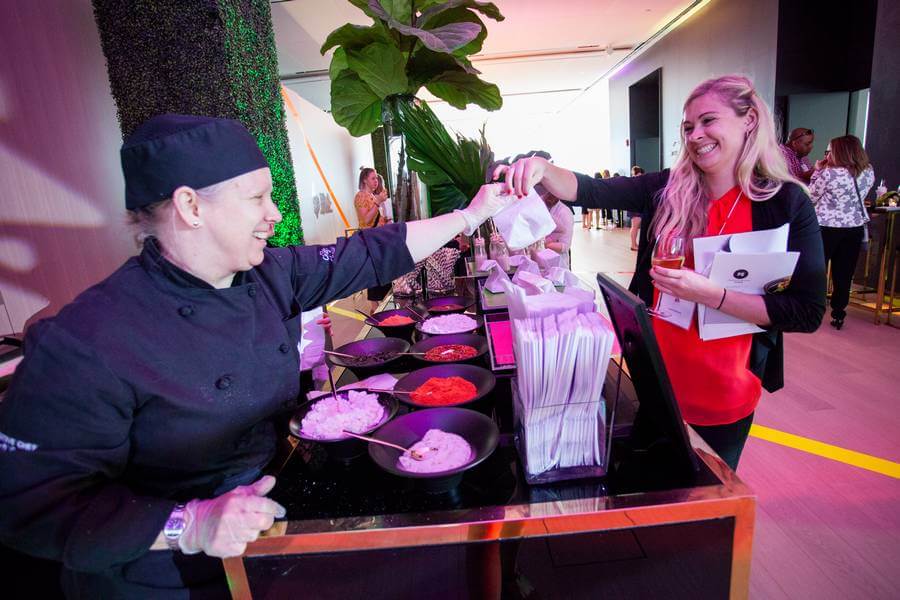 Executive Chef Karen O'Connor serving up the smiles
As always, the Food Dudes outdid themselves with two very popular dishes for guests to enjoy: Lobster Queso and Wagyu Beef Big Mac Slider. The Lobster Queso was enveloped with cheesy goodness, with a little kick of spice toward. The Big Mac Slider was so tender and juicy, no one could stop at just one!
Our food-topia journey didn't stop there as Presidential Gourmet served up both sweet and savoury gluten-free options. The Ethiopian Kifto Steak Tartar was uniquely placed on a Cassava Chip giving this dish a wonderful crunch. The White Peach Gateau served up a refreshing explosion of flavours – what more could a girl ask for?
Drake Catering's Ancho Braised Leg of Lamb was perfectly cooked: tender, succulent, and featured a wonderful array of herbs, perfectly complimenting the incredibly tasty dish. For good measure, a veggie version was offered as well – definitely a creative and most scrumptious option!
Perhaps my Italian roots got the best of me, but McEwan Catering's Homemade Ricotta Gnocchi checked all the boxes for exactly how gnocchi should be – light, yet full of flavour in a rich, creamy sauce. Accompanied with a large generous chunk of fresh Parmesan Cheese, this hearty and flavourful selection was a delight among guests. I'd also be remiss not to mention the beautiful floral arrangements by McEwan Floral that dotted the entire space, adding bright pops of colour and beauty throughout.
With plenty of eye candy to go 'round, the event also featured a 7-tier, all white cake by Fine Cakes By Zehra. This sky-high cake featured a constantly evolving, projected art display. Definitely an interesting display.
Every good party features fabulous music and this evening was no exception! The Idea Hunter assembled a team of talented artists to keep the audience enthralled throughout the majority of the evening. Phenomenal performances by their electric violinist and flute/harpist had guests fully entranced. I overheard guests whisper "I want them at my next event" on at least a few occasions throughout the evening.
A fun and innovative photo booth by RavenSocial Photobooths was certainly a crowd-pleaser throughout the evening. A new take on the traditional photo booth strips, selfies are immediately displayed on the big screen in the form of a boomerang loop. As a wedding planner, I'm always on the lookout for new and fresh ideas and I loved how fun and interactive this photo booth was.
There was certainly no shortage of drinks throughout the evening as many providers were on site for guests to try a wide variety of beverages.
I ended the evening feeling inspired by my surroundings and I left thinking about all the possibilities that could take place at this brand new event space – a big congrats and a huge thank you to the team at the Globe and Mail Event Centre for including us in such a fantastic evening!