Reviews
Always the best in croissants. Its been awhile since I visited and it still was amazing!
Amazing macroons and even more amazing customer service from Justice. Will definitely be visiting again. Could not have asked for a better experience.
Amazing bakery offering good sandwiches and amazing pastries. Highlights are the 'donut' cake and breakfast croissant, but honestly you can't really go wrong with any options. A 'must try'.
This is my favourite bakery in the city!! They make the most delicious croissants They also have a round yellow cake that is my absolute favourite. Its a classic and they have it year round. The texture is soft and creamy and the flavours delicate Ive tried many of their cakes and have never been disappointed.
I got myself an Easter Egg since Easter is just around the corner, and I just had to get my hands on their cute eggs! There were several eggs to choose from, each differently coloured and corresponding to the type of chocolate that was inside. I got the dark chocolate.For $33, I found the price a little steep for what you get. The egg was not as big as you'd expect, but overall, I liked how delicious it was. The chocolate was velvety and rich. The contents of the egg included mini chocolates and another chocolate egg *cue the Inception reference*.
Of course the pastries, food and decor at Nadege are all incredible - that you know. But Gregoire and the team are also amazing - they make custom orders and deliveries easy and fun. They're so lovely to work with.

Nadege's gift boxes are gorgeous and a quick, well-loved solution to client gifting, and custom-logo'd macarons are a lovely added touch to any event.

We look forward to working with the team on catering soon.

Dee, East of Yonge

We are frequent visitors to their store on Queen St West. That aside, we've had the pleasure of working with Nadege Patisserie on a wedding that was featured in the Wedding Bells Magazine! Their macaron towers was a key feature to the wedding for obvious reasons. We highly recommend Nadege whether you are planning a wedding or just looking for a small treat.
Nadège Pâtisserie has been mentioned inside these other vendor profiles:
Company Overview
Company Overview
Deals & Packages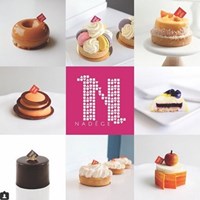 Sweet table
Price $15 /person
---
---
What services are included with this Package:
5 pc bite size dessert per person (to be defined according to theme and date of event)
Rentals
Free consultation - sweet table will be designed with client
---
Here's the Fine Print:
Delivery
This package is exclusive to EventSource.ca visitors. To redeem, you must mention you found this package on EventSource.ca.
Map
855 Oxford St, Toronto, ON M8Z 0B3