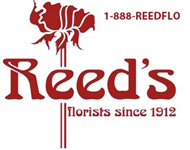 Reed's Florists
Vendors Similar to Reed's Florists
This vendor does not yet have any EventSource reviews. Be the first to leave one!
Melissa Bernard
February 2020
My husband just went there with our two young children to pick out some Valentine's flowers for me, the woman working there today obviously loved her job and went above and beyond to ensure my kids were happy with the arrangement they picked out. The quality of the flowers looks excellent, and my daughter was so excited to give me a very cool looking rainbow rose.
Will never go back to Reed's for any flowers what so ever!Bought my wife 1 dozen long stem Roses around this time of year and they died within 3 days! Paid $70 for them and went in to complain that I have had grocery store flowers last 2-3 weeks for 1/4 of the price. Was told there must have been something I did to the flowers for them to die so quickly! Will be sticking to the grocery store roses as I've never had any issues with those.....
Judi and devon are the most amazing people with wonderful service... 100% would recommend !
Didnt get her name, but one of the girls that work here is so incredibly rude. There was a stem in a bouquet of flowers I wanted to buy for my moms birthday, so I kindly asked her to cut it for me and her response was all the flowers are dead. I asked if one of the flowers in the bouquet would bloom and her response sarcastically was not if you keep touching them. For how much reeds charges for flowers, I expect excellent service. Better coaching is needed as well as a serious attitude check. Not impressed.
The service I received made me feel more like a nuisance than a customer. The body language, tone and attitude of the attendant was shocking. She should have stayed at home if she was having a bad day. I would've left if their competitor was open.The manager has since contacted me and has apologized for the poor service I received. I appreciated his responsiveness and I was able to present my mother with a lovely bouquet of the freshest flowers from Reeds on Mother's day. Happy to see that my experience may have been a one-off.
Reed's Florists has been mentioned inside these other vendor profiles: