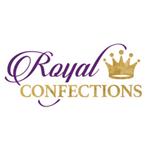 Royal Confections specializes in custom sweet creations complete with sweet table styling setup, serve ware and backdrops. Our acrylic donut wall is a popular feature on sweet tables.
We customize for any theme or occasion. We make a variety of sweet confections including chocolate covered strawberries, chocolate covered pretzel rods, Oreos, Rice Krispies and more.
One of our most unique and fun creations is the Chocolate smash cake, it's a hallow shell of chocolate customized to your theme or interests. Filled with assorted mini chocolate bars or candies, we provide a mallet for you to break it open. It's like an edible piñata!
We offer options for gluten-free, dairy-free. We work with you to bring your vision to reality with best quality ingredients and design.
Contact us so that we can make your next event sweeter!
416-451-1833
www.royalconfections.ca
Located in Vaughan, Ontario
I highly recommend Royal Confections! From the initial consultation to the final presentation blew me away. Irene is so friendly and pleasant to deal with, her creativity and ability to bring your vision to life is outstanding. I am so happy with my decision to have Royal Confections make my sweet table.
Irene created an incredible sweet table for my familys event. Not only was it stunning but it was also delicious. All of my guests were talking about how incredible the sweet table is and kept asking me who made it. It was the centerpiece of our whole party. Irene is such a sweet person and it was a pleasure to deal with her! I look forward to ordering from you again in the future.
Royal Confections went above and beyond to create an amazing sweet table for my daughters birthday. It's incredible how any theme can be done and the personalized items are a special touch. I'm very happy with the service and the pleasant interaction, I will be ordering for future events.
My bridal shower sweet table was so spectacular that it was the talk of the party! My theme was perfectly presented and in great detail. Everyone said that not only did it look amazing but was also very yummy. I'm looking forward to the wedding favors you are making for my wedding this summer. Thank you!
Millennial's Choice
January 2019
We absolutely loved having Royal Confections supporting our Christmas Party this year! We have been following their page on social media for awhile and absolutely love all the ideas and yummy sweets they make. When we asked them for a gift for our raffle table , Royal Confections was more than happy to help and support us. We are excited to work with them in the future and order some yummy treats for our next upcoming events!
Royal Confections has been mentioned inside these other vendor profiles:
Company Overview
Company Overview