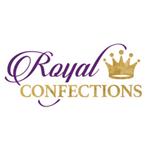 Royal Confections specializes in Luxury custom cakes, Wedding Cakes, sweet table confections and full sweet table styling.
Royal Confections uses only high-quality ingredients to bring you the freshest and most delicious cakes and confections. Irene has over 16 years of making custom cakes and sweet tables for her own family, in 2016 Royal Confections was established.
Royal Confections has a variety of display and serveware to style your sweet table with the utmost elegance and flair in order to bring your vision to reality for that WOW factor!
We also offer rentals such as backdrops, decor, plinths, and ghost table.
We would love to make your next event sweeter!
Located in Vaughan, Ontario
I had my bridal shower cake and desserts catered by Royal Confections based on a recommendation from my friend who orders cakes from this business every year. The creativity and attention to details is phenomenal. I am so happy with how everything turned out, my expectations were exceeded. My guests all said that the desserts were yummy and beautifully presented. I am happy that my wedding cake is now also booked with Royal Confections. Highly Recommend!!!!!!!!!!!!!!!!
OMG WHERE TO BEGIN??? Royal Confections is one of a kind! We have been using her for years for insanely amazing cakes, but recently have used her for the most epic and creative and beautiful Tiffany and Co. themed dessert table (and candy bar). She makes the most yummiest cakes, but they are THE most beautiful and creative to look at! Every hand made treat is full of so many details, so beautiful and so yummy! She is the most talented baker we know and she includes every detail to make each and every item unique and more so yum!!!! She is the easiest to work with, answers any questions, is super organized and comes up with her own ideas, as well as budgets for what you need. The talent is next level! Use her you will not be disappointed. Guaranteed! She also knows the industry like no other so you can be sure your going to have the best of the best, and the most in products. Highly recommend Royal Confections!
We ordered our 4 tier wedding cake from Royal Confections which turned out amazing. We didn't have a full idea of what design we wanted in the beginning. After having a consultation with Irene she was able to take some of our ideas and inspiration and come up with a beautiful design that was exactly what we wanted. We were extremely impressed with her professionalism and intuitive nature and the whole experience was a very happy one. We also got to try some cake samples before our wedding which were incredibly delicious so we knew we couldn't go wrong. Some of our family and guests commented on how moist and delicious our wedding cake was, it was a hit. Irene said that her moto is she wants to make your day sweeter and in fact she did, THANK YOU!
Royal Confections made my wedding cake and macaron favours in boxes for my wedding in July 2022. I am extremely happy with my decision! Irene is the sweetest person who is very happy to make something for your special day and you can feel that it's made with love and care. The cake was so beautiful and well executed, it turned out like the inspiration photo I have given to her. Not only did it look incredible but it tasted good too. We were very pleased that the cake was very moist, you can tell it was very fresh, the plates that had pieces of cake on them were cleared, so we could tell that the guests enjoyed it which was important to us. We also had a small box of macarons as favours placed on each guests plate and they were also done very well. We will be contacting Irene again in for our future celebrations! Thank you very much!
I am a repeat customer of Royal Confections for the last 4 years. Irene is the sweetest, kindest person I have encountered and the most talented and hard working. She understands your vision and brings it to reality. I have been ordering birthday cakes for my family for all these years that are so delicious and moist and we had a sweet table for our daughters Bat Mitzvah. Irene made a show stopper for the sweet table, all of my guests were talking about it even well after the party was over. The details are unbelievable, creativity is mind-blowing and everything is always very delicious. Irene is the best and truly blessed with talent! I highly recommend Royal Confections!!!!!
Royal Confections has been mentioned inside these other vendor profiles: