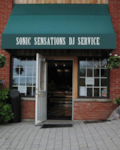 We specialize in weddings to suit every couples tastes and budget! I personally arrange everything needed to provide the exact experience you want for that special day at a very affordable price.

Your wedding! The most important day of yourk life except for maybe the birth of a child. At Sonic Sensations we recognize that this day is very special to not only the Bride and groom, but to the guests as well. You want an experience that is forever memorable. An event that will come up in conversations for years afterward! "That was the best time we ever had" "Your wedding was so beautiful and I hope ours will be that memorable" "We will never forget that night".
These are some of the comments you might hear after a wedding DJ has well executed, and properly planned your very special event. We meet couples to discuss exactly what kind of experience they want for their wedding. We offer advice and guidance for ensuring your wishes come true. As a Disc Jockey Service we don't just think of ourselves as the "DJ" even though after years of industry change that term still applies. We don't just spin vinyl discs anymore!
Areas We Serve
DJ in Alliston
DJ in Orillia
DJ in Barrie
DJ in Stroud
DJ in Cookstown
DJ in Toronto
DJ in Innisfil
DJ in Thornton
DJ in Midhurst
DJ in Muskoka
DJ in Midland
DJ in Aurora
DJ in Newmarket
DJ in Gravenhurst
DJ in Oro
DJ in Parry Sound
Sonic Sensations Entertainment has been mentioned inside these other vendor profiles:
Company Overview
Company Overview
Map
3 Boorman CRT, Barrie, ON L4N 8J4