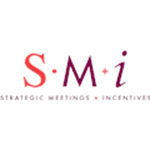 Welcome to Strategic Meetings + Incentives. SM+i has the knowledge, the people and the experience to make your incentives dazzle, your meetings flawless and your events spectacular. Whether you need to motivate, reward, inform or train your team, we will meet your goals with outstanding creativity and down-to-the-smallest-detail operational efficiency – anywhere in the world.
Vendors Similar to Strategic Meetings + Incentives
Strategic Meetings + Incentives has been mentioned inside these other vendor profiles:
Strategic Meetings + Incentives Endorses the following vendors
We have been working with The Marc Joseph Band for more than 2 years now and their level of service and production is always professional. I have worked with several bands over the years and MJB amazed me from the onset with their level of professionalism, not to mention being an amazingly talented group. MJB understands the corporate event world - they are responsive to event planners and are interactive at events. We have not only booked the band but many of their other services. I wouldn't hesitate to recommend them to anyone looking for entertainment, production or DJ services. The Marc Joseph Band is a group of personable and professional musicians with a desire to make your event one that your client and guests will remember!