The Photo Booth Guy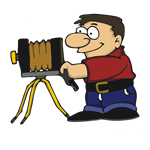 Planning a wedding, engagement party, birthday party, baptism, corporate party, fundraiser, bar/bat mitzvah and much more. Why not add a photo booth professional photography service to compliment your wedding or special event photography package? Experience the very best in photo booth fun! Unlimited 4X6 or 2x6 professional color prints on site Choice of white, black , gold or silver sequins , gold/blue mermaid backdrops Tons of props Custom designed template to match theme of event Digital upload of all the nights photos Fotoshare instant upload to The Photo Booth Guy Facebook page Friendly attendant on site
Tomas was fantastic to deal with. He was prompt in responding to all inquiries, his prices were more than fare, and he worked with us to ensure the template for the photos were exactly to our liking. Our wedding was one impacted by COVID. Tomas was exceptionally flexible and worked with us on our new date and plans. He was willing to modify his service to fit our new needs. During the event, he was an amazing addition. Very friendly to all our guests and had excellent COVID protocols in place. Two of the best features with his photo booth were that (1) if a photo that was taken wasn't good or the people we not ready, you were able to redo it within the set of four that went in the final product, and (2) the copies we the hosts received included the postcard with the 4 images, as well as each image individually. All around a great service and we were so happy Tomas was a part of our day! Highly recommend!
It was the best decision to go with Tomas at Photobooth guy for our wedding. After asking around quite a few vendors we were really impressed with how professional, knowledgeable, accommodating and friendly Tomas was. He answered all our concerns from setting up at an outdoor venue to how photos would turn out in the night. We received our photos promptly after our wedding and everything turned out great quality even during the late evening hours outdoors! Props were fun and in great condition. The custom templates are modern and pretty with plenty to choose from. On top of that, we almost paid double for less at other companies before stumbling across the photo booth guy. We were actually almost an hour behind schedule and he was so kind to stay extra for us without us even asking! Thank you so much Tomas for your kindness and amazing service!!!
Tomas was amazing!! He was great from beginning to end. He was very prompt during my inquiry phase and took the time to answer my questions. He was professional during the entire process which is why I had initially gone with him versus the 3 other vendors I was comparing with. Closer to the event, he followed up with me to ensure my template was chosen and ready for my event. It was entirely my fault for not following through as promptly as he was. He was patient and followed up to ensure I completed my choices and then provided me with a sample. He got it right the first time and I was easily able to list my preferences for the night of the event ahead of time. On the night of the event, Tomas arrived early to set up. He was extremely polite to wait for an opening during the festivities to approach me and introduce himself. He didn't need any assistance in setting up. He was ready to start on time, early even. My MC was able to inform the guests and the line started. He was great at coaching people through the process, despite half of the guests not speaking English. He was pleasant and polite despite reminding the guests multiple times to wait for the flash. He didn't seem annoyed at all and delivered exceptional photos. The quality of his prints were also amazing, even with shots of groups of 8+ people. I opted for the 2x6 strips and was worried about the compressed pictures but they were amazing. With 3 shots per strip, the line moved fairly quickly and there was never any excessive wait. The photos including those in the prints were delivered digitally in under a week. The quality of the photos enlarged are even more phenomenal. Now I can send these to my guests to put and print as they please. Overall, Tomas was amazing from start to finish. I really do commend his patience with my guests, quality of photos, and general professionalism. Will definitely be recommending him to anyone and everyone. If I could give more than 5 stars, I would. Tomas, thank you for making my night great for myself and my guests.
Tomas is great! I am so happy I had his photo booth at my wedding. He was very easy to work with, very quick to respond. My guests loved all the props and the beautiful photos taken! and that they all got copies to take home with them that night. Will 100% use his services again if ever in need of a photo booth!
Tomas the Photo Booth Guy was just great - he came early to set up, was very accommodating and kind with all the guests which made a difference. We were happy with the machine itself as it was clean and modern, as well as the quality of the props. Great quality photos - we got physical copies as well as digital. Really glad we got this photo-booth - our guests loved it. We would highly recommend. Thank you Tomas!
Amazing service! My clients absolutely loved it!

Tomas was great to work with, made my life so easy and printed out great photos for each guest! The proper were perfect, there was definitely something for everyone. A hit with every age group!
I cannot recommend them enough!
The Photo Booth Guy has been mentioned inside these other vendor profiles:
Company Overview
Company Overview