Victoria Radford
Vendors Similar to Victoria Radford
MANGO STUDIOS
December 2019
We've had the opportunity to work with the Radford team many times over the past few years and are always in awe of their amazing work. They are so personable and talented and we never hesitate to refer clients to the team, we know they will be well taken care of! We recently worked together with them on a shoot with our corporate clients and the results were flawless. We couldn't have asked for a better outcome :)
I had my bridal hair done at Victoria Radford salon with Nathalie Saab. She was excellent to work with and did a great job after I showed her some photos of updo inspo. I did a trial in the salon and also went to the salon on the morning of my wedding. The updo held up nicely during the whole day, even on a humid day with lots of dancing! 5 stars for Nathalie!
I almost gave up on this salon though, because their communication via phone and email was pretty spotty. I emailed Kinga, their event coordinator, initially and it took 2 weeks to get a response (I phoned during business hours and finally reached her). Weeks also went by to finalize the booking. I had to phone in my credit card number and leave it with one of the staff as Kinga was not in that day, but nobody contacted me to confirm that the deposit had been processed and the booking was confirmed. I was the one reaching out to them repeatedly, which was stress I did not need during the busy time around wedding planning. In general, I had more success with phoning them compared to email. But with a busy full-time job, I much prefer emailing vendors vs. trying to call during business hours. Finally, when I paid for my wedding day hair, I came home and realized that they had charged me the full price even though I had already paid a 25% deposit when I made the booking. I called them about this, and they dealt with it promptly, but it left a bad taste in my mouth, like what if I hadn't noticed?
So, the actual hairstyling was excellent and I love the location and atmosphere in the salon. But in hindsight, I wonder if it was more trouble than it was worth, as I'm sure there are many other great salons and hair stylists that are easier to work with.
Michelle Price
September 2019
I just had the most unforgettable experience getting my hair and makeup done At Radford Salon. Service was extra professional, friendly, and made me feel immediately at ease. Quality of the products they use is amazing. I got quite the smokey eye done and I can't get over how lightweight and comfortable I feel with the eyeshadows and lash extensions. The products they used in my hair were also light and didn't weigh my hair down AT all. Everything, from the service to the quality of the products was 10/10. I will be returning here to purchase some of the makeup. The facilities are beautiful. Tucked away in the heart of Yorkville, everything was clean, cozy, and comfortable. I was offered a coffee (which was delicious) and they even had almond milk to add, which was so nice! Celina gave me the most beautiful up-do. She was such a pleasure to work with and was so gentle with my hair. I love how she added small details including an elaborate braid, some strands left out to frame my face, and a stunning bun that makes me look like a princess. She was so kind and professional and made me feel so comfortable! I had my make-up done by Jennifer Bartelt, who has an attention-to-detail beyond anything I've ever experienced from a makeup artist before. She presents very well, which made me trust her immediately with doing my makeup. She created such a beautiful, precise, and effortless looking smoky eye that makes me look like I'm wearing colored contact lenses because it made my eyes pop so much. Her technique is also incredible and gentle. She added a ton of eyelash extensions and did a lot of careful detail close to my eye- I didn't once flinch or feel like she was poking my eyes etc. I would highly recommend her services and will definitely be returning to this salon for my next event. Thank you to everyone for my experience today! I will be recommending Radford to all of my friends and family. I can't wait for my next big event that required a hair and makeup appointment! Will definitely be returning.
I've been seeing Dee Lewis, now at Radford Studio, for four years now. The studio is stunningly beautiful, with lovely little touches and attention to detail, and I have never come across a more comfortable wash station. A number of staff came by to check my hair prior to colour application. However, I want to talk about Dee, who herself is a lovely person, and also a fantastic and skilled colourist. I constantly receive compliments on my colour, and thanks to her expertise and careful consideration, no one has guessed at first glance that I'm not a natural redhead (though they've asked and have been surprised to learn the truth) even when I'm badly needing my roots done! Dee is so thoughtful and personable and easily one of my favourite people. Thanks, Dee!
I adore getting my hair professionally done. I have been seeing Dee Lewis for over about a year or so now to get highlights and after having hair extensions. Im consistently impressed upon leaving the salon! Im struck by the many compliments that I receive w respect to colour. I highly recommend seeing her!!! She truly is so professional and personable which is also a bonus :)
Victoria Radford has been mentioned inside these other vendor profiles:
Blog Posts featuring Victoria Radford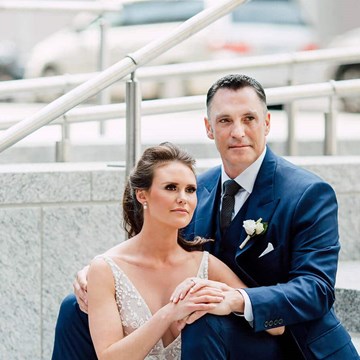 Read more