Throwing an event is one thing. Throwing a fantastic event that delivers an amazing guest experience is a whole other story! All the elements that lead to some of the best events you've ever attended are often the result of multiple interacting elements far greater than the sum of their parts. Fabulous decor, food, and music are, of course, all vital elements appealing to our basic senses, but if we want our event to truly stand out, it's important that we take steps toward having our events to appeal to a unique feeling or experience that will fully engage your clients.
We're always looking to keep things fresh, so we scoured the Toronto event scene and compiled these 22 great entertainment ideas that are sure to help bring your event to the next level!
---
Aerial Acrobatics
Photo Courtesy of August Media
As an industry award winner known for raising industry standards, Cirque Revolution certainly knows how to put on an awe-inspiring show! We're talking about Juno-Award winning performances! Not only do they employ some of the most jaw-dropping contortionists and dancers, their spunky aerial circus flyers will leave you holding on to the edge of your seats! So yea, you can rest assured that their customer service is A+ quality.
---
A Comedy Magic Show
Described as a five-star non-stop laughing riot, Brent and Sarah's Comedy Magic Show is a magic act, with a comedic twist, that you will not want to miss! While most magicians aspire psychological misdirection to invoke speechless awe, this wife and husband duo would rather keep you laughing until you can't breath with their golden comedic timing! Did we mention that they are BOTH magicians? Yup, no one is the other's assistant; they would much prefer to utilize an audience member – and it could be YOU!
---
Giant Lite-Brite
Easy to handle and perfect for every age group, Superior Events Group's Giant Lite-Brite Board is bigger and brighter than ever! This giant version of a timeless childhood classic is just the perfect non-invasive option to provide both a visual impact and interactive activity.
---
LED Robots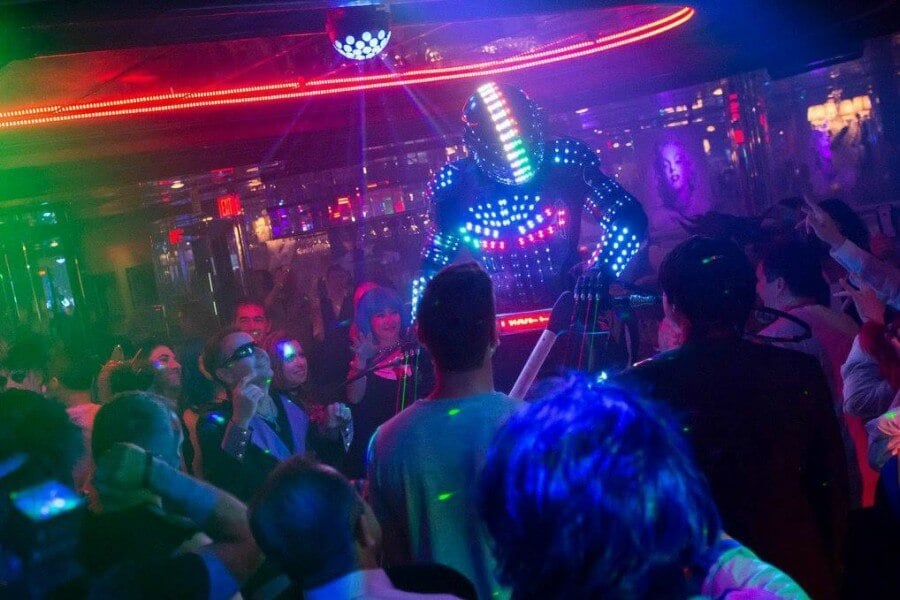 Photo Courtesy of Yavorskiy Studio
8 to 10 ft tall LED robot performers with lasers and confetti guns – need we say more? Even if your event wasn't initially a futuristic rave, it will be the moment TI Bots walk into the room! With flashing neon lights, sparkles, and Daft Punk-esque excitement, this will truly be a memorable experience for everyone in sight!
---
Hawaiian Dance Show
Bring the true spirit of Hawaii to your party with The Hawaiian Dance Company! And this isn't some Sunday brunch talent show either. We're talking professional and authentic Hawaiian dancers AND fire twirlers! How cool is that?! Not to mention, they are Ontario's only authentic Hawaiian fire show since the 1970's. We are truly blessed with how Toronto is such an inviting multicultural city!
---
Signature Cocktails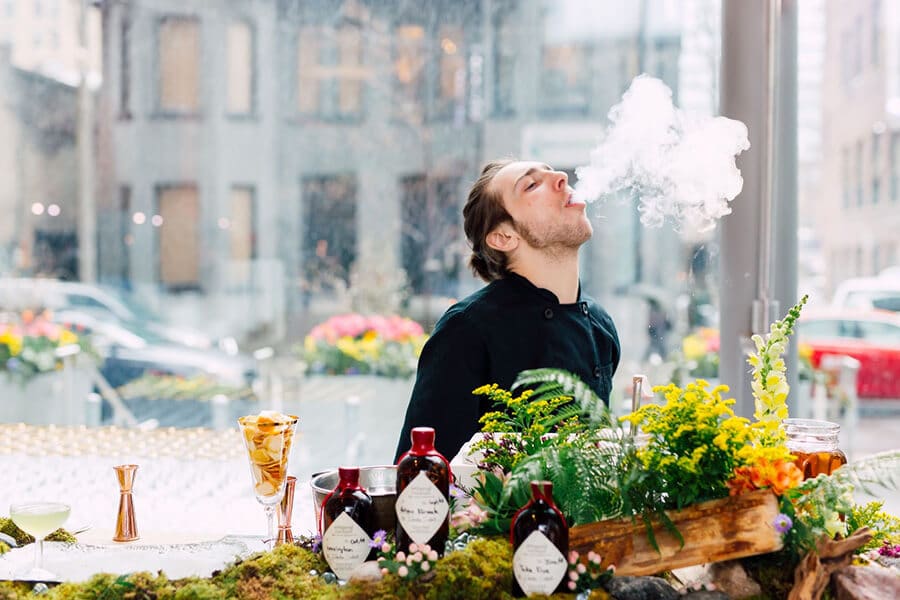 Photo Courtesy of August Media
If signature and smoking cocktails are your thing, then you'll definitely want BarChef Toronto at your next event. With all drinks made-to-order right before your eyes, you'll want to make sure you and your guests have your phones handy when you grab a drink! Talk about the ultimate cocktail experience, these drinks are – quite literally – fire!
---
Live Event Artist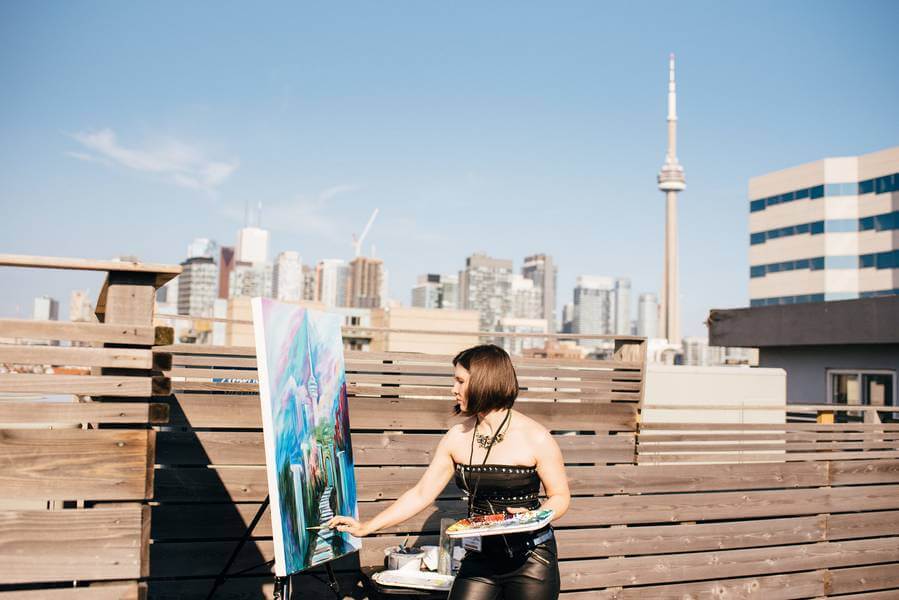 Photo Courtesy of Olive Photography
Olga Pankova - Live Event Artist isn't your regular run-of-the-mill artist. Specializing in capturing the very special and important moments of your live event, she has made quite a name for herself in the event industry! Your guests will love seeing themselves transforming on her magnificent canvas, and you will be able to bring home a memorable mural of the night completely unique to photographs. She is truly a one-of-a-kind addition to your event!
---
A Magic Show
Wouldn't it be amazing if international award winning magician and mentalist, Mega Magic - Mike D'Urzo were to entertain guest at your event?! This 6-time recipient of the "Performer of the Year" award presented by Festivals & Events Ontario, and accredited with numerous television appearances and other impressive awards, knows exactly how to hypnotize your crowd; he is not just a magician, he is also a skilled mentalist as a member of the prestigious Canadian Association of Magicians and the International Brotherhood of Magicians.
---
Live Infographic Art
If you're looking to spice up your next marketing event, conference, seminar, training session etc., consider hiring Visualtalks - Live Drawing – who says learning can't be fun!? The team at visualtalks will live illustrate the information being presented on a large whiteboard in order to increase engagement from attendees, enhance retention and understanding, and create a beautiful summary of information to look back on. What a fun way to learn, and let's face it, most of us are visual learners anyway!
---
Photo Mosaic
The team at Photo Mosaic Media takes your typical photo booth fun to a whole new level by creating a gorgeous wall mosaic with everyone's combined photo booth photos! Cool right? Our only question is – who gets to keep the finished product?!
---
Fireworks
Sometimes you don't need to stray far from the classics to keep your guests happy. With over 24 years of bringing the flair to all sort of events, Blue Star Pyrotechnics and Fireworks is basically one of the few legal options for you to set off HUGE fireworks in Canada! We're talking all kinds of spectacular shapes and sizes limited only by your imagination; you can even request them timed to music! How cool is that?
---
Lion Dance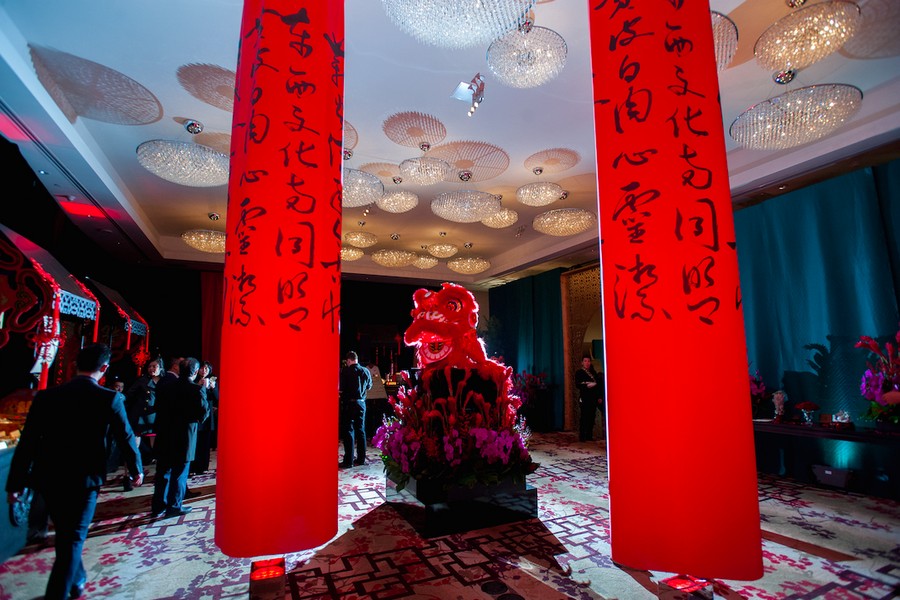 Photo Courtesy of Krista Fox Photography
Lions, dragons, and Kung Fu – sounds like an epic time to us! Home to Canada's National Lion & Dragon dance Team with numerous National and International awards, Wushu Project will blow you away with their martial arts prowess and extreme stunts! Not only are they Canada's lion dance company in the wedding industry, they are not limited to just costume choreography;  Shaolin Kung Fu and Health Qiqong performances are also available.
---
 Ice Skating Show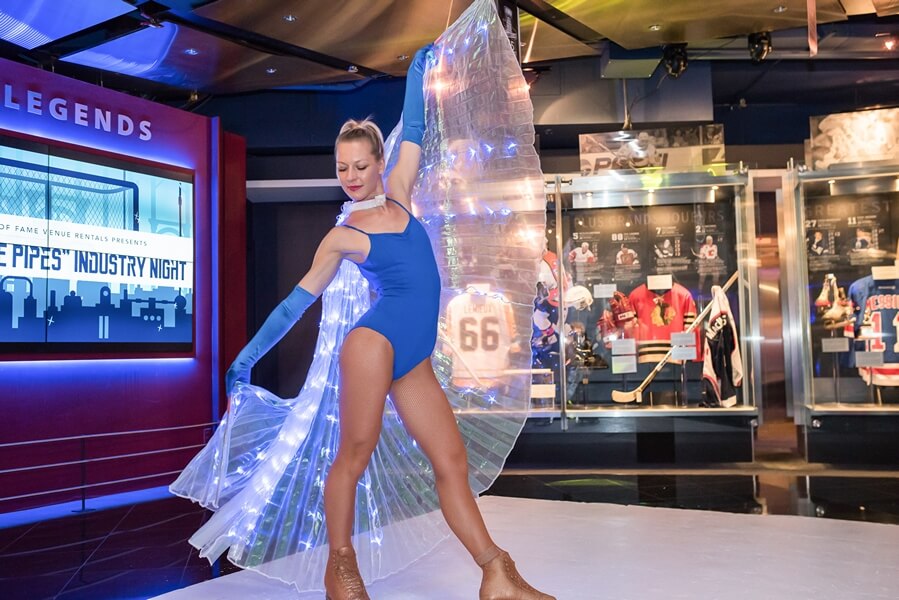 Photo Courtesy of Event Imaging
If you thought figure skating was just for winter, you thought wrong, and the team at Glisse on Ice Shows will prove it to you! Over the years, they've worked hard to show everyone that the beauty of figure skating shouldn't be restricted to one season, or place – it can be brought anywhere at any time with their synthetic indoor skating stage! So, if you have a love for the sport and need some elegant entertainment that will 'wow' your guests, don't you move  – they'll come to you!
---
Caricature Design
If a memorable real mural with sparks of realism doesn't stroke your fancy then a talented caricature team like Art Smart Caricature Design just might! Always hilarious and interesting to see your cartoon self, caricature art is a perfect addition to any event!
---
Edible Balloons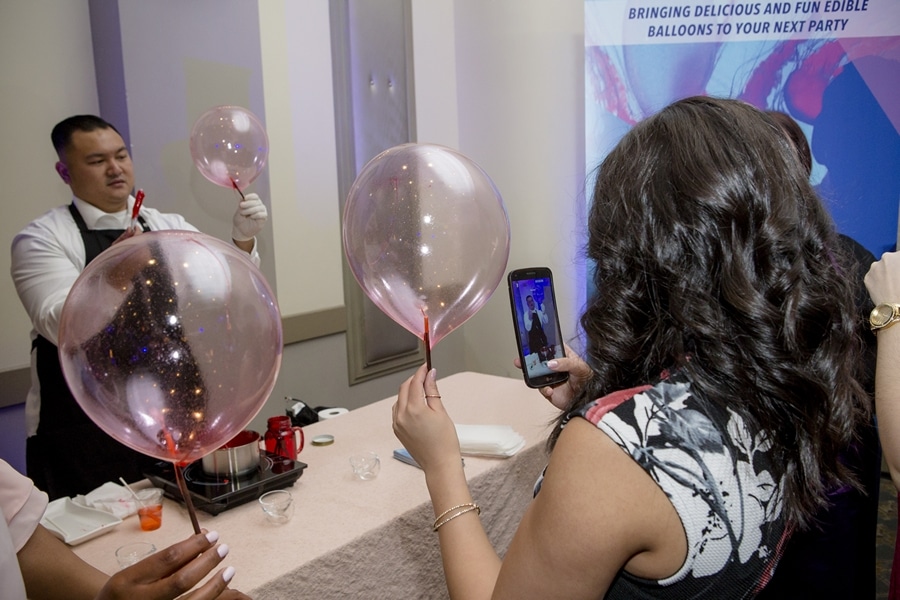 Photo Courtesy of Sara Kardooni
How can you have fun with balloons you ask? Get the edible kind! Edible Balloons Group's balloons are fun to make, absolutely delicious, and are sure to steal the show at your next event! You'll definitely get a lot of likes on the 'gram when you make these!
---
Cannabis Bar
Since the legalization of marijuana in Canada, High Bar Hospitality & Event Group sure didn't waste any time to establish themselves as Canada's first luxury cannabis event company! In high time someone did, wouldn't you agree? Hop on board the cannabis train and take your event to the next level with your favourite bud-tenders!
---
Virtual Reality
Attention all tech and video game enthusiasts! DiVRge is the PERFECT company for anyone that wants to incorporate some virtual reality to their special event. Their professional team will ensure your party guests will have the time of their lives immersing themselves in another world, especially since there are over 25 titles available! What a time to be alive!
---
Game Rentals
Since 2005, Pop! Event Management has been adept at providing events exactly what they need to pop off. They truly are the jack-of-all trades when it comes to providing unique party rentals and activities; from air hockey tables to inflatable games, you see it, you like it, you want it, you got it!
---
Casino Rentals
There's a reason why casino themes will never go out of style, and now you can bring some of that addictive charm to your event with the help of iEvent Rentals. From the ability to host a full-scale poker tournament to having a few slot machines, whatever your game of choice, they've got the supply and staff to liven up the party! What a jackpot deal!
---
Murder Mystery
While we appreciate entertainment form afar, it's exciting to also be apart of the act! Especially if it is a titillating murder mystery party hosted by BigTime Murder Productions. Imagine: suspense, intrigue, and mystery all balled into one comedic evening as your host works hard to find who amongst your guests is the murderer, before the clock times out – GASP!
---
Tarot Readings
Favour a bit of mysticism for your party? With over 30 years of experience of study into Tarot, Divination & Witchcraft, Violet Moon Magic is guaranteed to provide a unique surreal magical experience for all of your guests offering in depth tarot consultations and tarot decks! Even if one does not believe in spirits, it is still an intriguing to gaze into your future with your third eye.
---
Body Art
Sometimes, the best entertainment is one that leaves a mark… which is exactly what Page Activations will provide for your event, because who doesn't love body art? Fully customizable, you and your party guests can enjoy all types of body art! From glitters to matte black paint and every colour of the rainbow, if you can think of it, they'll cover you in it.
So there you have it! Did we leave anything out? Let us know in the comments below and we'll do our best to possibly do a feature in an upcoming article.