You love your pets, but let's be honest, having them there on your wedding day might not make sense – especially if you're having an out of town wedding. So, if this is the case, but you still want to include your furry friends in your big day, here's how you can do it without actually having them there.
---
Cake Topper
Custom cake toppers are all the rage so why not include your furry friend alongside you and your new spouse in the place of honour a top your cake? Your guests will get a kick out of this personal touch and you can have fun by including your pet's personality in the topper.
Bouquet Charm
It has become popular for brides to adorn her bouquet with photos of loved ones that cannot make it to the wedding. Whether they are earth-side or otherwise, this is a great way to honour those close to you, so why not include a photo of your fur-baby?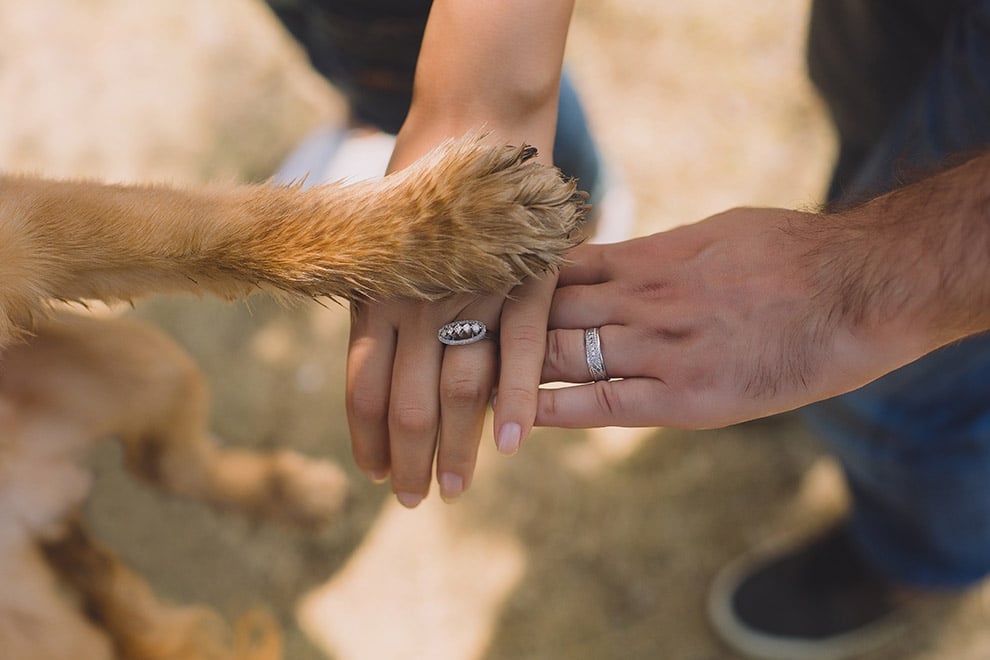 Table Numbers
Does your pet make funny faces, or have some interesting sleeping positions? Use photos of these as the background for your table numbers to give your guests something to giggle at and give your pet a chance to be the center of attention for a bit.
Signature Cocktails
If your pet won't be attending your wedding, include them by naming your signature cocktails after them. Title your drinks with a play on their name and include a cute chalk drawing of your pooch– it's almost guaranteed that all of your guests will see this special touch!
Photo Booth Props
Everyone loves a good photo booth – especially if the props are on point. Create props using your pets features such as their ears, funny faces or even include a full cardboard cut-out of them that your guests can include in their photo booth shenanigans.
You May Also Be Interested In
BONUS: Save the Date
Good news, you can include your pet in your wedding even before the big day arrives. During your engagement photos, include your pet and use that photo for your Save the Dates. Making them the center of attention in this photo with a cute saying is a great way to let your guests know to save the date. Picture this: Your pet with a speech bubble that says, 'My parents are FINALLY getting hitched!'
---
There are many reasons that your pet might not be able to attend your wedding, including location, weather or their own social anxiety. But that doesn't mean that you can't include them in your big day! Get creative and have fun including your fur baby in your wedding!