Everywhere you turn there are advertisements about how waste is destroying the planet and how we have to 'save the planet', and while many people are making changes in their daily lives, these positive efforts can extend into weddings as well! It's no secret that some weddings can have a lot of waste whether it is from disposable decorations or food – a one day event produces a lot of garbage. Luckily for you, it is easy to make your wedding a little greener. Whether you are looking to have a totally 'green' wedding or maybe just include a few little tweaks, here some great examples of how to make your day a little more earth friendly.
---
1. The Flowers: Flowers tend to be the biggest 'waster' since there are so many of them and they often get tossed. Reduce the amount of waste by donating them to a retirement or nursing home after. The residents will love the fresh flowers and you can feel good knowing that they get to be enjoyed for another week. You can also use floral alternatives such as wreaths or good luck balls instead.

Fun Fact: For the latest pop up chapel put on by the team at Mad Bash Group, they re-purposed all of the floral and decor installations after the event for people in need – so cool!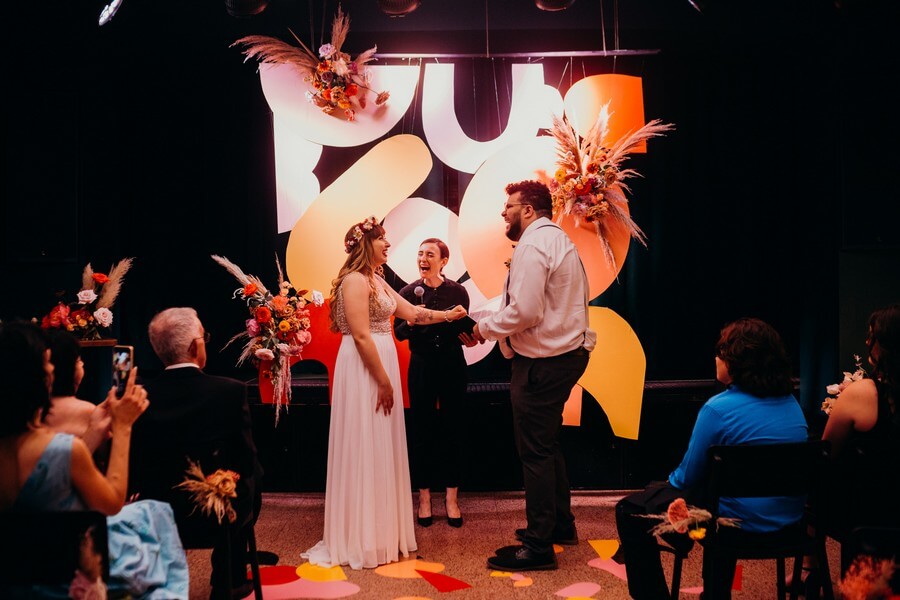 Photo Courtesy of Alix Gould Photography
2. The Food: Find a venue or caterer that uses locally sourced ingredients and will portion the plates to avoid food waste. Another great way to reduce food waste is to have a buffet style dinner. This will allow guests to choose how much food they want plus; you get to take home any leftovers at the end of the night.

3. The Dress(es): For yourself, consider finding a vintage or previously loved dress. Most women only wear their dresses once, so after a good cleaning it will be practically brand new. For your maids – pick a colour, not a dress. This way they can choose something they already have or at the very least, something they will wear again

4. The Invites: A large percentage of your guests will likely not keep their wedding invites, but instead, will throw them out or recycle them. To avoid this amount of waste, consider recycled wedding invites, or invites that can be planted and grown into wild flowers afterwards. If you're not concerned about it, you can also send an email invitation and do away with the paper invitation all together.
You May Also Be Interested In
5. The Favours: The obvious solution is to not have wedding favours. But if you'd like to, rather than giving your guests something they will never use again, like branded sunglasses, opt for something a little more thoughtful. Consider gifting them food items that are made locally like chocolates, jam or tea. This way, you can be sure that they will use them, and you know that they aren't taking up space in a landfill somewhere.
6. The Tableware: Consider choosing compostable/recyclable dinnerware. Depending on the nature of your wedding, this could potentially be a stretch. But if your celebration is a little more laid back, simple, or even a little rustic chic, this may be a great option!
---
As you can see, there are many ways to make your wedding greener without worrying if you'll enjoy yourself. Remember, every little bit counts, so if you can make one aspect of your wedding a little greener, you've done your part.