So, your best friend asked you to give a speech at their wedding… now what? For most people, speaking in front of a crowd sounds like torture, but don't worry, with this foolproof formula, your wedding speech will be easy and memorable.
Before we begin, there are a couple things you should never, ever (no, really) include in your speech. The first, is mentioning any previous relationships or marriages of either the bride or groom. No one wants to hear about how many people their new spouse has been with before them, so just leave this out. The second thing that should never be included in your wedding speech is anything that makes the bride or groom look bad. This can include stories about when they partied too hard in university, or just generally poor decisions they have made. This is not the time to try and embarrass your best friend, and we can assure you, you will look bad if you do. Finally, don't wing it. You're going to be nervous and you will definitely forget everything you wanted to talk about once you get up there, so write it down and bring it with you.
---
Now that you know what to avoid, let's write your speech. Here are the 7 steps to the perfect wedding speech:
Step 1: So how do you start a wedding speech? Well..introduce yourself and how you know the bride/groom. e.g "Hi, my name is Ted and I am the groom's oldest friend and best influence."
Step 2: Crack a little joke – this could be poking a little fun at the groom, but never the bride. e.g "Laura, you look stunning, Jerry, you look stunned."
Photo Courtesy of Jessilynn Wong Photography
Step 3: Tell an endearing story of you and your friend that gives context to why they chose you to stand beside them on their big day. If the plot is something that Grandma won't approve of, use veiled references. e.g "I have always thought of Jack as a brother, and we've always been there for each other, through good times, and bad decisions."
Step 4: What you thought of your friends' new spouse when you first met them and how you knew they were perfect for each other. e.g "I knew that Chelsey was the one because she's the only one who will laugh at Jennifer's jokes!"
You May Also Be Interested In
Step 5: What makes them a great couple. e.g "you support each other no matter what, even though she likes pineapple on pizza."
Step 6: Toast their marriage. e.g "So, let's raise a glass to this amazing couple. Here's to many years of happiness for both of you."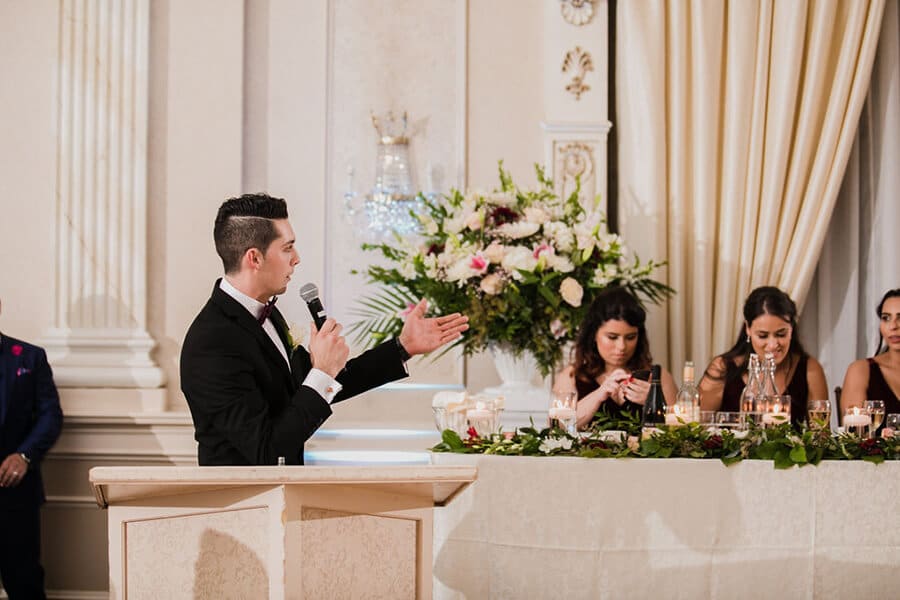 Photo Courtesy of Luminous Weddings
Step 7: Finish it funny and lighthearted. e.g "Alright folks, that's it for me, now let's get on with why you're really here… the open bar!"
---
So, remember, when you sit down to write your speech, keep it fun and keep it short. Show the guests why your best friend is awesome, and why their new spouse hit the jackpot by marrying them. If you're in doubt of what to say, always air on the side of funny and endearing.