District 28 treated guests to an amazing showcase of tasty food, beautiful decor and exciting entertainment at their second annual Open House. This fabulous venue is a multi-faceted space that can be used as a photo studio, work space or event space. I especially love how it is a blank canvas with a multitude of options for events and weddings. The District 28 Open House was a great opportunity to walk through the different studios to see them in use, helping guests envision their own event within its four walls. Luckily, photographer Lindsie Grey was onsite to capture all the details.
To showcase how versatile the space could be, District 28 asked me, Rebecca Chan Weddings & Events, to style two tabletops – one that was distinctly wedding-esque and one that felt more corporate. For the wedding tabletop, I mixed rose gold flatware and delicate pink cups from Event Rental Group with light and charming floral arrangements from Coriander Girl. The taper candles on brass candlesticks added just the right touch of romance. The harvest chairs and tables from ERG were the perfect touch of rustic for the wedding tabletop. And of course, the round menu from Brooklin Paper Co. completed the look with rose gold foil and matching floral.
The corporate tabletop was a completely different feel, with a mix of masculine and feminine accents. Clear ghost chairs, a plexi table and black flatware from Event Rental Group set the backdrop to the look. A custom marble and floral vinyl designed by Brooklin Paper Co. and printed by DFD Event Solutions sat on top of the sleek plexi table. Multiples of block candles and geometric blush roses from Ashton Creative added elegance to an otherwise masculine look.
The white walls and natural light in Studio 1 were the perfect backdrop to both of these tabletops, showing how the space moulds to the look you are envisioning.
Preferred vendors from District 28 were invited to showcase their booths. The talented team at The White Book Co. created a beautiful tablescape, including gorgeous soft florals from Hunt and Gather. Complete with candles, gold flatware and dusty pink chargers, the look was soft and elegant yet approachable and completely inviting.
District 28's Studio 3 space is a unique space typically used for photography. With its unique U-shaped cyclorama wall, the possibilities are endless when designing in this space. Designed again by yours truly, this space was meant to feel like a whimsical and modern, garden-inspired wedding ceremony (but indoors!). Ashton Creative created bright and bold rose bushes that lined the aisle, leading up to a beautiful floral feature at the front. A custom designed floral graphic in matching colours was designed by Love Lettering and printed by Dance Floor Decor to accent the floral but also to make the real flowers pop. The graphic went down the aisle as a runner, and then also made an appearance behind the floral feature. White chateau chairs from Event Rental Group elevated the space, giving guests an elegant seating option that did not take away from the look.
Cirque Revolution dazzled guests with their unique cupcake dress and aerial performers. They added just the right amount of fun to keep the party exciting.
The catering team from District 28 created a feast for guests. Food stations are always popular, and their live pasta station and generous charcuterie station were a huge hit. A myriad of cute little canapes circulated throughout the night, leaving guests satiated and full.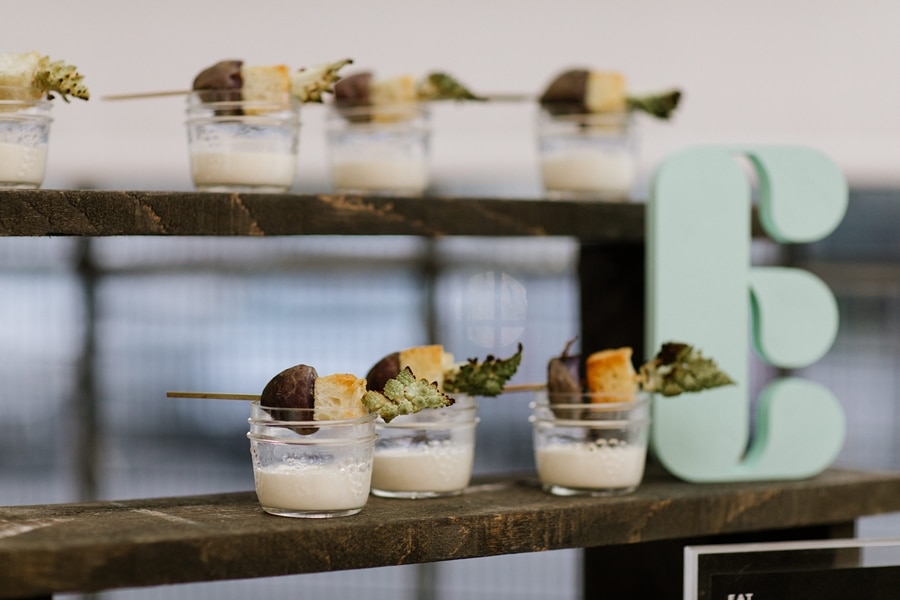 Can't forget about the delicious Caramelized Onion Cheese Fondue at Eatertainment Special Events & Catering's booth!
District 28's Open House was a great way for guests to envision the venue in use, but also a fantastic indulgence of entertainment and food. It was so much fun, and I can't wait to go again next year!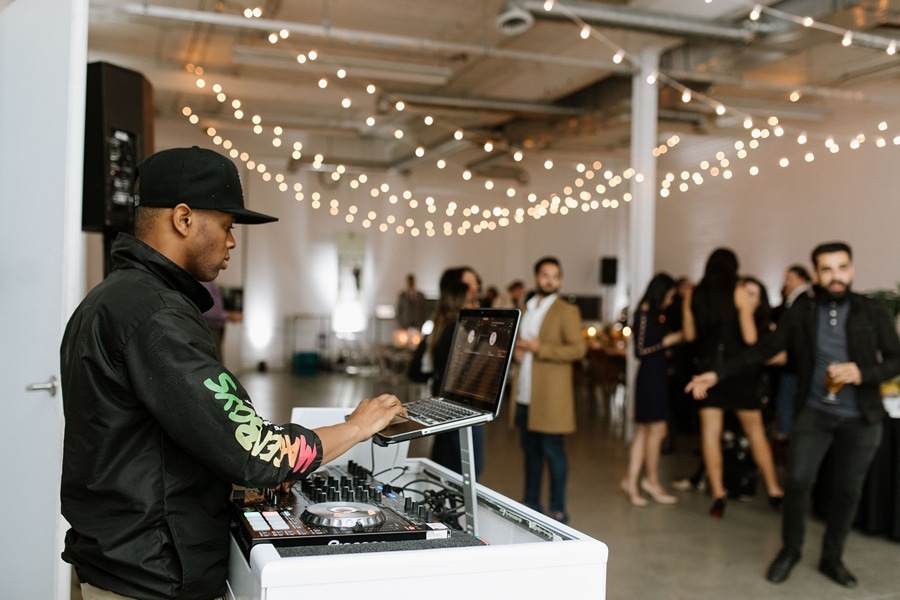 Magen Boys Entertainment keeping the party going with lots of great tunes!