A month ago, we all would have jumped at the chance to sit on our butts for days on end while doing nothing but binging Netflix and eating pizza. Now? We are longing for to-do lists and tasks! Okay, maybe it hasn't gotten that far – BUT if you are newly engaged or in the middle of planning a wedding you may be rip roaring and ready to get the ball rolling on plans.
The good news? There are a bunch of items on your wedding to-do list that you can do while cozied up under a blanket, sipping a glass of wine/juice/beverage, and watching your favorite show. High fives for being totally productive with chilling on your couch.
---
Get Inspired
Being judged for wasting hours at a time on Pinterest is soooo 2019! Kick back with your future spouse and browse all the boards, read all the blogs (like this one!) and get excited about your big day! Now is the perfect time to see what styles and themes speak to you. Will your event be rustic, glam, modern, classic, or something else? Browsing and saving photos on Pinterest or Instagram is a task that is both fun and beats watching 'The Office' again.
Short List Vendors
Once you have your visions, it's time to think about hiring the people who can make it a reality. From venues, to photographers, now is the time to do all the research and short list the ones you want to meet with once social distancing is a thing of the past. Check out their socials and galleries but also be sure to read the reviews of couples who have recently used their services.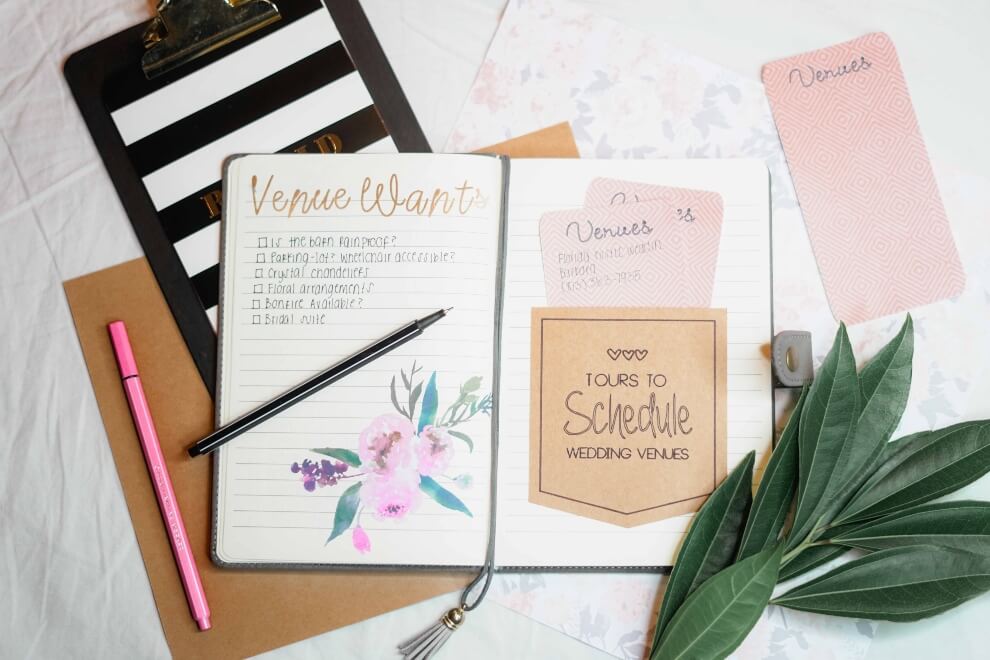 Fill Out Your Registry
Chances are when you first signed up for your registry you picked a few gifts at the store and then completely forgot about it. Now is the time to make sure your gifts fit with your style and that there is enough variety for your guests to choose from.
Create/Update Your Wedding Website
Fact: You need a wedding website. Fact: Now is the perfect time to create one. Fact: You can totally do this from your couch wearing sweats.
Work On Your Guest List or Seating Chart
This is a task that no one really wants  to do. It's a bit tedious but if you are stuck inside anyways, may as well get it out of the way so that you can have fun later! Go through your guests and make cuts if needed; make sure you have their mailing addresses etc.
You May Also Be Interested In
BONUS: Get Fit
Were you planning on sweating for the wedding? Well, now is the time! It may not be from your couch, but exercise will help with restlessness so that you can focus on other wedding related tasks on that wedding to-do list!