With warm weather and major traffic spikes, it seems like just about everyone is itching to get outside and socialize. Whether it's a long weekend, a birthday, or just cuz, we're all for outdoor gatherings – now that it's safe to do so! It's been a long haul, to put it mildly, so when you're ready to do so, we've got 7 tips to help you host the ultimate backyard party.
Decide on a location
This one's easy. It can be your backyard, a cottage, a patio, a balcony – just make sure that the space you choose has enough space to seat everyone comfortably. If you're reading this because you know you want to do something outdoors but don't have the backyard for it, you may want to check out 20 of Toronto's Prettiest Outdoor Venues, but for the purposes of this article, let's assume you want to keep things close to home.
Be at-TENT-ive 
Too hot, too cold, too dry, or too rainy. When it comes to the weather, one of the easiest to ensure peace of mind and help keep your guests comfortable is by renting a tent. Here's your go-to list of GTA tent rental companies.
Hot find: Advanced Tent Rental has you covered with a $1,000 "Weekend Warrior" package: pick from one of 3 tent sizes, throw in some twinkle lights, and you're good to go!
Pick a theme
Decide on a theme or experience you want to deliver. If you want a chill and relaxing vibe, light some candles, lanterns or place some string lights around the tables. Alternatively, if you're going for a more colourful theme, get some flowers and break out some of your snazziest tableware. If you're looking to step up your hosting game, you'll want to check out the city's best tableware rentals, decor companies, and outdoor furniture rental companies!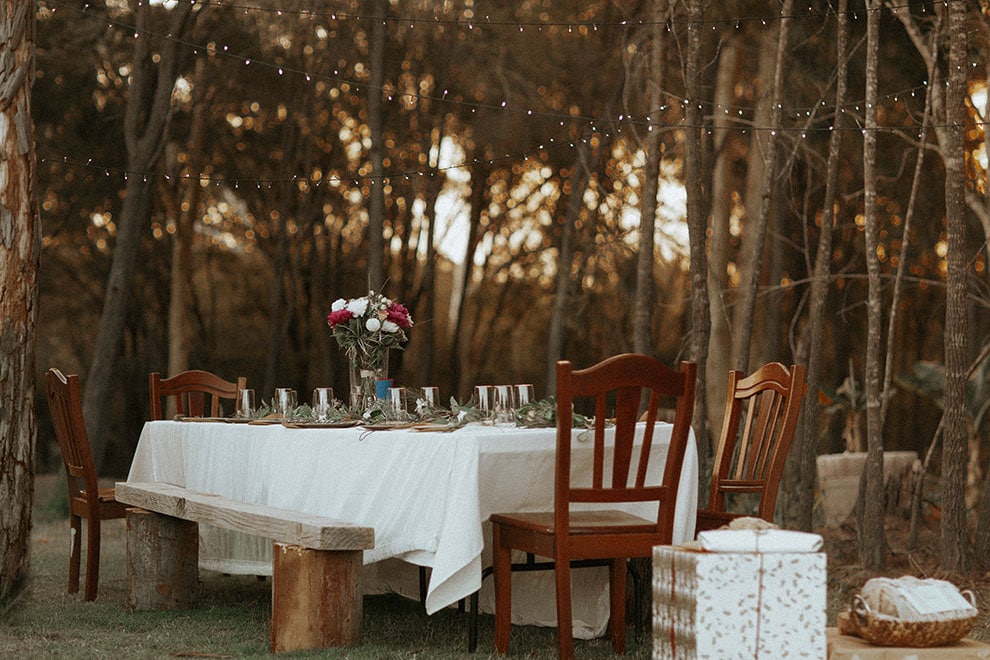 Hot find: Chair-man Mills can help you step up your game with their new Go Out At Home table-setting packages and Chair Decor is offering a Backyard Rental Package for 20-30 guests for only $550 (+HST).
Plan the menu and drinks
We're gonna go out on a limb here and say that buffets and potlucks won't exactly be trending this year. The biggest bonus here is that this means far less food waste and a more bespoke experience for your guests. The goal should always be for you to enjoy your own party, so be sure to plan your menu items so that they can more easily be served at room temperature.
Of course, Toronto caterers are here to elevate your guest experience with visually stunning and delicious meal ideas. Food trucks also make for a great option. A word to the wise: whether you're a party hosting veteran or a first-timer, taking your focus off the food in order to enjoy greater time with your guests is likely one of the most liberating options for a host – especially in this climate.
Hot find: A few outdoor-ready favourites we've come across: Jerusalem Spiced Chicken Schnitzel Sandwich by Toben Food by Design, Famous Chicken and Waffle by Eatertainment Special Events & Catering, Seafood Paellas by Kiss the Cook Catering and for dessert, S'mores in a Jar by Oliver & Bonacini Catering.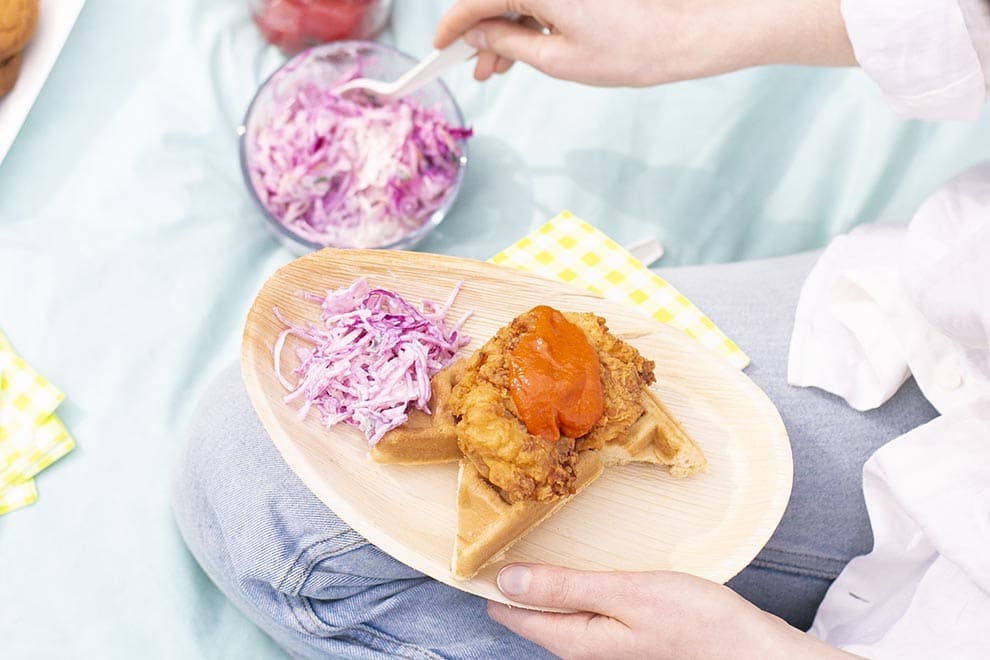 Photo Credit: Eatertainment
See also: Outdoor Food Trends You're Sure to See in 2021
An extra pair of hands never hurts
The pinnacle of event hosting comes from truly feeling like a guest at your own event. Even the most seasoned hosts will tell you, no matter how much you do in advance, having an extra pair (or pairs) of hands, will help your event run that much more smoothly and give you that much needed time to entertain and mingle with your guests.  If you're up for it, we suggest hiring a few event staff. These trained professionals can be on hand to help with everything – set up, clearing, tidying, serving guests!
Hot find: Staff Shop Inc. is offering an intimate event server/bartender combo for only $250.
Provide PPE
Many of us haven't seen or felt sunlight in over a year, so your guests may need a little help easing back into society. Help put them at ease by preparing some extra masks, hand sanitizer, and gloves. Bonus points: you can even brand your PPE with something fun!
You May Also Be Interested In
Set the mood
The most important part of hosting a party is making sure your guests are having a great time. Pick a playlist that will brighten up the mood and get your guests dancing. If you want to step things up to another level, get a DJ to blast some of the best music out there. Or if you are a fan of live music, get a band to hear some talented vocals and instrumental music.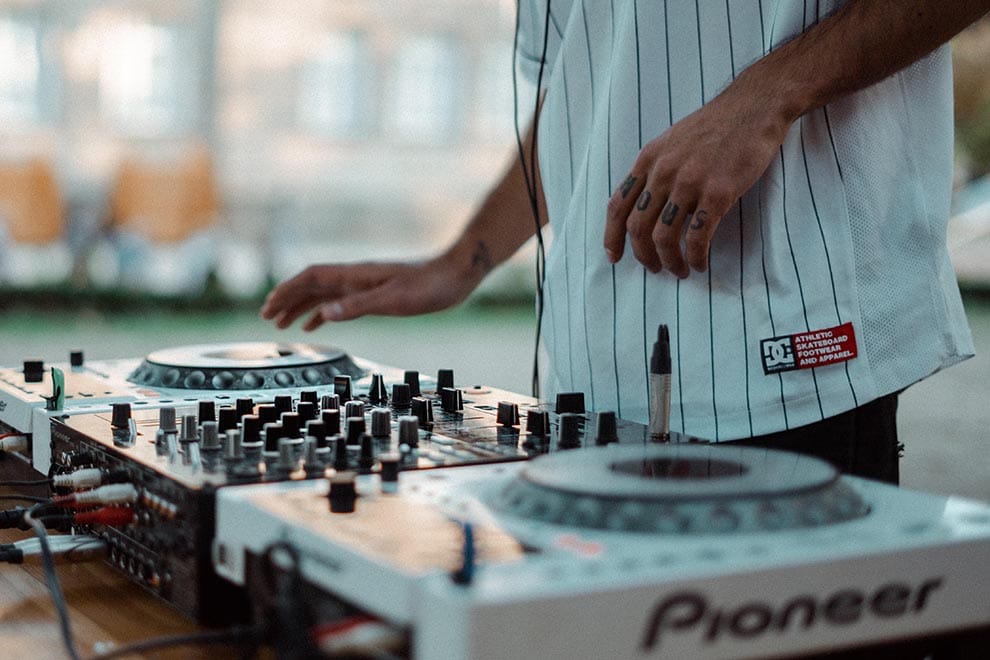 Hot find: Yours Truly Live Music is offering a home concert package for only $350 and is sure to provide an unforgettable experience. Alley Entertainment is also offering a $500 social distance DJ package perfect for small events! Side note: if you're planning an intimate wedding, you'll also want to check out these DJ's.
Create a checklist
It's fair to say we're all a little rusty when it comes to interacting with our fellow members of society. Once you have your day planned out, create a checklist to help keep track of everything (it also feels great to cross things off once they're accomplished). This will definitely help you stay organized and prevent any inevitable last-minute surprises.
Consider following some of these points to help you create your checklist to prep for your backyard party:
Decide on location/outdoor space
Pick a date and time
Check the weather leading up
Send invitations
Plan your menu
Create a grocery list (or call your caterer)
Buy or rent any additional items needed
Clean and set up your personal inventory (table, chairs, plates, cups, décor etc.)
Stock up on drinks
Prepare enough PPE
Prep your favourite playlist or have a DJ do it for you
Kick back and enjoy the moment
When the time is right and you're ready to enjoy socializing again, the most important thing you can do for you and your guests is to make sure that you leave yourself in a position to have fun and enjoy your time with your guests. Laugh, chat, drink, and take pictures to capture each moment. Chances are, this day will be the first of many to come.