Not only do you want to feel great on your wedding day, but you also want your guests' memories of that day to be special as well. So how do you make them feel welcome? Include them in your day as much as possible! Add small tokens of appreciation throughout your nuptials to show them how much you cherish them.
With their comfort and experience in mind, here are a few ways to make sure they feel the love on your wedding day.
Ice breaker games
Creating a seating chart for your wedding entails a lot of strategizing. You want to make sure everyone is comfortable and sitting with people they either know or have enough in common with so that they'll enjoy their evening. A great way to make guests feel more welcome is to provide them with fun games to play at the table while they're waiting for the reception to start. 
Include games that get everyone talking. You can make a how well do you know the bride and groom questionnaire, or even wedding bingo (our fav!) with personalized facts about each guest at the table. They can spend some time getting to know each other and guessing which fact is attributed to which person which is always a fun time.
You May Also Be Interested In
Personalize the place settings
A lovely way to make guests feel welcome on your wedding day is to personalize each place setting. Instead of a simple name card at each seat, how about including a personal photo of you and that guest? At the bottom of the photo you could scribble a little note of gratitude for their presence, or a caption describing a special memory you share with them. It's an unexpected gesture that will leave family and friends feeling loved.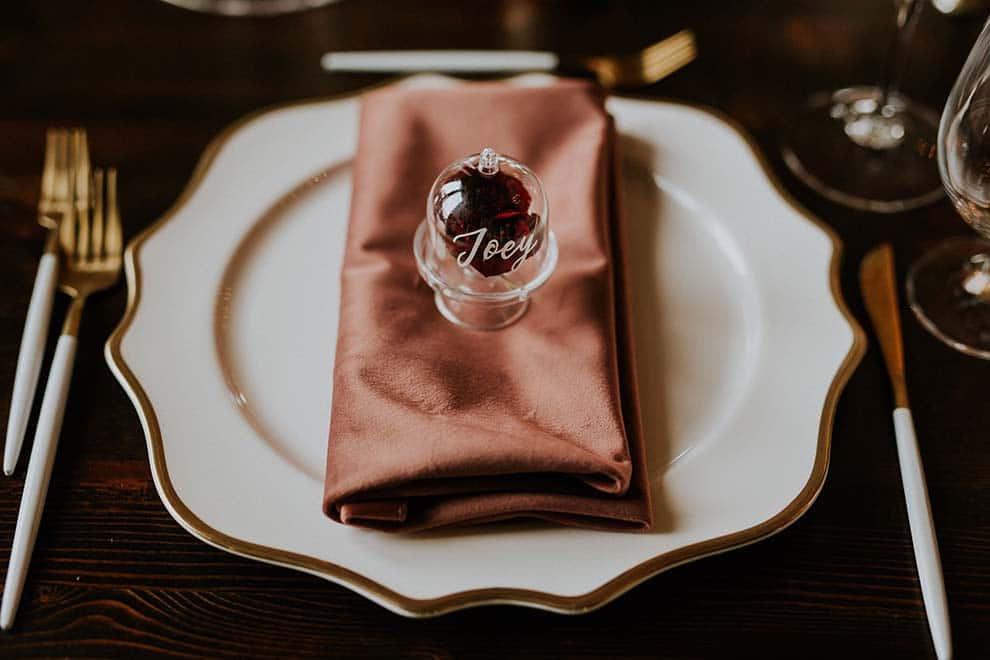 Photo Credit: Amos Photography
Provide or suggest accommodations
It may be worthwhile to provide your guests with some accommodation options. It's a great idea for family coming in from out of town or guests that plan to enjoy a few drinks and don't want to drive home. You can offer up space at your home, or that of family that lives in town, but a better solution may be to book a hotel block.
A hotel block is when you reserve a number of hotel rooms several months in advance. If you are getting married at a hotel, then it can be discussed when booking the venue. However, if you aren't, choose a hotel that's close to the venue and accessible with great ratings. It's important to discuss the room minimum included in the block, the room rate, and the discount you'll receive before you book. It's especially important to consider any penalties that can incur, for example, if some of the guests that agreed to book cancel.  Don't be afraid to shop around at various hotels and see which one provides the best amenities and discounts. 
Name a drink after them
Customizable drinks are a fun way to include your loved ones in your wedding. Consult with your bartender about naming your guests favourite drinks after them. Say your father's favourite drink is an amaretto sour, call it the father of the bride, and have the bartender promote it as one of their specials.  Maybe your best friend's favourite drink is a cosmo, for one night only it will be referred to as the Liz. You could even get the bartender to create new drinks inspired by other friends and family that will be attending, during the tasting. Create a little menu to sit at the bar with the drink names for added effect!
It's important to remember that the day is all about love. Of course the love between you and your partner, but additionally the love you have for the people in attendance and the love they have for you. If you keep that in mind, it will be impossible not to create an atmosphere that feels welcoming!