The Distillery Events team has outdone themselves yet again! This past weekend, they hosted a spectacular open house, showcasing their innovative cuisine, versatile spaces and amazing vendor partners.
The main event was held at the Fermenting Cellar, the largest event space at the Distillery. I love attending events like this, because it helps you visualize how to best use the space and what it would look like when embellished with chandeliers, flowers and some love.
The Distillery Events Open House drew in hundreds of excited couples all ready to soak in the wedding inspiration spilling from every corner. The springtime in Paris theme translated effortlessly: from the flowers by Jackie O Florists, to the french-inspired furnishings from Contemporary Furniture Rentals and Chair-man Mills, to the jaw-dropping Eiffel Tower ice sculpture from Iceculture Inc.. 424U Photo & Video captures the details beautifully, just in case you couldn't make it out.
I love the uniquely shaped floral dance floor vinyl from DFD Event Solutions.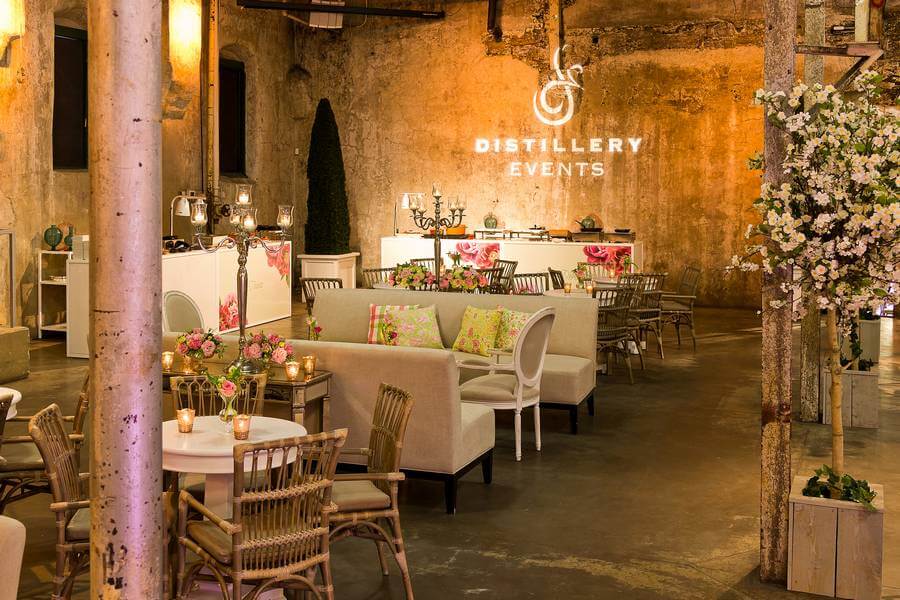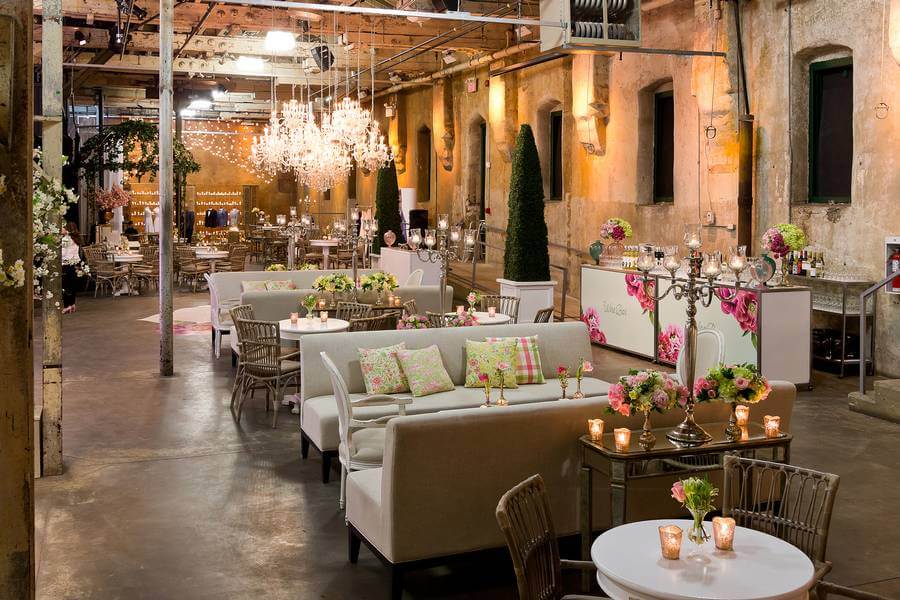 Vendors Featured in this Article
Guests were invited to tour the other venues that are also a part of the Distillery Events portfolio. The Distillery District - Loft space, located above the El Catrin, was our first stop on the tour. If you haven't been, the Loft is a chic space for an intimate ceremony and reception. Featuring exposed beams and distressed wood floors and walls, it is perfect for a couple wanting a rustic and warm feel to their wedding. It also looked ultra romantic with the string lights hanging throughout the dining area. I love using this space for a small reception, as everything is in one place and it is very private.
Next up: Archeo is a restaurant in the Distillery District offering an urban and rustic setting for a wedding; with soaring pine ceilings and exposed-brick walls. Guests typically get married outdoors in their semi-private back patio, followed by a reception indoors. The versatile space is great for both a formal seated dinner or a more casual food station reception, and can be configured in a number of different layouts.
Cluny Bistro is the other restaurant in the Distillery Events portfolio, offering an exclusive private dining experience. Though Cluny features more of a French bistro inspired interior, it still has a lot of the rustic charm that couples have come to love along with all the Distillery venues. The large space is bright, airy and filled with unique custom details, such as cabinets filled with antiques and a hand-painted glass wall separating the dining room and the kitchen.
Chef de Cuisine, Josh Dyer, was excited to share his new 2017 menu at the event. Guests tasted mini bites from his Canadiana inspired food stations, including Seared Scallops, Black Angus Beef bites, and Mini Ramen Bowls. The Dim Sum station was also a fan favourite. Everything was so tasty!
Back at the party in the Fermenting Cellar, guests mingled and met with a great team of vendors such as Enduring Promises, Ferris Wheel Press, and Le Dolci. Couples took photos along the candle-lined ceremony backdrop and enjoyed some solid party tunes from DJ Floh Back Productions, all while taking in the vast array of wedding inspiration throughout.
Who doesn't love interactive stations? Stylists from Parlour Salon were on hand for touch-ups all afternoon, ensuring all guests looked fab.
The fine folks of OystersXO offered a mobile oyster shucking bar, charming guests with their innovative catering experience. It'd be perfect for a cocktail hour at a wedding!
Another big thanks to the talented folks at Images Life Media for capturing a stunning highlight reel of this fantastic event.
The Distillery Events team did a fabulous job hosting their annual Wedding Open House event. The vibe was high energy, guests were well fed, and couples left with an abundance of inspiration for their wedding day. You really can't ask for more from an open house. I can't wait to see what the next year will bring!