Floral design has certainly come a long way from the days of round, symmetrical bouquets and simple floral arrangements. If you've attended a wedding recently, you already know that professional wedding florists add an organic aesthetic you just can't achieve from non-floral decor alone.
We really wanted to help get your botanical juices flowing so we reached out to some of Toronto's top wedding florists and asked them to share some of their favourite designs from last wedding season – it could be an installation, a bouquet, an accent piece – anything goes! Whether your style is soft and subtle or big, bold and bodacious, these pros have got all your bases covered! Get those pinning thumbs ready!
---
Ashton Creative
"I absolutely love this lush suspension arrangement designed for the head table at Archeo in Toronto's Distillery District. The couple wanted a wow factor that complimented the rustic, earthy space and they left the design of the reception elements completely to my discretion (every designer's dream!). So, we combined lush mixed greenery with hundreds of roses in soft shades of peach and blush and filled the room with them. The over 8 foot long suspension arrangement hung over the head table and was the main focal point from all angles. Completed with hanging glass bubbles holding flickering candles, this piece made the room feel like a romantic enchanted garden and stopped every guest in their tracks. "
– Ashley, Ashton Creative
Vendors Featured in this Article
---
Patchouli Design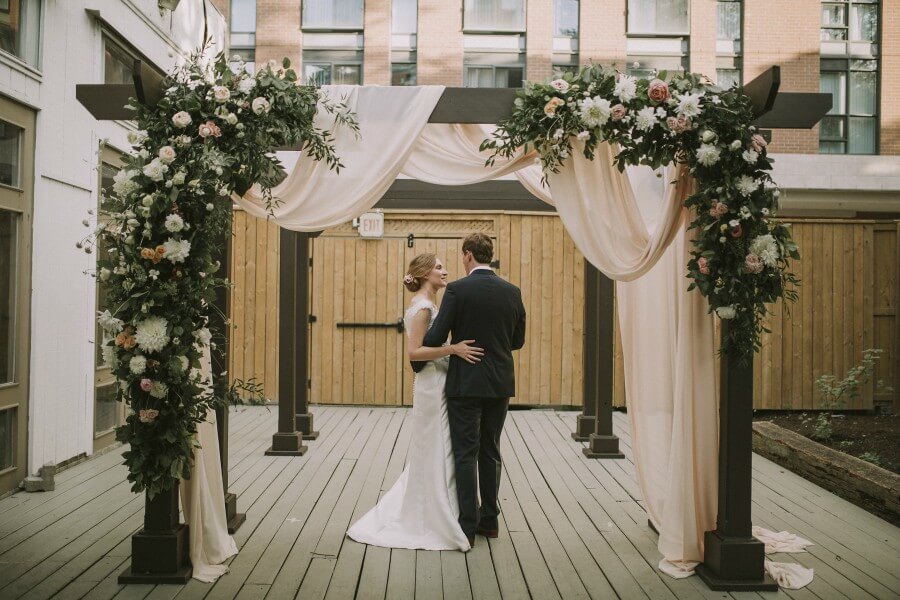 Photo Courtesy of Lori Waltenbury
"We wanted to create a soft, romantic backdrop for this ceremony at the . It was really important to Jamie, the bride, that the design didn't adhere to the harsh, rectangular shape of the pergola. We used chicken wire to build out the shape which we then filled with rich dark greens and big focal blooms. The draping of the sheer blush fabric created just the right amount of softness and movement. We added a touch of peach and yellow blooms to keep the palette fresh and summery."
– Dayna, Patchouli Floral Design
---
Opening Night Flowers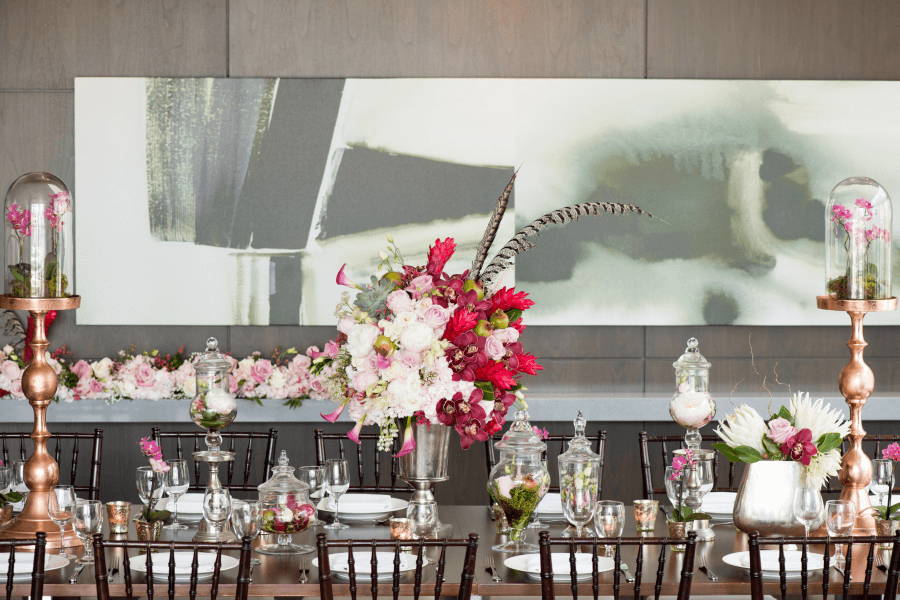 Photo Courtesy of Pure Storm Studios
"This luxurious opulent garden radiates taste with white king proteas, tropical ginger flowers, cymbidium orchids, peonies, hydrangeas and roses. Extra details to complete this wow-display are local grown mini phaleanopsis orchids from PickOntario. One of our favourite challenges is to transform a corporate space into a dream wedding. This intimate special day showcase was definitely one to remember."
– Nicholas, Opening Night Flowers
---
Mint Floral Co.
"This bride and groom have been customers of the shop for a few years. Holly asked me to "do my thing" for her crown and bouquet to reflect their simple, ceremony at grooms family farm."
– Laurel, Mint Floral Co.
---
The Social Rose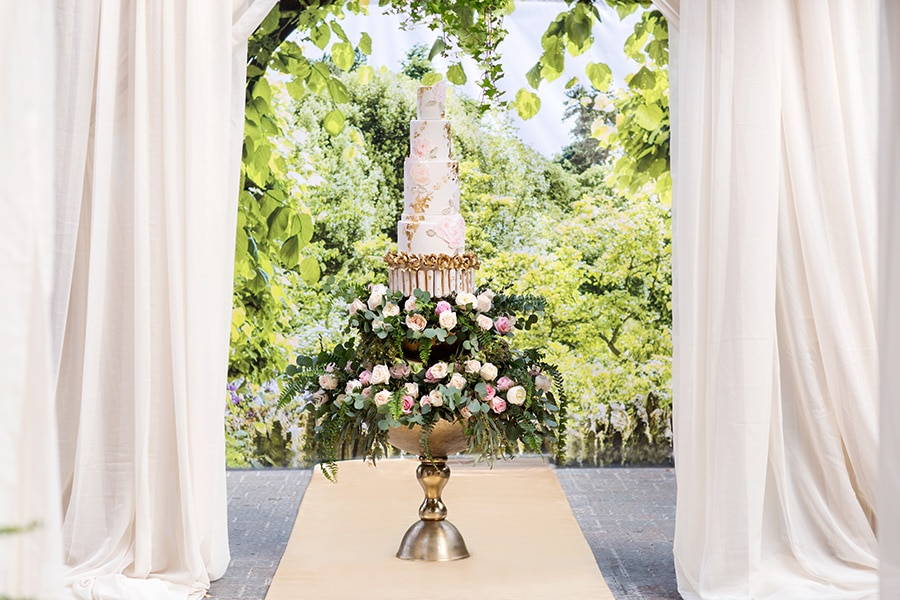 Photo Courtesy of Alicia Thurston, Cake Designed by Sweet Regards
"Our floral cake fountain is designed using a variation of cabbage roses paired together with english garden roses in muted tones of ivory, blush and soft pink. We used a unique combination of foliages to give this design a very organic and garden inspired feel. It's such a great way to put your wedding cake on display in an unforgettable and unmistakable showcase. This design can be created using a multitude of colours and bloom variations inspired by a bride's own personal wedding style."
– Rosanne, The Social Rose
---
Creations By Gitta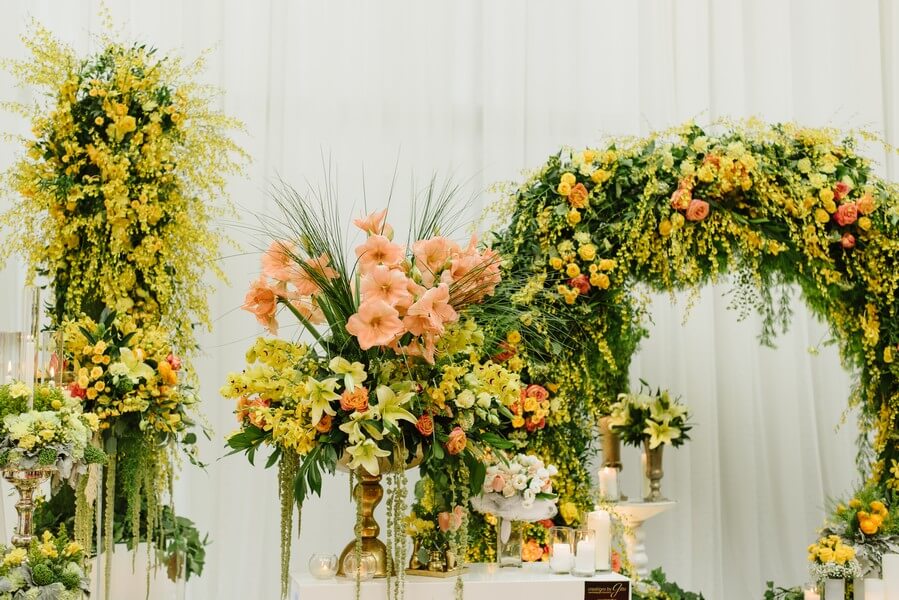 Photo Courtesy of Mango Studios
"We love this romantic monochromatic unique design with its natural display of greenery balancing with floral. Being the lightest hue of the spectrum, the color psychology of yellow is uplifting and illuminating, offering hope, happiness, cheerfulness and fun."
– Gitta & Julie, Creations by Gitta
---
Botany Floral Studio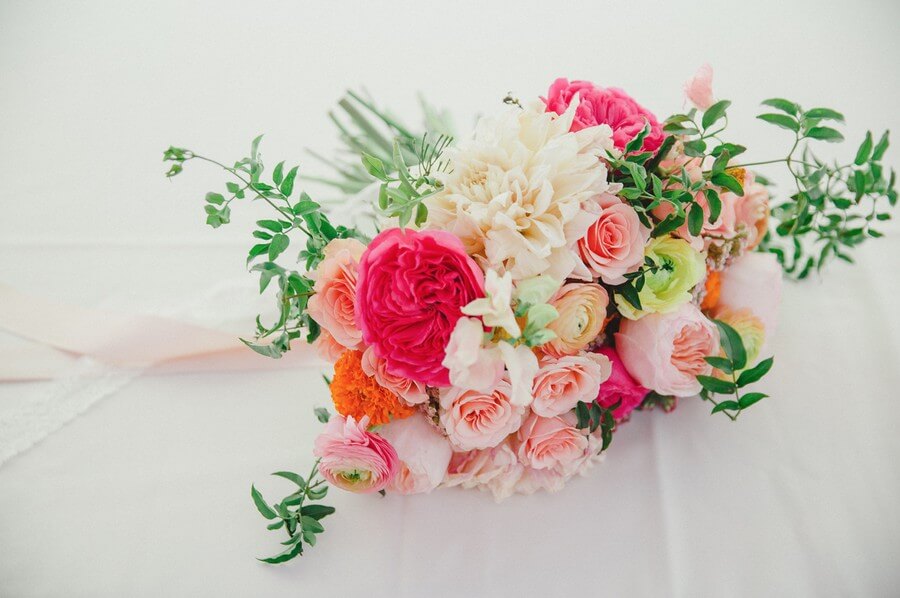 Photo Courtesy of Magnolia Studios
"We love this bouquet for the flower selection and vibrancy of colour. This gorgeous bouquet included cafe au lait dahlias, baroness garden roses, sweet peas, marigolds, juliet garden roses, ranunculus, spray roses, and jasmine vine."
– Rachelle, Botany Floral Studio
---
Sweet Woodruff Floral Studio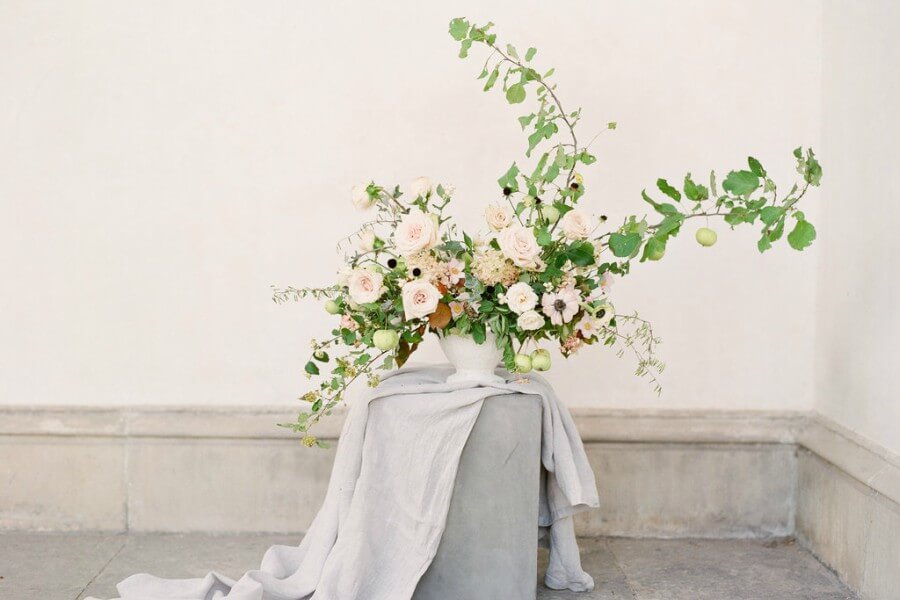 Photo Courtesy of Artiese Studios
"I love the asymmetry of this arrangement. I love how loose and wild it is. Most of the foliage and even then flowers were foraged, so I just wanted to let these beautiful pieces speak for themselves."
– Lisa, Sweet Woodruff
---
Secrets Floral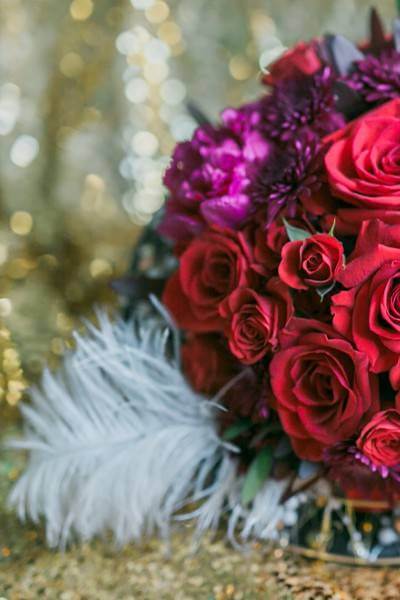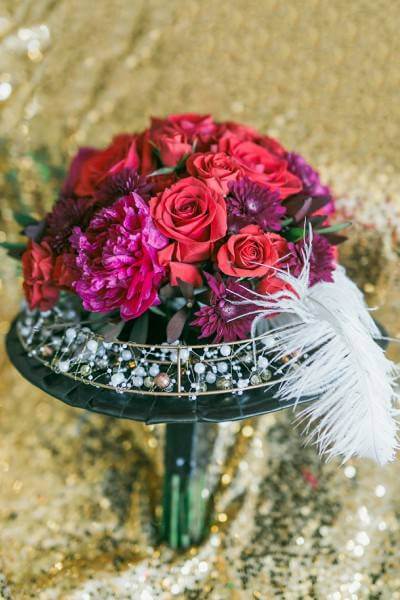 Photo Courtesy of Rhythm Photography
"This bridal bouquet is designed for adventurous bride who wants a bold bouquet. Inspired by the Great Gatsby, the collar of the bouquet is made with gold wire, which mimics the kaleidoscopic pattern on the iconic Great Gatsby poster. An ostrich feather is also added to add some vintage glam to the bouquet."
– Zoe, Secrets Floral Collection
---
d&d Floral Designs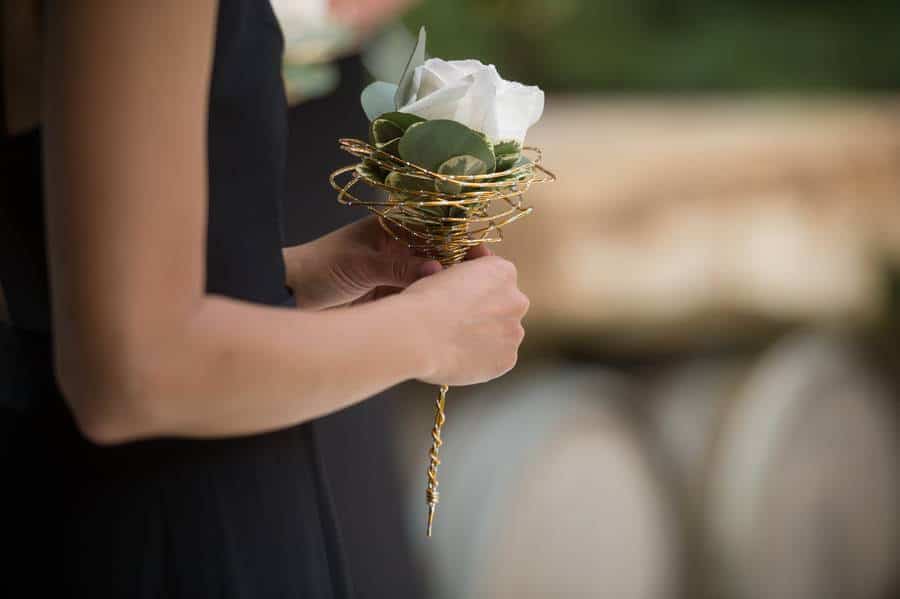 Photo Courtesy of Krista Fox Photography
"For me, it's all about the fresh, natural, and organic floral with a juxtaposition of metal incorporated in the design."
– Daniela, Wild Theory Floral and Event Design
---
Cool Green & Shady
"This was an arch designed for a spectacular wedding at Graydon Hall Manor. What we loved about it was how much colour it added to the ceremony with it's organic, whimsical feel and presence. It was the perfect backdrop for a vibrant couple on a hot summer day."
– Amber, Cool, Green & Shady
---
Floret
"The concept of this wedding revolved around the idea of simple grandeur – proof that floral decor can be both simple and grand at the same time through the use of scale and flowers with clean, full shapes. These centerpieces give that look of fullness without being too much. The choice of softer blended palettes along with softer shapes allow for scale without it being overpowering."
– Jenny, Floret
---
Coriander Girl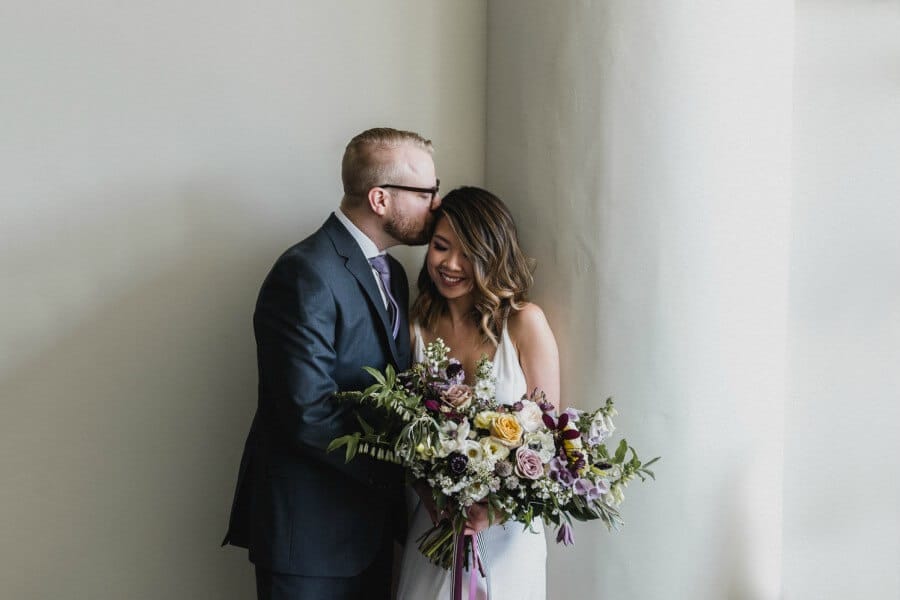 Photo Courtesy of Jennifer Moher
"Sylvia was amazing because she trusted me completely. She didn't have any preconceived notions about what her bouquet was supposed to look like. In fact, she didn't even have a colour palette! She told me to make something that I would want to make for myself, with her only stipulation being that I throw in some 'gothy' accents. To obtain that feel, I took the traditional spring palette of yellow and purple and turned it on its head a bit, using smoky mauves and mustards instead of the usual primary or pastel tones favoured by most florists. Of course, to get those gothy touches, I added black scabiosa, black clematis, and black-eyed panda anemone. Other seasonal highlights include local foxglove, solomon's seal, and bridal wreath spirea."
– Amira, Coriander Girl
---
WilBe Bloomin
"The 2016 wedding season showed a lot of variety and styles, however the light refreshing tones and delicate details make this bridal bouquet one our favourites. Using stunning blooms, such as ranunculus, and a fresh colour palette truly created a bouquet to remember."
– Gemma, WilBe Bloomin
---
Hello Midge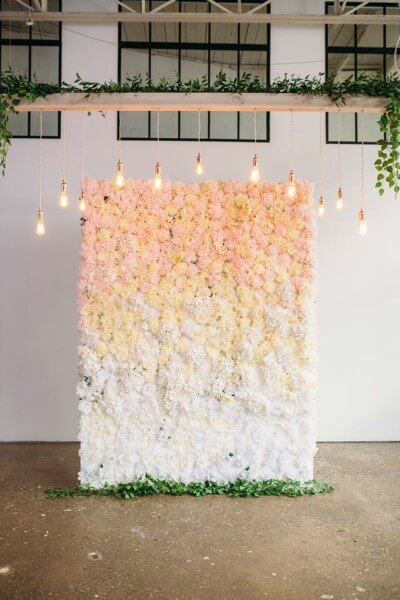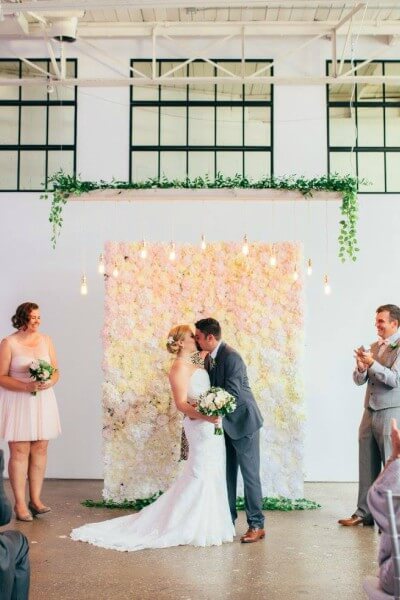 Photos Courtesy of Soundslikeyellow
"This blush and white flower wall with a custom light fixture was my favourite wedding project of 2016! It was so much fun to make and so amazing to see come together on the Nikki and Steve's big day! The soft romantic flower wall and modern light fixture with greenery garland really made the ceremony and head table something special."
– Maija, Hello Midge
---
Cedar and Stone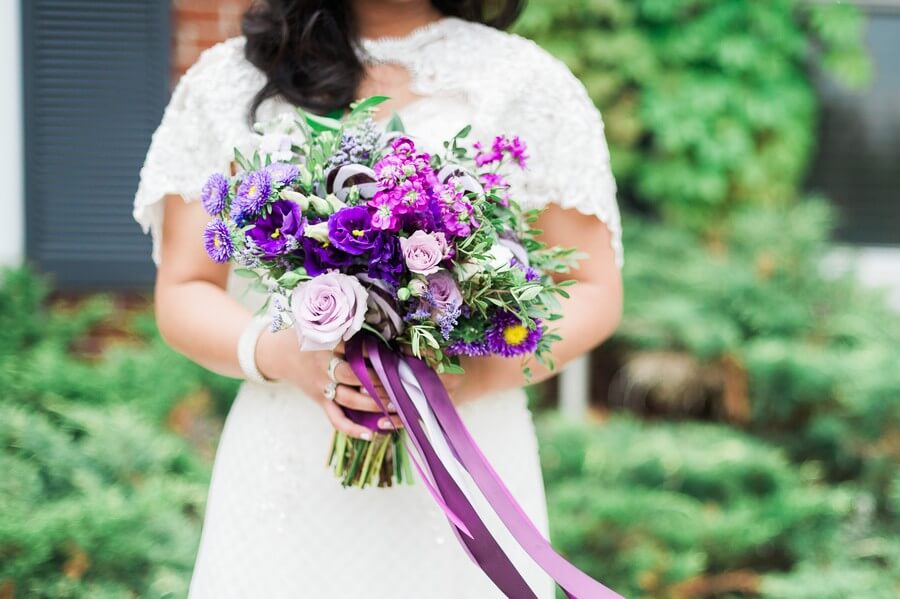 Photo Courtesy of 1486 Photography 
"What's not to love about Kim's fun and whimsical bouquet that featured gorgeous blooms in shades of lavender and eggplant with playful touches of candy lollipops mixed in? Kim and her hubby Jeff love candy and incorporated their favourite sweets in their wedding décor. The couple crafted fun table centerpieces full of lollipops, bridesmaid bouquets of their favourite sweets mixed with ribbon, and the cutest candy boutonnieres for their groomsmen!"
– Karen, Cedar & Stone Floral Studio
---
Bloom & Co.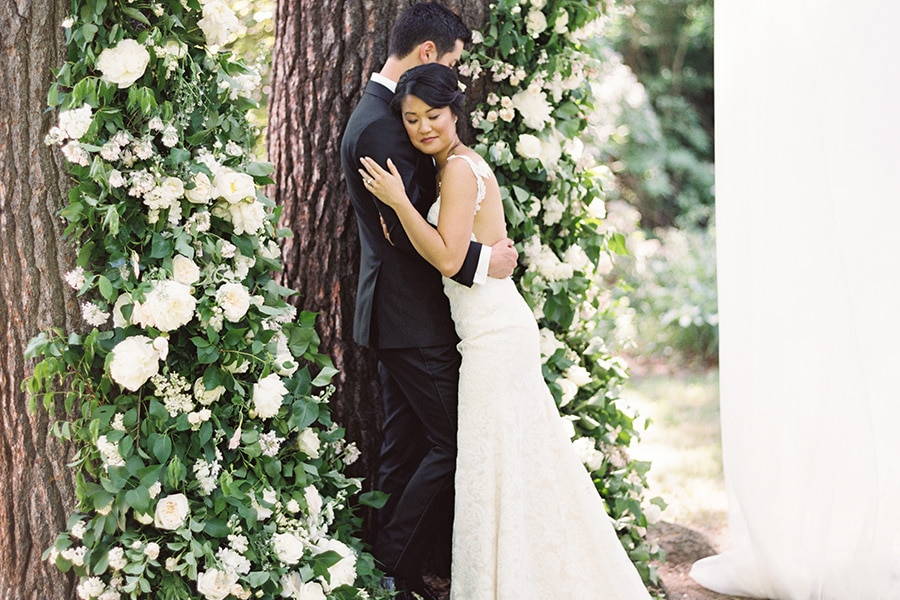 Photo Courtesy of Brumley & Wells
"The reason I love this floral installation is because it fully integrates the natural beauty of the existing ceremony site. We knew we wanted an impactful altar design and with so many large, beautiful trees on the property, it didn't make sense to bring in an outside structure. Instead, I affixed the flowers directly to the trunks of two towering oak trees and created an organic design that provided a beautiful focal point for Nick and Natalie's ceremony."
– Kalin, Bloom & Co.
---
Pink Twig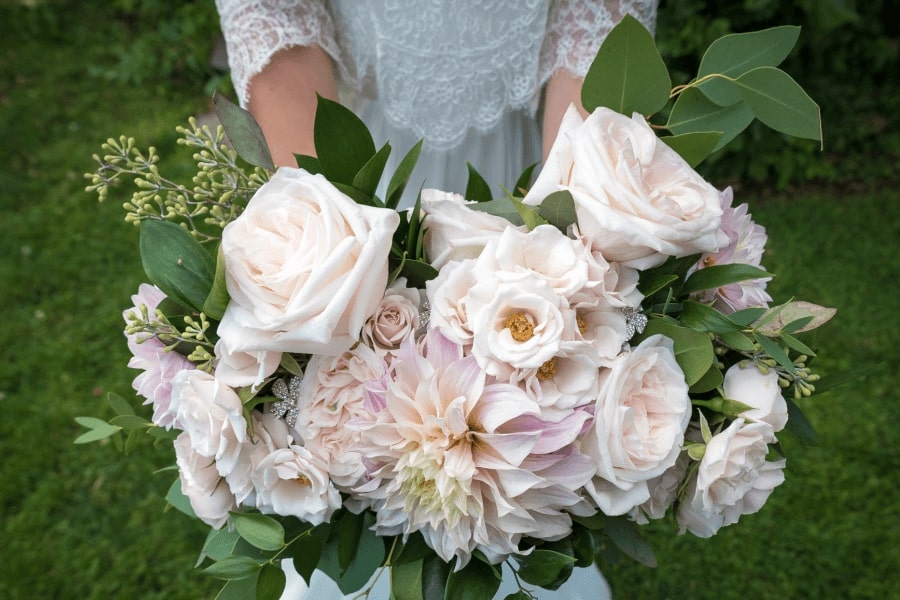 Photo Courtesy of Adam Biesenthal Photography
"We love cafe au lait dahlias! This combination of garden roses, dahlias, spray roses, and seeded euc is the perfect blend of modern and rustic."
– Amy, Pink Twig Floral Boutique
---
DT Floral & Decor
"We love this stunning backdrop with it's elegant double tiered draping. With the clever use of large inverted urns to create height and drama, lush florals, and opulent crystal chandeliers, this reception gives off a glamorous 'Hollywood' feel."
– Jane, DT Floral & Décor
---
Kaas Floral Design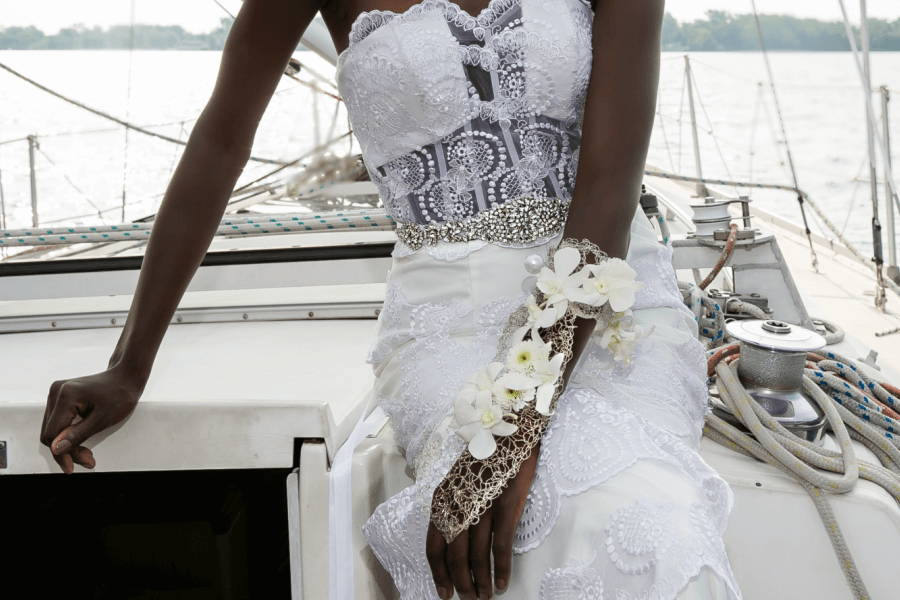 Photo Courtesy of Phat Dog Visuals
"Through their own language, floral arrangements express not only the love a bride and groom share, but also their individual qualities and traits. The bridal bouquet is the centerpiece of that expression. Therefore, it should be unique and special. For this bride's bouquet, we replaced the stems with decorative wire which were woven to match the lace in her dress. Wrapping a lacy band from the hand, over the wrist, and up the arm makes the bouquet an integral part or bride's attire."
– Beata Kaas, Kaas Floral Design
---
R5 Event Design
"Why put a simple flower arrangement on a table when you can be immersed underneath a magical garden of hanging silk florals, or enjoy a dinner under the stars with a beautiful natural setting around you? Using large-scale silk floral structures and trees are the newest trends for 2017. By combining a variety of oversized garden decor with traditional floral arrangements you're creating an enchanted atmosphere and WOW factor design."
– The Team, R5 Event Design