It's no secret that the art of floral design has certainly blossomed (pun intended) from the old days of simple floral arrangements and perfectly round, symmetrical bouquets. From show-stopping ceremony backdrops to breathtaking accent pieces, the possibilities are endless! With so many talented professional wedding florists in the GTA, any bride's floral dreams can come true!
To help kick start your wedding inspiration, we reached out to some of Toronto's top florists and asked them to share some of their favourite designs with us! If you're looking for some jaw-dropping floral inspiration, you've definitely come to the right place!
---
Hunt & Gather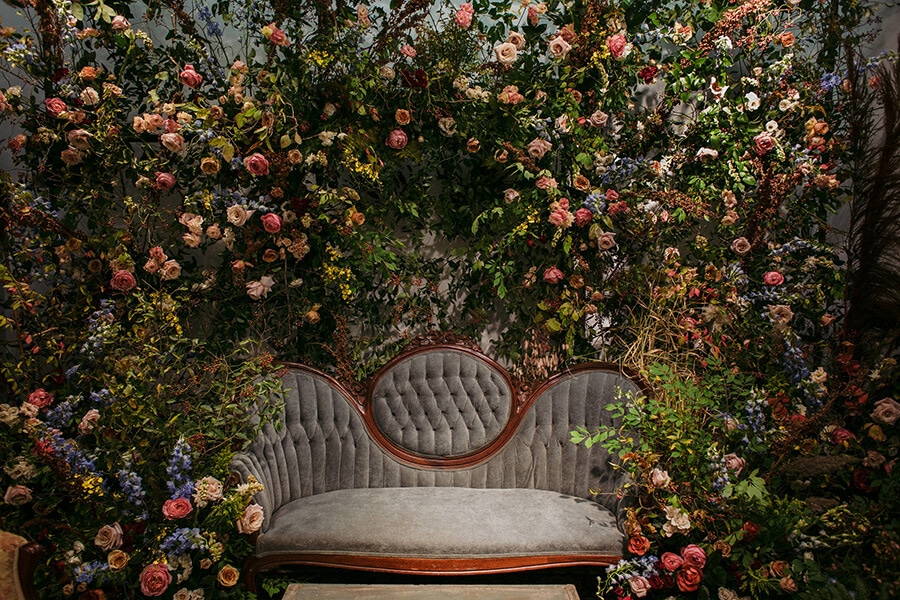 Photo Courtesy of Danijela Weddings
"The idea behind this installation was Eternal Spring where spring floral prints come back in a fall with a moodier feel. I love how this installation made the space feel as though it was being taken over by nature. These custom flower walls can also be used as a ceremony backdrop, behind the head table or for a photo booth. "
– Tellie, Hunt and Gather
Vendors Featured in this Article
---
Secrets Floral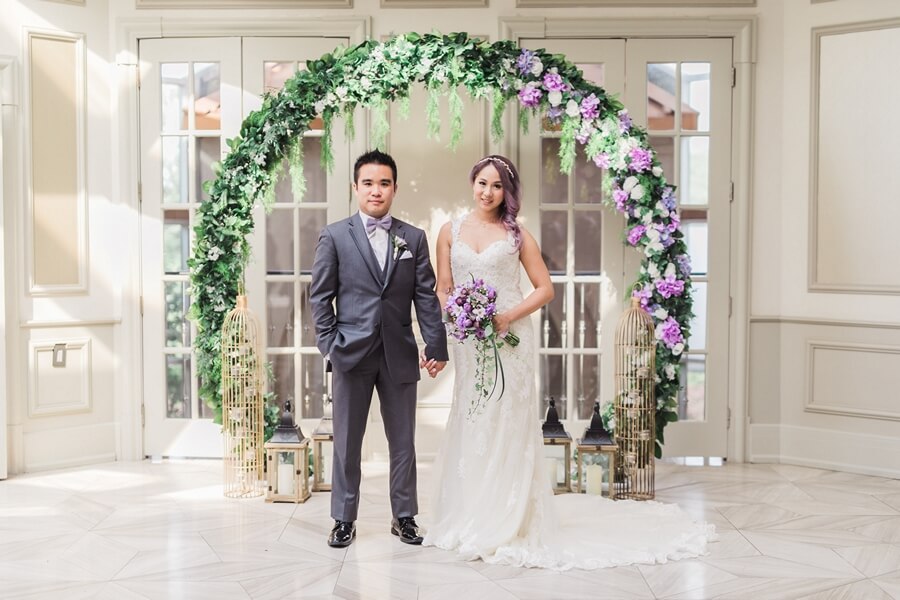 Photo Courtesy of Rhythm Photography
"We absolutely love this circular arch (we have named it as The Circle of Love) that we designed for Maryann and Victor's wedding. The couple wanted a focal point that is unique, but also romantic. To coordinate with their garden wedding theme, we draped the entire arch with greenery, and added flowers to one side of the arch. The asymmetric design has proven to be real eye-candy, and has acted as the magnificent backdrop for many guests when taking their own photosw."
– Zoe Chow, Secrets Floral Collection
---
Cool, Green and Shady
"My favorite floral arrangement is a simple vine wall focal, which makes a small private ceremony extra special. Sometimes deliberate simplicity is the best design!"
– Amber, Cool, Green & Shady
---
Cedar and Stone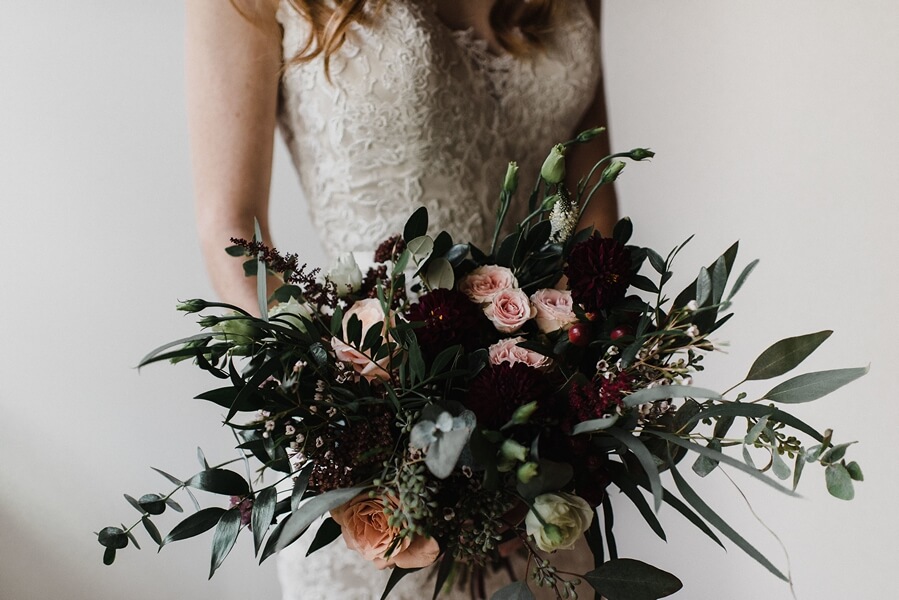 Photo Courtesy of Jessica Lee Photography
"Danielle's gorgeous textural bouquet featured a romantic palette of blush pink and taupe blooms with accents of deep burgundy dahlias and astilbe. A variety of foliage was included to give the bouquet further interest and movement. Definitely a favourite from last season!"
– Karen, Cedar & Stone Floral Studio
---
Weddings by Ardenian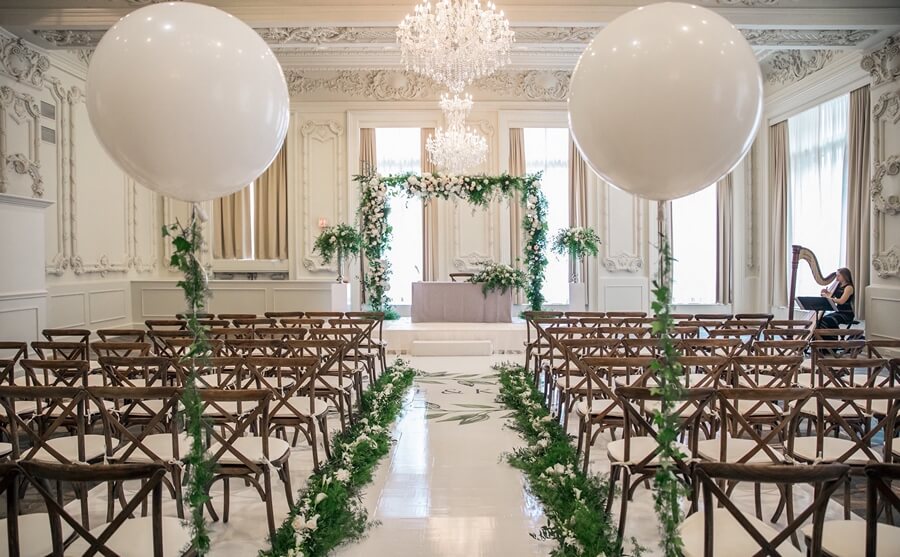 Photo Courtesy of AGI Studio, Planned by Fleur Weddings
"This mint green and cream white wedding was a huge success for us! With mother nature on our side, we were lucky to have been able to find breathtakingly beautiful and fragile Lilies of the Valley, which made the lovely bride's wish come true. The ceremony and reception was framed by a custom floral arch loaded with fresh mint green foliage, vanilla white David Austin roses, peonies, hydrangeas and Romeo and Juliet champagne garden roses. We had so much fun with the floral design for this wedding!"
– Naira Ardenian, Weddings by Ardenian
---
Coriander Girl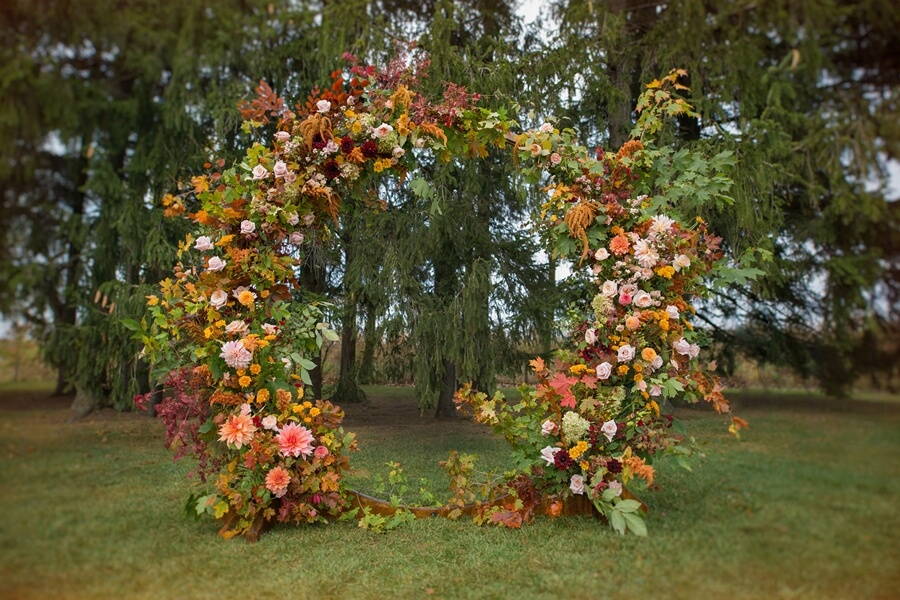 Photo Courtesy of Jennifer Rowsom
"When Maya and Craig came to us and said their friend was making them a circular arch for their ceremony, we were jumping up and down inside with excitement. We never had the opportunity to design a circular arch and we didn't want to disappoint. All of the Coriander Crew went out and foraged branches that had turned the most glorious shades of copper, rust and burgundy which when combined with the locally grown dahlias, amaranths and limelight hydrangea as well as garden roses, mums, and snow-berry, created the most magical October ceremony florals for the beautiful couple. We loved the uniqueness of the arch and that the ceremony took place outside on a warm autumn day at one of our favourite venues, Cambium Farms. Seeing the bride's reaction made this the most memorable and our favourite piece of 2017's wedding season."
– Deanna Balmer, Coriander Girl
---
Mint Floral Co.
"Seasonality has become more and more prevalent in my wedding design. 2018 will bring a season full of blooms from our own urban gardens. We grew the Japanese maple, ninebark, peony foliage, rose of Sharon, hydrangea and English garden roses in this 2017 bouquet."
– Laurel Munro, Mint Floral Co.
---
Patchouli Floral Design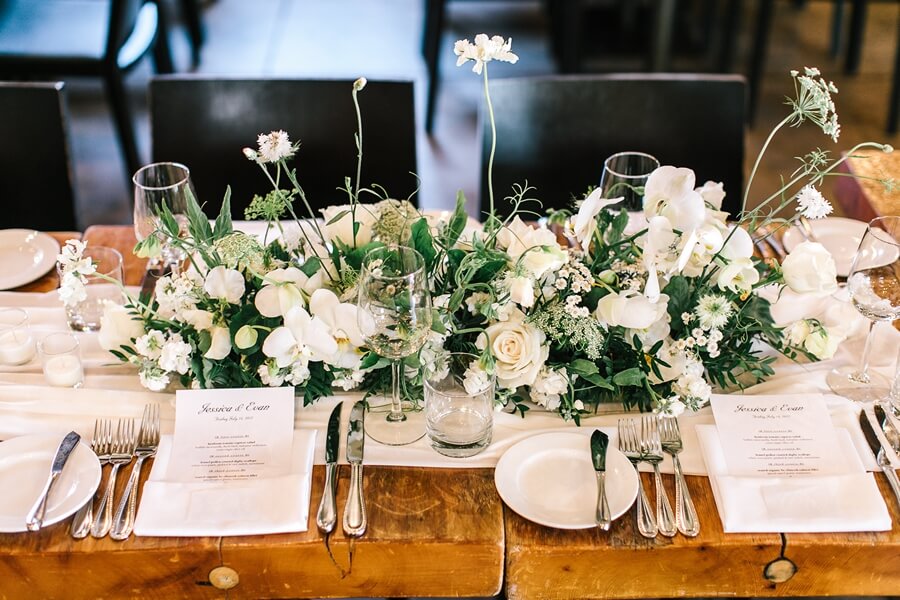 Photo Courtesy of Tamara Lockwood
"We created this head table arrangement for a very close friend of mine, so it's very close to the heart. It's a little bit wild, but with a refined elegance we just love. The all-white colour palette is undeniably traditional; however, because such a wide variety of white flowers are used together (orchids, queen ann's lace, roses, sweetpeas, nigella… to name a few), there is a texture and depth to it that makes it one of our favourites of the 2017 wedding season."
– Alex Cole, Patchouli Floral Design
---
Mum's Garden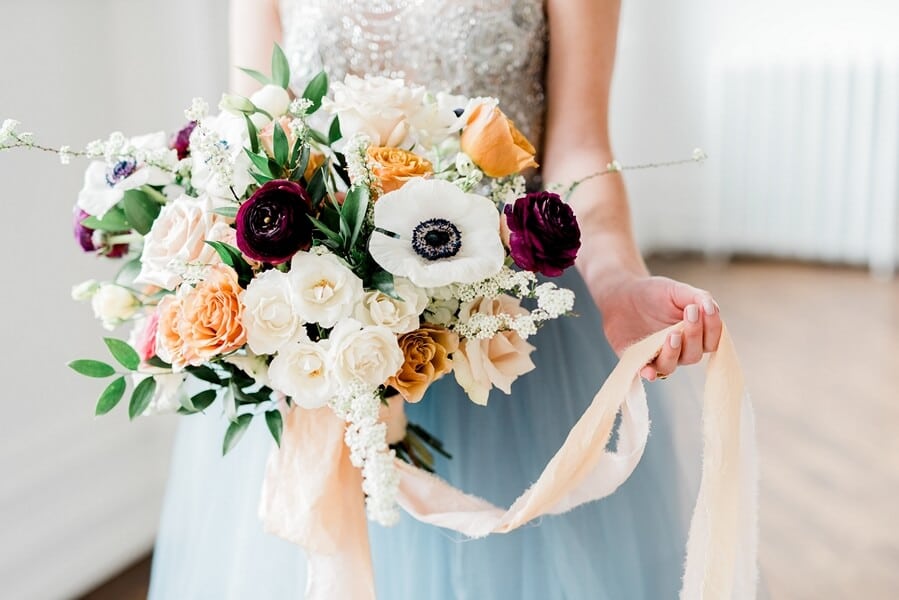 Photo Courtesy of Deanne MacRae
"This bouquet is a favourite because of its organic, loose, and ethereal design. The pops of colour and variety of textures and shapes create loads of visual interest. Adding a long, flowing silk ribbon is always a wonderful idea, and it's the perfect finishing touch for this effortlessly romantic bouquet."
– Erin Lucuik, Mum's Garden
---
Opening Night Flowers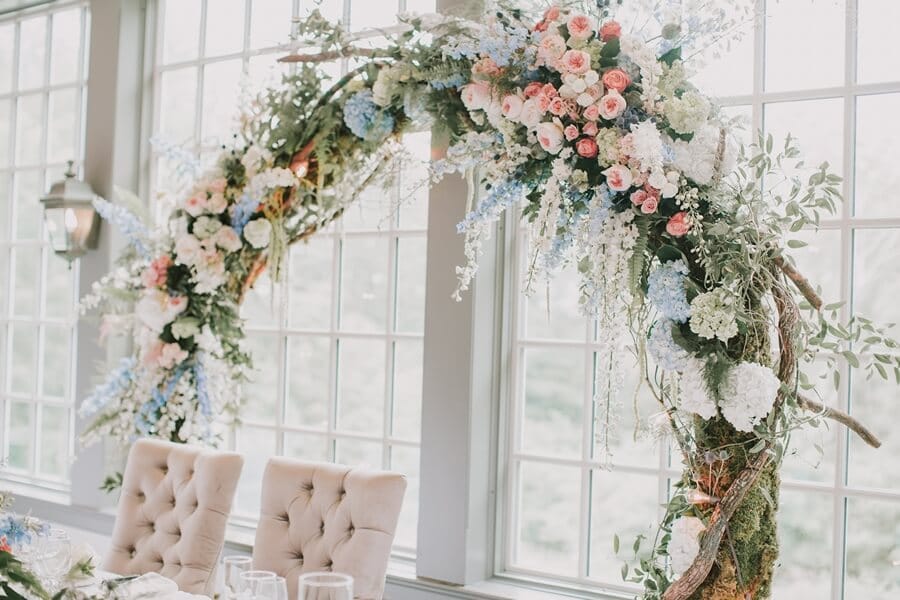 Photo Courtesy of Heritage Park
"As a floral designer always wanting to do something out of the box, Jessica and Cale's request for an immersive forest experience over their head table was a breath of fresh air. This arch of greens, blue and peach was a delightful pop in the Great Hall at The Doctor's House as the summer sun set in the background. Garden flowers from all over the world created a lavish floral indulgence to the senses. We are still getting raves from the family and management on this one. Definitely an installation to remember from 2017."
– Nicholas Smith, Opening Night Flowers
---
Pink Twig
"We loved that colour was back in 2017, and this combo that includes dahlias is definitely a favourite! Garden in style, but not an excessive amount of greens!"
– Amy Kain, Pink Twig Floral Boutique
---
Bernard Thibault Floral Artistry
"This beautiful hand tied bouquet of quick sand roses combined with vendela roses and white lisianthus flowers along with dusty miller and seeded eucalyptus, and finished with a very simple white satin ribbon is definitely a favourite for us from the 2017 wedding season!"
– Bernard Thibault, Bernard Thibault Floral Artistry
---
DT Floral & Decor
"For Elana and Lowell's wedding, we designed a classic look with an Ombre twist, embracing traditional flowers while creating an interesting use of colour in the decor. The Ombre trend was woven throughout the decor, from a jaw-dropping Ombre pink toned aisle covered with rose petals, a Chuppah constructed with floral Ombre circular arches, and a mixture of high and low arrangements, created from three hues of pink."
– Craig Gruzd, DT Floral & Décor
---
Flowers Time
"We love this urban style arrangement – it feels airy and baroque at the same time. The splash of bright yellow and orange compliment the purple and black, and the brass gold adds riches. This floral technique is becoming more and more popular in Canada. We love to work with this style!"
– Alina Tacmelova, Flowers Time