Reviews
We really appreciate that we selected Fleur Weddings.It is really amazing.We make our wedding plan together and we go through every detail once and once again, we spend lots of times talking about the wedding in our dream, but now, our dreams came true. Everything on that day goes really smoothly, everything just perfect, like I said in that day, we really appreciate those efforts made by Fleur.
We would like to personally thank Tiffany and fellow Fleur team for completing our dream wedding. They have been there with us and helping us along the way for over a year, and we could not have done it without them. Tiffany was so patient with us along the way. We didnt know the type of venue we wanted at first, Tiffany patiently went to every venue with us until we find the perfect one. The wedding was everything we had imagined and even more. All the staff at Fleur were very professional with very in-depth experience, ensuring all steps and milestones were met without skipping a beat. They have a wide range of professional connections, ranging from venues, florists, photographers & videographers, MCs, DJs, musicians, caterers and many more.We always knew we wanted our wedding theme and colour to be more subtle and classy, with a hint of beach and ocean feeling. It was following on this vague idea, that Tiffany and her colleagues made it their mission to design a wedding that went beyond our imagination. They have carefully followed our idea, guided every detail until a full plan was drawn. Then they recommended and helped us choose the most suitable decor team that meet our themes needs, setup and led frequent meetings with various parties to ensure every step is covered. From selection to design, and to final mock-up, every step was made easy for us. And needless to say, the results were spectacular and we are very satisfied.We were both super exhausted after the wedding and thought there would be lots of packing and cleaning left to do. The bridal room was clean and all our stuff were already packed away in a luggage. All we had to do was get changed and take our luggage home. Fleur team really took customer experience to the next level! We used to hesitate when discussing hiring a planner, but looking back we couldnt have imagined just how big of a difference it made on the wedding, relieving stress from us and our parents, and making sure the guest had the perfect experience. We would recommend Fleurs service to all our friends, we were lucky to have them by our side. Once again, special shout out to Tiffany and the Fleur Team, thank you!
We hired Fleur Weddings because the recommendation of my friend. I was really impressed by their design on my friend's wedding. We can feel their enthusiasm about this job and they really did good job. They are proactive to contact with us, setup meeting on site, or on the phone. Cauz our budget is not too much,they give us lots of advice, we are involved in every single ideal in this wedding plan. Fleur makes us a dreamy, unique wedding theme,because the theme is based on our daily life, and common interests.That is really amazing, because we don't want our wedding will look like as same as the others'.We really appreciate them. ,they help us display our ideal wedding, and within our budget.
First met Flora maybe 4 years ago when my boyfriend and I were talking about getting married. Things happened and Fleur is still the choice I went with when we finally got married 4 years later. Over the years I have followed closly and watched Fleur grow into one of the best event planning companies, and their whole team has accomplished so much over the years. They do not disappoint. Tiffany followed closly with every minute detail, and working into midnight hours to secure our designs. Always super quick to respond to messages and calls, never crossed my mind that she could be busy with someone else. This is the kind of dedication and professionalism I expected from Fleur. She went above and beyond. She has a sharp mind and was always clear with dates/details/budget whenever I asked she had the right answer. Also thumbs up for creativity! From our logo to our place cards, she had so many fun ideas. Our logo absolutely represented who we are and everything we love. Day of the wedding went smoothly and everyone from the Fleur team was professional, punctual and just fantastic. Thanks for everything.
We just had our Chinese wedding this past weekend, and we were so lucky to have Fleur Weddings. I didnt want a very traditional all red with a Dragon and Phoenix kind of Chinese wedding, and they did not disappoint me. They are truly a very professional team, not only follow up with every minor details, and also go above and beyond. They can almost do anything for a wedding as long as you request, they make every unique and special to every couple. I didnt have to worry about anything for my wedding except showing up as a beautiful bride.
Fleur Weddings has been mentioned inside these other vendor profiles:
Company Overview
Company Overview
Name: Flora Peng
Title:Certified Wedding Planner
Email:Send an Email

Four Seasons Hotel Toronto
Deals & Packages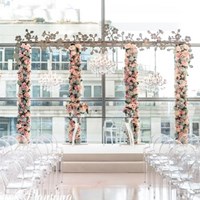 Full planning
Price $5,000
---
---
What services are included with this Package:
Start working with you from Day 1 of your wedding planning process
---
Here's the Fine Print:
This package is exclusive to EventSource.ca visitors. To redeem, you must mention you found this package on EventSource.ca.
VIP concierge service
Price $11,500
---
---
What services are included with this Package:
---
Here's the Fine Print:
This package is exclusive to EventSource.ca visitors. To redeem, you must mention you found this package on EventSource.ca.
Map
372 Hwy 7 Unit 125, Richmond Hill, ON L4B 1A7