2021 was an – even more – emotionally challenging journey for eager couples. When summer hit and restrictions had mercifully loosened, we witnessed a massive surge of engaged couples forge ahead with their wedding plans, many opting for smaller, more intimate affairs – no easy feat given the time crunch. You can imagine then that 2021 was also one of the most challenging years for wedding planners – not only was it one of the busiest years on record but, thanks to ever-changing restrictions and capacity limits, weddings were oftentimes pulled together with only a few weeks lead time. Now, just in case, you ever needed another reason to hire a wedding planner, you'll definitely want to check out some of the most unique and jaw-dropping, intimate weddings from last season.
---
Duet Events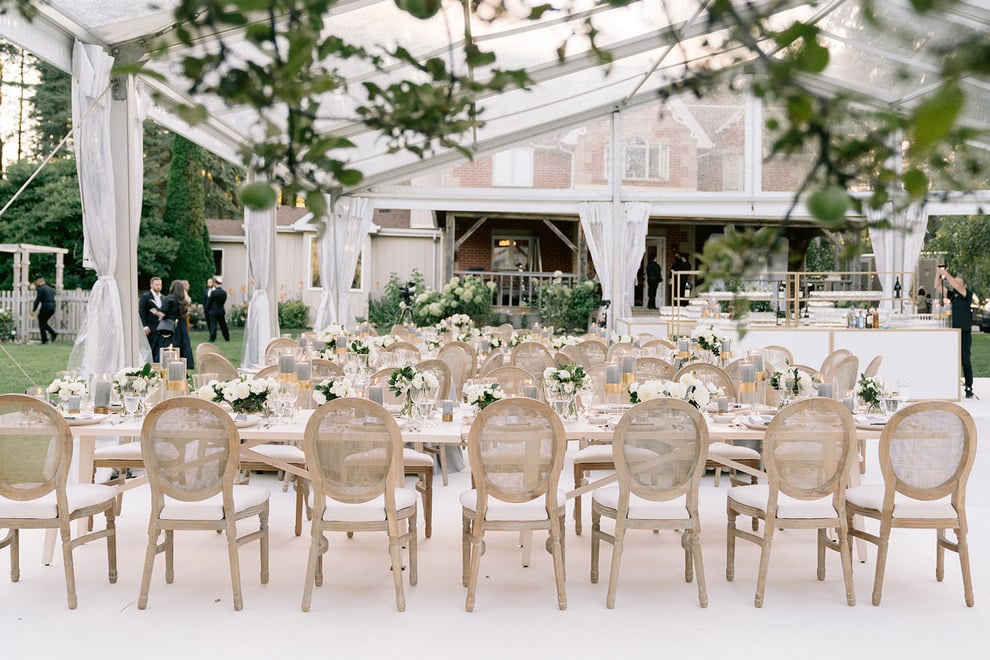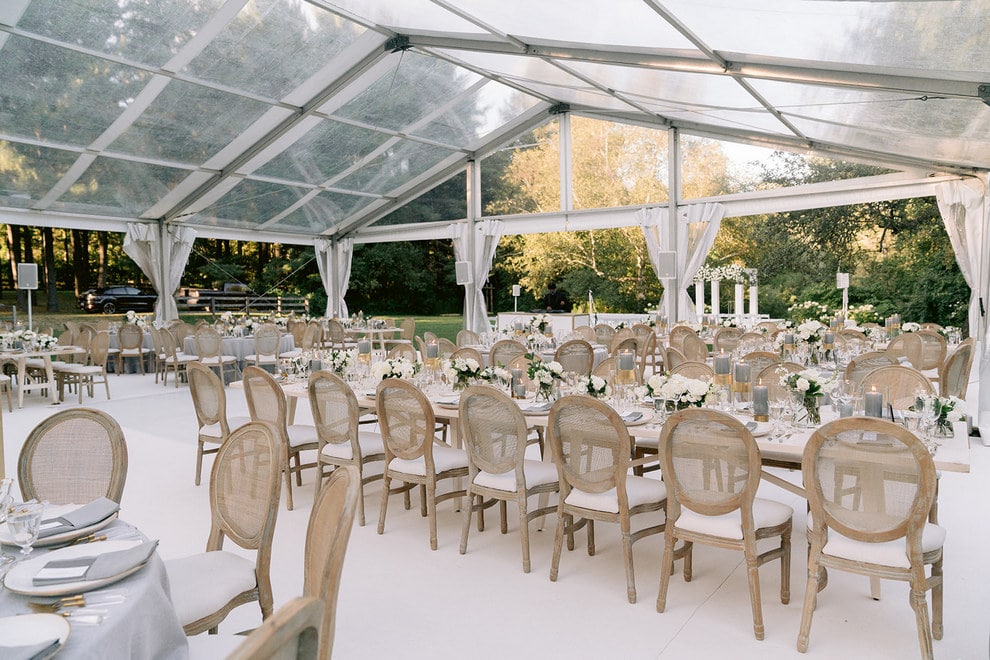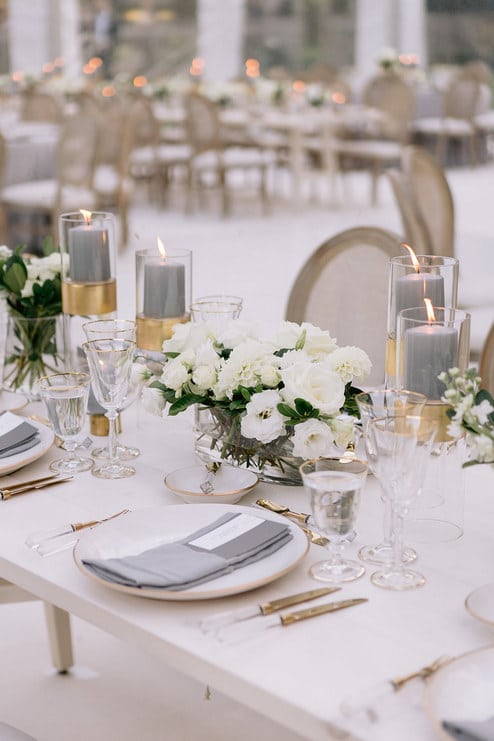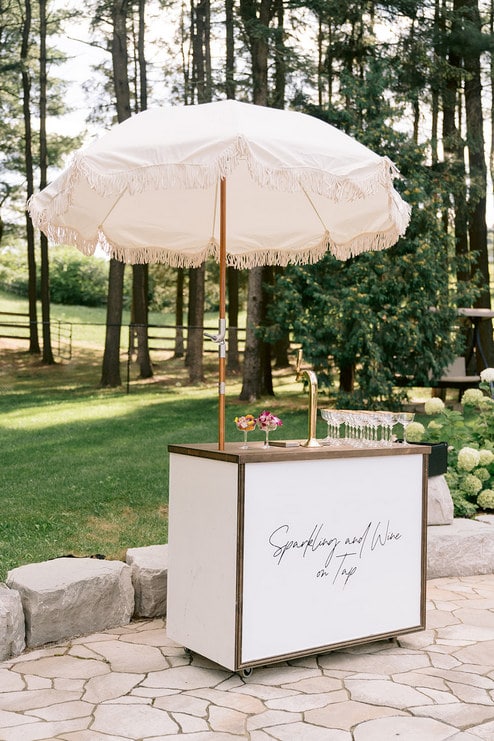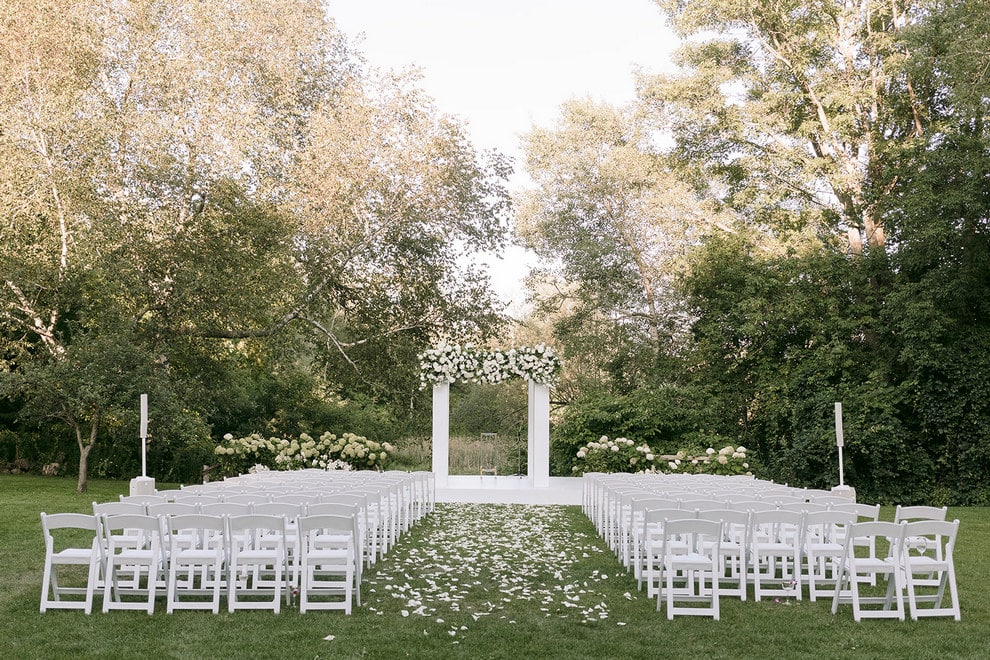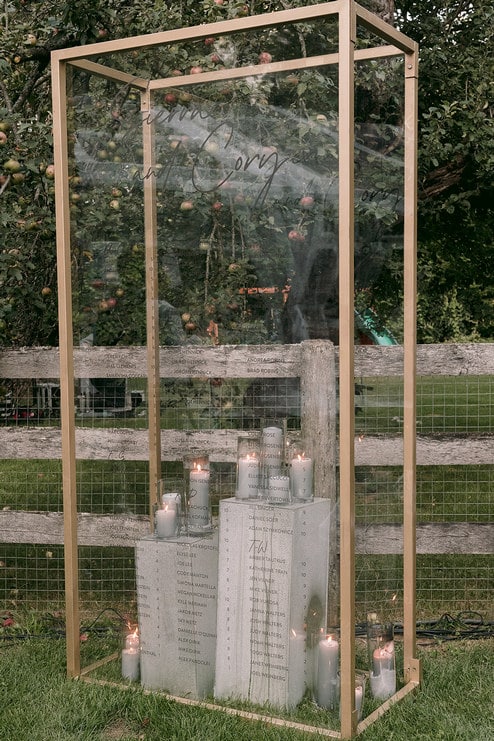 Photos Courtesy of Simkova Studios
"Sierra and Cory always knew they wanted to tie the knot at Sierra's family property in King City, but when they still found themselves in the midst of a pandemic, it made all the more sense. The goal was to create an elegant, upscale affair, while still paying homage to the farm-like surroundings. A stunning clear top tent, accompanied by wooden accents with the surrounding landscapes created the most picture perfect setting for these two. With their closest family members and friends, they were able to share in a beautiful celebration, and needless to say, it was the most perfect day."
---
All That Jaz Weddings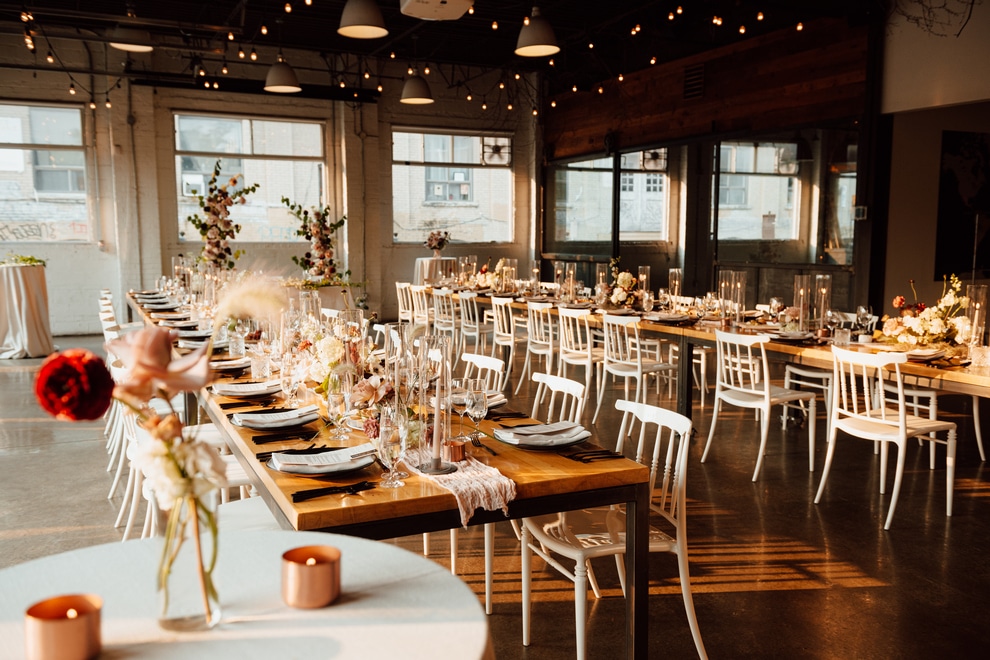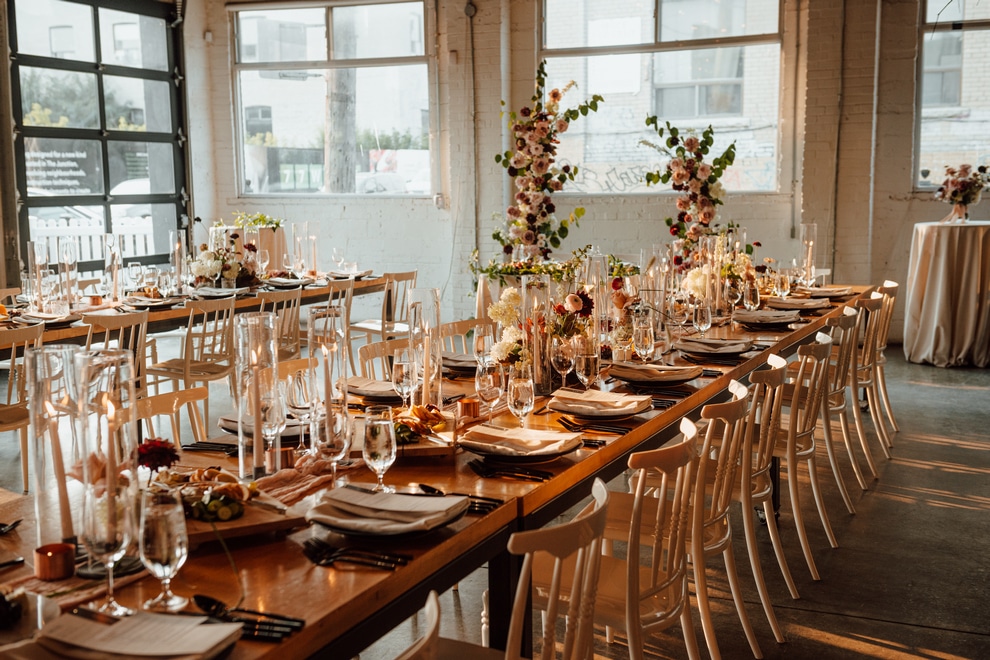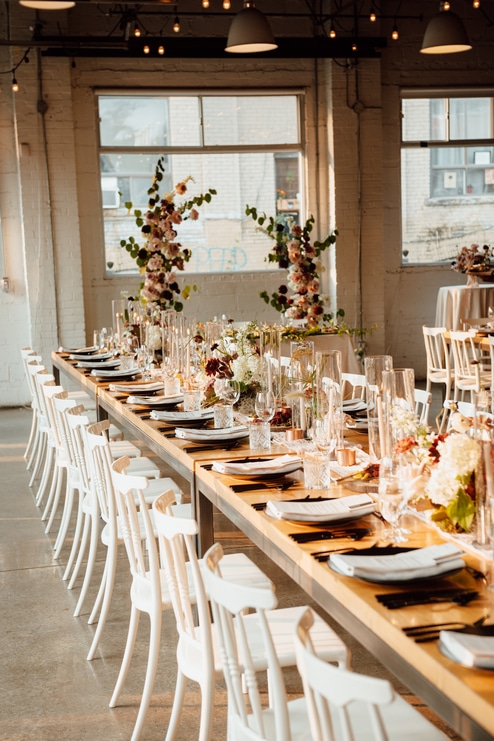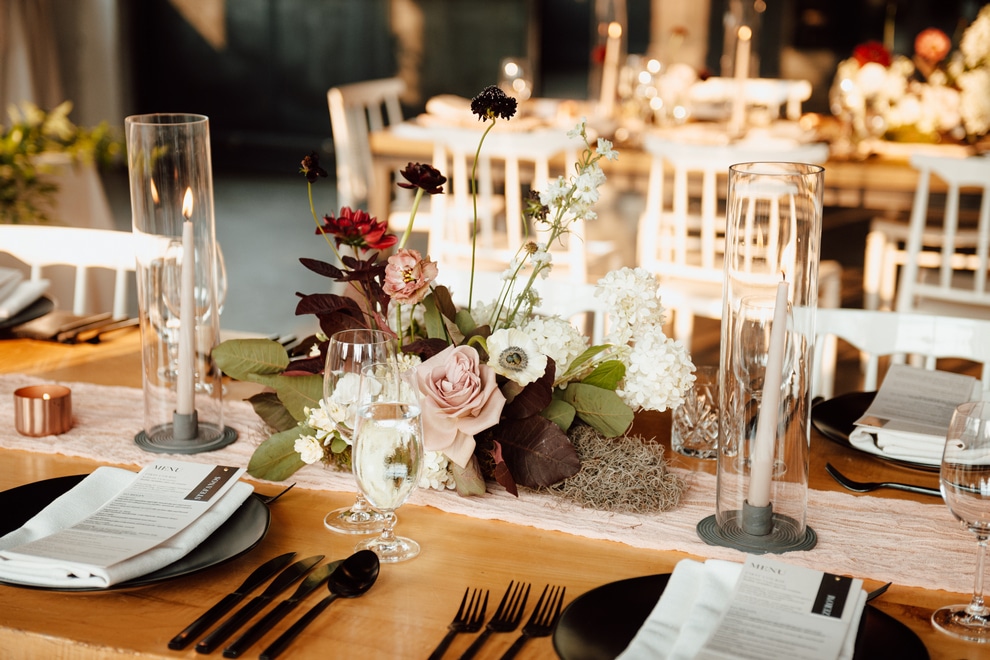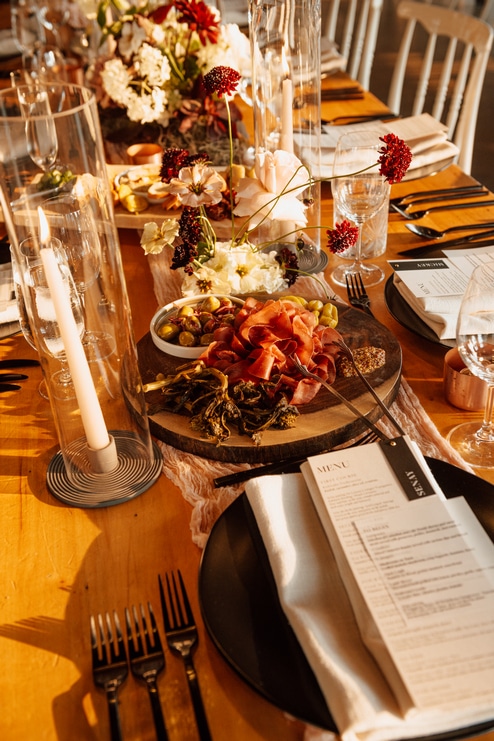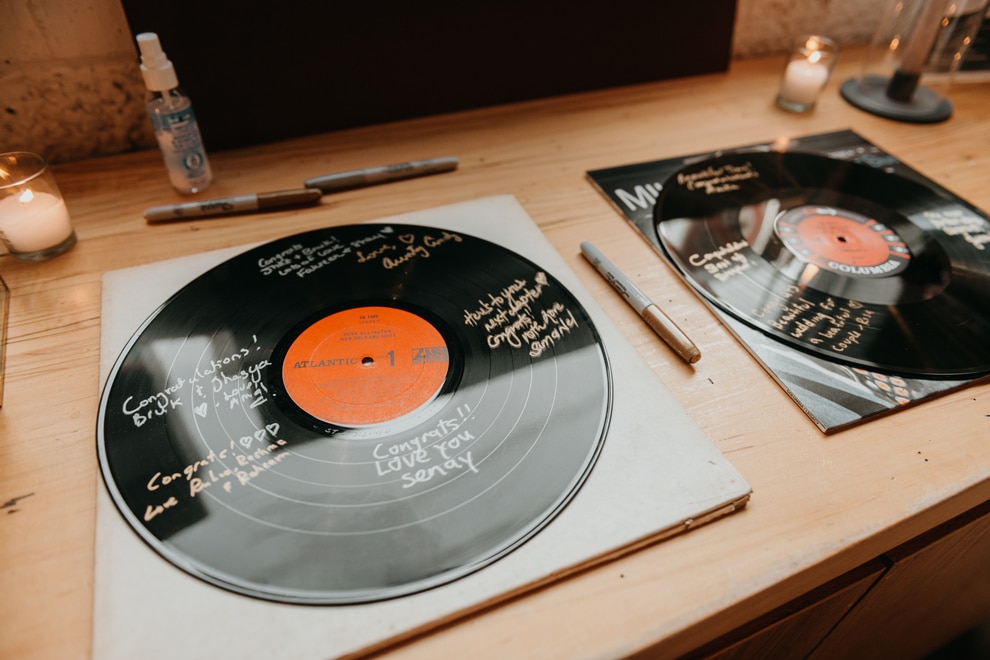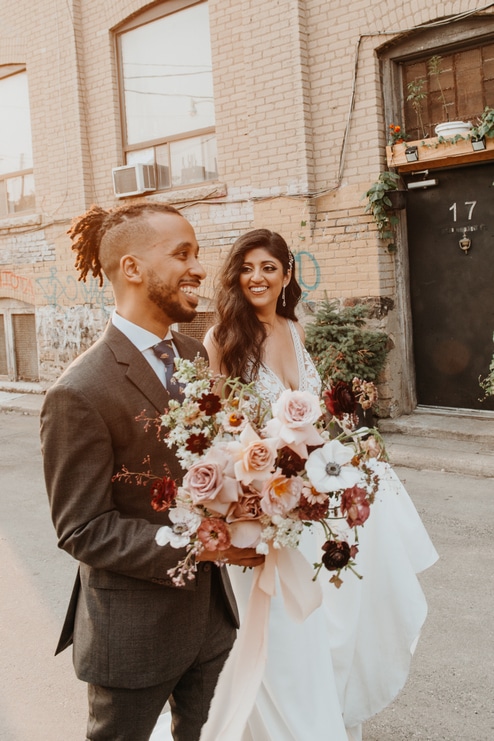 Photos Courtesy of Selina Whittaker Photography
"Shazya and Bruk are two of the kindest, loving, and wildly cool people that you will ever meet. Their vision was to create a dinner party with an emphasis on an exceptional food and beverage experience that their guests would be talking about for years to come! We partnered with Sommelier Ed Kuo and chef Chris Brown to create a 7-course meal and beverage pairing. It was beautiful. Since guests were not permitted to dance, we designed the tables to be more interactive and encourage conversation. The room was warm and full of love, truly a night I will cherish being a part of forever."
---
As You Wish Weddings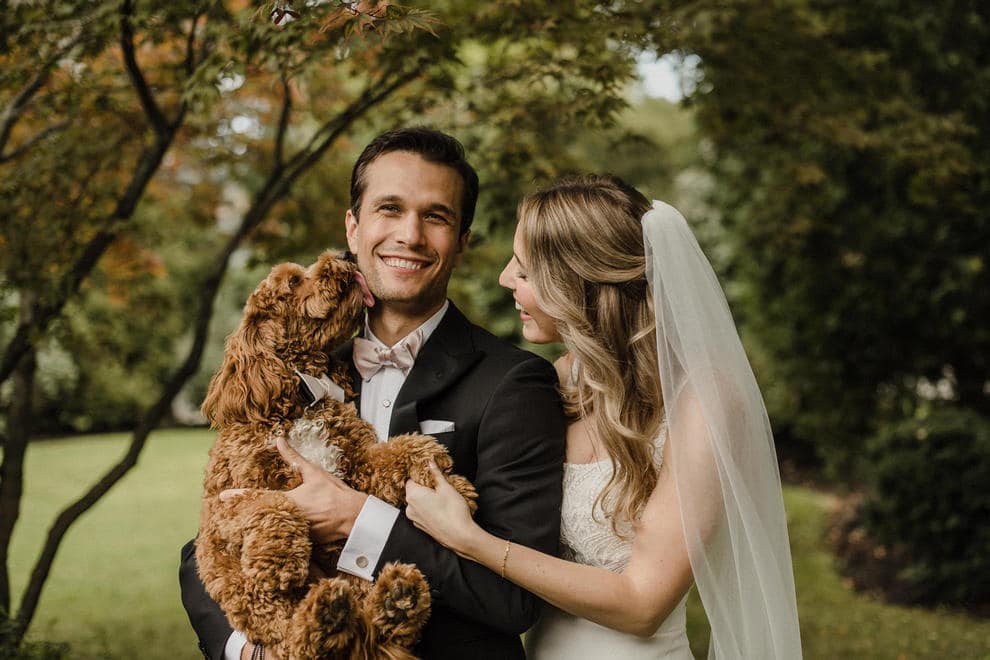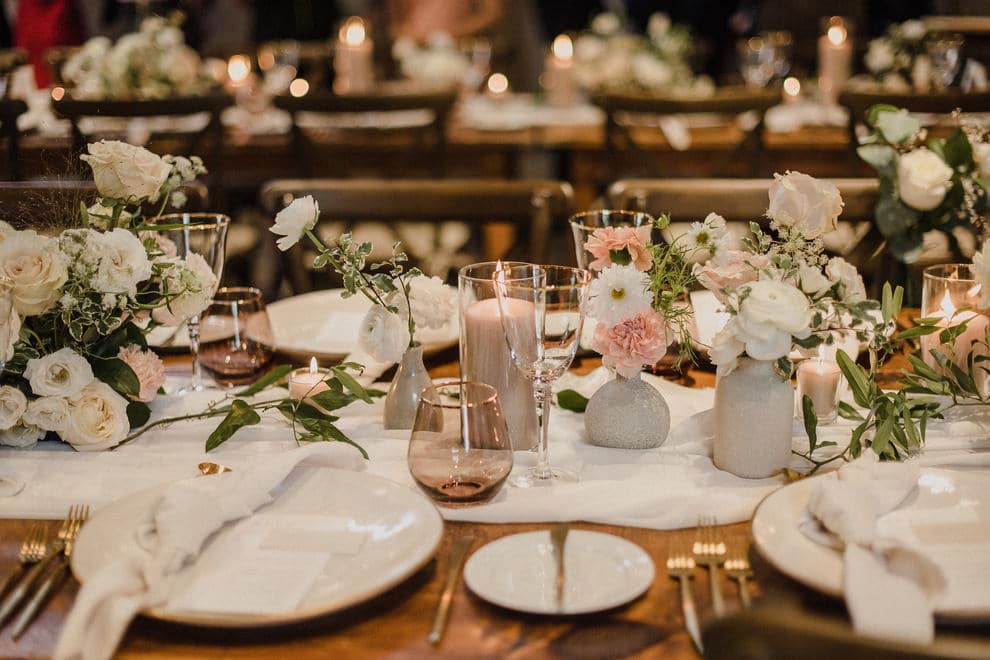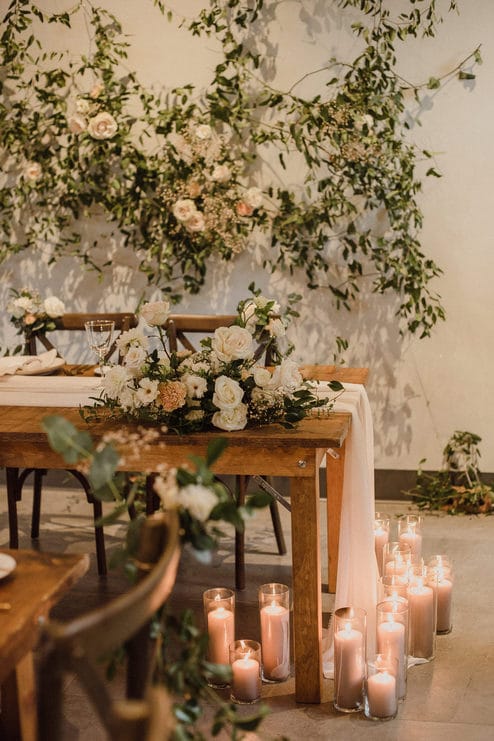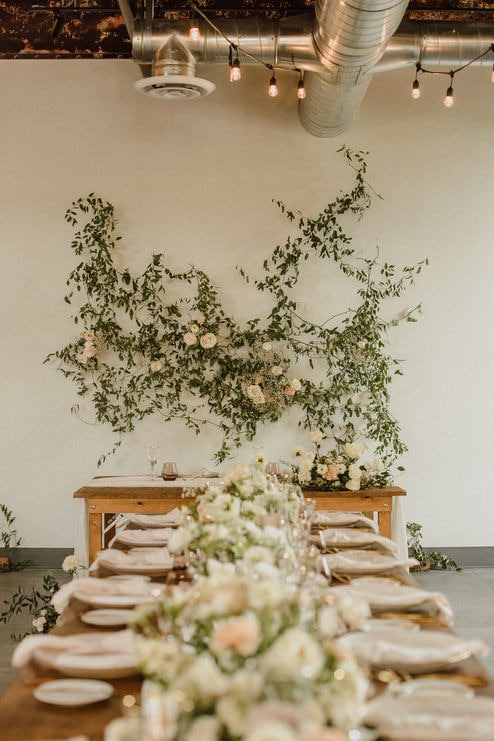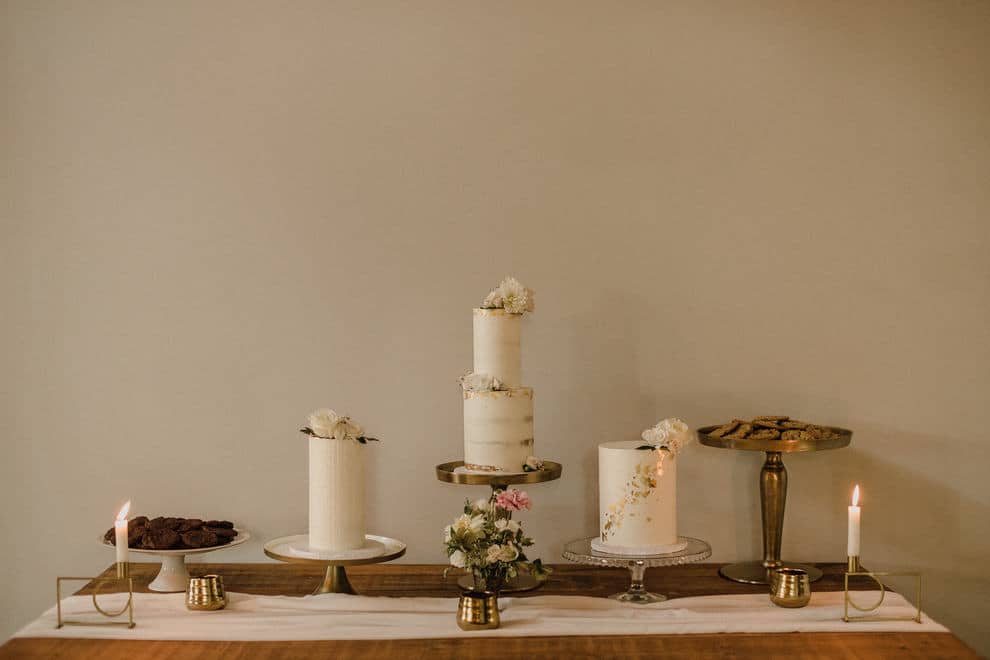 Photos Courtesy of Liat Aharoni Photography
"Shannon & Max said their I do's in September 2021, in front of 60 of their closest family and friends at Grace in Toronto – a perfect combination of historic heritage and contemporary charm with soaring ceilings, exposed brick, and stunning natural light. With a quick turnaround of just 8 weeks to plan the day, our amazing team of vendors helped transform this blank canvas into a stunningly beautiful backdrop for a delicious dinner catered by Toben Food by Design.
What we loved most about this wedding was that it was equally beautiful, but also fun and lighthearted with the couple and guests laughing all night long and truly enjoying themselves. Always such a pleasure for my team and I to be a part of wedding days like these!"
---
Rainbow Chan Weddings and Events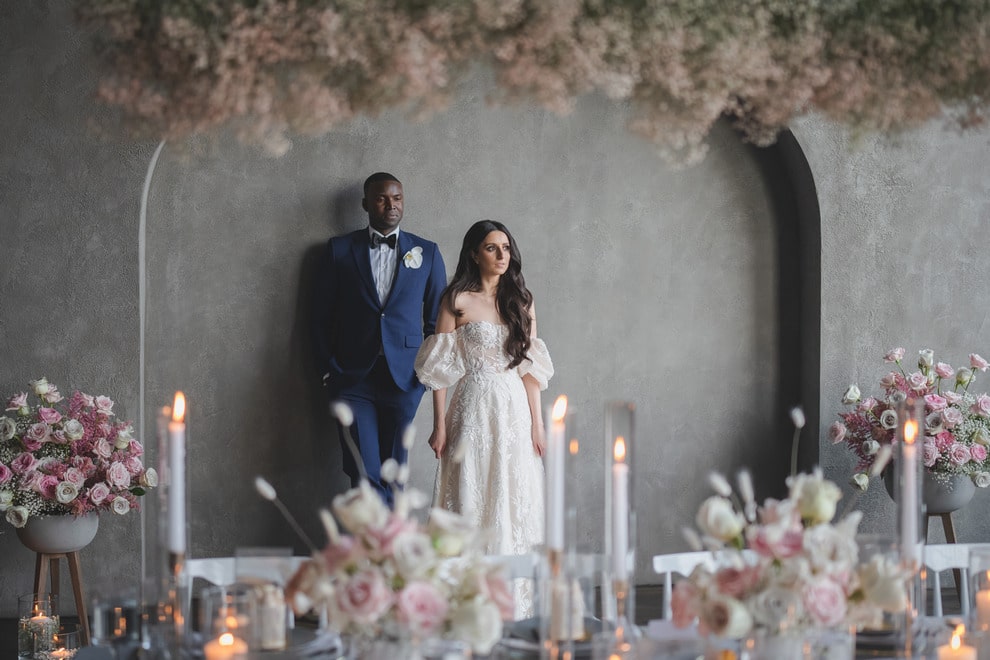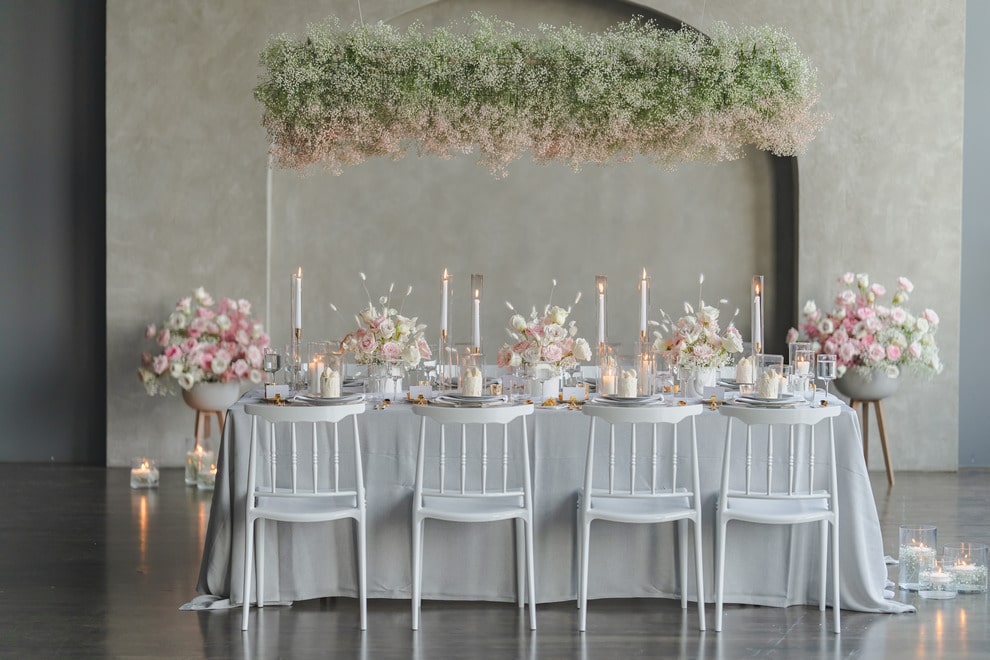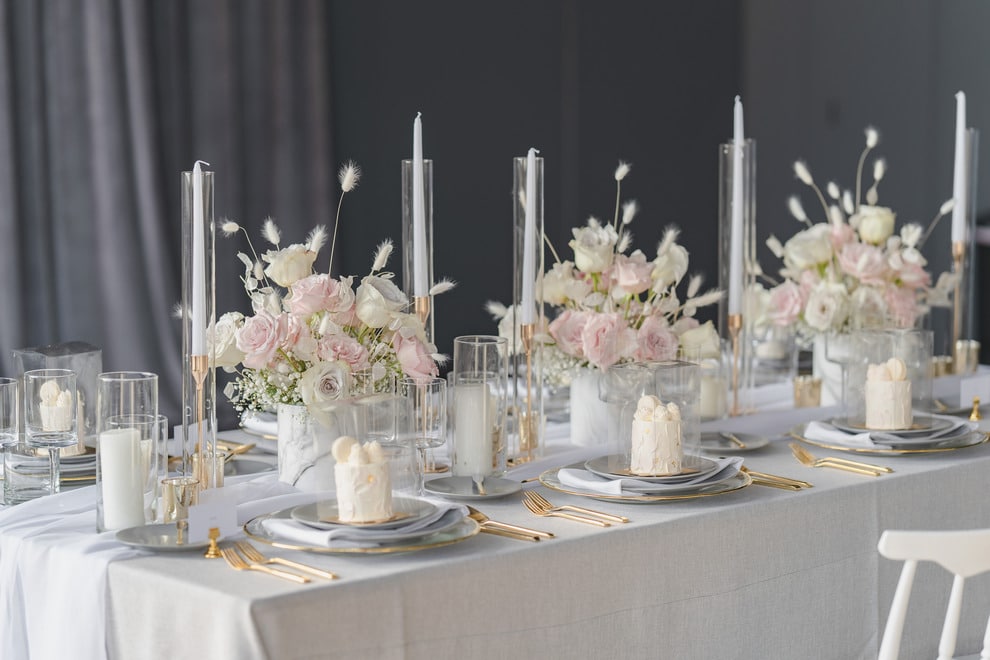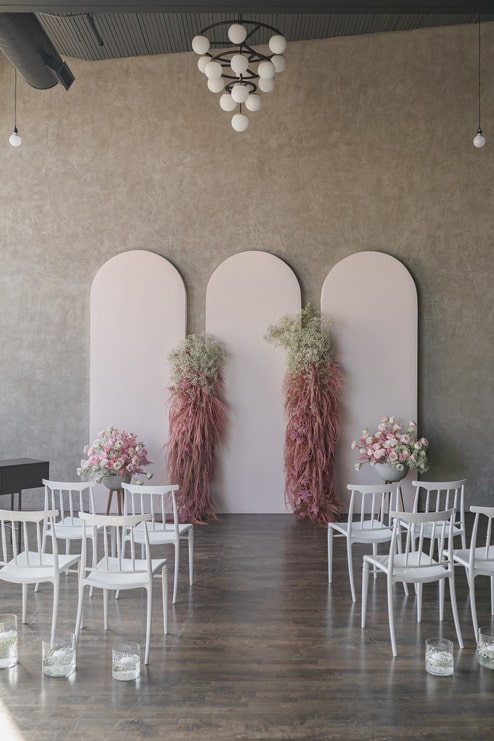 Photos Courtesy of The Eastcore
"With travel restrictions in place and the groom's family being overseas, this wedding had to be micro in the true sense of the word – we're talking 8 guests and 1 child! Forunately, the bride and groom were able to incorporate the family into the day through a video call. This truly added such a warm and genuine vibe to the whole afternoon, lending that extra spark of love and magic. This intimate wedding was far more than just the total guest count, it was a perfect reflection of the couple's love and priorities; that family meant everything to them and that was all they needed to make the most of their special day."
– Rainbow Chan Weddings and Events
---
Rebecca Chan Weddings & Events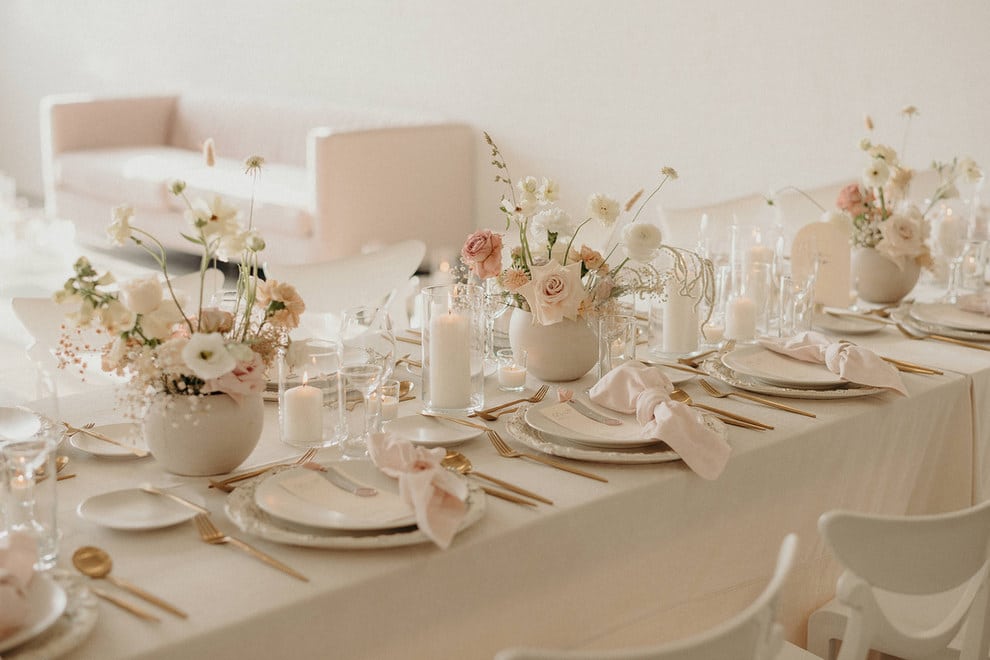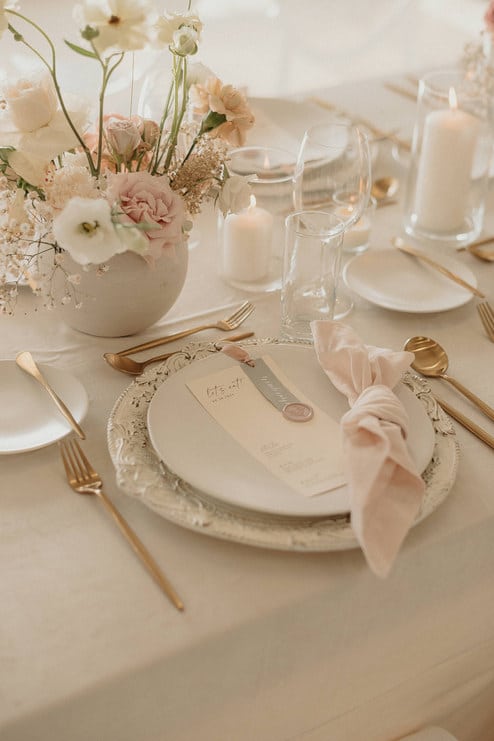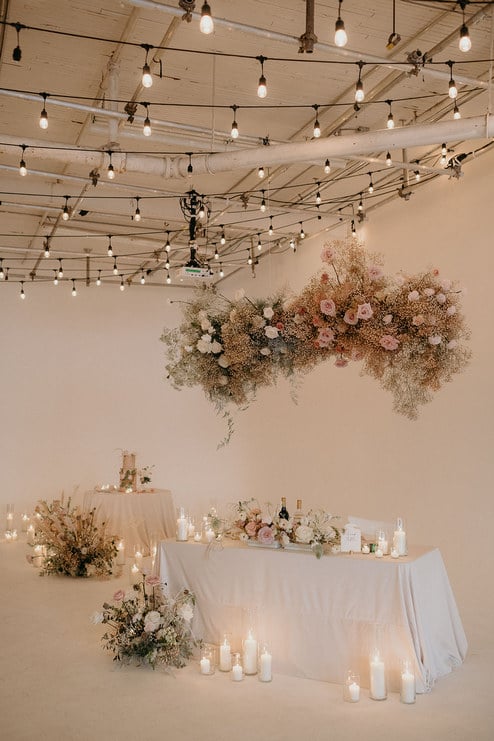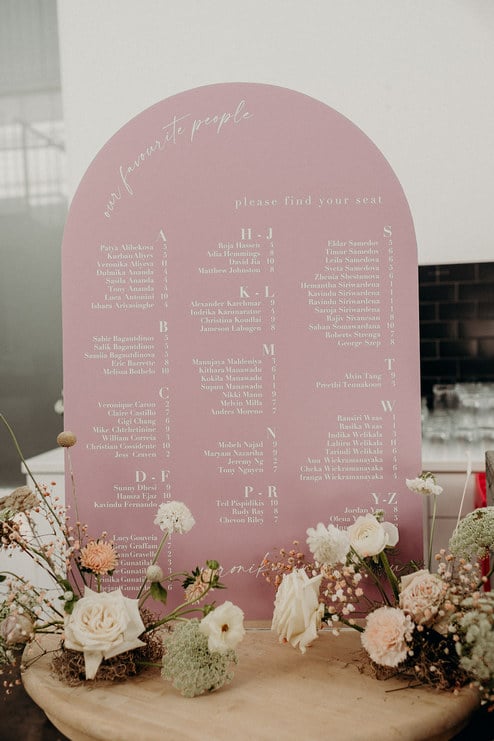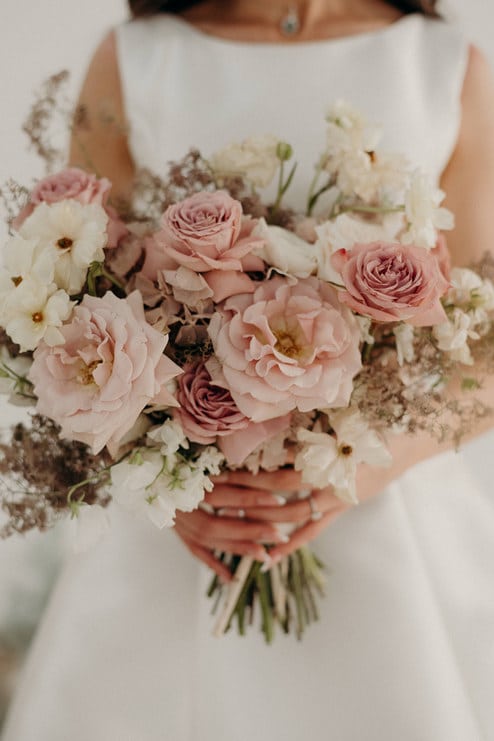 Photos Courtesy of Daring Wanderer
"I know we say weddings are a dream come true all the time, but this wedding was truly something out of a dream. With hanging cloud-like floral installations and organic pastel blooms, we transformed an otherwise blank warehouse venue into something out of our imaginations. Our stylish couple exchanged vows in the ultra modern photo studio space that was adorned with pastel floral and white chairs. A gorgeous reception followed, full of stunning details, beautiful calligraphy and a head table floating in the midst of it all. Truly a dream come true!"
– Rebecca Chan Weddings & Events

Vendors Featured in this Article
---
Fab Fête Event Planning Boutique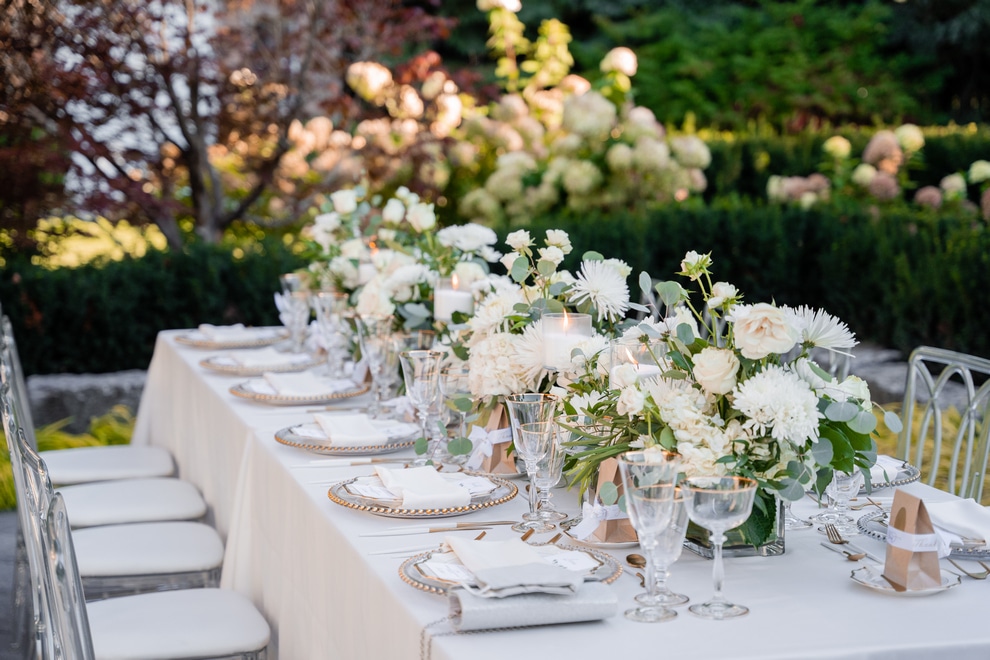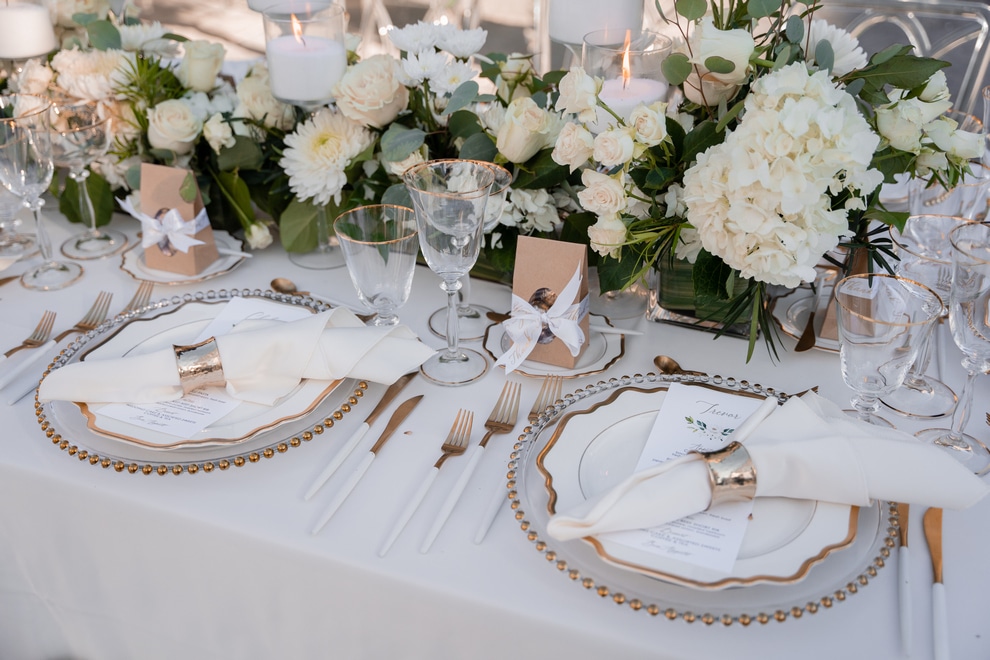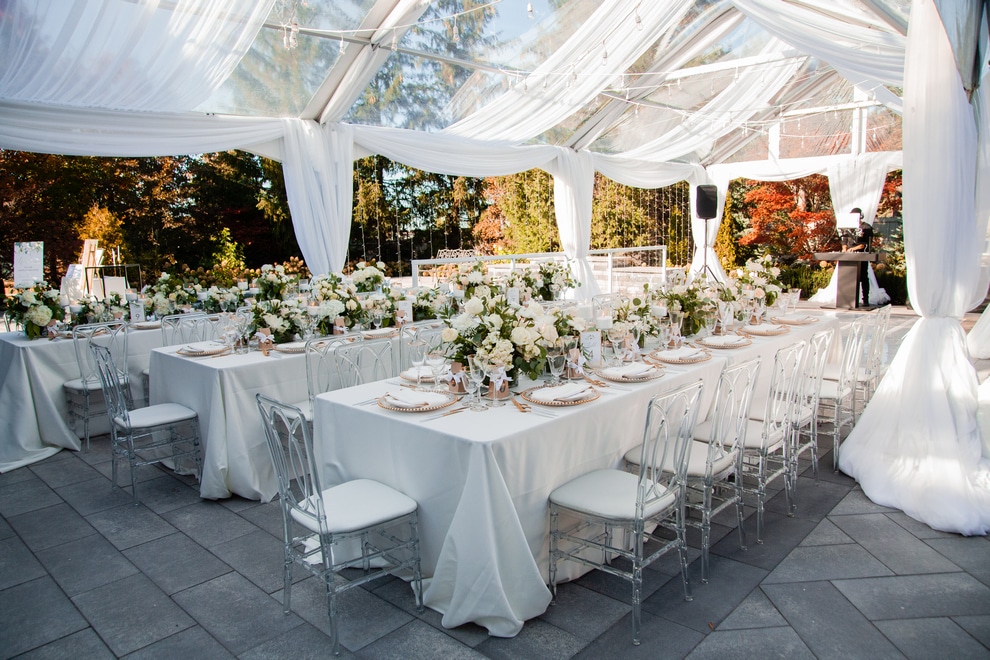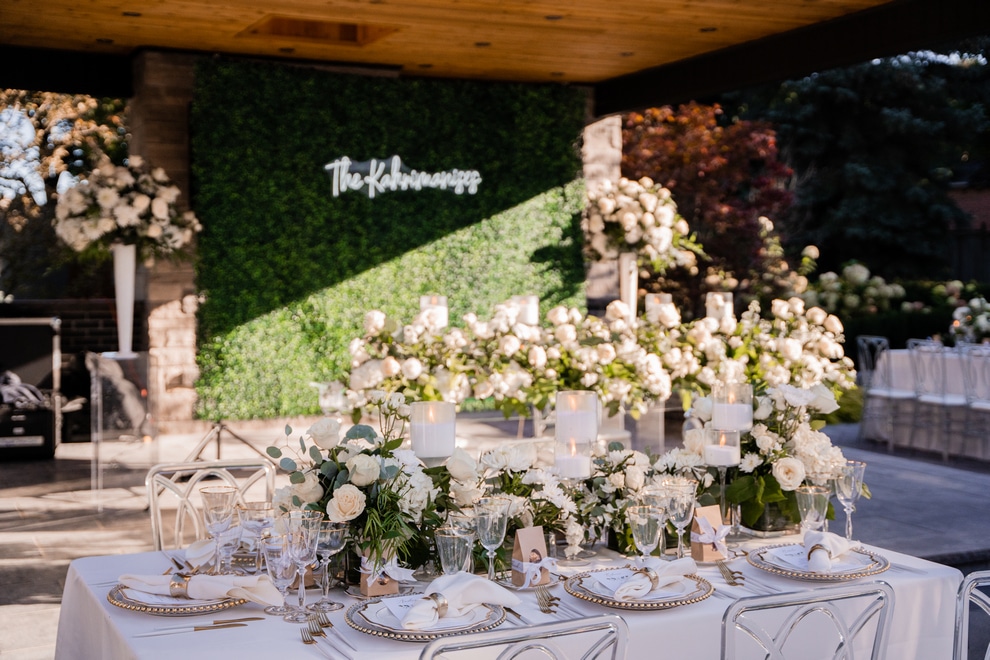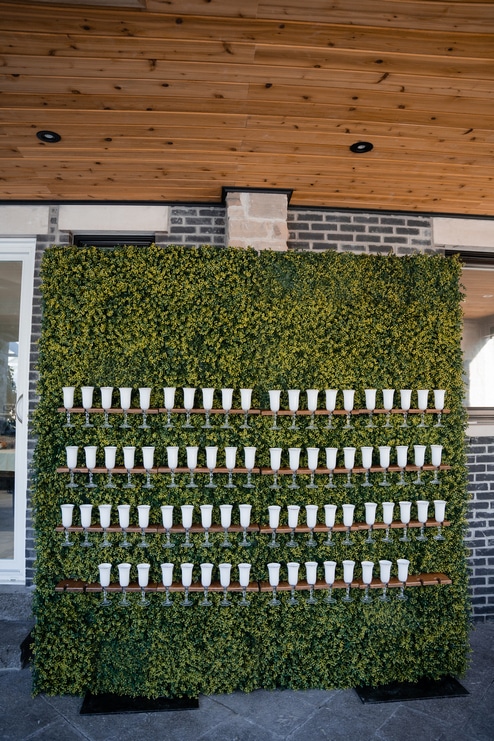 "Bianca & Carmen's beautiful micro wedding was one of our favourites from 2021. Planning a wedding during the pandemic was an extremely stressful process, especially with the ever-changing rules on capacity limits, but Bianca & Carmen stayed positive throughout the entire process and the wedding was a huge success.
The couple wanted to utilize their beautiful backyard as the backdrop for their intimate wedding reception. A large, white tent with a clear roof and sides was erected and a plexi covering was placed on top of their existing pool, which was used as the dance floor! Twinkle lights were hung on the roof of the tent and behind the DJ table for a very romantic and elegant look. The bride and groom sat at a chic acrylic table topped with a lush, floral runner, in front of a large green hedge wall. After dinner, guests enjoyed a delicious and beautiful sweet table and danced the night away under the stars! It was truly a very special wedding filled with love!"
– Fab Fête Event Planning Boutique
---
Blush & Bowties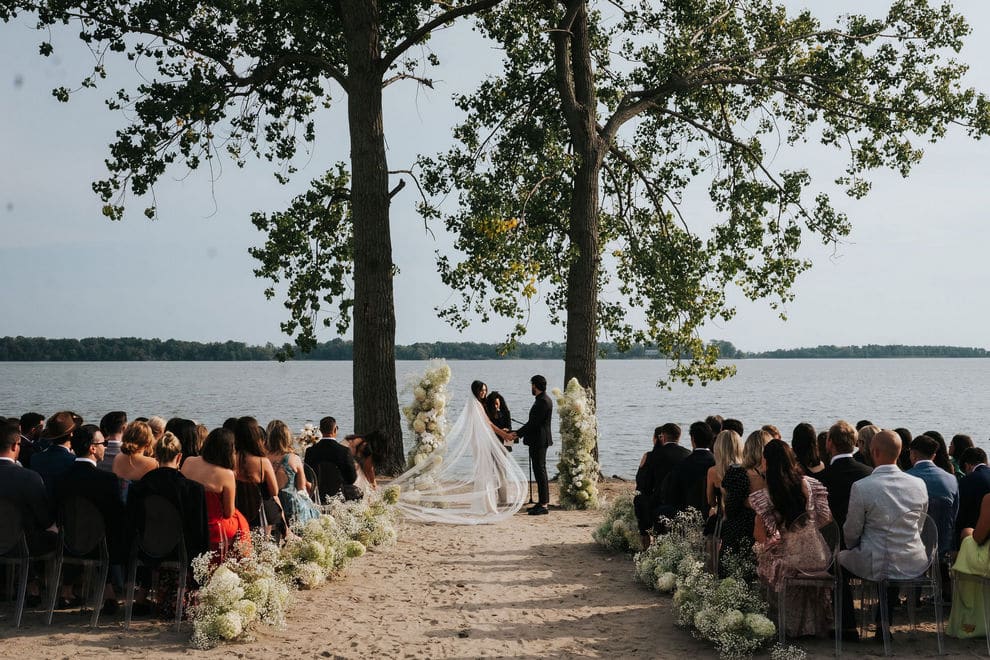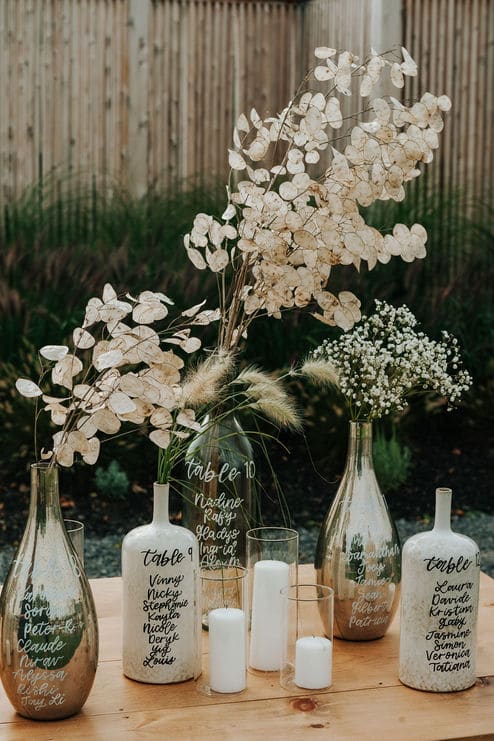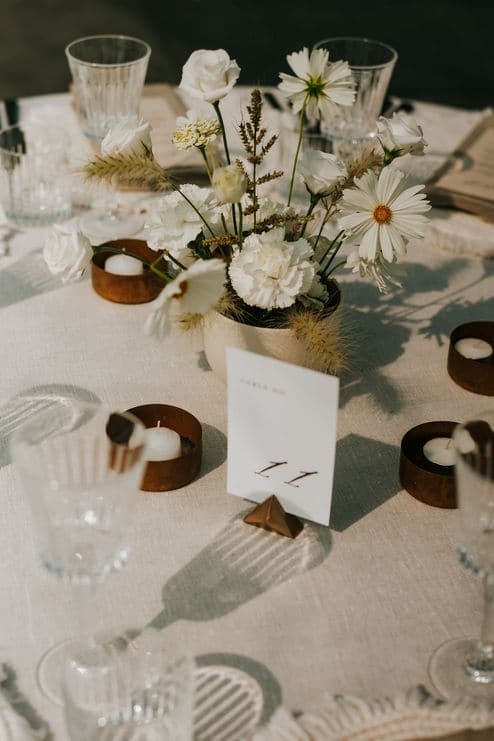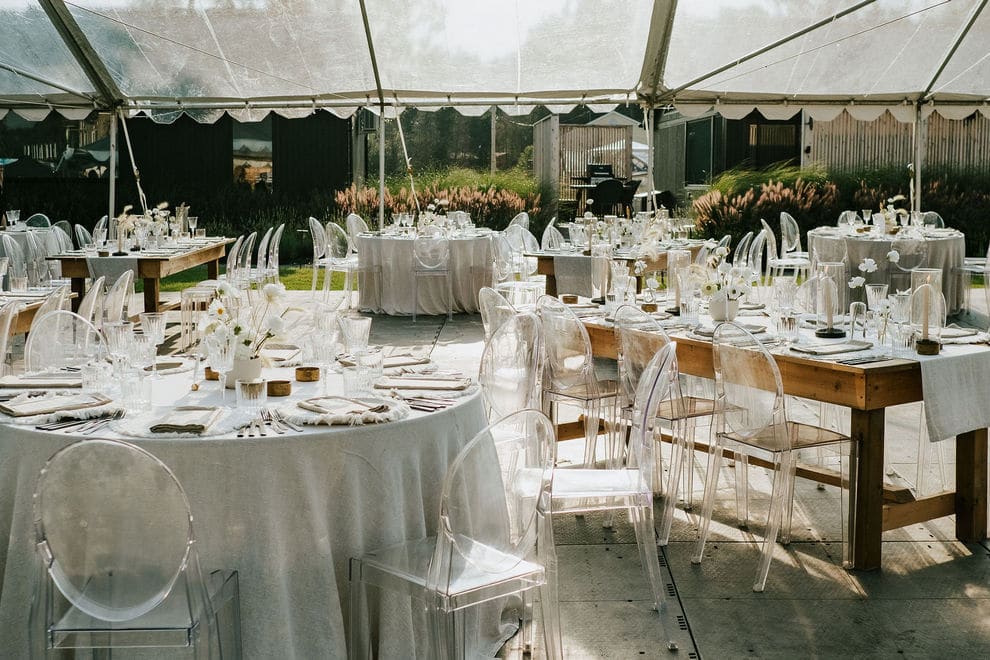 Photos Courtesy of Joel and Justyna
"2021 was a whirlwind wedding season. After a year of almost no weddings in 2020 (most pushed and postponed to 2021), our team went from zero to a thousand in the summer of 2021 when events began to open back up. But in all the busy, we were able to execute some incredible celebrations with truly the most amazing couples. One of our favourite intimate celebrations was Karine and Chuck's wedding which took place at Wander in Prince Edward County – an incredible new resort and venue.
Although the couple were having a smaller wedding of just under 100 guests, they knew they wanted an epic party and a memorable event for their nearest and dearest. Guests barely made it to through their first meal course before hitting the dance floor and it was non-stop partying all evening as the guests' were treated to a colourful sunset over the lake.
Although the last few years of closures and prolonged time away from loved ones has been difficult, being able to witness this group of people celebrating and the sheer gratitude for being together was a moment I will never forget."
---
Designed Dream Events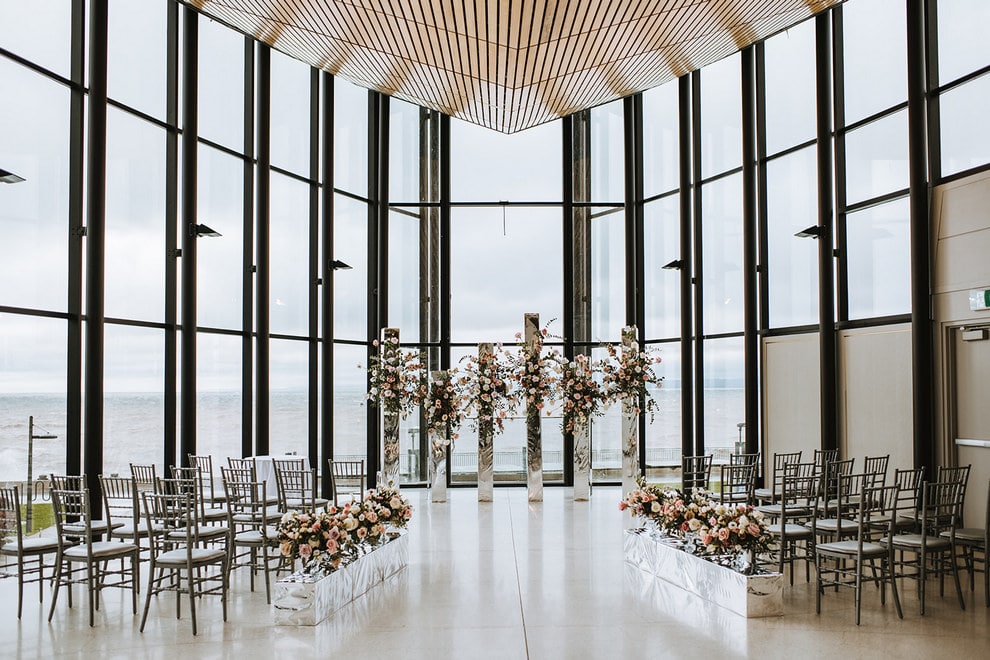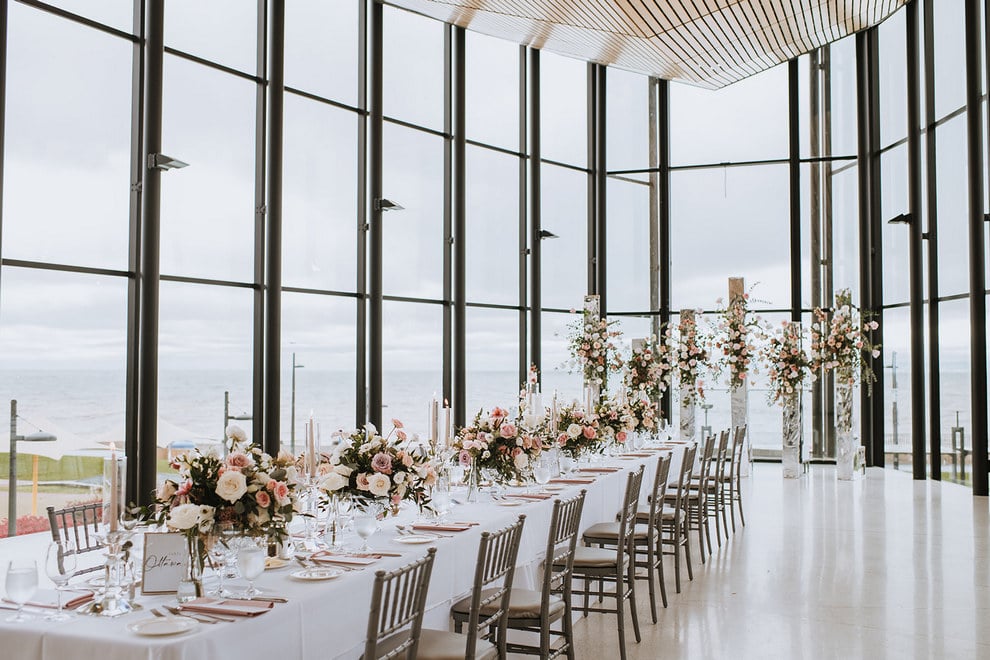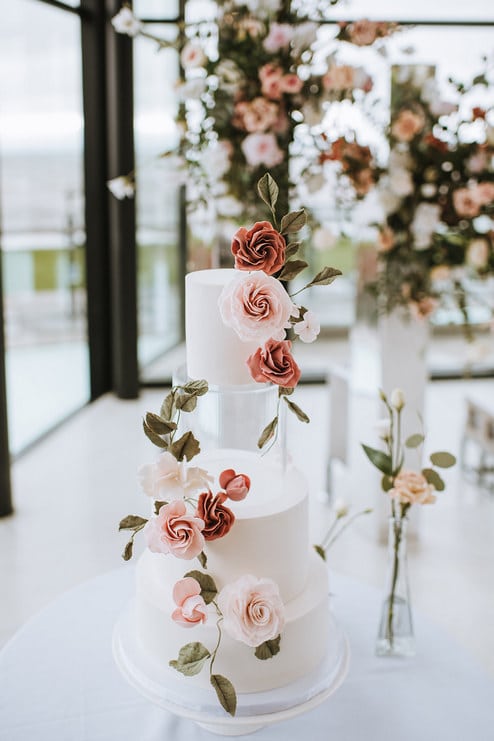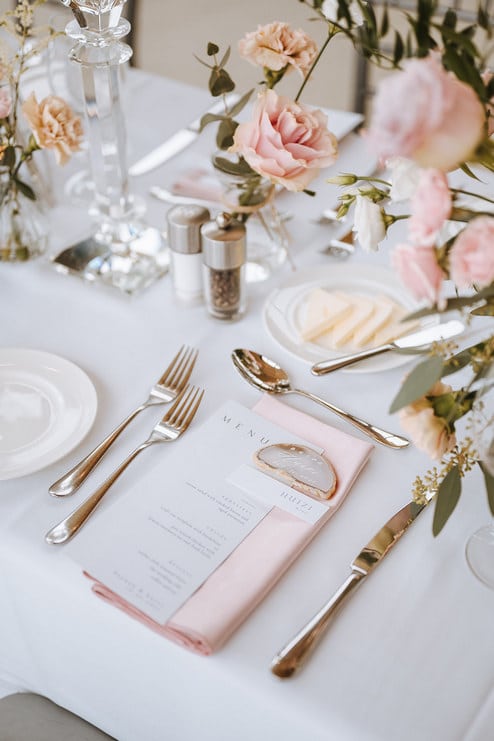 Photos Courtesy of Eric Cheng Photography
"Vivian and David's wedding at Spencer's at the Waterfront is one of the most memorable from this past wedding season. I chose this wedding because it was filled with so many touching and memorable moments. Despite the smaller guest count, the amount of love in the air between the couple and their guests made the event feel just so joyful and warm."
---
Events by Whim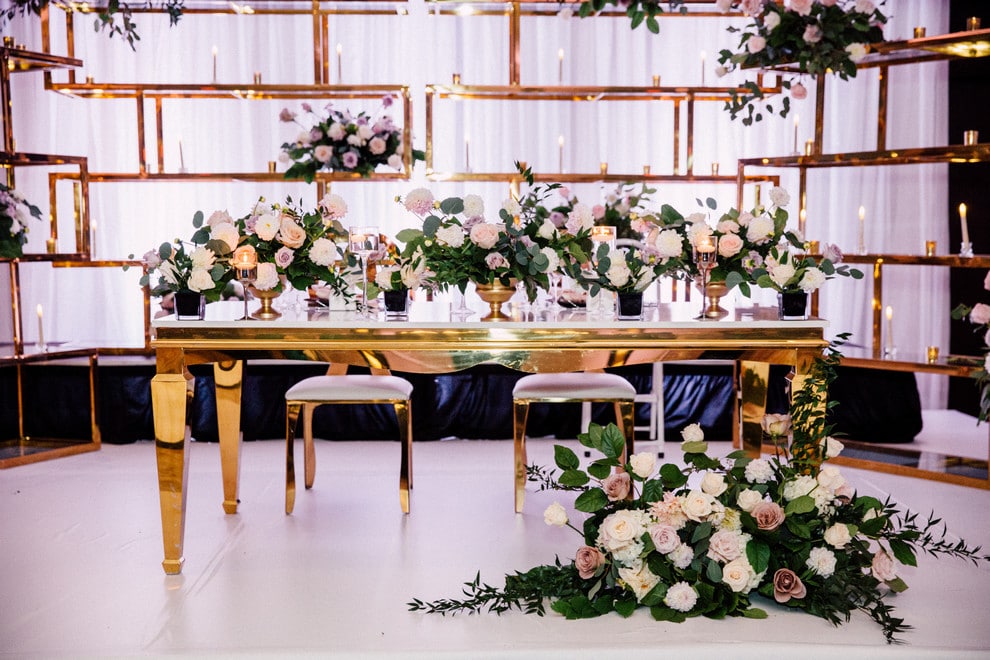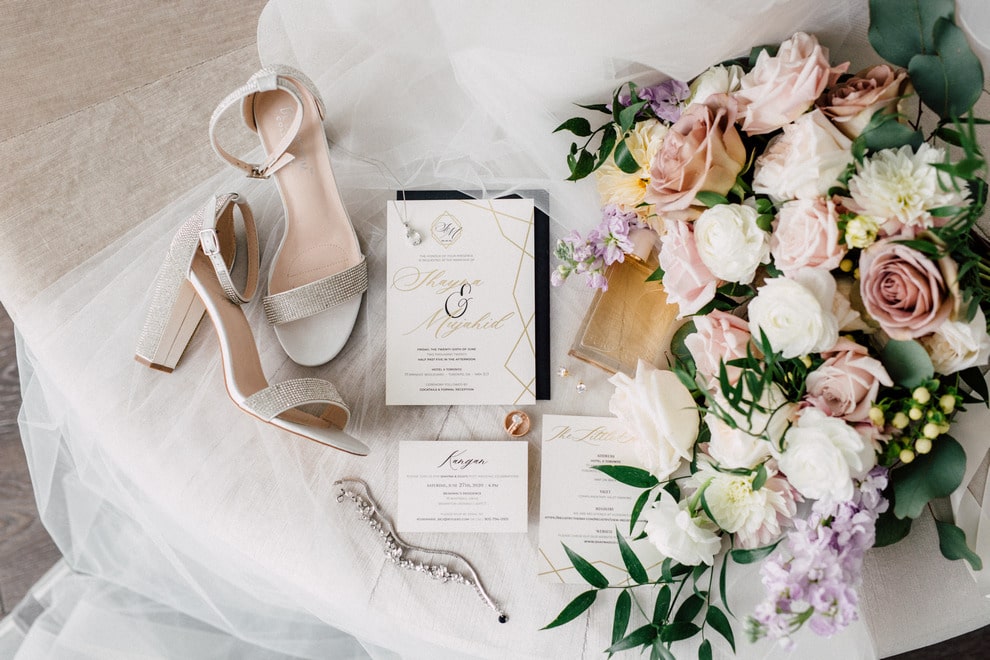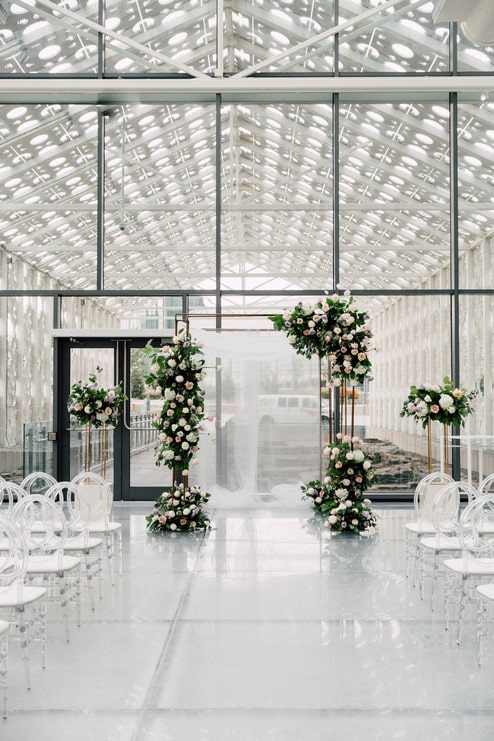 Photos Courtesy of Simply Lace Photography
"Shayna and Duji's wedding celebration was a long time coming – they had to roll with the punches and reschedule their wedding multiple times due to the pandemic. I actually met Shayna a long time ago – we went to the same middle school! It's always inspiring to me to see how couples rally together during tough times to come out on top. Once we were able to lock down the final date, Shayna and Duji joyfully put the finishing touches on their luxe celebration at Hotel X Toronto and despite not being able to have everyone they would have liked at their celebration, it was a beautiful and memorable day. "
You May Also Be Interested In
Fleur Weddings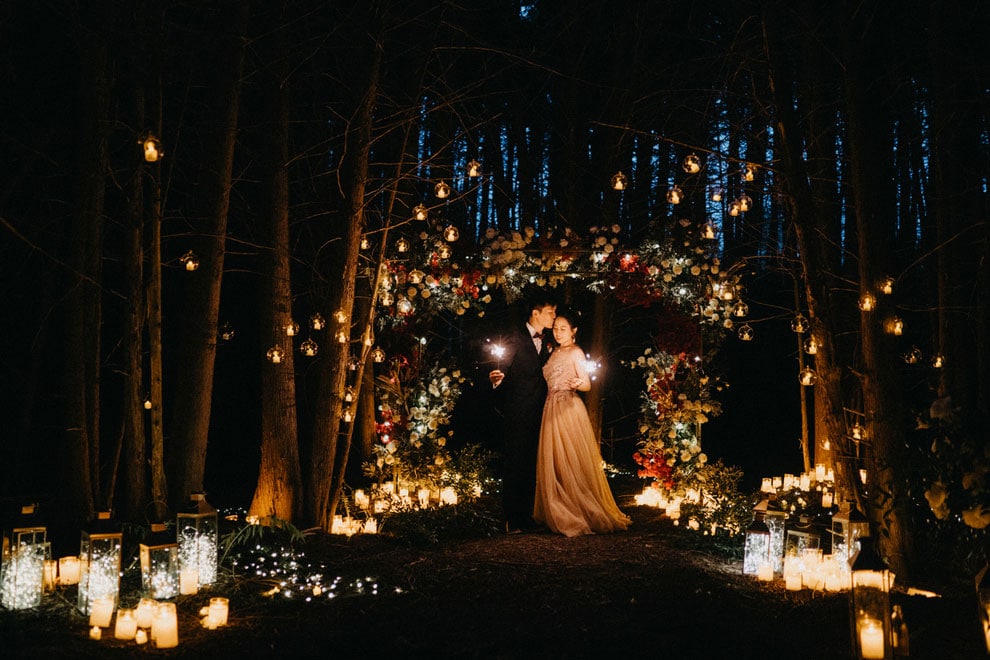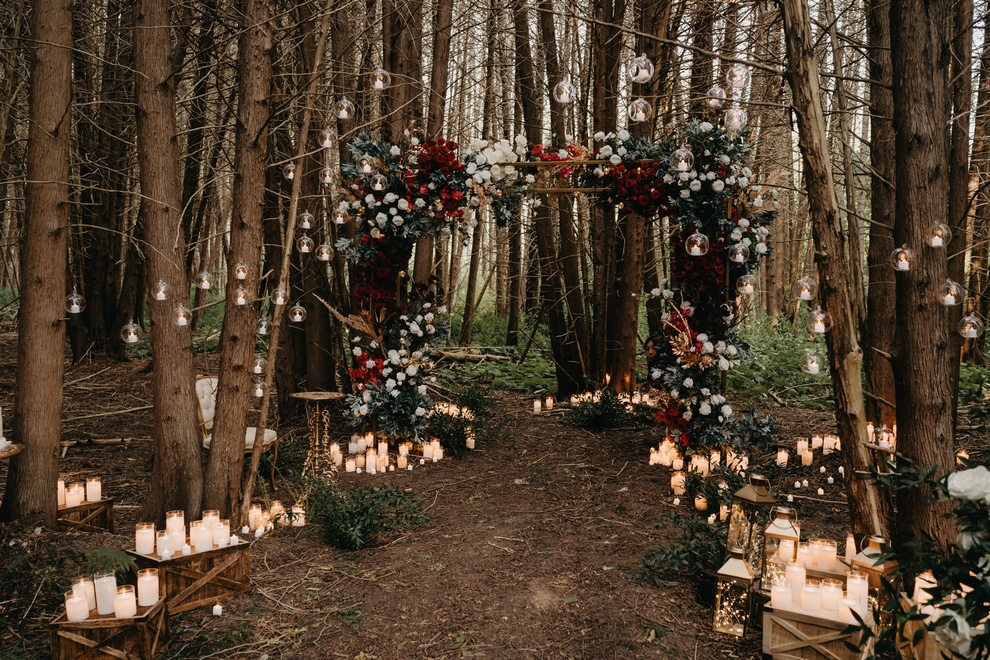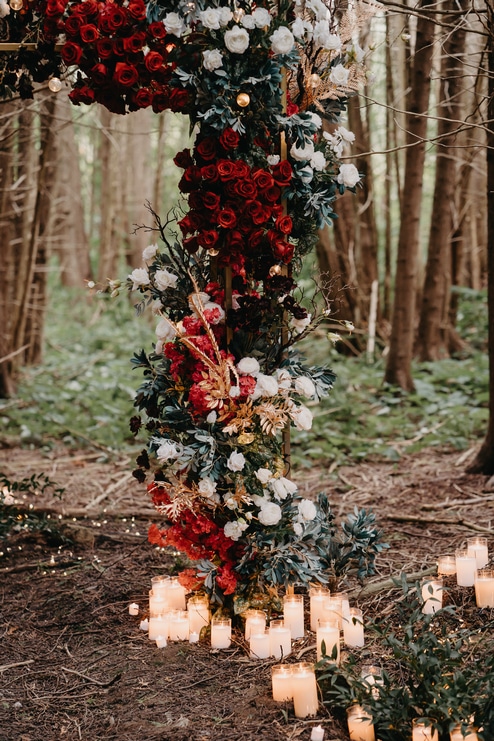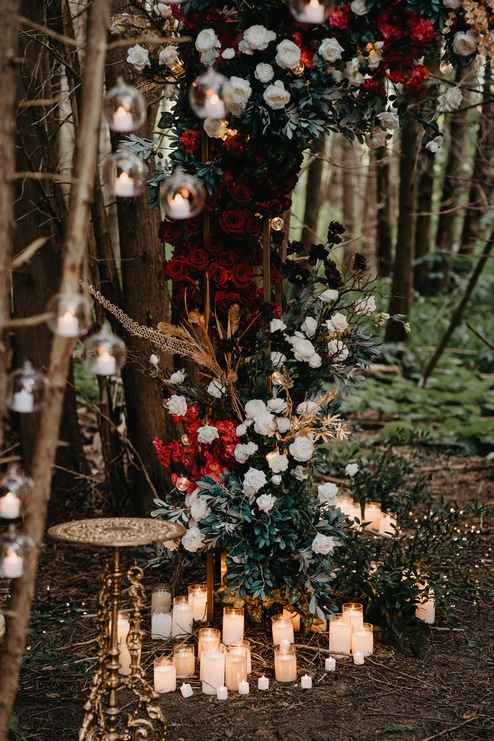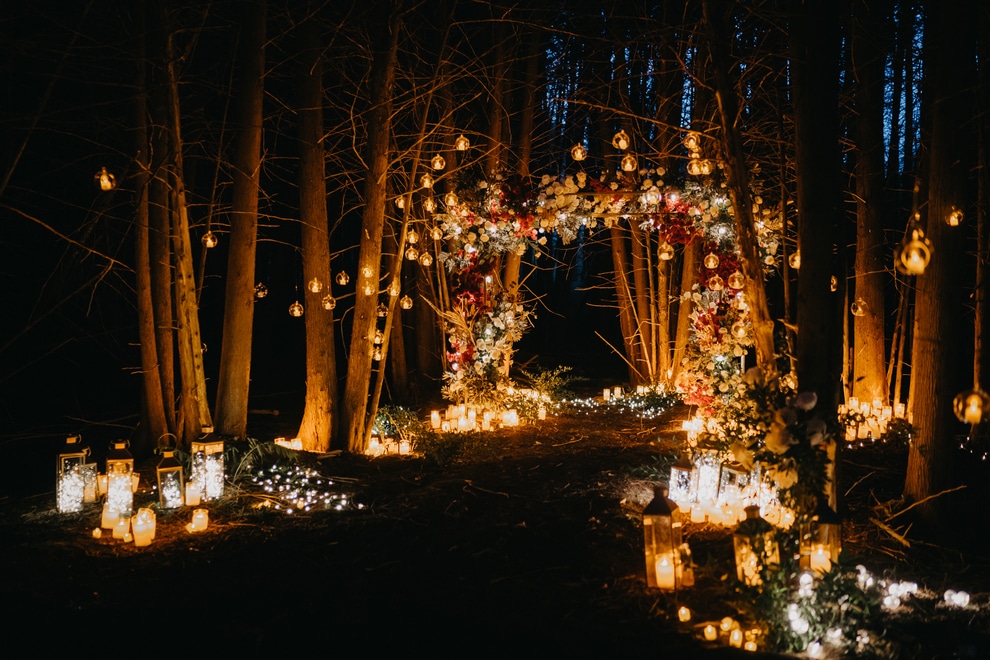 Photos Courtesy of Bellevie Photo+Video
"When planning a wedding, it is important to make sure that we bring the couple's dreams and visions to life and ensure all guests can have a top notch and memorable experience. We designed this romantic fairytale wedding in the woods for Elsa and Harry in one of the most beautiful and exclusive AirBnBs within the GTA. Guests were given the option to stay and spend the night with the newly-weds and continue the celebration into the starry night.
We love this wedding because it showcases the possibility of hosting backwoods or forested weddings all within close proximity to the city. With the addition of romantic soft lighting and candles, combined with the bold coloured floral arrangements, this wedding had its hosts and guests in awe throughout the day and night."
---
August In Bloom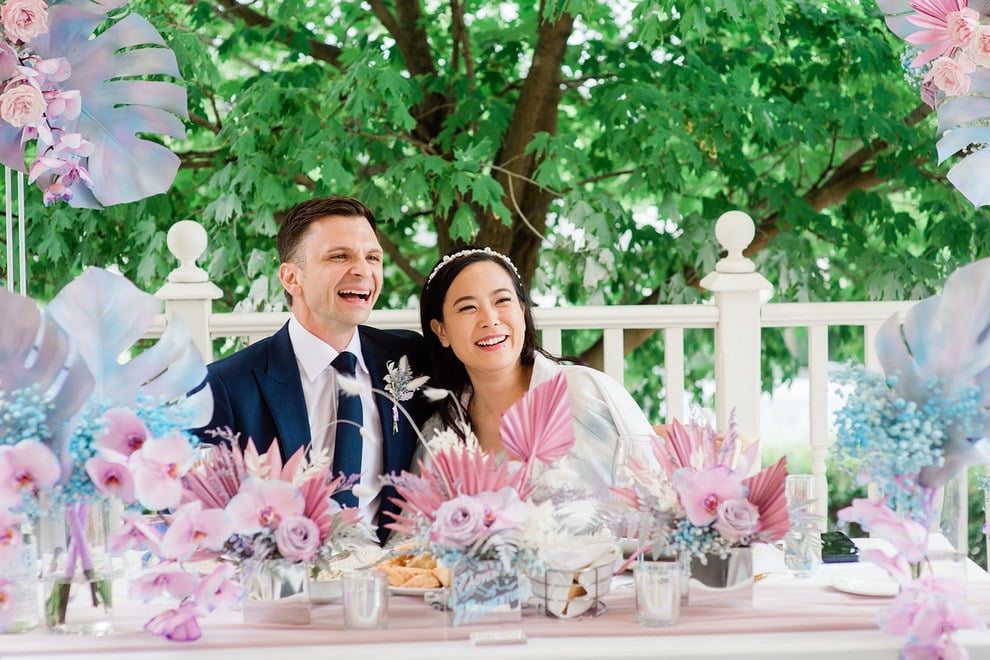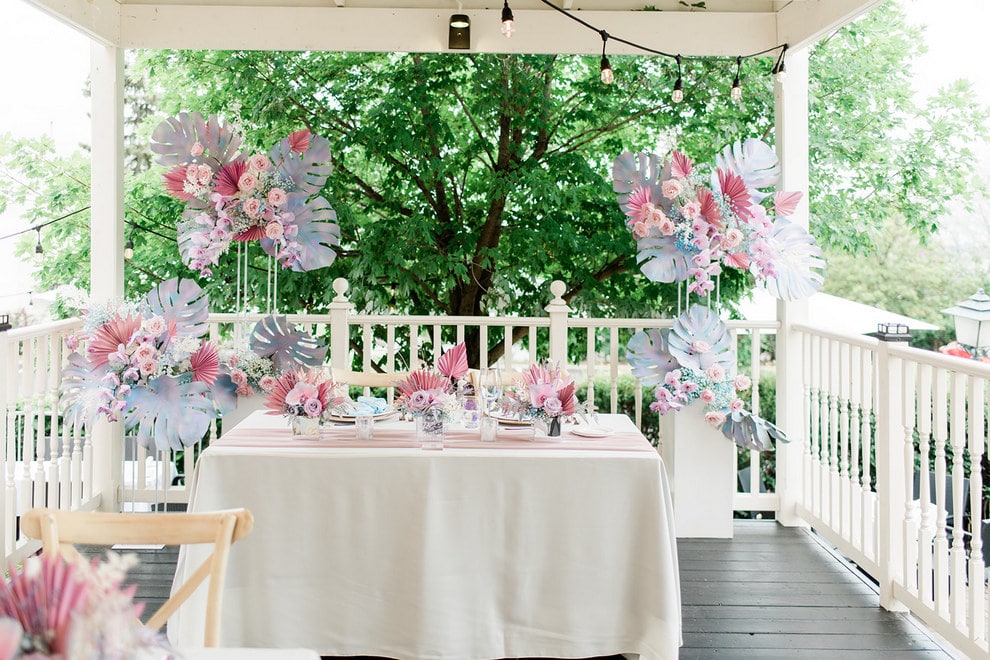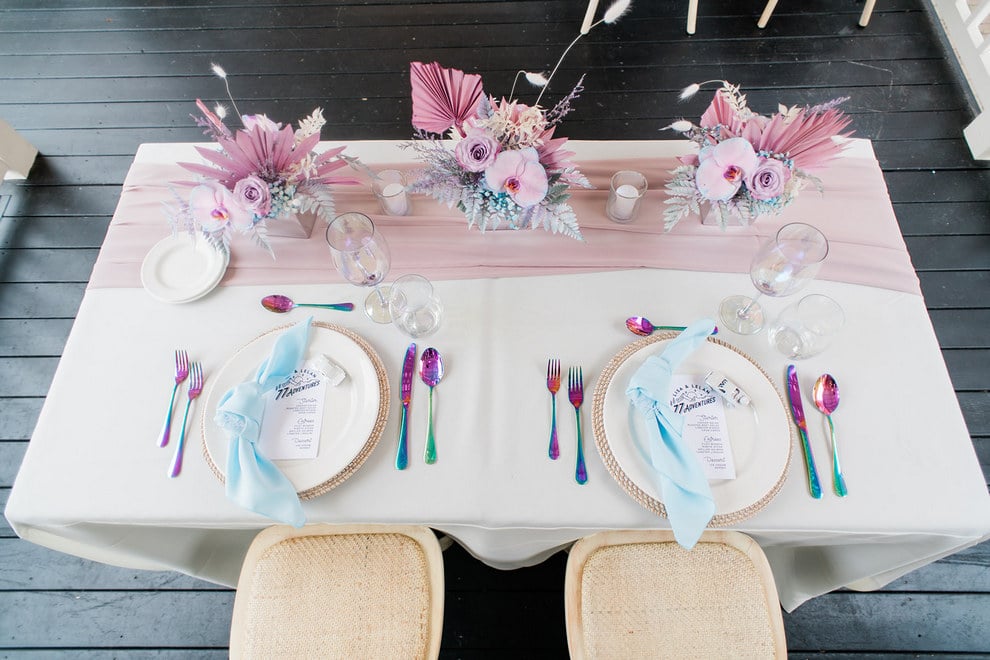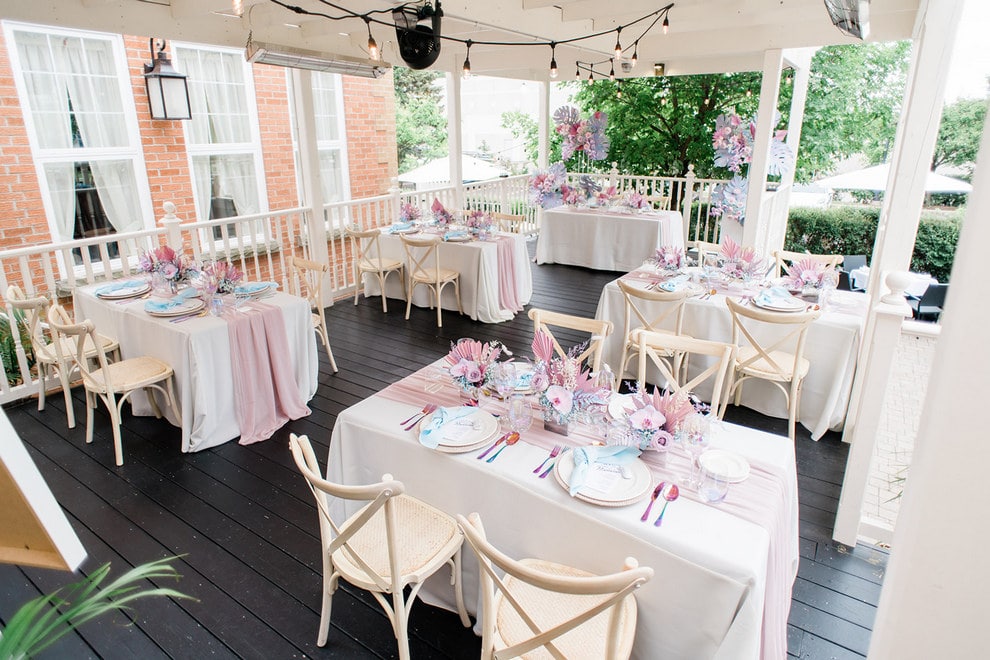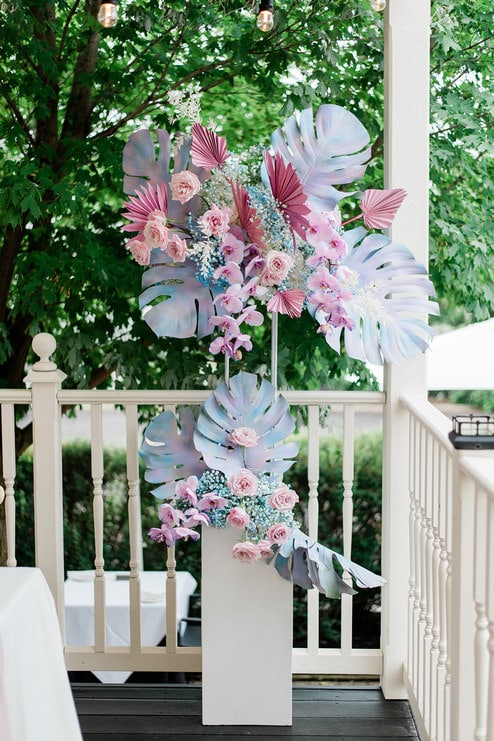 "One of the most unique and intimate weddings we had last year was for Lisa and Lelan. Part of what made their love so unique was their travel and adventure-filled relationship which they wanted to bring to life for their wedding day. Planning a wedding during a pandemic is challenging, but this one was full of creative touches that allowed the couple to still celebrate with friends and family.
Since many other friends and loved ones could not be included for the formal dinner due to gathering restrictions, we created a "drive through" reception. There was a fleet of supercars as some guests arrived in Lamborghinis, Ferraris, and Porsches (the couple just so happens to have a love for exotic cars!). Each drive through guest received a custom to-go meal kit from Patois Catering, a pair of personalized chopsticks, and cupcakes. There was also a Chatime station for guests to pop by and grab some bubble tea in the couple's signature flavours for the ride home. The couple made sure that even though guests couldn't be a part of the formal dinner, that there was plenty of entertainment for them. A LED light up lion dance by Wushu Project kicked off the evening to ward off evil spirits and bring the couple good fortune for their new life together. Altogether, this wedding was a mix of cool night market vibes and scenes out of Fast and the Furious. It definitely was one amazing adventure!"
---
Mad Bash Group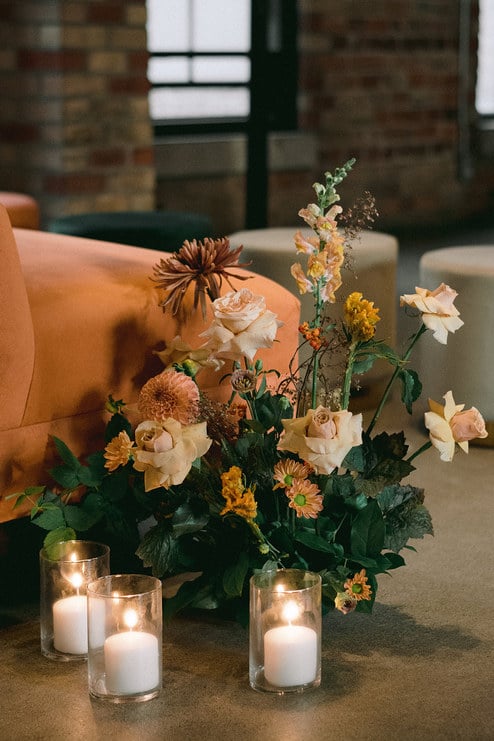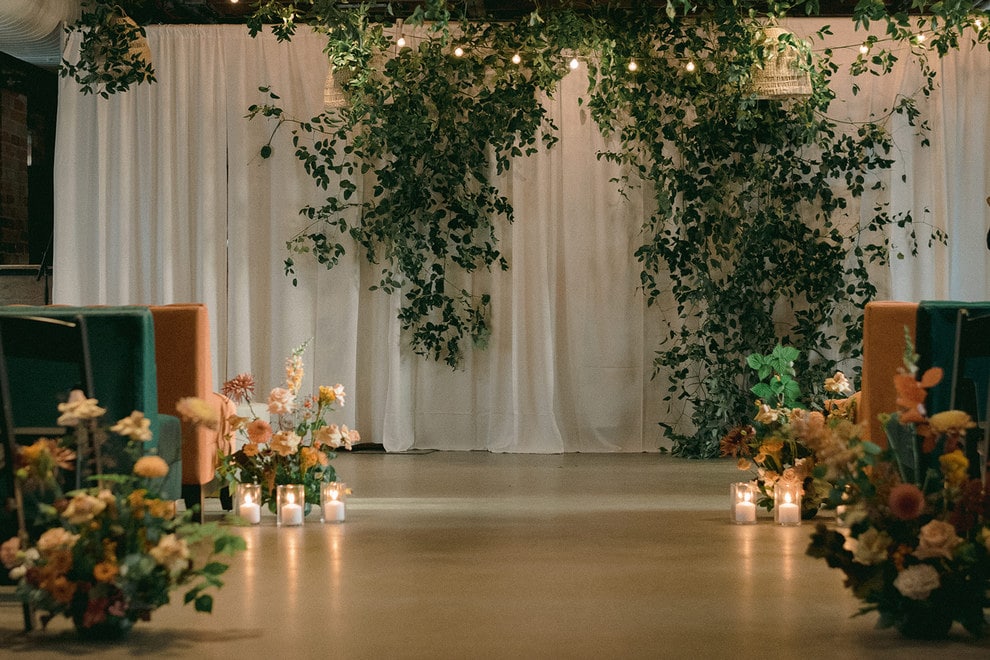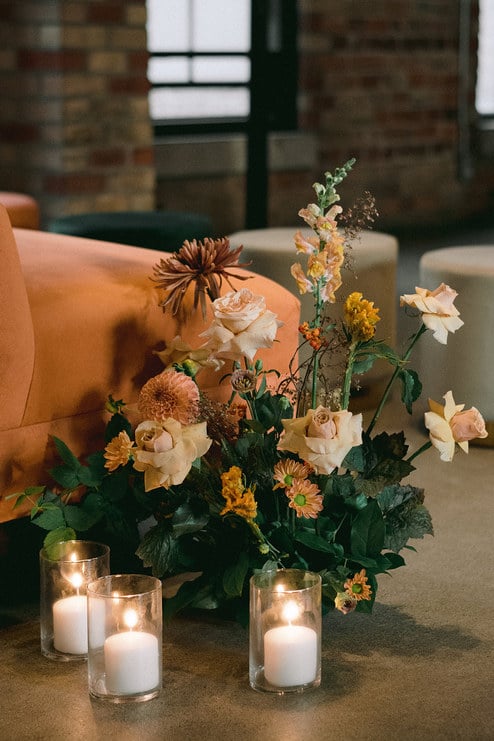 Photos Courtesy of Hilary Victoria Dean
"Jora and Brett's cocktail style wedding was all about the party, the love, and of course, beautiful décor. For them, they wanted their guests to have fun, eat great food, and dance all night. To us, that sounds like the perfect wedding! When it came to décor, we wanted to keep with the existing vibe but just enhance it. It was important to the couple that the atmosphere felt relaxed but still unique and romantic. We used overhanging greens, velvet accents and tons of candlelight to complete this look. Guests were greeted with an eclectic fall toned mixed ceremony seating by day, to chic lounges and food stations by night!"
---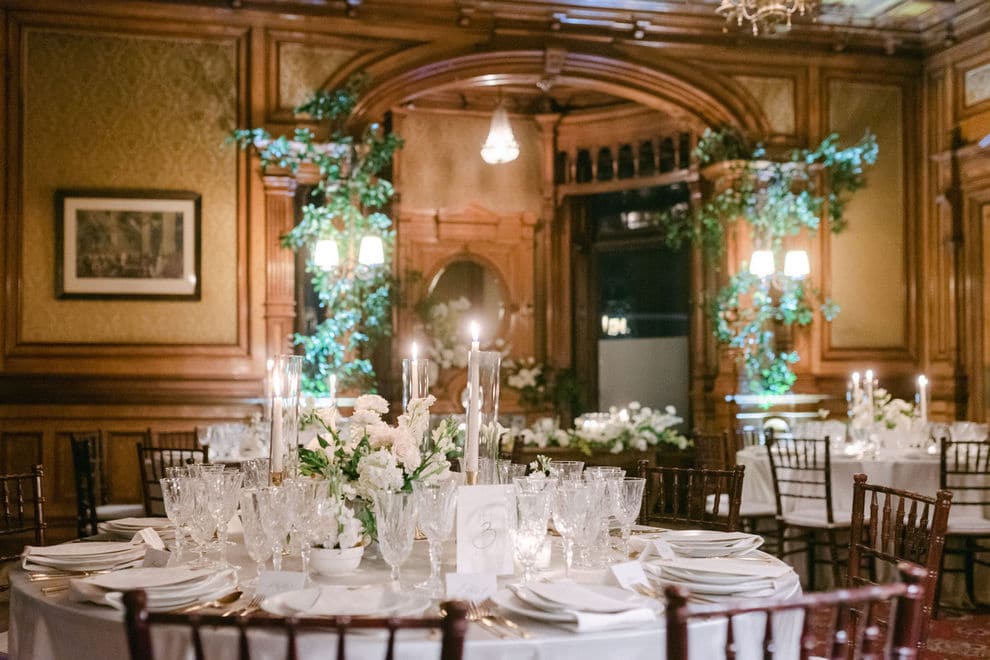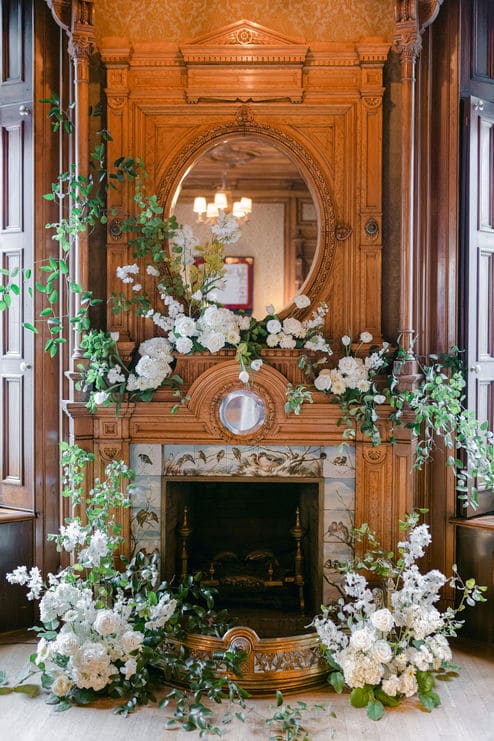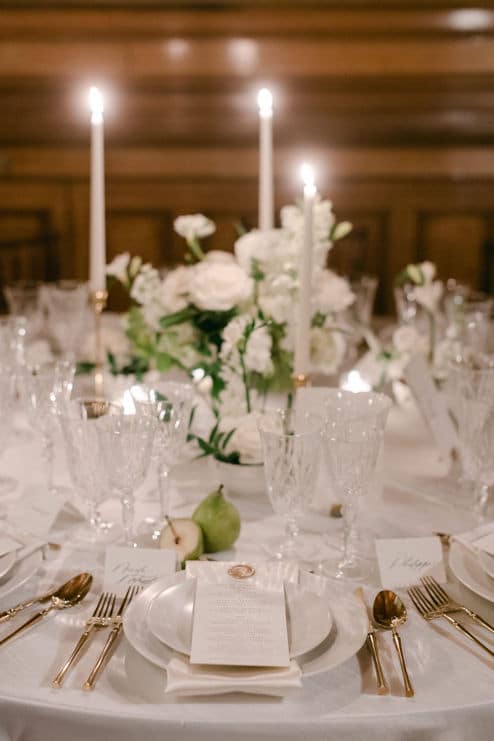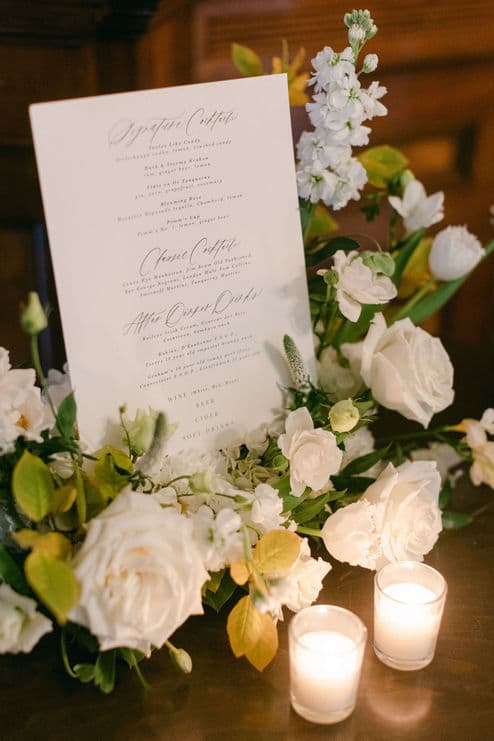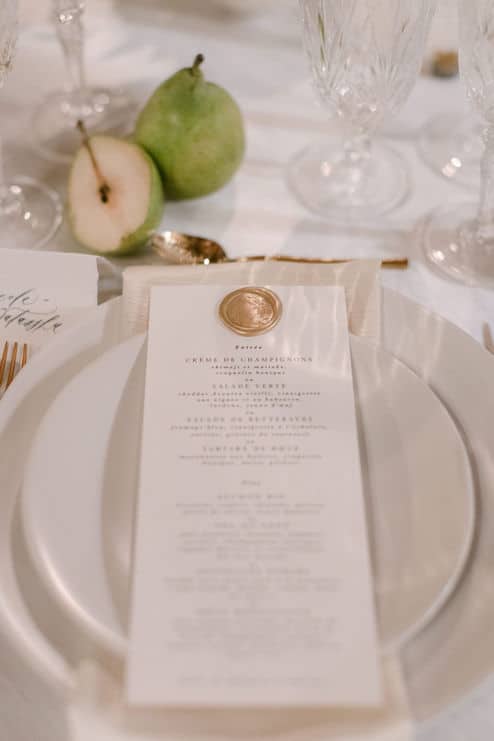 Photos Courtesy of Junophoto
"For us, intimate weddings are one of our favourite events to plan and execute. Monirath and Matthew came to our firm with less than 3 months to plan their event for 40 guests. What made this particular wedding stand out for us was that this adorable couple wanted to find out and share the gender of their child with their friends and family on the day of their wedding. This was easily one of the most emotionally fulfilling parts of the evening. We'll never forget the love and surprise on all the guests faces and we're so glad to have been a part of this special moment."
---
SJ Soirée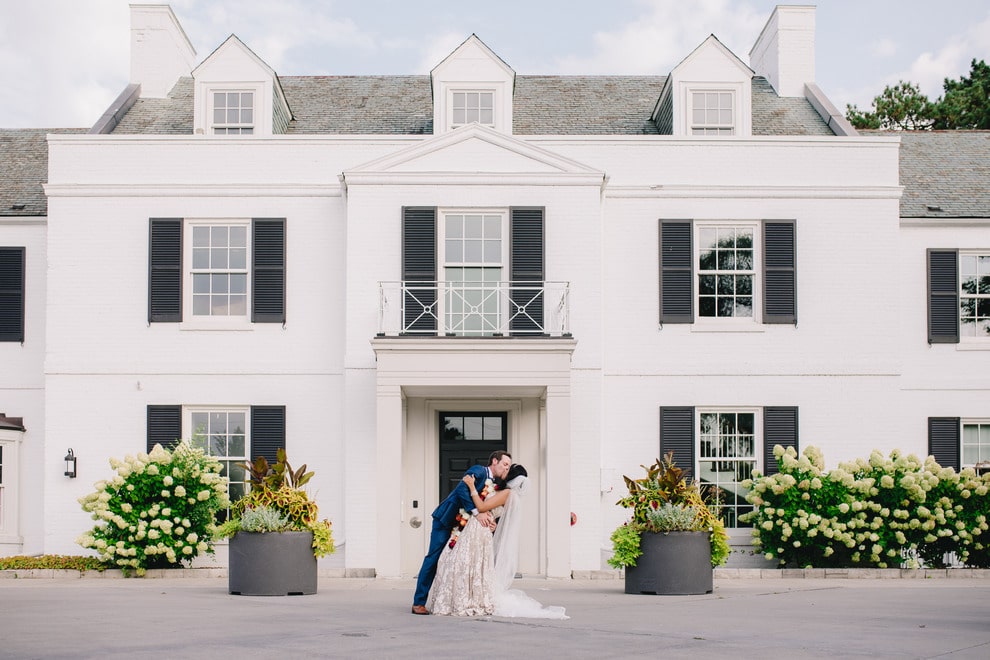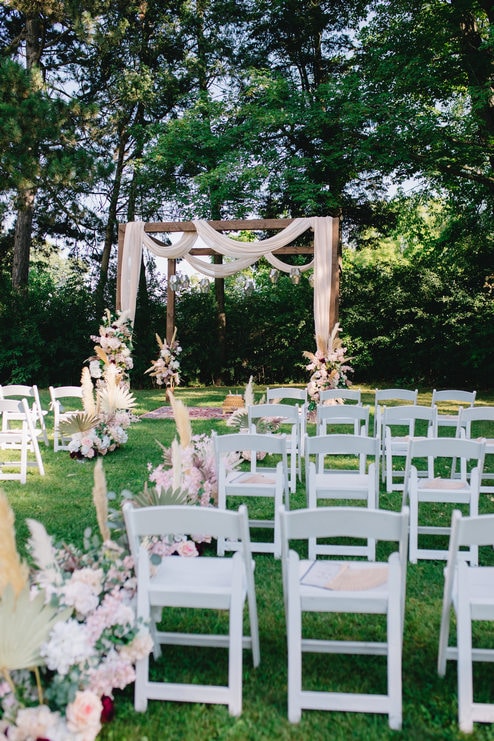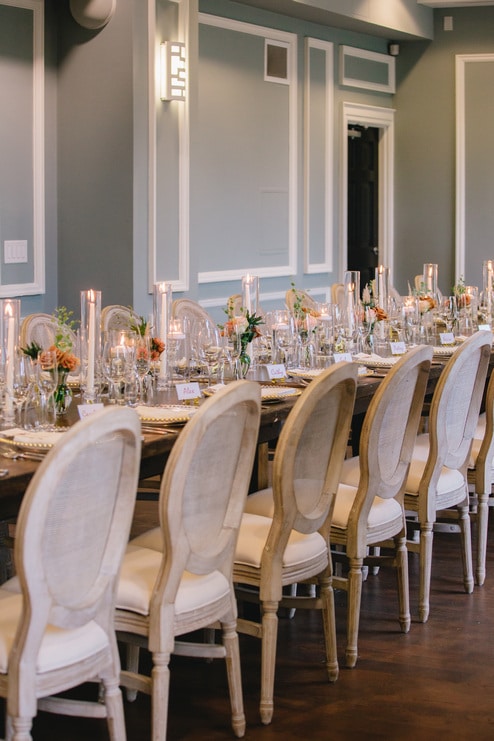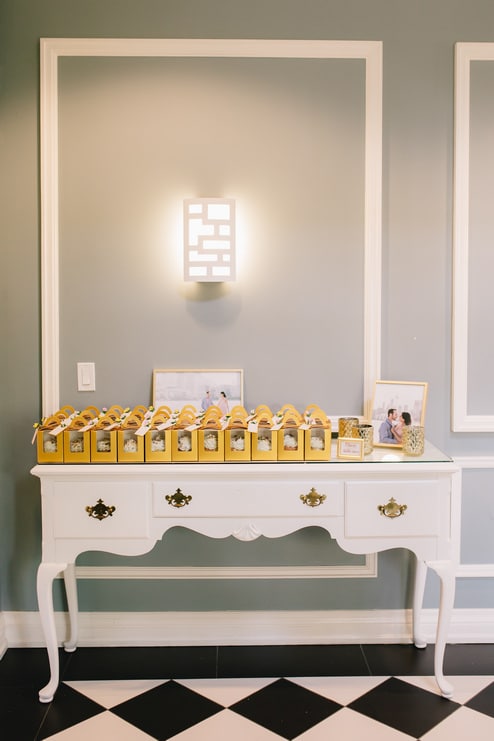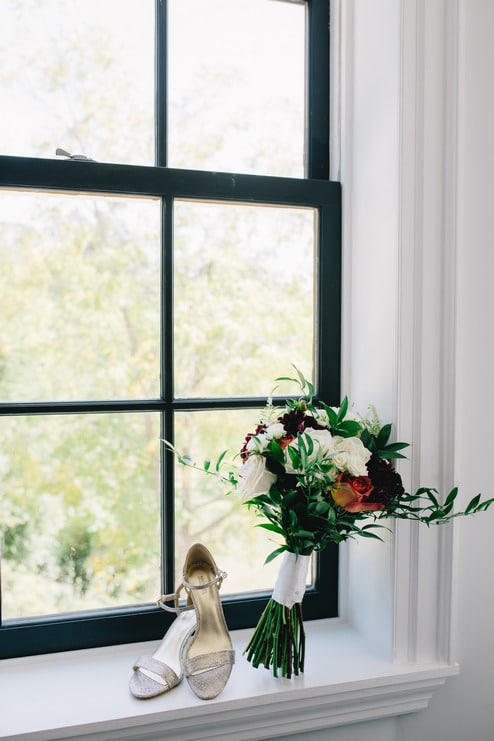 "Anita and Paul tied the knot on what could not have been a more perfect September Tuesday! Like many couples, Anita and Paul were originally looking forward to hosting their nuptials in 2020, but we all know that year had other plans.
Amidst all the uncertainty of 2021, the couple made the decision to move ahead with their fusion wedding, rich with Italian and Hindu culture and traditions, inviting 24 of their nearest and dearest. The wedding took place on the gorgeous grounds of Harding Waterfront Estate followed by a dinner reception inside the estate. With a torrential thunderstorm on its way, Anita & Paul exchanged their jaimalas and vows outside under a boho, rustic altar. What came next can only be described as fate: just as cocktail hour was wrapping up and guests were heading inside to enjoy a delicious Italian dinner, the expected thunderstorm came crashing down. We don't know what it was about their day, but it could not have been more perfectly timed! As the saying goes, rain is always good luck on your wedding day. We could not have been happier for the both of them."
---
Art of Celebrations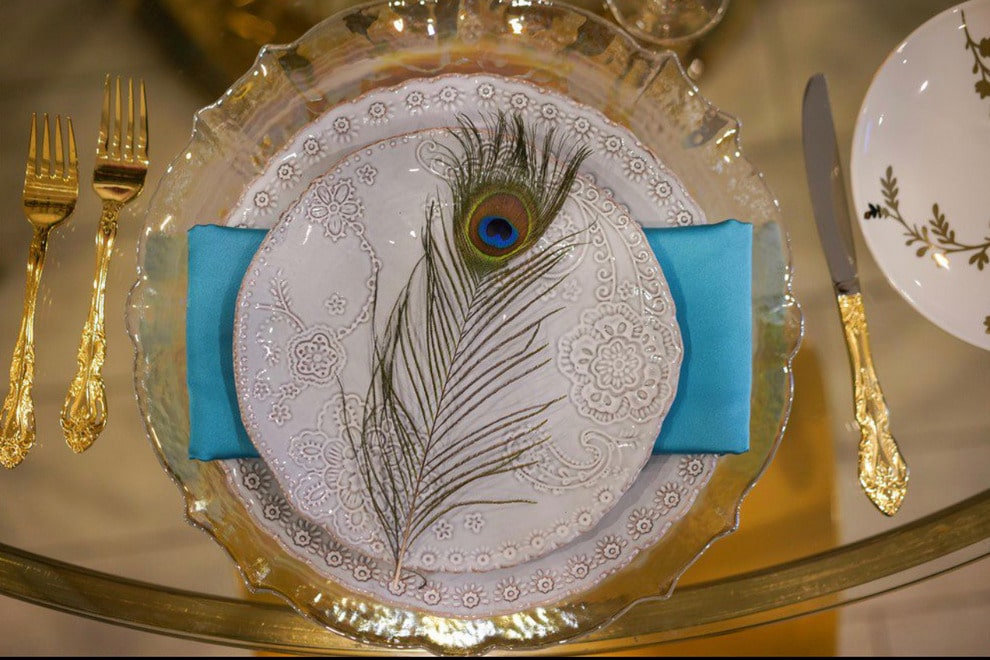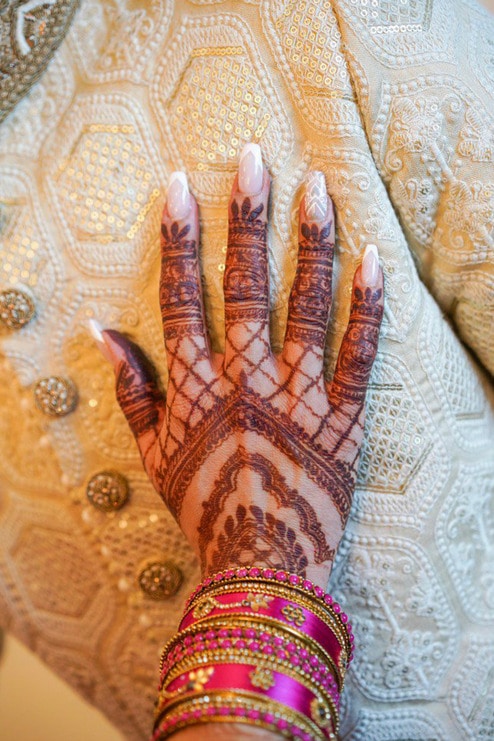 "Soraya and Nadeem said their "I do's" at Willow's Edge Estates a private mansion located in Toronto. It was a very small special intimate wedding – for the couple, their family, and the vendors. Originally it was going to be a destination wedding and was supposed to take place in Kenya, Africa, but of course, the travel restrictions wouldn't allow for it.
An important part of wedding planning is helping the couple decide on special traditions & sentimental details they would like to include on their special day. Sixteen of their closest family and friends got to witness this beautiful celebration and share this special moment of love and happiness with the bride and groom. The bright colours and accents of peacock feathers perfectly highlighted theme and the couple's Ismaili background and made the wedding that much more beautiful and special!"